By Denny Dyroff, Entertainment Editor, The Times 
This weekend, there is a wide variety of activities that can keep people of all interests occupied. Not surprisingly, the schedule is top-heavy with Halloween-related attractions and events.
Fortunately, for those who don't care about Halloween – or have already reached a saturation point with the marketing for the holiday — there are also many things to do this weekend that have nothing to do with ghouls, zombies, haunted activities or carved pumpkins.
Longwood Gardens (Route 1, Kennett Square, 610-388-1000, www.longwoodgardens.org) celebrates autumn with bursts of color.
Visitors can enjoy Longwood's painted landscape and breathtaking vistas, feel like a kid again at the Garden Railway, and marvel at our Main Fountain Garden performances running through November 1.
The main attraction at Longwood gardens right now is the Chrysanthemum Festival which is running through November 15.
Longwood's grand Conservatory showcases a vibrant display of chrysanthemums and other autumnal plants, while outdoors, guests can roam nearly 400 acres of gardens, meadows, and woodlands in spectacular fall form.
Display highlights include the Thousand Bloom Chrysanthemum, a single chrysanthemum plant grown to produce as many perfect blooms as possible. Measuring 12 feet wide and nearly 10 feet tall, the amazing plant is grown for 18 months to reach its incredible size and bloom count of more than 1,500 perfect, uniform blooms.
In addition, Longwood's horticulturists have grown and carefully nurtured chrysanthemums into unique three-dimensional forms, including shields, fans, cloud forms, and other shapes. Outdoors, nature puts on a show as brilliant fall foliage colors the landscape.
Young guests can explore Longwood's three treehouses and watch the whimsical G-scale Garden Railway as it travels past miniature Longwood landmarks.
The Gardens are open Monday, Wednesday, Thursday, and Sunday from 10 a,n.-6 p.m. with extended hours until 9 p.m. on Fridays and Saturdays through October 31 for the Illuminated Fountain Performances at 8:15 pm. Tickets and member reservations should be made in advance online at longwoodgardens.org.
Chrysanthemums were first grown and displayed in the Gardens when founder Pierre S. du Pont opened the Conservatory in 1921. Today, Longwood has one of the finest collections of chrysanthemums in the United States.
Complex by nature, chrysanthemums are divided into 13 classifications, each representing a distinct flower form. Longwood's collection spans all classes and includes 226 cultivars, including many rare and unusual varieties. Chrysanthemum Festival is one of the largest chrysanthemum shows in the United States.
Admission to Longwood Gardens is $25 for adults, $22 for seniors and college students and $13 for youth (ages 5-18).
A popular area autumn event is "Hayrides at Hagley" at Hagley Museum and Library (Buck Road East entrance via Route 100, Wilmington, Delaware, 302-658-2400, www.hagley.org).
This year, the hayrides will take place on October 24, 25 and 31 from 11:30 a.m.-4 p.m.
Participants will be able to take a hayride along the Brandywine to experience the beautiful fall foliage in the Powder Yard.
Reservations must be made upon arrival. Advance reservations are not accepted for this event.
Please allow one person in your party to reserve a hayride inside the Hagley Store. Please enter through the entrance on the left-hand side.
Maximum party size is 10 people.
Fee for reserving a wagon is $5 for Hagley members and $10 for non-members (flat fee, not per number of riders). This is in addition to regular admission for non-members.
Hagley encourages parties to be members of the same household.
If guests choose to include non-household members in their party, this is designated as "high risk" by the CDC and you ride at your own risk.  For more information on fall celebration safety, please visit the CDC's website here.
All riders age 6 and older are encouraged to wear masks for the safety of those on subsequent rides.
Hand sanitizer will be available for use.
There will be a "Cannon Firing Demonstration" on October 25 at 1, 2, and 3 p.m. in the Machine Shop area.
The family-oriented event is fun, loud, exciting and educational.
Cannon firings in the Hagley Powder Yards demonstrate how black powder was made and used.
There will is one other date for cannon firings at Hagley this year — November 11.
Admission to Hagley is $15 for adults, $11 for seniors (age 62 and up), and $6 for children (ages 6-14).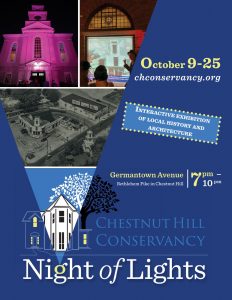 Now through October 25, Chestnut Hill (Germantown Avenue, Chestnut Hill, https://chestnuthillpa.com) is presenting "Night of Lights."
Visitors can explore Chestnut Hill after the sun goes down when Germantown Avenue morphs into an interactive exhibition of local history and architecture for "Night of Lights."
This year's "Night of Lights" will take the form of an extended public art installation activating Germantown Avenue and transforming Chestnut Hill's familiar main street into an interactive exhibition of local history and architecture.
Using the commercial corridor as a canvas for sharing and interpreting multiple layers of neighborhood history, "Night of Lights" is a true participatory, community-based event, offering visitors and long-time residents a free and accessible opportunity to discover the history of the neighborhood, while becoming active participants in the stories being told.
Over two and half weeks in October, historical images from the Chestnut Hill Conservancy's Archives will be projected through storefront windows along Germantown Avenue, while neighboring historic buildings will be illuminated with colored lights. An expanded virtual experience—accessible on site and at home—will allow for socially distanced explorations of community history, while offering a platform for the attendees to share their own stories.
The West Chester Railroad (Market Street Station, West Chester, 610-430-2233, www.westchesterrr.net) is running its "Trick or Treat Special" on October 24 and 25 at noon and 2 p.m. each day
Riders on the family friendly 90-minute Halloween train ride are invited to wear their favorite costumes and ride the heated train to enjoy the beautiful Chester Creek Valley in all of its fall splendor.
During the 20-minute stop at the historic Glen Mills station, passengers can disembark and explore the historic station and our picnic grove. Passengers can also collect a few treats while at the station.
Tickets are $20 for adults and $18 for children (ages 2-12).
The popular tourist rail line is also running its "Fall Foliage Express" trains on November 1 and 8. Trains depart at noon and 2 p.m.
The round-trip train ride travels to the village of Glen Mills and back and lasts for 90 minutes. During the brief layover in Glen Mills, riders can have a snack in the railroad's picnic grove along the Chester Creek.
Tickets are $17 for adults, $15 for children ages 2-12 and free for kids under two.
The New Hope & Ivyland Railroad (32 West Bridge St, New Hope, 215- 862-2332, www.newhoperailroad.com) offers a two-and-one-half hour, 35-mile roundtrip ride on its "Fall Foliage Trains" now through November 1. Every weekend, the rail line in Bucks County will operate regularly scheduled round trip trains out of New Hope Station and SEPTA's Warminster station.
It's "All Aboard" for a day of history, leaf-peeping, and excitement. Guests can take a peaceful ride on the rail line's beautifully restored railroad cars through the woods and hills of historic Bucks County. This 14-mile round-trip excursion offers riders a unique way to experience nature's burst of colors. Riders also frequently spot deer, foxes and wild turkeys among the colorful autumn landscapes.
Ticket prices start at $45.99.
The Wilmington & Western Railroad (2201 Newport Gap Pike, Wilmington, Delaware, www.wwrr.com) is back up and running with the Mount Cuba Meteor excursion.
You can take a leisurely 1.5-hour round-trip ride up the Red Clay Valley to the Mt. Cuba Picnic Grove, where you'll enjoy a 30-minute layover to have a picnic or simply admire the natural surroundings. The Mt. Cuba Meteor excursion is a relaxing way to spend an afternoon outside with family or friends.
This event is powered by one of the railroad's historic first-generation diesel locomotives.
The excursions are scheduled for weekends in October and November.
Ticket prices are $15 for adults, $14 for seniors, and $13 for children (ages 2-12).
The Colebrookdale Railroad (South Washington Street, Boyertown, www.dynamicticketsolutions.com)  is running its "Fall Foliage Specials" on Saturdays and Sundays through November 8.
The rail line's 1920s Deluxe Coach, Dining Car, First Class Parlor Car, and Open Car -The Secret Valley Explorer- provide the perfect hayride on the rails. Two-hour round trip departing and arriving in Boyertown.
Spectacular autumn colors and the rich fragrances of fall in the Secret Valley delight the senses while locally produced autumn snacks and ciders are available on board.
Tickets are $55 for adults, $45 for children, seniors $52 and $15 for toddlers (under 2).
The Historic Odessa Foundation (www.historicodessa.org) is presenting the photography exhibit, "A Wealth of Nature: Photographs by Jane Mruk," now through November 1 in the Foundation's Visitors Center gallery (201 Main Street, Odessa).
The exhibit will include approximately 40 of her photographs. Ranging in size and subject matter, the photographs will focus on local scenes of the historic town of Odessa, where she has resided for the past 15 years. Also featured will be nature studies of Delaware's flora and fauna.
The Odessa gallery will concentrate on 18th- and 19th-century furniture, paintings and associated accessories, with an emphasis on Delaware material.
The Historic Houses of Odessa were operated by Winterthur from 1958-2003. The Historic Odessa Foundation opened to the public in December of 2005.
Today, Odessa is a National Registered Historic District and is also home to a National Historic Landmark and two National Parks Service Network to Freedom Sites. The Historic Odessa Foundation is dedicated to preserving and interpreting the past through tours, focuses on exhibitions, and living-history programs for children and adults.
If you love beer, you should check out the "Biergarten" at Cannstatter Volksfest Verein (5130 Academy Road, Philadelphia, www.cannstatter.org).
The German traditional event will be open every Friday (until the end of October) and Saturday night (until the end of August). Cannstatter has the largest outdoor Biergarten in Northeast Philadelphia and is open every Friday and Saturday from 5-10 p.m.
Tasty German food and drink will be available for purchase and live German music will be featured each night. Weather permitting, this is an outside event. Pets and outside food and drinks are prohibited and there is no cover charge.
There will be live entertainment from 7:30-9:30 p.m. in Cannstatter's picnic grove featuring some of the best local bands and musicians.
Food and drink offerings are "The Famous CVV Wings – Hot, Mild and Naked," Chicken Tenders, Hamburger/Cheeseburger/Veggie-burger, Bratwurst, Hot Sausage, Mozzarella Sticks, Onion Rings, French Fries, Cheese Fries, German Pretzels and other weekly specials.
There will be a large selection of German and domestic beers on tap as well as mixed drinks, wine and bottled beer.
The line-up of live music acts for this month is Blu Dogz on October 23, Joe McArdle on October 30, and Black Ops on October 31.
The Independence Seaport Museum (211 S. Columbus Boulevard Philadelphia, 215-413-8655, www.phillyseaport.org) is presenting "Boatin' in the Basin" on October 24 from noon-12:30 p.m., 1-1:30 p.m. and 2-2:30 p.m.
Participants will be able to boat around the Penn's Landing basin in a swan, dragon, flamingo, or duck – an activity that is billed as "the perfect socially distant outdoor recreational activity for you and your household.
"Boatin' in the Basin" requires pre-purchased tickets, no walk-up tickets will be available. Pricing is per boat and all rentals will be for one hour. Tickets are $25 for swans and dragons and $30 for ducks and flamingos.
Visitors to Delaware Avenue in the Penn's Landing area will be able to light up the night at Spruce Street Harbor Park with "Bright Lights, Our City," a brand-new light installation programmed on the iconic lights at the park.
Created by FKB Studio, the fun experience allows visitors to create their own light display by placing their hands on the Univest logos on a specially designed, branded kiosk. For the safety of our guests, a hand sanitizing station will be close by for visitors to use afterward.
As individuals interact with the kiosk, light patterns and color palettes will change, creating a living tapestry throughout the Park. The installation will be available nightly, and visitors will be able to enjoy it throughout the summer and fall.
Visitors will be required to wear masks unless they are eating or drinking. Food and beverage lines will be limited to 10 persons at a time. Bathrooms are open to the public and sanitized hourly.
Sanitizing stations will be available throughout the park. There will be no hammocks. Special signage and ground graphics will be posted to help visitors practice physical distancing.
Spirit of Philadelphia (401 South Delaware Avenue, Philadelphia, www.hornblower.com) has resumed cruising along the Delaware River.
Departing from its berth at Penn's Landing, the attractive ship, which is run by Hornblower Cruises and Events, is offering outdoor lunch and dining experiences while motoring up and down the river.
The cruises provide patrons with the opportunity to experience the vibrant energy and rich history of Philadelphia from a unique perspective — from the water. Guests can soak in the atmosphere of revitalized Penn's Landing, sail past cityscapes, view historic ships, and more on Sprit of Philadelphia's unforgettable cruises.
Tickets start at $52.90.
Now through early November, you can find Halloween events everywhere.
One of the most popular Halloween events in the area is "The Great Pumpkin Carve" (Chadds Ford Historical Society, Route 100, Chadds Ford, 610-388-7376, www.chaddsfordhistory.org). Because of the COVID-19 pandemic, the organizers initially decided to change it from a "walk around" event to a "drive through" event. Now, there has been more alterations.
The following message is posted on the Chadds Ford Historical Society's website:
After much feedback from the community, staff and Board, it has been decided to change the decision of a "Drive Thru" to a "Virtual Pumpkin Carve," This will now allow for anyone to participate in this wonderful event.
Those that are local or distant, that may have been nervous to carve in front of a crowd or would like to work in the comfort of their home, can all participate in groups of any size.
The 2020 "Virtual Pumpkin Carve," which is running through October 31, event is free.
On October 23, the Colonial Pennsylvania Plantation (Ridley Creek State Park, Media, 610-566-1725, www.colonialplantation.org) is presenting "Lantern Ghost Tours."
Now in its fifth season, the Lantern Ghost Tours event runs from 6-9 p.m. each night in timed slots.
Space is limited, and tickets must be purchased in advance. Tickets for the regular ghost tours are $15. The event is limited to people 10 and older. No pets are allowed.
Since 1974 the Colonial Pennsylvania Plantation has given visitors a glimpse of 18th- century Pennsylvania farm life. Visiting the Plantation is an educational experience that is unique and unforgettable – and even a little scary on special nights.
The Colonial Plantation, one of the most haunted properties in Delaware County, invites you to an evening of strange sounds, squeaky doors, and ghostly stories. Relive 300 years of the area's most mysterious, scary and true tales of terror. Start by following the torch lit path and discover the strange and inexplicable ways that colonists treated their dead.
For the safety of visitors, the staff will be holding this event entirely outdoors, and tours will be limited to 10-12 individuals per time slot. Face masks covering the nose and mouth are required at all times. A face shield is not an acceptable substitute. This event will run rain or shine.
The 29th annual edition of "Haunted Hayride, Bates Motel and Haunted Corn Maze at Arasapha Farm" (1835 N. Middletown Rd., Gradyville, 610-459-0647, www.thebatesmotel.com) will be scaring visitors through October 31.
The haunted hayride through the woods features monsters, special effects and actors. The Bates Motel has haunted rooms with special effects and computerized lighting.
Due to the current environment, The Bates Motel has changed its half-mile haunted hayride to an all new walk through attraction. There are new props and sets and amazing lighting effects.
Visitors are reminded to wear appropriate clothes and shoes. Our friendly ghouls will guide you and your group through the trail that last year earned the vote of America's Most Entertaining Haunted Attraction by America Haunts and CNN Travel.
Arasapha Farm is also presenting the "Revenge of the Scarecrows Haunted Corn Trail." It is a terrifying walk through a tall corn field and filled with walk thru buildings and sets, tons of animatronic monsters and over 30 actors in full makeup and custom costumes. High tech animations and digital sound effect make this not for the faint of heart.
Tickets are $40 for an adult combo, $35 for a child combo and $75 for a VIP Pass.
The Chaddsford Winery (632 Baltimore Pike, Chadds Ford, 610-388-6221, http://www.chaddsford.com) annually hosts its "Harvest Festival" at this time of year and then follows with "Adult Trick or Treat" throughout October.
This year is different — thanks to the COVID-19 pandemic.
The Winery's message for this autumn is —
"We might not be able to host large events this year, but that's not stopping us from getting in the Halloween spirit. We're offering a new take on our fan-favorite program with Adult Trick or Treat Wine Kits!
During this nightmarish 2020, you can still keep the tradition alive with Chaddsford wine and your own customized experience.
Snag an Adult Trick or Treat Wine Kit at the link below and then pick it up Curbside at the Winery or Peddler's Village Tasting Room.
The first 200 orders will receive a complimentary keepsake Halloween wine glass (one glass per kit ordered). Adult Trick or Treat Wine Kits are offered only while supplies last.
The Wine Kit includes three of the winery's best-selling fall wines (Spiced Apple, Traminette, and Harbinger), a Halloween Pairing Guide, a West Chester-based Scavenger Hunt and the keepsake Halloween wine glass.
The winery's website explains how it works – 
Enjoy it at home.  Let our pairing guide help you choose the best Halloween candies, autumnal treats, and spooky snacks to enjoy with your wine kit.  Gather up the goods and plan a frightfully fun evening with friends – ideally around a fire pit or scary movie screening – or go on a local adventure.
Check out the scavenger hunt option that's also included with each Wine Kit!  For this experience, we've partnered with West Chester-based businesses to create the ultimate Halloween food and wine pairings.  We're talking the type of combos that trick-or-treat dreams are made of.
Take your passport to any or all of these partner locations to enjoy a special 10% discount on their featured item(s). Collect all the goods and then share the love with your closest ghouls and gals.
Featured pairing at Carlino's Specialty Foods — Bourbon Chocolate Pecan Pie or Apple, Pear, Cranberry Crumb Pie with Spiced Apple.
Featured pairing at Éclat Chocolate — Passion Fruit Chocolate or Pear Caramel Chocolate with '18 Traminette.
Featured pairing at Gemelli Gelato — Dark Chocolate Gelato with '17 Harbinger
Wine Kits must be ordered in advance online and be picked up curbside. Wine Kits may not be consumed onsite.  
On October 30, Mütter Museum of The College of Physicians of Philadelphia (19 South 22nd Street, Philadelphia, http://muttermuseum.org/) will host its "Sixth Annual Annual Mischief at the Mütter."
This is an event that allows guests to enjoy drinks from an open bar and view the museum's scientific and frequently grotesque collections – including a variety of body parts.
Visitors can enjoy the Halloween beer garden which includes full access to the Mütter Museum.
Wearing of costumes is encouraged. This event is "21+ only."
East Passyunk Avenue Business Improvement District (www.visiteastpassyunk.com) presents a double dose of spooktacular fun with free activities for the kids, adults and even dogs. The Ninth Annual East Passyunk "Fall Fest and Spooky Saturday" will be held on October 31.
The free family event will feature a child and dog costume contest, live music, pumpkin painting, free treat bags for the first 400 children, street food and seasonal cocktails, maker and craft fair around the Singing Fountain, trick or treating along East Passyunk and a DJ and dance party.
Most activities will be held at the Singing Fountain (East Passyunk and Tasker), with select activities to be held at Mifflin Triangle (East Passyunk and Mifflin) and a scarecrow scavenger hunt all along the Avenue.
The lead-up activities such as book readings, movie screenings, special sales and a socially distanced scavenger hunt will take place from October 24-31.
Shocktoberfest (94 Park Avenue, Sinking Spring, 610-375-7273, shocktoberfest.com) features an array of natural and genetically engineered Zombies in a safe and controlled habitat.
"Schockfest Zombie World" is celebrating its 29th Year with eight "Killer Experiences" — "Zombie Safari Tour," "Prison of the Dead," "The Unknown 2.0," "Ground Assault" and "Midnight Massacre."
The attraction will close on November 9. Ticket prices start at $20.
The Pennsylvania Renaissance Faire (Mount Hope Estate and Winery grounds, Route 72, Cornwall, 717-665-7021, www.parenfaire.com) has taken COVID-19 precautions and is in full swing.
The Faire features themed weekends and this weekend's theme is "Halloween Days & Spooky Knights II." It will be presented on October 24 and 25.
Three weekends of mystery and mayhem kick off this weekend as spooky creatures of every variety haunt the Shire. Join the good Shirefolk of Mount Hope for a grand All Hallows Eve celebration, complete with tricks and treats for children of all ages.
Featured events for "Halloween Days & Spooky Knights I" are "Nipperkins Costume Exhibition," "Adult Costume Competition," "Kids Treasure Hunt," and "Trick-or-Treating in the Shire."
This year's 40th annual staging of the Pennsylvania Renaissance Faire, an attraction that bills itself as "the most wondrous event in all the Knowne World", is running now through November 1.
Every summer, the Faire, which takes place at Mount Hope Estate and Winery's authentic 35-acre recreation of a 16th-century village in Olde England, features a new story from a different year of England's past.
Unquestionably, the most popular attraction is the Jousting Arena. Visitors to the Faire flock to Bosworth Field whenever it's time for the Ultimate Joust. Peasants lead cheers for their favorite knights while musicians pound out a heart-thumping beat. The Master of the List announces the combatants and soon an encounter of royal proportions ensues.
The Faire offers a wide variety of activities for visitors, including listening to bagpipe music, checking out handsome Lords in their colorful silks, watching a jester's acrobatics, learning how to juggle, being the recipient of a gypsy woman's flirtations and watching the march of Beefeater Guards.
Guildsmen's Way is the area that features a large variety of merchants and artisans, including jewelers, candle makers, potters, herbalists, leather smiths, clothiers, and pewter makers — all offering for sale and demonstrating their ancient wares.
Tickets are $29.95 for General Admission, $15.95 for children (ages 5-11) and free for children (ages 4 and under).
The Amish Farm and House (2395 Covered Bridge Drive, Lancaster, www.amishfarmandhouse.com) is presenting its "Trick or Treat on the Farm" from October 23-31.
Visitors are invited to dress up in Halloween costumes and spend a spooky afternoon on the farm – and to bring a candy bag. Activities include getting candy at different locations on the farm, riding around the farm on the hay wagon and cuddling with baby goats.
Trick or Treat ticket includes candy for the children, petting zoo with the farm's goats, kittens, and donkeys, hayrides, visit with our artisans and hands-on activities on the 15-acre farm.
Candy will be handed out in various locations around the farm. All candy stations will be nut-free and chocolate free, except for one station. The stand with peanut and chocolate candies will be clearly marked for those with allergies.
Admission is $10 per adult (ages 12+), $8 per child (ages 5-11) and free for toddlers (ages 0-4).
The Philadelphia Zoo (3400 Girard Avenue, Philadelphia, www.philadelphiazoo.org) is presenting its annual "Boo at the Zoo" from October 23-25 and October 30-November 1.
Families are invited to enjoy a socially distanced Halloween celebration that features fall plants and foliage, spooky kid-friendly decorations, a COVID-friendly Halloween parade, not-scary extinction graveyard, photo opportunities, and special treats.
Visitors can come dressed in their favorite costumes and enjoy a not-so-spooky safari at "America's First Zoo." Instead of trick or treating around the Zoo, kids will receive treat bags given away courtesy of Mars.
The annual not-so-scary extinction graveyard will showcase extinct animals along with animals the Zoo is trying to save from extinction. Fall food and drink special offerings will include hot apple cider, sweets and treats, and more to be announced soon.
All health and safety precautions are in place for Boo at the Zoo – including the wearing of COVID 19-safe face masks and practicing social distancing. For a reminder of Philadelphia Zoo's safety protocols, see below:
* All visitors MUST reserve / pre-purchase timed-tickets for admission.
* Tickets will not be available for purchase onsite.
* Social distancing and Masks are required for guests 2+
* Indoor animal exhibits and attractions remain closed.
* Touchless toilets, faucets, paper towel and soap dispensers.
* Hand sanitizing stations throughout the campus.
* More grab and go food selections and touchless transactions at food locations.
* Guests can bring their own food in the Zoo.
*  "Clean Team"- staffers dedicated to sanitizing and cleaning high touch areas.
* New procedures that allow public safety officers to check bags without touching.
Please note that while costumes are welcome for children, COVID 19 masks must be worn on all children and adults age 2+ and older. Halloween costumes with toy guns and weapons are prohibited.
"Boo at the Zoo" is included with the price of admission. Zoo admission is $24 for adults (ages 12 and up), $19 for children (2 to 11), and free for children under two.
"Boo at the Zoo" (Brandywine Zoo, 1001 N. Park Drive, Wilmington, 302-571-7747, www.brandywinezoo.org) will be held on October 23, 24, 25 and 31.
The popular annual non-scary family event features games, animal enrichment programs, live critters and trick-or-treating. Children (and their grown-ups) are encouraged to wear costumes. Tickets are $5.
Celebrate Halloween Brandywine Zoo-style with this merry, not scary, event. Come see all our spooky decorations, enjoy socially distanced activities, and meet some of our favorite animals. Kids (and grown-ups, too) are encouraged to come in costume!
Pre-register to receive a pre-packaged treat bag for all your little trick-or-treaters. This event is free with Zoo admission, but early registration is strongly recommended, as tickets are extremely limited due to Covid-19 restrictions. Pre-packaged treat bags will be given to all registered children as they leave the zoo.
Admission is $7 for adults and $5 for children (ages 3+). This event is rain or shine.  No refunds will be given.
This weekend, Elmwood Park Zoo ( www.elmwoodparkzoo.org) is hosting its annual "Boo at the Zoo." The event will be held every Saturday and Sunday through November 1.
Visitors are invited to bring the little ones for a fun-filled afternoon for princesses, ghosts and superheroes of all ages. They are reminded to bring trick-or-treat bags, as treat and activity stations will be located throughout the zoo.
Visitors are also encouraged to come dressed in creative costumes and enter the zoo's costume contest and parade. Adults are also encouraged to dress up. This event is free to attend with zoo admission
Hours are from 10 a.m.-4 p.m. each day. Zoo admission is $12.95.
Eastern State Penitentiary (2027 Fairmount Ave, Philadelphia, www.easternstate.org) is always a spooky place to visit. Now, it has become even spookier with its new "Night Tour."
Eastern State Penitentiary was once the most famous and expensive prison in the world, but stands today in ruin, a haunting world of crumbling cellblocks and empty guard towers.
Known for its grand architecture and strict discipline, this was the world's first true "penitentiary," a prison designed to inspire penitence, or true regret, in the hearts of prisoners.
At night, the cellblocks fall into darkness and the penitentiary takes on a different energy — its imposing architecture emphasized by dramatic lighting that makes its quiet stillness even more striking.
Many of the programs available during the day are also offered at night, including "The Voices of Eastern State" Audio Tour, award-winning exhibits, and artist installations.
Additionally, some new activities will be available exclusively for the "Night Tour," including two large-scale video projections on the interior of the penitentiary's 30-foot-high perimeter walls.
A silent film shot at Eastern State Penitentiary in 1929, with flickering images of prisoners in the mess halls and officers patrolling the corridors, will play in the Cellblock 3 courtyard. In the Cellblock 7 courtyard, 20 animated short films that were created by incarcerated artists for Eastern State's 2019 project Hidden Lives Illuminated will also be on view.
The lighting design for Night Tours will highlight the prison's iconic, gothic architecture. Searchlights will sweep from the guard towers over the cellblocks and yards, just as they did when Eastern State was an active correctional facility.
At the moment, all tours are self-guided. Visitors can pick up an audio guide and disposable earbuds on their way into the penitentiary. Once they have their audio guides, they will follow a linear, one-way path through the site to help ensure physical distancing.
Tickets are $19 for Wednesday and Thursday nights, $26 for Fridays and Sundays and $32 for Saturdays.
At Fort Mifflin (Fort Mifflin and Hog Island roads, Philadelphia, 215-685-4167, www.fortmifflin.us), "Candlelight Ghost Tours" (Fort Mifflin, Fort Mifflin and Hog Island roads, Philadelphia, 215-685-4167, http://fortmifflin.us) are scheduled for October 23, 30 and 31.
Visitors can tour historic (and haunted) Fort Mifflin by candlelight from 7-10 p.m. each night (6:30-8:30 on October 31) and hear true stories of ghostly encounters. This event is billed as an "authentic experience."
Fort Mifflin, which was originally called Fort Island Battery, was commissioned in 1771. It was also known as Mud Island Fort because it sits on Mud Island (also known as Deep Water Island) on the Delaware River near the Philadelphia International Airport. During the American Revolutionary War, the British Army bombarded and captured the fort as part of their conquest of Philadelphia in autumn 1777.
During the siege, 400 American soldiers held off more than 2,000 British troops and over 250 ships that had been responsible for launching an endless barrage of cannonballs into the fort. After five days of holding off the British, the American troops evacuated the fort after having successfully denied the British Navy free use of the Delaware River.
Tickets are $20 for adults and $15 for children (12 and under).
Pennhurst Asylum (100 Commonwealth Drive, Spring City, 484-866-8964, www.pennhurstasylum.com), which is open through October 31, is on the site of a former mental asylum which has been shuttered for over a quarter of a century.
It has been transformed into a haunted attraction with huge sets, detailed rooms and live actors. Visitors can also explore the labyrinth of underground tunnels.
The site features three haunted attractions – Pennhurst Asylum, the Morgue at Pennhurst and Containment.
Ticket prices start at $39 with a variety of combo packages available.
Ghost Tour of Philadelphia (215-413-1997, www.ghosttour.com), Ghost Tour of Lancaster (717-687-6687, www.ghosttour.com) and Ghost Tour of Strasburg (717-687-6687, www.ghosttour.com) operate through November and offer an eerily entertaining evening of true ghost stories and real haunted houses.
The Ghost Tour of Philadelphia is a candlelight walking tour along the back streets and secret gardens of Independence Park, Society Hill, and Old City, where ghostly spirits, haunted houses, and eerie graveyards abound. Tickets are $24.
Participants in the Ghost Tour of Lancaster explore the long-forgotten mysteries of one of America's oldest cities, with haunting tales of otherworldly vigils, fatal curses, and star-crossed lovers. The tour provides the opportunity to experience 300 years of haunted history from the Red Rose City's thorny past. Tickets are $18.
The Ghost Tour of Strasburg is a candlelight walking tour of the quaint and historic town of Strasburg in the heart of Pennsylvania Dutch Country. Visitors will experience an entertaining evening with a costumed tour guide spinning tales of haunted mansions, eerie graveyards, and spirits that roam the night … in a town lost in time. Tickets are $18.
The Betsy Ross House (239 Arch Street, Philadelphia, http://historicphiladelphia.org/betsy-ross-house/what-to-see/) has reopened to the public and is ready for the Halloween season.  
On October 23 and 30, there will be "Spooky Twilight Tours at the Betsy Ross House" from 6-8 p.m. 
Visitors can travel back to Philadelphia in the 1700s and learn about the city's gruesome history of infection and inoculation. They can hear true, macabre tales about bloodletting, smallpox, yellow fever, and other gross experiences.  
Participants in the tours can learn what it was like to live in the ghastly 18th century and discover why Philadelphia was an infectious place to be. Then, they can head into the historic House for a spooky, shadowy tour. 
Admission is $10 in advance or at the gate. 
Morris Arboretum (100 East Northwestern Avenue, Philadelphia, www.morrisarboretum.org) is now open and in celebration mode for Halloween.
On Saturdays and Sundays now through November 1, Morris Arboretum is hosting its "13th Annual Scarecrow Walk."
The theme for 2020 is "Fairy Tale 'Crows."
More than 50 scarecrows will be on display throughout the Garden. Visitors can vote for their favorite scarecrows in the "Fairy Tale 'Crows" theme to determine which "'crows" will be the top five prize winners.
New this year at Morris Arboretum will be the "Lighted Lantern Halloween Walk and Ghostly Gathering." The "Ghostly Gathering at Morris ArBOOretum" is a nighttime event that is safe, fun, and just a little spooky.
Visitors will be able to experience the Arboretum by night on October 30 and 31 from 5-8 p.m. each night. They are encouraged to come costumed and ready for fun at our first-ever Halloween nighttime event. They will get a trick-or-treat bag to fill as they hear spooky stories, play games, and see the Fairytale Scarecrows all lit up at night.
Light snacks and hot drinks will be available for purchase. Every activity will be appropriately distanced.
Kalmar Nyckel Shipyard (1124 East Seventh Street, Wilmington, Delaware, www.kalmarnyckel.org) is hosting a Halloween Fun Day on October 24.
Visitors can start Halloween celebrations a week early on the Wilmington Riverfront with The Tall Ship of Delaware. Captain and Mates will dress up and share ship stories.
Halloween costumes welcome. And there will be free scavenger hunts and pumpkins. Unfortunately, visitors will not be permitted to board the ship.
For two decades, the Kalmar Nyckel, which has its home base in Wilmington, has been hosting riders all over the world – especially in Delaware.
A ride on the
Kalmar Nyckel is a beautiful recreation of the original Kalmar Nyckel, which was built in Holland in the 1620s. Her mainmast is taller than a 10-story building and she carries 7,600 square feet of sail area and six miles of rigging.
The original Kalmar Nyckel was a Swedish-owned, three-masted armed pinnace that sailed from Goteborg, Sweden in November of 1637 and brought the first permanent European settlers to the Delaware Valley.
In 1986 a group of citizens established the Kalmar Nyckel Foundation to design, build and launch a replica of the Kalmar Nyckel at a shipyard adjacent to the original landing site. She was commissioned on May 9, 1998 and now serves as Delaware's sea-going Ambassador of Good Will. She is a fully functional sail training vessel and has represented Delaware all over the country.
Rain date for Halloween Fun Day is October 25.
"Frightland" (309 Port Penn Road, Middletown, Delaware, 302-838-0256, www.frightland.com) features eight special themed areas — "Zombie Prison," "Ravenwood Cemetery," "Zombie Town," "Horror Hayride," "Idalia Manor," "Fear," "The Attic" and "Haunted Barn."
Frightland Haunted Attractions has been named a Top 10 Scariest Haunted Attraction in the country by Travel Channel, Forbes and Huffington Post.
The venue includes eight haunted attractions including a two-mile Haunted Hayride, four indoor haunted houses and more. The nationally acclaimed Halloween attraction also features live entertainment, carnival amusements and a daytime fall festival.
Tickets are $35.
The "34th Annual Jason's Woods" (99 Stehman Road, Lancaster, 717-872-5768, www.jasonswoods.com), which is running through November 4, is a horror show complex that features a combination of live actors, impressive animation and scary special effects.
Popular attractions include "Horrifying Hayride," "Chamber of Horrors," "Zombie Apocalypse," "Lost in Jason's Woods," and "Carnival of Fear," Admission prices are for combo tickets are $25 for three attractions and $40 for five.
The "26th Annual Field of Screams" (109 College Avenue, Mountville, 717-285-7748, www.fieldofscreams.com), which is open now through November 14, features four world-class Haunted Experiences and an impressive Midway Area. Top attractions include "Horrifying Haunted Hayride," "Den of Darkness," "Frightmare Asylum" and "Nocturnal Wasteland."
Ticket prices start at $16.
For "Count's Halloween Spooktacular at Sesame Place" (100 Sesame Place, Langhorne, 215-752-7070, www.sesameplace.com), the popular amusement park has been converted into a Halloween-themed safe venue for kids with trick or treating, pumpkin decorating, hayrides and a hay maze.
The park has been transformed into a family-friendly Halloween haven and guests will enjoy trick-or-treating around the park, Halloween-themed shows, participating in our interactive Scarecrow Scavenger Hunt, pumpkin decorating, swinging, flying, and cruising on Count von Count-themed mechanical rides, and unique photo opportunities with everyone's favorite furry friends dressed up in costume on their Halloween-themed floats!
Featured attractions, which will continue until November 1, are The Count's Guess Who Express,  Sesame Scarecrow Scavenger Hunt, Contactless Trick or Treat Stations, The Castle Swing, The Count's Cruisers, Who Said Boo?!, Countdown to Halloween, and The Count's Fly By.
Admission to the park is $30.99.
The "28th Annual Fright By Night" (Six Flags Great Adventure, Route 537, Jackson, NJ, 732-928-2000, www.sixflags.com), which is running now through November 1, features family-oriented activities during the day and much scarier attractions after dark for teens and adults.
The park will operate from 2-10 p.m. on Saturdays and Sundays, and from 5 p.m. with varying closing times on Friday evenings.
From 2-6 p.m., families and young thrill-seekers will experience "HALLOWFEST Thrills by Day" including Scarecrow Street, Pumpkin Patch Lane, Hay Bale Maze, Trick-or-Treat Trail, Magic on the Move, and Cornstalk National Park.
"Chills by Night" begins at 6 p.m. and will feature four scare zones, three shows, and three haunted mazes available outdoors in the wide-open midways, plus one indoor haunted maze. Attractions include Scarecrow Street After Dark, District 6 Unearthed, Lady of the Lake Cemetery and Clown Town.
Linvilla Orchards (137 West Knowlton Road, Media, 610-876-7116, www.linvilla.com) is hosting Pumpkinland, its annual autumn-themed interactive event.
Pumpkinland is open from mid-September through early November and takes center stage at Linvilla Orchards. Larger than life figures and scarecrows illustrate the legends and lore of the harvest season, featuring local history and some of the many stories of pumpkins and apples.
Visitors will see piles of pumpkins in all colors, shapes and sizes more than 100 tons of pumpkins on display.
There is also a huge selection of straw bales, corn shocks, toys and fall decorations of all kinds.
This year the site's offerings have changed a bit to ensure the safety of our customers and staff.
Guests will still be able to enjoy hayrides and train rides, test their navigation skills in the straw bale and cornfield mazes, pick their own fall apples, grab some candy and caramel apples, and see the Linvilla jack-o-lantern exhibit.
This year, timed tickets will be required for Linvilla's Autumn Moon, Harvest and Witch's Hayrides. Timed tickets allow the staff to safely manage the numbers of visitors throughout the day.
For sanitary reasons, face boards will not be available for photos this fall, and the playground will be closed for the foreseeable future.
One of the best ways to enjoy autumn is by checking out the corn mazes at Ramsey's Farm (Ramsey Road, Wilmington, Delaware, 302-477-1499, www.ramseysfarm.com).
Corn mazes, along with hayrides, a pumpkin patch and scarecrows, will be featured at Ramsey's Farm, which is located in northern Delaware on Route 92 just south of the Pennsylvania-Delaware state line. The new season runs on weekends now through October 31.
Ramsey's "Pumpkin Patch" has been in operation since 1995 and the farm's varied mazes have been delighting and baffling visitors who return each year for the popular annual event. The owners of Ramsey's Farm raise pumpkins, gourds, ornamental corn, popcorn, feed corn and hay.
The farm's pumpkin field stretches over 12 acres and yields approximately 20,000 pumpkins each season. Hayrides around the farm will be offered from 11 a.m.-5 p.m. each day. Visitors will be able to shop for pumpkins and other items at the farm store. There will also be hot food and beverages available for purchase.
Tickets are $8 for the corn maze, $5 for the sorghum maze, $3 for the hay maze, $3 for pumpkin painting and $3 for a hayride.
"Hurricane Hill Farm Maze" (Baldwin's Farm, 704 East Reeceville Road, Coatesville, 610-384-6952, www.hhfmaze.com) will be open Saturdays and Sundays until October 31.
Fall is different at the farm this year.
This season, Hurricane Hill will offer a hayride to the pumpkin patch and other attractions for the children.  To manage the number of guests attending, they will only be offering timed tickets. No tickets will be sold at the farm this year.
Tickets will be offered in time slots of 10 a.m. noon, 2 and 4 p.m. The farm will close at 6 p.m.
Included with your admission ticket ($9.50 per person includes on-line ticketing fees) are the following:
Hayride to the Pumpkin Patch.  Everyone purchasing a ticket will receive a free small pumpkin. You may also walk to the Pumpkin Patch via the Farm Trail if you prefer to not take the hayride. The Corn Maze is not open this year.
Cherry Crest Adventure Farm (150 Cherry Hill Road, Ronks, 717-687-6843, www.cherrycrestfarm.com) has opened its popular annual "Flashlight Maze" and will keep it open every Thursday, Friday and Saturday night through November 7. Cherry Crest Adventure Farm has reserved several weekends during the autumn months for Flashlight Maze.
This special activity allows visitors to experience the Amazing Maize Maze in total darkness. All you need are flashlights and a few friends.
The Flashlight Maze is a nice, non-scary, Halloween alternative that has appeal for people of all ages. The Flashlight Maze, which has a $12 admission fee, is open from 6:30-10 p.m. with the last entrance into the Maze at 9 p.m.
The main attraction is Cherry Crest's "Amazing Maize Maze," which is billed as "the world's most dynamic and interactive corn maze." It is a five-acre corn maze with over two-and-one-half miles of paths, scenic bridges, and clues.
Participants can walk at their own pace as they encounter the "Kernels of Knowledge" along with a variety of clues, tunnel slides, and watering stations. They can also check out a bird's eye view from the two bridges and watch everyone's flags waving high above the corn.
The average time to complete the "Amazing Maize Maze" course is one hour. Ticket prices start at $19.
The 2020 season for the Scarecrow Competition and Display at Peddler's Village (Routes 202 and 263, Lahaska, 215-794-4000, www.peddlersvillage.com) has already started. Hours are 10 a.m.-6 p.m. both days.
Visitors can stroll around the Village to see the Scarecrow Competition and Display, which showcases more than 100 creative and colorful scarecrows. The Scarecrows are on outdoor display through October 27.
The public is invited to vote for the winners. Ballots are available in all shops and restaurants. The ballot boxes are located in the Hospitality Center at the Cock 'n Bull, Giggleberry Fair, and Buttonwood Grill.
The popular annual "Scarecrows in the Village" at Peddler's Village (Routes 202 and 263, Lahaska, 215-794-4000, www.peddlersvillage.com) is back. The festival, which is celebrating its 41st anniversary this year, will run now through October 31.
Every September, Peddler's Village hosts a famous scarecrow display that brings visitors from around the world. For seven fun-filled weeks, scores of scarecrows grace the winding pathways of the sweeping, autumn-tinted Village property. Some are inspired by famous characters, some are humorous, some are meant to be scary – but all of them are carefully handmade and contributed by Philly-area residents and organizations.
Visitors can also stroll around the Village to see the Scarecrow Competition and Display, which showcases more than 100 creative and colorful scarecrows. The Scarecrows are on outdoor display through the end of October.