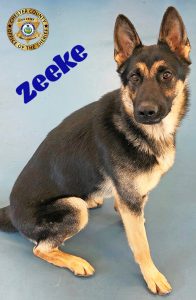 WEST CHESTER — The two young K-9s in training to become four-legged deputies in the Chester County Sheriff's Office now have their names – selected from more than 600 suggestions sent in by Chester County residents of all ages.  Zeeke and Moose were chosen because they are short, powerful and easy for the dogs to understand.
Zeeke is expected to join his new partner, Deputy Matthew Moyer, this week.
Moose met members of the Chester County Sheriff's Office last week. Moose was a name submitted by a handful of people.  The reason why Moose was chosen?  "He simply wagged his tail in approval at the mention of the name," said Chester County Sheriff Fredda Maddox. Moose's new K-9 handler is Deputy Anthony DeTore.
"The response from the community to naming these two dogs was tremendous," added Sheriff Maddox.  "With more than 600 suggestions, there were many great choices, and with the names came many well wishes."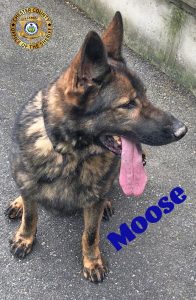 A comic book business owner submitted names of superheroes.  Families offered names of favorite pets.  And many people suggested names with meanings befitting a protector, including Justice and Valor.  Many emails came with stories honoring fallen heroes, including the loss earlier this month of Nesta, a K-9 who, in his youth, served on the Philadelphia Search and Rescue Team.
Zeeke and Moose's first steps after arrival include visiting the vet and getting to know their new home and their new handlers.  Sergeant Paul Bryant, Supervisor of the Chester County Sheriff's Office K-9 Unit said, "Training for both of these young dogs begins very gradually after a period of time to get acquainted with their new surroundings."  Soon after they will begin to undergo hundreds of hours of instruction over a number of months.
Once initial training is complete, the dogs will join the current Sheriff's Office K-9 team that specializes in detecting missing people, narcotics or explosives, as well as a K-9 that serves as a comfort dog.   The dogs that currently serve as Chester County K-9s are named Don, Cairo, Marley, Maddie, Luke, Dexter and retired K-9 Yukon.