By Denny Dyroff, Entertainment Editor, The Times 
COVID-19 has been altering the scene for live music in the area for months. Major and mid-size venues have been prohibited from holding indoor shows by government mandate.
Forced to rely on creativity, some venues have been able to present live music – but in a very restrictive way.
Area restaurants and taverns have presented singer/songwriters in outdoor shows with full social distancing. Other venues have hosted "drive-in" concerts – with a lot of restrictions for attendees.
One of the first entertainment venues in the area to re-open with live indoor performances in front of live indoor audiences was the Candlelight Dinner Theatre (2208 Millers Road, Arden, Delaware, 302- 475-2313, www.candlelighttheatredelaware.org). But after one "Comedy Club" show, the theater's management aborted plans for a multi-week live run of a Broadway play.
The crew at the Candlelight relied on its collective creativity and came up with a plan to have outdoor concerts on the theater's grounds in a way that audiences could feel safe from the threat of exposure to COVID-19.
The result was the "Summer Nights Outdoors at Candlelight" series which kicked off in July with an acoustic show performed outside of the Candlelight Theatre by Joe Trainor and Brendan Sheehan of the popular local band Beatlefest and then followed with a show in August featuring Lyric Drive.
The next installment in the series will take place this weekend. On September 27, the Candlelight Theatre will host the Gallaghers – a veteran folk/Americana/Irish duo featuring John and June Gallagher. The show will start at 4 p.m. with Kalai King as the opening act.
The Gallaghers have been singing and playing family-friendly music together for over 40 years. They have performed extensively throughout Maryland, Delaware, Virginia, Pennsylvania, New Jersey, and New York.
John's songwriting abilities helped place him in the American Songwriters Festival, while June's claim to fame is her repertoire of kids' favorites.
"I met June on St. Patty's Day in 1978," said John Gallagher, during a phone interview Tuesday afternoon from his home in Delaware's Brandywine Hundred.
"I was playing an Italian restaurant – Old World Italian Restaurant – with my singing partner Jim Bennett. The name of our group was Pleasant Street.
"We got June up to sing a song with us. She has a great voice and it worked well. So, she started singing with us in 1978 at venues like Ground Round and other restaurants. We played Ground Round restaurants a lot."
John and June found more than just a musical attraction between themselves.
"I met June on March 17, 1978 and we got married September 9, 1978," said Gallagher. "It was a very short courtship. We've just celebrated our 42nd anniversary."
Both are natives of northern Delaware. June attended Concord High and Brandywine High and John graduated from Salesianum School.
"When we were a trio – June, Jim and I – we played a lot of shows. Then, we broke up as a trio in the mid-1980s.
"When June and I were doing shows of our own as a duo, we played a few times a month – more in the summertime at state parks, county parks and campgrounds.
"In recent years, we've played shows at Baxter's Restaurant in Paoli. We've played a lot in northern Delaware at the Bellefonte Café and Stoney's British Pub and in Wilmington at Catherine Rooney's. We also played O'Friel's Irish Pub in Wilmington many times."
John is an acoustic fingerpicker guitarist who has a long-time love affair with folk music.
"I got into folk music in high school," said Gallagher. "Bob Gibson was one of my big heroes."
If you're wondering how a Hall of Fame baseball legend came into Gallagher's sphere of influence, you're thinking about the wrong Bob Gibson.
Gallagher wasn't wearing a St. Louis Cardinals' cap idolizing the great pitcher, who by the way is still alive and will turn 85 next month. He was tuning into the music of guitarist Bob Gibson.
This Bob Gibson (Samuel Robert Gibson) was an American folk singer and a key figure in the folk music revival in the late 1950s and early 1960s. His principal instruments were banjo and 12-string guitar. Gibson, who passed away in September 1966 at the age of 64, had released more than 35 albums. His songs have been recorded by Peter, Paul and Mary, Simon & Garfunkel, the Byrds, the Smothers Brothers, Phil Ochs, and the Kingston Trio.
"Bob was a great musician," said Gallagher. "And, he was the one who discovered Joan Baez and Phill Ochs. Steve Goodman was also one of my heroes."
Goodman was an American folk music singer-songwriter from Chicago. He wrote the song "City of New Orleans," which was recorded by Arlo Guthrie and many others including John Denver, The Highwaymen, and Judy Collins. In 1985, it received a Grammy award for best country song, as performed by Willie Nelson. Goodman is considered a musician's musician.
"I'm a big John Prine fan," said Gallagher, who is still a musician with a day job (selling chemical supplies). "Other folk musicians I listened to a lot were Gordon Lightfoot, Tim Hardin and Tom Paxton. Some of my wife's favorites are Emmylou Harris and Joan Baez.
"I consider us folky. I've written folk songs and June has done children's music. June and I got into doing sound and producing shows in the 80s and 90s. We brought people like Tom Paxton and John Gorka to Wilmington and we also worked with Kevin Freel from O'Friel's Irish Pub.
"Tommy Makem and Kevin Freel influenced June and me to play Irish music. I did sound for the Green Willow Folk Club and for the Makem Family when they came around. I do sound a lot. I have a good ear.
"When June and I do shows, we have a repertoire of more than 200 songs. We play folk and Americana and do covers of artists such as John Denver, Craig Bickhardt, John Prine, Michael Smith and John Wort Hannam. We also have about 50-60 Irish songs that we can do.
"In our live shows, we can play pretty much whatever we want to because our audiences like whatever we play."
Now and then, John and June are joined onstage by another member of the Gallagher music clan – John Gallagher Jr.
If the name John Gallagher Jr. sounds familiar to you, there is good reason. June and John's son is a highly acclaimed actor.
John Gallagher Jr. is an actor and musician known for originating the role of Moritz Stiefel in Duncan Sheik and Steven Sater's rock musical "Spring Awakening," which earned him a Tony Award for Best Featured Actor in a Musical. He also played Johnny in Green Day's Broadway musical, "American Idiot."
The folk duo's son has appeared in several television programs, including "The West Wing," "Law & Order: Special Victims Unit," "NYPD Blue," "Ed," and "Love Monkey."  He could also fit in well in the audience at his parents' Irish show with the name Liam. This year, the younger Gallagher played the role of Liam Smith in the movie "Underwater" and has a recurring role as Liam Dempsey Jr. in the TV series "Westworld."
"We have three children – a son and two daughters," said Gallagher. "There is our son, who is a Tony Award-winning actor; Joni, who is a special needs teacher in Queens; and Jaime, who is a casting director and actor in Redondo Beach, California. We have great kids."
John and June also have a solid music career.
In addition to their own concerts, the Gallaghers have been the opening act for some of their songwriting heroes, including Tom Paxton, John Flynn, Garnet Rogers, Utah Phillips, Bob Gibson, David Mallett, and Bill Staines.
Their love of harmony has been a strong force in their performing style, and it shows clearly in their fluid blending of voices. John's rolling fingerpicking styles on 6-string and 12-string guitar and June's strong vocal harmonies reflect years of fine tuning.
They are equally at home playing folk, country, Irish, children's, popular, and traditional music – and they'll put it all on display this Sunday afternoon at the Candlelight Theatre.
Kalai King, Sunday's opening act, is a singer/songwriter/multi-instrumentalist from Wilmington. Heavily influenced by Laurel Canyon/Southern California sound from the early 1970s, King's music is a blend of country and Americana. His instrumentalization includes steel guitars, mandolins, banjos and harmonicas.
Tickets for Sunday's show are $20 per person — with different seating options. There are limited tables available for groups of 5-8 people, but any party that is four or less will have spaces marked out in the parking lot where it can set up lawn chairs to enjoy the show.
Food (Mashburg by Wildwich) and beverages will be available for purchase and a bar is available for those 21 years of age and older.
Information and Safety Guidelines –   
Masks:
– Required at all times when not seated
– Encouraged while seated, unless eating or drinking
– Staff will be masked
– Hand sanitizer will be provided
Parking:
– There will be limited parking available in the lot, overflow parking will be at Ivy Gables.
Pathways / Restrooms / Accessibility:
– You will need to walk up a small hill / incline to use the restroom.
– Restrooms will be indoors and will be monitored / cleaned by a volunteer.
– A pathway will be marked out, following all of the parking spaces closest to the theater. The pathway will be 16 feet wide and will be marked with directions.
– There will be a 16-foot buffer area between the band and patrons to provide safe spacing for all involved. 
"Our capacity for the event is approximately 120 people," said Candlelight Theatre Operations Manager Dan Healy. "We can safely do 150 with social distancing if we move the parking.
"The spacing is at least six feet if not eight feet and the tables, which are for parties of five-to-eight, are 10 feet apart. And, the stage is more than 20 feet away from the audience. There is no rain date, but the weather forecast looks really good for Sunday."
Other shows in the "Summer Nights Outdoors at Candlelight" series feature Lyric Drive on October 4, Mason Dixon on October 10, and Vanessa Collier on October 24.
The Arts at Trinity (1108 N. Adams Street, Wilmington, DE ) will present a special concert by Serafin & Friends on September 27 at 4 p.m.
The program, which features Amos Fayette and Kate Ransom on violins and Jennifer Nicole Campbell on piano, was initially performed on September 20 and, due to popular demand, is being repeated this weekend.
The free concerts launch the fall "Arts Season" in Wilmington and feature Serafin roster artists Fayette and Ransom along with Campbell, who is a guest pianist.
The works that will be showcased in Sunday's concert are Beethoven's "Sonata for Violin and Piano in G Major, Op. 30, #3"; Brown's "White Clouds, Blue Canyons," Campbell's "Variations on Amazing Grace"; Lipinski's "Caprice" Op. 29 No. 3 for solo violin"; Leclair's "Sonata in E Minor for Two Violins"; and Niels Gade's "Sonata No. 2 in D Minor for Violin and Piano, Op. 21."
Admission is free but tickets must be reserved in advance at https://www.eventbrite.com/e/the-arts-at-trinity-serafin-ensemble-second-concert-tickets-121211447703?aff=erelexpmlt.
COVID-19 precautions will be in place and seating will be limited to 50 patrons.
While the weather is still nice, you can enjoy some low-key, outdoor, socially distanced shows at a variety of local venues.
Cedar Hollow Inn Restaurant and Bar (2455 Yellow Springs Road, Malvern, www.cedarhollowinn.com) will present Kendal Conrad on September 24, Nicki Sbaffoni on September 25, and Jerry Watkins on September 26.
Brickside Grille (540 Wellington Square, Exton, bricksidegrille.com) is hosting David Pickett on September 24, Mr. Mike on September 25, Dan Graper on September 26 and Jim Cesca on September 27.
Stable 12 Brewing Company (368 Bridge St, Phoenixville, stable12.com) will host Kendal Conrad on September 25.
Penns Woods Winery (124 Beaver Valley Road, Chadds Ford, www.pennswoodswinery.com) is offering live music on the lawn featuring Pete Marziano on September 26, Hanna Paige on September 27, Amanda & Teddy on October 3 and Nicole Zell on October 10.
The Bordley House (1520 Tattersal Way, West Chester, www.bordleyhousegrille.com) will host Ziggy Isaacs on September 26.
Tuned Up Brewing Co. (135 North Main Street, Spring City, www.tunedupbrew.com) will present Mr. Moody on September 25.
A'Dello Winery (21 Simmons Road, Perkiomenville) has a schedule featuring Michael Kropp on September 26.
People's Light (39 Conestoga Road, Malvern, peopleslight.org) is working in partnership with East Whiteland Township to offer a Drive-In Concert Series, following current PA regulations for outdoor events. These drive-in concerts, held in the theater's back parking lot, are designed for small groups within the same "social bubble" to safely enjoy outdoor entertainment together. Tickets are limited and social distancing is enforced.
The People's Light Drive-In Concert Series will have its next show on October 4 with Zeek Burse followed by Stella Ruze on October 11 and 49 Burning Condors on October 18.
The Living Room Outdoor Concert Series (https://www.thelivingroomat35east.com/) had two upcoming shows on its schedule. Unfortunately, they are now off the board.
Laura Mann, the proprietor of the Living Room, posted this message on the venue's website – "Regrettably, due to circumstances beyond our control, we had to cancel the final two shows of The Living Room Outdoor Concert Series – Women's Singer-Songwriter Showcase with Emily Drinker, Joy Ike and Valentina Sounds on September 26th and Lili Añel and David Mowry with Dale Melton and Bill Zinno on October 2nd. We apologize for the inconvenience and if you purchased tickets for either of these shows you will receive a refund."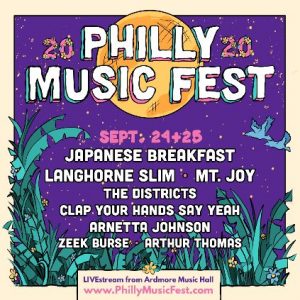 Philly Music Fest (https://phillymusicfest.com/) will hold an all-virtual LIVEstream music festival on September 24 and 25 with performers actually performing live on stage and featuring nationally acclaimed bands — Japanese Breakfast, Mt. Joy, Langhorne Slim, The Districts and Clap Your Hands Say Yeah.
The annual festival — which usually takes place over four nights at three independent Philadelphia music venues, selling out all four nights the last two years — will still exclusively feature local musicians. Proceeds will be donated to Philadelphia-based music education programs and seed another round of Philly Music Fest grants for local musicians struggling due to COVID-19.
Unlike other virtual music festivals that feature performances pre-recorded in living rooms and bedrooms, all of Philly Music Fest's headlining and direct support sets will be performed live and the performances will be on a stage. Bands will perform at the Ardmore Music Hall, which is outfitted with a cutting-edge, four-camera HD audio and streaming video capability, powered by Nugs.net.
In order to allow venue staff to sanitize the stage and replace microphones, stands, and cords, the festival will feature pre-recorded sets from emerging artists and messages from the charities that the festival has supported in the past, which will be shown in-between the live sets.
Normally featuring two dozen local bands, the 2020 edition of Philly Music Fest has a shorter lineup. Other featured acts will be Arnetta Johnson and SUNNY, Langhorne Slim, Arthur Thomas and the Funkitorium and Zeek Burse.
Philly Music Fest's livestream will be broadcasted live on WXPN, and the video of the performances will be available at NPR Music Live Sessions. The livestream can also be accessed through the Philly Music Fest website and Ardmore Music Hall's website.