By Denny Dyroff, Entertainment Editor, The Times
Kendal Conrad had a master plan forging a career in music – grow up in the western suburbs of Philadelphia, learn to play guitar and write songs, graduate from college, head to Nashville to make music and eventually go out on national tours.
Conrad embarked on that path more than a decade ago and was progressing nicely – until the COVID-19 pandemic derailed the music industry.
"I was living in Nashville, but I've moved back to Pottstown," said Conrad, during a phone interview Wednesday afternoon from her home in suburban Pottstown.
The pandemic has made it difficult for musicians to get in the recording studio and virtually impossible for them to embark on album support tours.
"Everyone is going through the same thing with COVID," said Conrad. "I don't know what is going to happen.
"With COVID, you just can't make any plans. And, so much of a music career is planning – planning tours, planning TV shows, planning career moves. I miss working. I miss planning dates and scheduling shows."
Singing came naturally for Conrad.
"I just always sang since I was little," said Conrad, who graduated from Pottsgrove High School in 2010. "I would sing along with the radio. There was no epiphany of wanting to be an artist. I just always wanted to sing.
"My first real performance that wasn't part of a group like a choir was when I was in fourth grade. I sang a solo piece at the American Cancer Society's Relay for Life at Pottsgrove. I sang 'I Hope You Dance,' a song by Lee Ann Womack.
"When I was 16, my dad gave me a Martin guitar as a birthday present. It took me a little while to learn to play it. After a year, I could sing and play together pretty well. I hadn't started writing yet when I was in high school. I was still working on singing and playing together.
"My first job was as a hostess and I hated it. You didn't make any money. I saw flyers of middle-aged men gigging with their guitars. I thought that was better than sorting forks."
After graduating from high school, Conrad spent her college years commuting from her home in Pottstown – travelling down a few exits on Route 422 to Ursinus College's campus in Collegeville.
"I had a double major at Ursinus – English and Theater," said Conrad. "I  like plays. I prefer performing in plays rather than musical theatre. I thought being a theater major would help my music. It's all storytelling.
"I was an honor student at Ursinus. I wrote a 110-page paper on 'Sweeney Todd.' I spent a lot of time reading novels. I love novels. I love stories. I thought being an English major would help my songwriting. I knew that it would fuel my music. It made my lyrics better and stronger.
"Still, writing my first song was very difficult. Once I had a bunch that were O.K., it felt better. Now it's very easy."
Conrad shed some light on her evolution as an artist in her Facebook bio —
"I get really excited about new books. I love to read, and I'll read pretty much anything. I'm also a writer. I paint pictures with words. I have two unpublished dark fantasy/horror novels that I think would kick butt on the big screen. Some people take pictures to capture the special moments in their lives that they want remembered. Well, I write songs.
"I write songs about old boyfriends, new boyfriends, and people I haven't even met yet. I write songs about zombies and aliens and even Reba McEntire. Music has no rules, and that's what I love about it. I prefer to listen to country music, but I gotta admit it – I have everything from Whitney Houston to Kelly Clarkson to All Time Low to Killswitch Engage to Hannah Montana to George Strait to Eminem on my iPod.
"I wear my heart on my sleeve. I hold a grudge. I hate winter, but I love breaking out my fur boots. I'm a hopeless romantic and sometimes I wonder what my future husband is doing at this very moment. Weird thought, ain't it?
"I admire strong women, like my mom. I wrote the song "Imagine" for her. I could spend countless hours reading quotes and I love the exact moment when you find a really good one. I over analyze and overthink EVERYTHING."
Conrad has developed a songwriting process that works well for her.
"Usually, I start with the title and I have a little melody that goes with it," said Conrad. "Then, I think what the story would be to go with the title. I usually start with a catchy clever hook part.
"I think I always try to write first person. My songs are usually personal — from things I've done or from aspects of my personality. Songwriting is the only place I can really open up.
"I'm not personable. I have a wall. Songwriting and music kind of saved my life. People don't realize how shy and quiet I am. I wouldn't talk about myself. Music is therapeutic for me."
Conrad cites her second single – "Leader of the Pack," which was released in October 2019 – as an example.
"My favorite song I've recorded is 'Leader of the Pack,'" said Conrad. "I think about grudges in it. If you threw me to the wolves, I'm going to come back as leader of the pack."
On her website, Conrad posted this passage –
"I don't wear my heart on my sleeve because I've got it in the palm of my hand.  I don't just hold a grudge; I have a mental catalogue of every person who ever upset, hurt, or wronged me (to the boy who dropped his PB&J on my lap and ruined my white pants in the 5th grade – you know who you are, and no, I haven't forgiven you). But don't worry – I never exact vengeance in real life."
For Conrad, writing a song is more than just a creative activity.
"It's therapeutic to write the songs but my favorite part is the finished product when I put it up," said Conrad. "It's definitely the finished product."
Living in Nashville played a strong role in her development as a musician.
"I gigged here and there and wrote with people in Nashville," said Conrad. "I was living right in town and I networked a lot. I'd go to writers' rounds.
"I had to force myself out of my comfort zone. I did that for a solid four years and wrote a ton of good songs. But they don't pay you to play in Nashville."
Unlike many young musicians who move to Nashville because it is the Mecca for wannabe country singer-songwriters, Conrad had a path of her own to follow.
"I really am pop/country," said Conrad. "My songs have a storyline like country but also have a pop element. I don't consider myself a country artist. I borrow and adopt so many things from other genres."
For a young artist, Conrad already has an impressive CV.
She opened for Blake Shelton at the Dick's Sporting Goods Open to a crowd of 18,000. Conrad has also performed the National Anthem for the New York Mets at Citi Field and for the New York Riptide at NYCB Live.
She also appeared on MTV and sang a duet onstage with Keith Urban. Conrad was featured on Urban's website as one of his favorite "Raise 'Em Up" Tour moments. She was a finalist in the NBC 10 Talent Search and a finalist in the Colgate Country Showdown. She is the 2015 Country Showdown Winner for Philadelphia's 92.5 XTU.
Conrad's time in Nashville allowed her to hook up professionally with Matt McVaney.
McVaney, also known as "McV," is a Nashville writer/producer currently signed to Song House, a publishing venture owned by producer/engineer/mixer, F. Reid Shippen.
McV has worked with a number of pop and country artists, including Jessie James Decker, Chase Rice, Kane Brown, Cali Rodi, Lauren Alaina, Seth Alley, Jimmie Allen, and Sammy Arriaga. He is most well-known for co-writing Kane Brown's viral hit "Used To Love You Sober" (iTunes #1 Country, #2 Overall) and Lauren Alaina's latest Interscope single "Next Boyfriend."
"I recorded five singles with Matt last year at his studio in Nashville," said Conrad. "It took one session to write each song and five days to do the vocals. He used his musicians on the tracks. It took about one month to do the whole thing.
"I decided to release the songs one-by-one as singles. The first was 'Come to Your Senses,' which came out in June 2019. The second was 'Leader of the Pack' in August."
"Come to Your Senses" has over 200,000 streams on Spotify. "Leader of the Pack" was played for Philadelphia Phillies spring training, Villanova Men's Basketball at the Wells Fargo Center, and the Hartford Wolfpack at the XL Center. The song was also played on Lehigh Valley Fox Sports Radio. It has been used in over 1700 TikTok videos and has garnered 25 million views.
"The third single from the group of songs was 'Bodyguard,' which came out in May of this year," said Conrad. "My new single is 'Better On,' which was just released on August 28. The fifth single is scheduled for next month but I'm not revealing the title yet."
While touring is not a feasible option, Conrad still has been performing live on a regular basis.
"Right now, planning shows means finding places with patios," said Conrad.
Conrad was referring to live shows presented by bars and restaurants in an outdoor setting with full social distancing.
Locally, she has performed at a variety of venues in Chester County including Whitford Country Club (Exton), Cedar Hollow Inn Restaurant and Bar (Malvern), Liberty Union (Phoenixville), Timothy's Lionville (Exton), Stable 12 Brewing Company (Phoenixville), The Orangery at Glen Isle (Downingtown), Bistro on Bridge (Phoenixville), Ron's Original Bar & Grille (Exton), and The Analog Room (Phoenixville).
Conrad's upcoming schedule includes shows at Bell Hall (Allentown) on September 18, Lehigh Valley Zoo (Allentown) on September 19, The 19th Hole at Swamp Pike Pub (Gilbertsville) on September 20, Cedar Hollow Inn Restaurant and Bar (Malvern) on September 24, Stable 12 Brewing Company (Phoenixville) on September 25, and The House and Barn (Emmaus) on September 26.
Conrad will also perform at a NASH 93.5 Virtual Concert on September 28 at 4 p.m.
Video link for Kendal Conrad with Keith Urban – https://youtu.be/-wskrj5R79Y.
Audio link for "Leader of the Pack" — https://youtu.be/R8DEDoFoUNE.
Audio link for "Better On" — https://youtu.be/eSrA08eLuy8.
People's Light (39 Conestoga Road, Malvern, peopleslight.org) is working in partnership with East Whiteland Township to offer a Drive-In Concert Series, following current PA regulations for outdoor events. These drive-in concerts, held in the theater's back parking lot, are designed for small groups within the same "social bubble" to safely enjoy outdoor entertainment together. Tickets are limited and social distancing is enforced.
The People's Light Drive-In Concert Series will have its next show this weekend featuring Susan Werner on September 20.
Deemed by National Public Radio as "The Empress of the Unexpected," Werner is known for conquering new musical styles. With a catalog of 12 albums in 20 years, she has crafted songs in genres ranging from folk/rock to Tin Pan Alley to gospel, country, and chamber music.
From her 1995 major label debut, the folk/rock gem "Last of the Good Straight Girls," to her 2004 collection of Tin Pan Alley styled originals "I Can't Be New," to her 2007 "agnostic gospel" hymnal "The Gospel Truth," to 2013's tribute to agriculture and her Iowa farm roots "Hayseed," to 2018's "An American In Havana," Werner's creative restlessness has become her defining characteristic.
Werner's show at People's Light on September 20 will get underway at 4 p.m.
Here are the ground rules issued by People's Light: 
These drive-in concerts are designed for small groups within the same "social bubble" to safely enjoy outdoor entertainment together. Tickets are limited and social distancing is enforced.  Each vehicle is limited to 5 people or less and assigned a parking spot and adjacent "Home Space" for setting up lawn chairs. We require concert attendees to remain in their designated area as much as possible and avoid mingling with other parties.
Face masks are required on our campus and may only be removed inside a vehicle or Home Space. People's Light staff will be masked at all times and maintain a 6-foot distance from each other and our guests. We have protocols in place for disinfecting spaces, surfaces, and equipment used by musicians and staff.
We are working in partnership with East Whiteland Township and following current PA regulations for outdoor events. As we continue to monitor confirmed COVID-19 cases in the area, we are constantly evaluating the safety of our on-campus programming and will cancel events if necessary.
This socially distanced drive-in concert will take place in the rear parking lot of the People's Light campus at 39 Conestoga Road, Malvern. There will not be an "opener" before Susan Werner's set. The band will perform on a raised stage at the back of the lot.
Tickets are $75 per car and limited to 5 passengers per car (not including children under 12). There are no physical tickets for these events. Attendees will receive a confirmation email receipt immediately following purchase, as well as a reminder email with more details a few days before a concert.
Please plan to arrive between 3 and 3:30 p.m. so we can get everyone parked in time for the 4 p.m. concert.
A masked attendant will greet you at a 6-foot distance when you arrive. Please be prepared to wear a mask and provide your name so we can check your ticket status. Your car will be assigned a number, which will be adhered to your back windshield by the attendant. This is to assist in food delivery for those who pre-ordered from our on-site restaurant and is also a helpful safety measure.
Parking attendants will guide you to a parking space. Cars will be parked based on the size of the vehicle. Lower cars in front, bigger vehicles in the back. You will not be allowed to move your vehicle once you've parked. Vehicles that don't fit in a parking space (such as campers or oversized trucks) will not be allowed entry. Your view of the stage will be dependent on your location and the number of large vehicles in the lot, so we encourage you to bring your smallest vehicle!
Every vehicle will be assigned a "Home Space", an adjacent parking spot where you can set up lawn chairs. This space will be on the DRIVER'S SIDE of your vehicle, assuming you parked facing the stage. This is not a space intended for mingling with those outside your party. Per current PA regulations, you need to either be in your vehicle or immediately adjacent to it. No walking around or visiting neighbors.
You can pre-order food and drinks from The Farmhouse at People's Light (and yes, this includes alcoholic beverages!) Specific instructions will be emailed to concert ticket holders, along with a 10% discount code. Outside alcohol is prohibited.
Face masks are required on our campus and may only be removed in your car or Home Space. We ask that all concert attendees wear a mask and maintain a 6-foot distance when interacting with anyone outside your party. People's Light staff will be masked at all times, and Farmhouse staff will be masked and gloved.
There will be one standard portable toilet, one ADA-compliant portable toilet, and one wash station located in the parking lot. We require face masks (and suggest gloves!) when walking to and using the facilities.
Please turn off your car when you park. We do not encourage people to sit in a car that is idling for more than ten minutes. (But don't forget to turn your lights back on at the end of the night!)
Video link for Susan Werner — https://youtu.be/f5_L-0y1CiY.
Other upcoming shows at People's Light are Zeek Burse on October 4, Stella Ruze on October 11 and 49 Burning Condors on October 18.
The Living Room Outdoor Concert Series (https://www.thelivingroomat35east.com/) has three upcoming shows — The Fractals on September 19, "Women's Singer-Songwriter Showcase" with Emily Drinker, Joy Ike and Valentina Sounds on September 26, and Lili Añel and David Mowry with Dale Melton and Bill Zinno on October 2.
The concerts will continue to be held at a large, private location. Customer seating areas are pre-assigned with a minimum of six feet between each site and six-feet walkways. Masks are required in all public areas on the property. Customers are asked to bring their own food and beverages. All special instructions and ticketing information are posted on the venue's website at www.thelivingroomat35east.com.
While the weather is still nice, you can enjoy some low-key, outdoor, socially distanced shows at a variety of local venues.
Cedar Hollow Inn Restaurant and Bar (2455 Yellow Springs Road, Malvern, www.cedarhollowinn.com) will present Chris Lebresco on September 18, Jason Farley on September 19, Kendal Conrad on September 24, Nicki Sbaffoni on September 25, and Jerry Watkins on September 26.
Brickside Grille (540 Wellington Square, Exton, bricksidegrille.com) is hosting Michael Kropp on September 17, Nicole Zell and Chris Spousta on September 18, Michael Kropp on September 19, and Bill Hake on September 20.
Stable 12 Brewing Company (368 Bridge St, Phoenixville, stable12.com) Rick McSteve on September 19 and Kendal Conrad on September 25.
Penns Woods Winery (124 Beaver Valley Road, Chadds Ford, www.pennswoodswinery.com) will present Jason Ager on September 19, Greg Jones on September 20, Pete Marziano on September 26 and Hanna Paige on September 27.
The Bordley House (1520 Tattersal Way, West Chester, www.bordleyhousegrille.com) will host Bryan McDermott on September 19 and Ziggy Isaacs on September 26.
Tuned Up Brewing Co. (135 North Main Street, Spring City, www.tunedupbrew.com) will host Mr Mody on September 25.
Creekside Sports Bar & Grille (765 N Lewis Road, Royersford, http://www.creeksidesportsbar.com/) will host Michael Kropp on September 20.
A'Dello Winery (21 Simmons Road, Perkiomenville) has a schedule featuring Joe Miralles & Gary Houk on September 19 and Michael Kropp on September 26.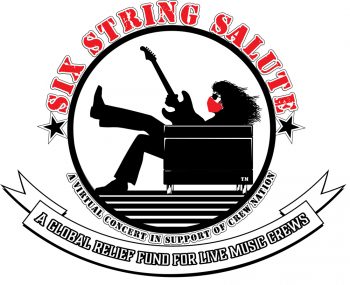 On September 17, Six String Salute (https://sixstringsalute.com/) will premiere a virtual concert to support and celebrate the touring and venue crews who are the backbone of live music and depend on shows to make a living. Six String Salute will bring together guitarists and guitar-centric bands to share exclusive performances and great rock and roll stories in support of Crew Nation, a global relief fund for live music crews.
The debut of the event will stream worldwide exclusively on Live Nation's YouTube channel and Live From Home platform, with 100% of net proceeds benefitting Crew Nation.
Artists confirmed to appear include: Steve Hackett (Genesis), Jennifer Batten (Jeff Beck), Steve Vai, Joe Satriani, Tommy Shaw (Styx) with the Cleveland Youth Orchestra, Rich Robinson (The Black Crowes), Halestorm, Rik Emmett (Triumph),  Joel Hoekstra (Whitesnake, TSO), Frank Hannon (Tesla), Richard Williams (Kansas), Alex Skolnick (Testament),  Dave Pirner (Soul Asylum), Trans-Siberian Orchestra, Big Head Todd & The Monsters, Damon Johnson (Thin Lizzy, Alice Cooper), Steve Cropper, Jesse Dayton, Jeff Watson (Night Ranger), Nick Perri (The Underground Thieves), Sammy Boller, Ross the Boss, Joyous Wolf and the triple guitar attack of Alice Cooper's Nita Strauss, Tommy Henriksen and Ryan Roxie, plus.
Additionally, a number of crew members from prominent bands will also share their stories and tales from the road throughout the evening. Six String Salute will be hosted by nationally syndicated radio personality Steve Black (The Chop Shop).
Six String Salute is being organized by Manic Merch, The Chop Shop Guitar Show, Chipster PR, Sun Broadcast Group and Live Nation.
Video link for Six String Salute — https://bit.ly/31osDg0.