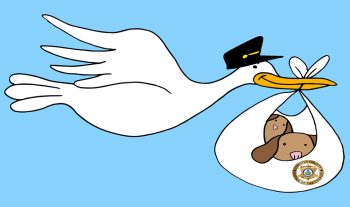 WEST CHESTER — The Chester County Sheriff's Office is pleased to announce that it is expecting! Later this month, two young K-9s, destined to become Chester County Deputy Sheriffs, will be "delivered" to Chester County to begin their training regime.
But both dogs need names.  And Chester County Sheriff Fredda Maddox and her team are asking the Chester County community for suggestions.
"We are excited to welcome the two male K-9s in the next few weeks," said Sheriff Maddox.  "Both of the dogs have been chosen because they show the perfect temperament and intelligence to excel at being part of our Chester County Sheriff's Office K-9 team. Now, all that they need are to be named as they begin their extensive training, and we would like the Chester County community to help us."
The new trainee K-9s will undergo hundreds of hours of instruction over a number of months, and will train alongside their individual handler partners who are current Chester County Sheriff's Deputies. Once initial training is complete, the dogs will join the current Sheriff's Office K-9 team that specializes in detecting missing people, narcotics or explosives, as well as a K-9 that serves as a comfort dog.
The dogs that currently serve as Chester County K-9s are named Don, Cairo, Marley, Maddie, Luke, Dexter and retired K-9 Yukon.
"For our two new dogs we are looking for names that are unique, but of course, quick and easy to pronounce," added Sheriff Maddox.
To submit a suggested name for each of the Chester County Sheriff's Office's newest K-9s, email yukon@chesco.org by 5:00 p.m. on Friday, September 18th.
The two selected names will be announced by the end of September, as each of the dogs begins its formal training to join the prestigious ranks of the Chester County Sheriff's Office K-9 team.