By Denny Dyroff, Entertainment Editor, The Times
When Lotus performs a live show for its fans this weekend, the instrumental band could appropriately borrow a line from a Monty Python project – "And Now for Something Completely Different."
On September 4, Lotus will headline a show at Citizens Bank Park — at Citizens Bank Park not in Citizens Bank Park. 
Lotus' show will be part of drive-in concert series that has been taking place in the parking lot of the Philadelphia Phillies stadium (Broad Street and Pattison Avenue, Philadelphia). The series is being presented by Live Nation Philadelphia, in partnership with the Philadelphia Phillies.
Live Nation Philadelphia is creating a unique live music experience by allowing fans to enjoy concerts from the comfort of their car in a drive-in setting with the audio simulcast on an FM frequency. All artists will be performing full live sets on stages set up in the parking lot of Citizens Bank Park. The events will also feature large-scale video LED screens so fans can enjoy a true live concert experience.
Lotus is an instrumental-electronic quintet featuring Mike Greenfield (drums), Jesse Miller (bass, modular synth), Luke Miller (keyboards, guitar), Mike Rempel (guitar) and Chuck Morris (percussion). The quintet has always been difficult to define musically – especially with influences of classic electronic dance music, funk, post-rock and dance-rock. It has been described as an instrumental jam band that has favored groove-based improvisation instead of gaudy solos and noodling.
"It will be kind of a festival style show," said Jesse Miller, during a phone interview Tuesday from his home in the Kensington section of Philadelphia.
"We have a full light rig and two big screens. It will have some of the hallmarks of our traditional live show."
Lotus just released a new album two weeks ago. In normal times, the band would be embarking on an album support tour in the fall. But, with the COVID-19 pandemic in full force, tours are not feasible.
"The pandemic really started changing things back in the spring," said Miller. "We played a festival in early March in Okeechobee, Florida. It had just started to hit, and we saw things like hand sanitizers in the airport.
"That was the last time we played this year. We typically play festivals all summer, but they all were canceled. After the show this weekend, we have nothing on the books. For many musicians, without live shows, it's not sustainable. I'm living off my savings right now. Some of the other guys have found things like studio work."
The new Lotus album – "Free Swim" – was released on August 21.
"Before COVID hit, we didn't have an exact date for the album's release," said Miller. "Traditionally, we play our own festival on Labor Day Weekend but that's not feasible. So, we just continued on with the process of recording and releasing an album. We haven't played any of the new songs live yet."
Even though this is the band's first area show since the release of "Free Swim," the live sounds of the album have already been floating in the ether in Philadelphia.
The album and accompanying videos were tracked live at Spice House Sound in Philadelphia with cameras rolling. It was the 15th album by the quintet which considers itself a Philly band has three members living in Denver, Colorado and two in Philadelphia.
"Some of us still live in Colorado where the band first started," said Miller. "Luke, Mike and Chuck live in Colorado and two of us are here.
"We consider ourselves to be a Philly band because all of our gear is in Philly, two of us still live here and because there are good studios in Philadelphia. We've used Miner Street Studio in the past and we used Rittenhouse Soundworks in Germantown for 'Frames Per Second,' which our previous album.
"With the new album, the songs were all written by the time we went in the studio in early February. The songs from 'Free Swim' were all composed rather than improvisational. With compositions, you can put something together in a detailed way.
"We had a five-day run at Spice House to record it and then mixed it in March. We also did videos of us in the studio when we were making the album. It was our first time to use Spice House.
"It's a great studio – a nice space with great gear. They have a nice organ system with Leslie cabinets. And it had a large tracking room – a well-designed room that was big enough for the entire band and the crew that was doing the videos.
"We were recording digitally at Spice House. Then, I did most of the mixing and post-production at my home studio."
All of Lotus' music is initially generated by the Miller Brothers.
"Me and Luke do all the writing," said Miller. "Anytime we're not on tour, we're working on demos. We went into this album with 25 demos and whittled it down to 18. We recorded those 18 songs and used 10 on the record.
"Sequencing was important. People listen to music with platforms like Spotify but I still believe in an album as true representation. I think of it as vinyl sides. We still have a lot of fans that buy albums on vinyl."
Influences of classic electronic dance music, funk, post-rock and dance-rock have all made their way into the Lotus sound. Over the years, the band's unique musical blend helped forge a new path in the jam band landscape, influencing many younger bands in the scene. Albums such as the debut studio release, "Nomad," in 2006 have become a touchstone for how to organically fuse elements of electronica with jam music.
The band continues to evolve through each tour and album bringing in new sounds and writing styles. Since its formation two decades ago, Lotus has toured actively throughout the U.S. — working its way up from dingy basement clubs to world-class venues such as Red Rocks. Lotus has become festival favorites, playing everything from Bonnaroo, Camp Bisco and Outside Lands to Ultra Music Festival and Electric Forest.
The veteran musicians also hosts their own annual SummerDance Festival in Garrettsville, Ohio, which will resume in 2021. A Lotus live show is an experience, a uniquely crafted and improvised set taking everyone, the crowd and band, on a journey. That unique journey continues with the "Live-In / Drive-In Concert Series" in South Philly on Friday night.
Video link for Lotus — https://youtu.be/_4A4JsLvB9Y.
At the "Live-In / Drive-In Concert Series, fans can expect contactless ticket scanning through their vehicle window and then will be shown to their designated parking space where they will enjoy the show from inside their own vehicle. Guests can leave their cars, wearing a mask, to use one of the portable bathroom locations which will be continuously sanitized throughout each event.
There will be dedicated buffer space around each vehicle to ensure social distancing.
Tickets will be sold in the form of a group car pass. Each car will purchase just one ticket, good for a maximum of four people per car. Car pass tickets are on sale athttp://www.phillies.com/drivein.
Other shows in the series this weekend will be Smith & Meyers on September 3, Dark Star Orchestra on September 5 and 6 and Michael Blackson & Friends with special guest DJ Jazzy Jeff on September 7.
Dark Star Orchestra, a recreation of the live Grateful Dead experience, will rekindle the magic and the memories of the Grateful Dead's live shows in Philadelphia when it performs this weekend at Citizens Bank Park on Saturday, September 5, and Sunday, September 6.
The Grateful Dead, who first appeared in Philadelphia on April 26, 1968, would eventually make Philadelphia a second home, with numerous three-show stops in either the fall or spring "Truckin'" to a record-setting 53 appearances at the Spectrum (plus four more after the death of Jerry Garcia in 1995). No other artist comes close to the number of performances by the Grateful Dead at the Spectrum. (A history of live Grateful Dead shows in Philadelphia is below).
Dark Star Orchestra offers much more than the sound of the Grateful Dead. The band truly encapsulates the energy and the experience. It's about a sense of familiarity — a feeling that grabs listeners and takes over — that contagious energy.
Dark Star Orchestra announced their second show in Philly this weekend will be a 40th-anniversary recreation of the Grateful Dead's September 6, 1980 performance at the Lewiston, ME, Fairgrounds. The band's Grateful Dead recreation scheduled for September 5 has not been selected. The band is approaching 3000 shows performed, nearly 700 more than the original Grateful Dead.
Video link for Dark Star Orchestra — https://youtu.be/HWQ0igXTeKo.
The Living Room Outdoor Concert Series is moving to a new location.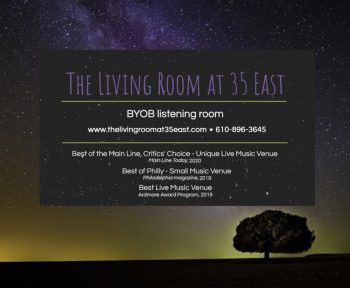 The Living Room at 35 East, the award-winning intimate listening room in Ardmore, announced the continuation of The Living Room Outdoor Concert Series. After three very successful sold-out concerts in July and August, they decided to resume the series with five more outdoor concerts in September and early October. Tickets are on sale now.
The series kicks off with "An Evening with Jim Boggia" on September 5.
For more than 20 years, Jim Boggia has been winning over fans with his uncompromising devotion to the sort of winsomely nostalgic, emotionally direct songcraft that's impervious to age. His sonically intelligent retro-pop manifesto informs three studio albums – 2001's "Fidelity Is the Enemy," 2005's "Safe in Sound" and 2008's "Misadventures in Stereo."
Boggia has worked with a startling array of artists, including Aimee Mann, Joan Osborne, David Byrne, Elvis Costello, Bonnie Raitt, Bernadette Peters, NRBQ's Big Al Anderson, famed Beach Boys lyricist Tony Asher, MC5 guitarist Wayne Kramer, Attractions drummer Pete Thomas, and countless others. Also, an accomplished singer and guitarist, Boggia performs with the well-known New York City–based Beatles tribute band, the Fab Faux, as well as Mad Dogs & Dominos, an 18-piece collective headed by a heavyweight roster that includes Blues Brothers alum Lou Marini and producer John Leventhal.
Other upcoming shows are Trevor Gordon Hall with Adam Monaco on September 12, The Fractals on September 19, "Women's Singer-Songwriter Showcase" with Emily Drinker, Joy Ike and Valentina Sounds on September 26, and Lili Añel and David Mowry with Dale Melton and Bill Zinno on October 2.
The concerts will continue to be held at a large, private location. Customer seating areas are pre-assigned with a minimum of six feet between each site and six-feet walkways. Masks are required in all public areas on the property. Customers are asked to bring their own food and beverages. All special instructions and ticketing information is posted on the venue's website at www.thelivingroomat35east.com.
Sadly, The Living Room is closing its location at 35 East Lancaster Avenue in Ardmore.
According to Laura Mann, owner and curator of The Living Room, "With the current state of things and with no end in sight, it is impossible to socially distance in such an intimate venue.
"The silver lining is that we will be starting a new chapter and will be opening a new location that better suits our needs, where we will be able to continue to bring you some of the best musicians and desserts around. Stay tuned for news about our grand reopening!
"We look forward to when we are able to reopen for indoor shows, in a way that is safe and conforms to all legal restrictions, but meanwhile we look forward to five more shows in our outdoor concert series.
"The series will include some artists who have performed at our venue previously, some whose shows were canceled over the past several months, and some artists who are new to us. They are all some of the best the Philadelphia area has to offer in multiple genres."
While the weather is still nice, you can enjoy some low-key, outdoor, socially distanced shows at a variety of local venues.
Brickside Grille (540 Wellington Square, Exton, bricksidegrille.com) has a full slate for this month with Tom Guest on September 3, Castles in the Sky on September 4, Mr. Mody and Friends on September 5, Taylor Rhodes on September 6, Bob Starner on September 9, Tap Duo on September  10, Stephen Sottung on September 11, Singles Going Steady on September 12, Dave Saunders on September 13, Vic Raolji on September 16, Michael Kropp on September 17, Nicole Zell Duo on September 18, Michael Kropp  on September 19, and Bill Hake on September 20.
Stable 12 Brewing Company (368 Bridge St, Phoenixville, stable12.com) Rick McSteve on September 19 and Kendal Conrad on September 25.
Penns Woods Winery (124 Beaver Valley Road, Chadds Ford, www.pennswoodswinery.com) will present Matt Spitko on September 5, Joe Grasso on September 6, Adam McCue on September 12, Jason Ager on September 19, Greg Jones on September 20, Pete Marziano on September 26 and Hanna Paige on September 27.
On September 4, Whiskey Logic will play a show at the Chadds Ford Tavern (1400 Baltimore Pike, Chadds Ford,
thecftavern.com).
The Bordley House (1520 Tattersal Way, West Chester, www.bordleyhousegrille.com) will host Adam McCue on September 5, Chris Lebresco on September 12, Bryan McDermott on September 19 and Ziggy Isaacs on September 26.
Braeloch Brewing (225 Birch Street, Kennett Square, https://www.braelochbrewing.beer/) will present Max & Denise on September 6.
Epicurean Garage (570 Simpson Drive, Chester Springs, www.epicureangarage.com) has a roster of live entertainment that features Almost Minnesota on September 3, Tom Guest on September 4 and 5, Apatite Band on September 6 and J.D. Malone on September 12.
Tuned Up Brewing Co. (135 North Main Street, Spring City, www.tunedupbrew.com) will host Michael Kropp on September 5, Bill Ferreri on September 11 and Mr Mody on September 25.
Creekside Sports Bar & Grille (765 N Lewis Road, Royersford, http://www.creeksidesportsbar.com/) will host Michael Kropp on September 6, 13 and 20.
A'Dello Winery (21 Simmons Road, Perkiomenville) Joe Miralles & Gary Houk on September 19 and Michael Kropp on September 26.
Other area venues that have been presenting live shows are The Stone Barn (100 Stone Barn Drive, Kennett Square, www.thestonebarn.com), Cedar Hollow Inn Restaurant and Bar (2455 Yellow Springs Road, Malvern, www.cedarhollowinn.com), Downingtown Country Club and Seven Tap-Tavern (93 Country Club Drive, Downingtown, www.golfdowningtown.com) and John Henry's Pub (98 Cricket Avenue, Ardmore, www.johnhenryspubofardmore.com). Check their websites for updated information.