By Denny Dyroff, Entertainment Editor, The Times 
Live entertainment continues to get battered by the COVID-19 pandemic.
Still, there have been a few attempts by venues to present live entertainment. Three different forms of presentation have emerged – indoor, outdoor and outdoor in a drive-in environment.
Indoor shows might be the most pleasing aesthetically, but they are also the least safe.
Jamey's House of Music in Lansdowne and the Candlelight Dinner Theater in Arden, Delaware tried putting on indoor live shows and met with mixed results. After reconsidering the overall threat to attendees' health, both venues have opted to discontinue live indoor presentations for the foreseeable future.
Outdoor shows in a drive-in environment are the safest but, for the most part, are more sterile aesthetically than physically.
In between the two extremes are outdoor shows where patrons can sit in the open air and enjoy live entertainment. Done properly, they can be safe by health standards and, at the same time, aesthetically enjoyable.
The 2020 Willows Summer Concert Series has taken the middle path and it has been successful.
Winding Way Records in partnership with the Willows Park Preserve is presenting a socially distanced outdoor Summer Concert Series at The Willows Park (490 Darby Paoli Road, Villanova, https://www.eventbrite.com/e/summer-concert-series-registration-111851165848).
The first event was held on July 12 with Under The Oak and Cookie Rabinowitz. The next show, which is scheduled for August 9, will feature The Fractals, with opener Mia Johnson.
This concert series allows for live music to be enjoyed in a safe manner in a time when live entertainment has come to a halt. Guests can spend an evening picnicking with live music at a beautiful and historic outdoor venue. Listeners of all ages are welcomed to attend this secure and family-friendly series.
Tickets are free and preregistration is required.
COVID-19 information on event's website — The goal of the Willows Park Preserve concert series is to provide outdoor live music in a socially distanced setting.
Audience will be capped at 200 people to comply with the state's green phase social gathering cap.
Attendees are encouraged to carpool in order to maximize parking spaces. You will be able to park in the rear parking lot on Willows Road and walk across the lawn to the concert area where you can set up your blanket in marked spaces. As people arrive, a Winding Way volunteer stationed on the lawn entrance will check to ensure everyone is wearing masks when they move to the lawn.
To create socially distanced live music, we plan to setup the concert on the hill to the left of the mansion's driveway entrance on Willows Road. The band will be placed at the top of the hill with each member on a 4×8-foot stage — 12 feet apart from each other.
The audience will be seated picnic style on the slope of the hill starting 25 feet from the stage area, and continuing on a marked grid to space the blankets 20 feet apart at their centers with a 12-foot aisle between them to ensure groups remain distanced from each other. Picnic groups will be encouraged to stay together to limit social contact, and only one member at a time will be able to leave their picnic space.
"We're planning our second show for August 9," said Winding Way Records President John Fisher, during a phone interview Monday afternoon. "Then, there should be another one on September 12.
"We've been keeping a close watch on national guidelines and the information coming from the Governor's office.
"We have social distancing of the artists. There is a stage for each musician that is 12 feet apart from the others. The guidance is six feet but with singing, we wanted it even further.
"We flagged the whole field with sites for audience members 25 feet apart. As it turned out, people even spaced further apart at our first show. We had no problem with social distancing or people not wearing masks.
"It's a public park so no alcoholic beverages are allowed. We didn't have to worry about the element of people drinking. People were looking to just have a nice picnic in the park."
The element of drinking alcohol and socializing was a problem that was a challenge when Jamey's House of Music resumed its traditional "Sunday Blues Brunch & Jam" in July.
This message was posted on the venue's website –
"Well, we tried it. We reopened for our Sunday Blues Brunch, with precautions in place. While it was not terrible, it did not pass muster for the safety of our guests, artists and staff. For the most part, people tried to observe precautions, but being naturally socially gregarious creatures (who have been cooped up for too long already), it was just too much to remember for several people… and that's all it takes to start a cluster.
"Folks moving around without their masks, forgetting social distancing, non-use of hand sanitizer, and leaving the toilet lid up when flushing. We're going to shut down the Thursday and Sunday jams again for a few more weeks to keep an eye on things, and hopefully be able to try again by August."
The Candlelight Theatre hosted its Comedy Club performances on July 9 and 10 with a lot of health safeguards but the staff at the theater realized that this was not enough.
The hit musical, "The Last Five Years," was scheduled to be presented by the Candlelight Dinner Theatre from the July 24 through August 30. It has been cancelled. 
"We've cancelled this show," said Candlelight office manager Betsy Conner. "Actually, we've cancelled all shows until next year because of health safety concerns. 
"Everything went all right with the Comedy Club shows but we've since been made aware of more safety concerns. 'The Last Five Years' is a musical and that presents a different situation. Medical test results show that singing is more dangerous than speaking. 
"We just felt it would be better if we didn't take any chances with the health of our staff and our patrons. We definitely didn't want to shut down, but we felt that we didn't really have another choice."
The concert at the Willows Preserve didn't have to deal with groups of social drinkers or singing-propelled particles in confined spaces.
"We were nervous before the first event, but we had a good plan," said Fisher. "We had a lot of signage. We had 300 masks on hand if people needed them. We also had sanitizers and rubber gloves. We even had the artists wearing masks backstage.
"With these shows, we want to give people the opportunity to get out of their homes and hear live music. And maybe even have a picnic while they're doing it.
"We need to create safe opportunities for live music to continue. With the shows at the Willows Preserve, we're capping it at about 200.
"We had a large field with a lot of parking and good access. The length of the event is another key. If you keep it short, it works better. That's why we only have two acts at each show."
The two acts on August 9 are both local favorites – the Fractals and Mia Johnson.
The Fractals are a trio featuring Kevin Hanson, Jim Stager and Erik Johnson.
Hanson, lead singer and songwriter, has performed and recorded with the likes of Usher, Jay-Z, The Roots, Musiq Soulchild, and countless others. He appears in the acclaimed films "Fade To Black" as a band member for Jay-Z's "Farewell Concert" and Dave Chappelle's "Block Party" as a member of the house band.
Jim Stager, bassist, has performed and recorded with hundreds of artists, ranging from Rosemary Clooney to the legendary punk band "X." He fuses rock and jazz in a style that has earned him a reputation as one of Philadelphia's top session men.
Johnson, drummer, has performed or recorded with artists in a variety of genres. His credits include: Ben Schachter's Trio of Many, George Garzone, Tim Hagans, Jack Walrath, Gary Bartz, John Swana, Jef Lee Johnson, Ralph Bowen, Larry McKenna, Jim Ridl, Jamaaladeen Tacuma, Kurt Elling, Gerald Veasley and Downingtown's Liz Longley.
Mia Johnson is a Michigan native who has established herself in the Philly music scene.
Originally from Michigan's Upper Peninsula, Johnson has been in Philadelphia making music for over a decade-and-a-half. She got her start busking on South Street, then onto Philly venues, the recording studio, and independent tours of the East Coast and Midwest.
Over the years, she has performed as a solo act with just acoustic guitar, as frontman in a full rock band, as a backing vocalist in various projects and theatrically as June Carter in a Johnny Cash tribute act.
"The Willows Preserve is a 50-acre park," said Fisher. "We are donating all the profits to the preserve."
Built in 1910, the Willows Mansion is surrounded by 47.5 acres of public park with breathtaking water, meadow, woodland and garden views. Closed for nearly a decade, the deteriorating mansion sits idle while park-life carries on.
"It's about restoring the mansion which is more than 100 years old," said Fisher. "The focus is on the building. It needs a lot of TLC."
The show on August 9 at the Willows Preserve will start at 5 p.m.
Video link for Mia Johnson – https://youtu.be/ZvkGJbvroZ0.
Video link for the Fractals — https://www.facebook.com/thefractals/videos/1051296961916781/.
The drive-in concerts are definitely the safest.
People's Light (39 Conestoga Road, Malvern, peopleslight.org) is working in partnership with East Whiteland Township to offer a Drive-In Concert Series, following current PA regulations for outdoor events. These drive-in concerts, held in the theater's back parking lot, are designed for small groups within the same "social bubble" to safely enjoy outdoor entertainment together. Tickets are limited and social distancing is enforced.
The concerts are being staged in conjunction with Point Entertainment which is known for its shows at the Colonial Theater in Phoenixville and the Ardmore Music Hall as well as at other key venues around the Delaware Valley.
The People's Light Drive-In Concert Series will have its next show on August 1 featuring John Byrne.
Dublin native and Philadelphia resident, Byrne leads his eponymous band. Their new record A Shiver in the Sky (2019), shows his band of multi-instrumentalists vibrantly performing 10 new originals. Strings, horns and guitars escort Byrne's vocals through a set of songs about living and pushing forward through negative times. Following up "After the Wake" (2011), "Celtic Folk" (2013) and "The Immigrant and the Orphan" (2015), "A Shiver in the Sky" focuses on triumph over trauma.
Here are the ground rules issued by People's Light: 
These drive-in concerts are designed for small groups within the same "social bubble" to safely enjoy outdoor entertainment together. Tickets are limited and social distancing is enforced.  Each vehicle is limited to 5 people or less and assigned a parking spot and adjacent "Home Space" for setting up lawn chairs. We require concert attendees to remain in their designated area as much as possible and avoid mingling with other parties.
Face masks are required on our campus and may only be removed inside a vehicle or Home Space. People's Light staff will be masked at all times and maintain a 6-foot distance from each other and our guests. We have protocols in place for disinfecting spaces, surfaces, and equipment used by musicians and staff.
We are working in partnership with East Whiteland Township and following current PA regulations for outdoor events. As we continue to monitor confirmed COVID-19 cases in the area, we are constantly evaluating the safety of our on-campus programming and will cancel events if necessary.
This socially distanced drive-in concert will take place in the back parking lot of the People's Light campus at 39 Conestoga Road, Malvern, PA. The concert will last 75 to 90 minutes in total, including both sets. It is our goal to start and end on time. The musicians will perform on a raised stage at the back of the lot.
Tickets are $75 per car and limited to 5 passengers per car (not including children under 12). There are no physical tickets for these events. Attendees will receive a confirmation email receipt immediately following purchase, as well as a reminder email with more details a few days before a concert.
Please plan to arrive between 5:30 and 6 p.m. so we can get everyone parked in time for the 6:30 p.m. concert.
A masked attendant will greet you at a 6-foot distance when you arrive. Please be prepared to wear a mask and provide your name so we can check your ticket status. Your car will be assigned a number, which will be adhered to your back windshield by the attendant. This is to assist in food delivery for those who pre-ordered from our on-site restaurant and is also a helpful safety measure.
Parking attendants will guide you to a parking space. Cars will be parked based on the size of the vehicle. Lower cars in front, bigger vehicles in the back. You will not be allowed to move your vehicle once you've parked. Vehicles that don't fit in a parking space (such as campers or oversized trucks) will not be allowed entry. Your view of the stage will be dependent on your location and the number of large vehicles in the lot, so we encourage you to bring your smallest vehicle!
Every vehicle will be assigned a "Home Space," an adjacent parking spot where you can set up lawn chairs. This space will be on the driver's side of your vehicle, assuming you parked facing the stage. This is not a space intended for mingling with those outside your party. Per current Pennsylvania regulations, you need to either be in your vehicle or immediately adjacent to it. No walking around or visiting neighbors.
You can pre-order food and drinks from The Farmhouse at People's Light (and yes, this includes alcoholic beverages!) Specific instructions will be emailed to concert ticket holders, along with a 10% discount code. Outside alcohol is prohibited.
Face masks are required on our campus and may only be removed in your car or Home Space. We ask that all concert attendees wear a mask and maintain a 6-foot distance when interacting with anyone outside your party. People's Light staff will be masked at all times, and Farmhouse staff will be masked and gloved.
There will be one standard portable toilet, one ADA-compliant portable toilet, and one wash station located in the parking lot. We require face masks (and suggest gloves!) when walking to and using the facilities.
Please turn off your car when you park. We do not encourage people to sit in a car that is idling for more than ten minutes. (But don't forget to turn your lights back on at the end of the night!)
Other dates for People's Light Drive-In Concert Series shows are ILL DOOTS on August 8, Colebrook Road on August 14 and Greg Sover on August 21.
Video link for John Byrne — https://youtu.be/3teMyc8QdKk.
The Grand Opera's "Concert by Cars" show featuring the Fuzaholics is scheduled for July 31 in the parking lot of Frawley Stadium, the home of Wilmington's minor league baseball team, the Blue Rocks. The show is being co-presented with Christina Cultural Arts Center.
The Fuzaholics is a band that straddles genres – funk, pop, smooth jazz and soul. The heart of the Delaware-based is the solid rhythm section of Tierre Waters and funky bass player "Ted." The band also features keyboard player Francee "Lilwonder," guitarist "Mike J," saxophonist Vernon and vocalists Donna Jones and "Waggz."
Pricing for the concert is: car (with one occupant): $25; car (with two occupants): $50; car (with three occupants): $75; and car (with four occupants): $100.
Social distancing measures will operate in accordance with Delaware guidelines — vehicles will be spaced approximately 6-8 feet; windows may remain open at this distance; cars will be parked in a manner to achieve at/or appropriate spacing and best visibility; patrons are encouraged to remain in their vehicles. However, you may leave your car and sit in your own chairs in the adjoining space beside your car; face masks must be worn anytime you are outside your vehicle; there is no reentry once your vehicle leaves the grounds.
All tickets are general admission and spots cannot be reserved. Rain date for this event is August 2.
The concert will take place in the Main Parking Lot of Frawley Stadium and all traffic must enter from Justison Street. There will be no concessions served and alcohol is prohibited. Attendees will be able to hear the concerts via FM radio. No pets are allowed.
Video link for the Fuzaholics — https://youtu.be/5S7aDWHUb20.
In partnership with Ludwig's Corner Horse Show Grounds, SALT Performing Arts (www.saltpa.com) is presenting "SALT Beyond The Walls," a Drive-In live concert style summer series with "Songs from the Silver Screen" from August 14-16.
The drive-in theatre works as follows:
Admission is $25/vehicle. Reservations must be made online prior to the performance at —  https://www.saltpa.com/beyondthewalls.
Admission to the fairgrounds will start an hour before the event start time.
Each vehicle should print out their ticket and place it visibly on the front dashboard/window.
Upon entering the fairgrounds, attendants will guide vehicles for parking around the newly constructed fairgrounds stage
Audio is provided via 90.7 FM radio transmission.
On-site concessions will be available for delivery to your vehicle.
Binoculars are encouraged.
Attendance will be limited to 70 vehicles.
The show will last approximately 90 minutes. There are no bathrooms at the Fairgrounds.
Ludwig's Corner Horse Show Grounds are located at 1326 Pottstown Pike in Glenmoore.
Video link for SALT — https://youtu.be/PaRcedOtwF8.
The most ambitious drive-in concert series will take place in the parking lot of the Philadelphia Phillies stadium (Broad and Pattison streets, Philadelphia).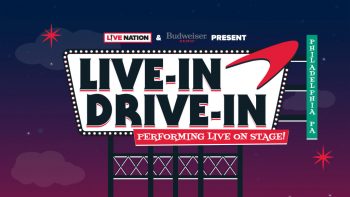 Live Nation Philadelphia, in partnership with the Philadelphia Phillies, is presenting a four-week local drive-in concert series in the parking lot of Citizens Bank Park, home of the Phillies. The "Live-In / Drive-In Concert Series" will get underway on August 16 with Bert Kreischer.
Live Nation Philadelphia is creating a unique live music experience by allowing fans to enjoy concerts from the comfort of their car in a drive-in setting with the audio simulcast on an FM frequency. All artists will be performing full live sets on stages set up in the parking lot of Citizens Bank Park. The events will also feature large-scale video LED screens so fans can enjoy a true live concert experience.
Fans can expect contactless ticket scanning through their vehicle window and then will be shown to their designated parking space where they will enjoy the show from inside their own vehicle. Guests can leave their cars, wearing a mask, to use one of the portable bathroom locations which will be continuously sanitized throughout each event.
There will be dedicated buffer space around each vehicle to ensure social distancing.
Tickets will be sold in the form of a group car pass. Each car will purchase just one ticket, good for a maximum of four (4) people per car. Car pass tickets are on sale at http://www.phillies.com/drivein.
The schedule, which starts in two weeks, is: August 16 – Bert Kreischer, August 19 – AJR; August 21- Pigeons Playing Ping Pong; August 22 – The Struts; August 23 – The Front Bottoms; August 25 – Mt. Joy; August 26 – Subtronics; September 3 – Smith & Meyers; September 4 – Lotus;  September 5and 6 – Dark Star Orchestra; and September 7 – Michael Blackson & Friends with special guest DJ Jazzy Jeff.