By Denny Dyroff, Entertainment Editor, The Times
COVID-19 restrictions have been relaxed and area attractions are beginning to re-open.
If there are attractions that you wish to visit, it would be a wise move to do it as soon as possible.
Other areas of the country are seeing spikes in reported cases of the coronavirus – mainly because ignorant people have been refusing to follow COVID-19 safety guidelines such as wearing a mask and maintaining social distancing.
Pandemic numbers have surged in the wrong direction around the country – especially in states with brain-dead governors such as Florida and Georgia.
Pennsylvania might not be far behind. If you don't believe me, just drive along South Street in Philly any evening and observe the crowds of people milling around in close proximity to each other with fewer than 50 percent of them wearing masks.
When deciding where to visit, indoor locations would be a wise choice right now. With temperatures in the mid-90s and heat index readings in triple figures, destinations that are air-conditioned are extra appealing.
Museums are air-conditioned and can be a prime destination. Fortunately, many of the area's top museums are re-opening this weekend.
The Barnes Foundation (2025 Benjamin Franklin Parkway, Philadelphia, www.barnesfoundation.org) reopens to the public on July 25.
Visitors will once again be able to enjoy the museum's top-flight permanent collection featuring Renoir, Cézanne, Matisse and other artists. Also featured are African art and the special exhibition, "Marie Cuttoli: The Modern Thread from Miró to Man Ray."
The Barnes Foundation is an art collection and educational institution promoting the appreciation of art and horticulture. Originally in Merion, the art collection moved in 2012 to a new building on Benjamin Franklin Parkway in Philadelphia.
The Barnes was founded in 1922 by Albert C. Barnes, who made his fortune by co-developing Argyrol, an antiseptic silver compound that was used to combat gonorrhea and inflammations of the eye, ear, nose, and throat. He sold his business, the A.C. Barnes Company, just months before the stock market crash of 1929.
Today, the foundation owns more than 4,000 objects, including over 900 paintings, estimated to be worth about $25 billion. These are primarily works by Impressionist, Post-Impressionist, and Modernist masters, but the collection also includes many other paintings by leading European and American artists.
Advanced tickets, which are highly recommended, are $25, adults; $23, seniors; $5, college students and youth 13-18; free, children 12 and under.

Woodmere Art Museum (9201 Germantown Avenue, Philadelphia, www.woodmereartmuseum.org) is also scheduled set to reopen on July 25.
Woodmere Art Museum, which is located inside an impressive stone mansion in Chestnut Hill, has a collection of paintings, prints, sculpture and photographs focusing on artists from the Delaware Valley
The museum was opened in 1940 — founded by Charles Knox Smith, an oil and mining businessman, in his will. Smith was born in the Kensington neighborhood of Philadelphia and began his career as a grocer's boy and as an oil wagon driver. He rose to become a partner in that oil firm and subsequently invested in his own oil brokerage and a gold and silver mining company in Mexico.
Smith's collection of paintings, sculpture and antiques form the base of the permanent collection. It is housed in his Victorian mansion, Woodmere, to which Smith had added large exhibition spaces.
Advance tickets, which are highly recommended, are $10, adults; $7, seniors; free, children 18 and younger.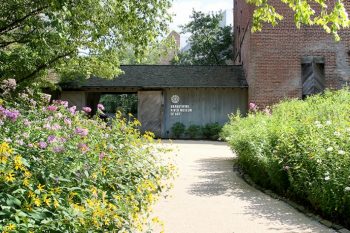 The Brandywine River Museum of Art(1 Hoffman's Mill Road, Chadds Ford, www.brandywine.org) has been open to the public since July 1.
To ensure the safety, security and quality of the visitor experience, the Brandywine will be implementing a variety of new procedures when it reopens, including face mask requirements, timed ticketing and capacity limits. Advance reservations are highly recommended.
Special exhibitions will include "Votes for Women: A Visual History," and "Witness to History: Selma Photography of Stephen Somerstein."
"Votes for Women: A Visual History" includes drawings, illustrations, and posters from museums, historical societies, and private collections that visualize the complex political messages conveyed by suffragists. Also included are historic photographs of marches and rallies, including the 1913 Women's Suffrage Procession in Washington D.C. Examples of the costumes, clothing, sashes and other emblems of women's activism worn by suffragists enliven the presentation, drawing comparisons between the representations and realities of women's struggle to win the vote.
Presenting an inclusive historical narrative, the exhibition recognizes the efforts of women of color and their community networks, which have been largely overlooked, giving the false impression that women of color were absent from the struggle for voting rights. As a way to recognize these marginalized communities, the Brandywine commissioned a diverse group of women artists to create a mural of illustrated portraits featuring some of the women whose role in winning voting rights has been historically minimized because of their race or ethnicity.
"Witness to History: Selma Photography of Stephen Somerstein" presents 55 of the photographs taken by Somerstein on March 25, 1965, accompanied by his commentary of the day's events. It is guest curated by Farrah Spott and on view at the Brandywine River Museum of Art as a companion to the exhibition.
The historic 1965 Selma to Montgomery, Alabama, civil rights march concerned one issue—the right to vote. Two thousand marchers set out on March 21 along Route 80, known as the "Jefferson Davis Highway." After two failed attempts to complete the march, President Johnson dispatched federal and state troops to guard the demonstrators along the way to the state capitol, 54 miles away. By the time the marchers reached Montgomery, their number had grown to 25,000.
Hearing of the events, 24-year-old student photographer Stephen Somerstein jumped on a bus in New York city and headed to Alabama. He arrived on March 25, in time for the final march to the state capitol. With five cameras around his neck and only 15 rolls of film, Somerstein seemed to be everywhere at once documenting this pivotal moment in the civil rights movement. He captured photographs of Dr. Martin Luther King Jr. and other prominent activists such as Rosa Parks, James Baldwin, Bayard Rustin, John Lewis, and Joan Baez. Somerstein also took poignant portraits of his fellow demonstrators, as well as the anonymous bystanders who had gathered along route to observe the civil action in progress.
Virtual lectures, gallery talks, performances, family programs and a summer art camp for kids will continue to be offered online for the foreseeable future as part of the "Brandywine at Home" initiative.
There will also be a special tribute to Betsy James Wyeth, who passed away in April 2020 — a memorial display of 20 Andrew Wyeth works featuring his wife. All works are from the Andrew and Betsy Wyeth Collection, including quite a few that have never been exhibited before.
Admission to the museum is $18 for adults, $15 for seniors (65+) and $6 for students with ID and children ages 6-18.
The Delaware Art Museum (2301 Kentmere Parkway, Wilmington, Delaware, www.delart.org) opened to the general public on July 15.
To keep guests safe, Plexiglas shields will be installed at the front desk and in the Museum Store and all transactions will be cashless, so visitors are encouraged to remember their credit cards. Guests will also be required to wear face masks and practice social distancing. The Thronson Café will be closed until further notice. Maps and brochures will only be available electronically for the time being.
For more than 100 years, the Museum has served as a primary arts and cultural institution in Delaware. It is alive with experiences, discoveries, and activities to connect people with art and with each other. Originally created in 1912 to honor the renowned illustrator and Wilmington-native, Howard Pyle, the Museum's collection has grown to over 12,000 works of art in its building and sculpture garden.
Also recognized for British Pre-Raphaelite art, the Museum is home to the largest and most important Pre-Raphaelite collection outside of the United Kingdom and a growing collection of significant contemporary art. Embracing all disciplines, the Museum's Performance Series ranges from concerts by Pyxis Piano Quartet, resident ensemble of over ten years, to cutting-edge, multi-disciplinary artists committed to social justice and pushing the boundaries of artistic practice.
The Museum will return to its regular operating hours, which are as follows: Monday and Tuesday: closed; Wednesday, Friday, Saturday, and Sunday: 10 a.m.-4 p.m.; Thursday: 10 a.m.-8 p.m.
The Museum has extended its two spring exhibitions through the remainder of the year, including "Layered Abstraction: Margo Allman and Helen Mason" (on view until January 17, 2021) and "Julio daCunha: Modernizing Myths" (on view until November 1, 2020).
Hagley Museum & Library (200 Hagley Creek Road, Wilmington, Delaware, www.hagley.org) has opened with consideration for state mandates regarding social distancing and mass gatherings.
On July 25, Hagley will present a special event called "Science Saturday."
Visitors of all ages are invited to discover solutions to science and engineering challenges. Science Saturdays are drop-in activities, so visitors are free to stop by at any time during the event hours.
The program this Saturday will be "Mathematics in Nature."
Math is everywhere in nature.
At this weekend's Science Saturday, participants can use patterns and symmetry to make their own sun art.
Activities are included in regular admission and free for Hagley members
Activities are included in regular admission. The rates for admission are: Adults: $15; Seniors (age 62 and up): $11; Students $11; Children (ages 6-14): $6; Children (5 and under): free.
Another worthwhile option is a day trip to Doylestown. There are two great museum destinations in Bucks County's county seat – Mercer Museum and the James A. Michener Art Museum.
Mercer Museum (84 South Pine Street, Doylestown, https://www.mercermuseum.org/visit/mercer-museum/) features an interesting – and unusual — collection of pre-industrial folk art, tools and artifacts. Some of the items on exhibit are a Conestoga Wagon, a stagecoach and a whaleboat.
The museum, which re-opened on July 23, also houses a special exhibition "200 Years of Bucks County Art," which features works from the Bucks County Historical Society's collection. Visitors also can "step into portraits" and become part of the artwork.
Because of the threat posed by COVID-19 infections, the Mercer Museum has new timed-entry slots and limited capacity. All staff and guests (except those under age 2) will be required to provide and wear a cloth face covering or mask while they are inside museum buildings.
Advance tickets, which are highly encouraged, are $15, adults; $13, seniors; $8, youth 6-17; free, children 5 and under.
The James A. Michener Art Museum (138 South Pine Street, Doylestown, www.michenerartmuseum.org) also began welcoming visitors again on July 23
As a regional art museum whose principal focus is Bucks County, the Michener Art Museum collects both historic and contemporary American works, with a focus on the art of Bucks County. In its first three decades, the James A. Michener Art Museum has amassed a permanent collection of over 2,700 objects that reveal the rich artistic and cultural heritage of the Bucks County region.
From Thomas Hicks' and Jonathan Trego's mid-19th-century portraits, to Edward W. Redfield's twentieth-century impressionist landscapes, to the family photographs of contemporary artist Emmet Gowin, the Michener Art Museum's permanent collection documents the changing relationships of artists to their physical and cultural environments as well as the technical and conceptual innovations that are part of the vibrant and colorful history of Bucks County's visual arts.
Over the years, Michener has acquired what is arguably the finest collection of Pennsylvania impressionist paintings in public hands. The strong Arts and Crafts and modern studio furniture traditions of southeastern Pennsylvania represent a significant collecting opportunity; and the museum is actively building collections in these areas as it expands its holdings of contemporary painting, sculpture, works on paper, and decorative arts.
Advance tickets are required and cost $15, adults; $13, seniors; $8, college students; $5, children 6-18; free, children 6 and under.
The "Biergarten" has returned for the summer of 2020 at Cannstatter Volksfest Verein (5130 Academy Road, Philadelphia, www.cannstatter.org).
The German traditional event will be open every Friday (until the end of October) and Saturday night (until the end of August). Cannstatter has the largest outdoor Biergarten in Northeast Philadelphia and is open every Friday and Saturday from 5-10 p.m.
Tasty German food and drink will be available for purchase and live German music will be featured each night. Weather permitting, this is an outside event. Pets and outside food and drinks are prohibited and there is no cover charge.
There will be live entertainment from 7:30-9:30 p.m. in Cannstatter's picnic grove featuring some of the best local bands and musicians.
Food and drink offerings are "The Famous CVV Wings – Hot, Mild and Naked," Chicken Tenders, Hamburger/Cheeseburger/Veggie-burger, Bratwurst, Hot Sausage, Mozzarella Sticks, Onion Rings, French Fries, Cheese Fries, German Pretzels and other weekly specials.
There will be a large selection of German and domestic beers on tap as well as mixed drinks, wine and bottled beer.
The line-up of live music acts for the remainder of July includes Blu Dogz, July 24; Quixote Project, July 25; and Joe McArdle, July 31.
With the pandemic wiping out the church's annual Greek festival, St. Demetrios Greek Orthodox Church of Upper Darby (229 Powell Lane, Upper Darby,www.saintdemetrios.org) has opted to try something new.
On July 26, the well-established Greek church in eastern Delaware County will be hosting its "Greek Food Takeout" on July 26.
The menu will feature tempting Greek food dishes such as chicken lemonato, pastitsio, moussaka, gyros and baklava.
The event will run from noon-5 p.m. Takeout orders can be placed ahead of time at https://udgreekfestival.zenfoody.com/ .
The tall ship Kalmar Nyckel is returning to the Wilmington Riverfront (550 Justison Street, Wilmington, KalmarNyckel.org) for three weekend visits in July. The final visit, which runs from noon-4 p.m., is scheduled for July 25.
The "Tall Ship of Delaware" will be docked at a Riverfront site adjacent to Delaware Children's Museum and Mini Golf).
Visitors will be able to discover the remarkable story behind the ship from the Captains and crew on land with several talks per hour.
Another featured activity will be searching for cultural treasures with Kalmar Nyckel's Riverfront Scavenger Hunt for kids of all ages.
Visitors can celebrate the community in a free, fun, social-distanced outdoor setting.
Due to COVID-19 visitors cannot tour or sail on the ship this summer. Ship appearances are weather dependent. Visit KalmarNyckel.org for rain dates.
Video link for Kalmar Nyckel — https://www.facebook.com/kalmarnyckel/videos/201039477896902/
Another attraction that is drawing visitors to Delaware is Delaware Park Racetrack (777 Delaware Park Blvd., Wilmington, Delaware, www.delawarepark.com) which recently re-opened for the year. The 83rd season of live racing at Delaware Park came to life with spectators and enhanced safety protocols, including enforced social distancing.
The racetrack posted the following protocols — Live racing attendance will be limited to a combined total of 3,000 patrons, both inside and outside; Initial access to the Clubhouse will be limited to the Paddock entrance; All patrons will have their temperature taken prior to being granted access to the Clubhouse; Guests flagged by temperature reading of 99.5° or higher (as established by Delaware Health & Social Services), or flagged by the health screening questionnaire will be prohibited from entering; Guests demonstrating symptoms will be asked to immediately vacate the property; Patrons entering the Clubhouse will be given a wristband that will need to be worn at all times; All patrons must possess a face mask when entering the property, bandanas will not be acceptable.
Patrons will not be allowed to congregate in any areas, except those patrons from the same household; Hand sanitizer stations will be located throughout the Clubhouse and outdoor seating areas; Outdoor seating will be available on the Apron and in the Grove area, including the tent.
The schedule for the 2020 Delaware Park racing season is: June 17 through October 17 — Live racing daily on Saturday, Monday and Wednesday (Thursday added July 16 through October 1).