By Denny Dyroff, Entertainment Editor, The Times
Because of the COVID-19 pandemic, there have been no live events such as festivals outdoor concerts or cultural celebrations for months – and it has seemed like an eternity.
Now, with the relaxing of "stay at home" and "no social gatherings" restrictions, the schedule of events has started to pick up. While far from its normal state, the schedule does feature several attractive options for this weekend.
"Bash on the Brandywine" (1370 Bridge Road, West Chester, www.instagram.com/laststopclub) has been an annual summertime event in Chester County for more than four decades.
The 2020 staging of the event is slated for July 11 from noon-9:30 p.m.
The "40th Annual Tubing / Bar-B-Q / Volleyball / Swimming Hole / Tanning / Rubber Duck Racing Event" will feature a variety of activities throughout the day and will culminate with a Bonfire Meeting along the Brandywine Creek. The evening part off the event will also feature live music.
"Bash on the Brandywine" offers the following message on its website – "Bring yourself, friends, something for the grill, and/or ice buckets. Suggested $5 donation."
On July 11, Hagley Museum and Library (Route 141, Wilmington, Delaware, 302-658-2400, www.hagley.org) presents a special event called "Science Saturday." The event will run from noon-4 p.m.
Visitors of all ages are invited to discover solutions to science and engineering challenges. Science Saturdays are drop-in activities, so visitors are free to stop by at any time during the event hours.
The program on July 11 will be "Colorful Chromatography."
This week, participants can learn about pigments and diffusion and find the hidden colors in marker ink using chromatography.
Activities are included in regular admission. The rates for admission are: Adults: $7; Children (ages 6-14): $5.

"Wine, Beer & Cider Garden at Highlands Orchards Farm Market" (1000 Marshallton Thorndale Road, West Chester, www.highlandorchards.net) will be held on July 11 from noon-4 p.m.
Highland Orchards is excited to bring back the wine and beer garden. Patrons are invited to come on out and enjoy drinks and food outside in the The Grove.
The line-up of participating beverage providers for July is Harvest Ridge Winery, Rebel Seed Cider and Brothers Kershner Brewing.
August's line-up is Harvest Ridge Winery, Rebel Seed Cider and Stolen Sun Brewery.
The rules at the garden will follow the current guidelines set by the Governor at that time.
Masks must be worn when entering/exiting the garden, standing in line or going to the bathroom. Everyone must be seated while in the garden, unless standing in line for drinks, food or bathroom. Handwashing stations will be provided for guests and employees.
No standing room allowed. The Playground is closed, and all children must remain seated as well. As a result, guests over 21 years old are preferred due to playground being closed.
Even a pandemic can't stop Blobfest, the annual celebration of the 1958 classic "The Blob."
But, the celebration will be a little different this year.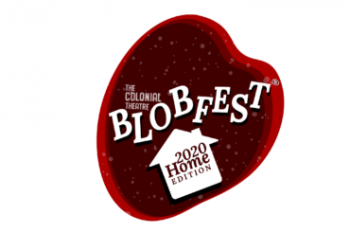 This weekend, it is time for "Blobfest 2020: The Home Edition" with activities scheduled for July 10 and11.
While this year's celebration will look quite different from past Blobfests, revelers can still enjoy all the usual programming, including multiple screenings of "The Blob" and plenty of merch.
"Blobfest 2020" gets underway at 7 p.m. om July 10 with "The Friday Night Stay-In," which will be hosted by Dash Daring. The Friday night lineup will include the following competitions – "Blob Across America" (let's see you pass the Blob!); "The Shortys Short Films,"; "Miss Blobfest 2020 Universe"; "Annual Costume Contest"; and "Home Run Out" video submissions.
Viewers will have the opportunity to watch their own Run Out videos, along with submissions from years past.
The festival continues Saturday at 12 p.m. eastern
"Blobfest 2020" resumes July 11 at noon with a screening of Irvin Yeaworth's "The Blob" followed by Roger Corman's "A Bucket of Blood" at 1:30 p.m.
There will be another screening of "The Blob" at 3 p.m. followed by "The Little Shop of Horrors" at 4:30 p.m., Spook Show with Mr. Lobo featuring "Daughter of Horror" at 6:15 p.m., "The Blob" at 7:30 p.m. and "House on Haunted Hill" at 9 p.m.
Curbside Concessions will also be available for area Blobfest goers from 4-8 p.m. on July 10 and 11:30 a.m.-6 p.m. on July 11.
Tickets for Blobfest are available for purchase online at a cost of $25 per household or $100 for a VIP pass. The VIP pass includes access to all movies, entertainment and a viewer chat as well as concessions, merch and access to Blobfest 2021 presale.
Video link for "The Blob" — https://youtu.be/TdUsyXQ8Wrs.
Malvern Fire Company Carnival is running now through July 11 at Monument Memorial Grounds (550 Monument Avenue, Malvern, http://www.houghtoncarnival.com/). This is a real country fair style carnival with amusement rides, food booths, games of skill and other family activities.
The carnival will be open from 6-10 p.m. each night.
There will be a special fireworks display after dusk on July 10.
The tall ship Kalmar Nyckel is returning to the Wilmington Riverfront (550 Justison Street, Wilmington, KalmarNyckel.org) for three weekend visits in July. The visits, which run from noon-4 p.m., are scheduled for July 11, 18 and 25.
The "Tall Ship of Delaware" will be docked at a Riverfront site adjacent to Delaware Children's Museum and Mini Golf).
Visitors will be able to discover the remarkable story behind the ship from the Captains and crew on land with several talks per hour.
Another featured activity will be searching for cultural treasures with Kalmar Nyckel's Riverfront Scavenger Hunt for kids of all ages.
Visitors can celebrate the community in a free, fun, social-distanced outdoor setting.
Due to COVID-19 visitors cannot tour or sail on the ship this summer. Ship appearances are weather dependent. Visit KalmarNyckel.org for rain dates.
Video link for Kalmar Nyckel — https://www.facebook.com/kalmarnyckel/videos/201039477896902/
Evolution Performance 2020 Car Show is scheduled for July 11 at Evolution Performance, Inc. (3358 Market Street, Upper Chichester, www.evoperform.com).
The event will run from 10 a.m.-3 p.m. The show is open to all types of vehicles with the Class Winners receiving trophies.
Car Show Registration is $30 with 100% of the Proceeds going to JDRF ((Juvenile Diabetes Research Foundation).
Admission is free for spectators.
The event also features a "Revving Competition" and the organizers have offered this challenge – "Does your vehicle's exhaust rattle windows, set off car alarms or make your neighbors roll their eyes in the morning? If you think you have the baddest exhaust setup on your vehicle, then enter it into our Revving Competition to see where you stand!"
There is a $25 "Revving Competition" entre fee. The winner walks away with a sick trophy and bragging rights.
The event will also feature food vendors including Epic Kitchen DOS Tacos. Additionally, Carnival Cafe will be selling popcorn, funnel cake fries, churros, snow cones fresh-squeezed lemonade and fresh-brewed sweet tea.
Live Music will be perfumed throughout the day by Bradley Hendrix.
"World War II: Explore the Eastern Front" will be presented on July 11 and 12 from 10 a.m.-4 p.m. each day at Fort Mifflin (6400 Hog Island Road, Philadelphia, www.FortMifflin.us).
Visitors to Fort Mifflin can experience WWII history along the Eastern Front. There will be living history displays and activities along with uniform and weapons demonstrations.
As an added attraction, there will be a special guided tour of the Eastern Front focusing on political climate and home front experiences.
General Admission Fees are: Adults – $8; Seniors – $6; Children (6 to 12) and Veterans – $4; Children 5 years and younger – Free. Special Event Admission – Living History Events fees are: Adults – $10; Seniors – $8; Children (6 to 12) and Veterans – $6; Children 5 years and younger – Free.
P.S. — Leave the statues alone!
Fort Mifflin's website posted this message – "A NOTE ABOUT OUR PROGRAMMING
DISCLAIMER
Our events at Fort Mifflin on the Delaware include historically accurate insignia and symbology that many people may find insensitive or offensive in any other setting. They are included at our events only in the interest of historical accuracy and education. The presence of such insignia and symbology in no way indicates support for any of the ideals advanced by these symbols on the part of Fort Mifflin on the Delaware, any participating reenactment unit, or any individual reenactor wearing a historically accurate Armed Forces uniform.
Tactical demonstrations may simulate hand-to-hand combat, injury, death or the capture of enemy combatants.
All events at Fort Mifflin strive to present a day in the life of the common soldier on both sides of conflict."
The "Biergarten" has returned for the summer of 2020 at Cannstatter Volksfest Verein (5130 Academy Rd, Philadelphia,
Open every Friday (Till the end of October) and Saturday night (Till the end of August) Except July 4 and Labor Day weekend. Gates open 5 to 10. Live music starting around 7. Food and drink for purchase. No pets or outside food/drinks please. Weather permitting, this is an outside event. There is no cover charge.
Cannstatter has the largest outdoor Biergarten in Northeast Philadelphia and is open every Friday and Saturday from 5-10 p.m.
There will be live entertainment from 7:30-9:30 p.m. in Cannstatter's picnic grove featuring some of the best local bands and musicians.
Food and Drink Offerings are "The Famous CVV Wings – Hot, Mild and Naked," Chicken Tenders, Hamburger/Cheeseburger/Veggie-burger, Bratwurst, Hot Sausage, Mozzarella Sticks, Onion Rings, French Fries, Cheese Fries, German Pretzels and other weekly specials.
There will be a large selection of German and domestic beers on tap as well as mixed drinks, wine and bottled beer.
The line-up of live music acts for July includes Glenn McCollum, July 10; Bat Salad and Tailgunner, July 11; TF Squared, July 17; Morning Side Lane, July 18; Blu Dogz, July 24; Quixote Project, July 25; and Joe McArdle, July 31.
This weekend, it will be time for "Two Delta Johns Performing at Cosmic Café" – a special show at Cosmic Cafe & Catering (1 Boathouse Row, Philadelphia, https://cafe.cosmicfoods.com/.)
The Two Delta Johns — Johnny Never and John Colgan-Davis — will be performing a matinee concert on July 12 at Cosmic Cafe.
The concert will run from noon-3 p.m.
The duo will be performing songs from its new CD – providing an advance look at the music from the disc which will officially be released on July 15.
East coast bluesman John Carleton, (aka Johnny Never) has a mission to deliver pure, unadulterated vintage blues to those who already love the blues as well as those who have never heard it. Whether solo or with accompaniment, Johnny has energized audiences in Northern Maryland, Southeastern Pennsylvania and New Jersey from small bars and restaurants to music halls such as the MAC Concert Series, The Mainstay, the Kennett Flash and Jamie's House of Music.  He has performed in dozens of Music Festivals.
John Colgan-Davis, harmonica and vocals, started playing the harmonica in local blues and folk clubs back in the late 1960s while he was still a high school student. He played and recorded with Philadelphia singer-guitarist Jesse Graves and played with Bonnie Raitt when she lived in Philadelphia in the early 1970's. Through Bonnie, John got to meet and play with Mississippi Fred McDowell, Arthur Crudup, Buddy Guy, Skip James, Mississippi John Hurt, and others. He has also jammed with James Cotton, John Hammond, Charlie Musselwhite, John Lee Hooker, Bill Dicey, and Louisiana Red. He has toured the Midwest and recorded two CDs — "Cold and Lonesome on a Train" and "Heroes and Hard Times" — with Tennessee bluesman Sparky Rucker, and played for three years with The John Cadillac Band. A  founding member of The Dukes of Destiny, John also taught Social Studies at Friends Select School in Philadelphia for 29 years and has written articles and supplements for The Philadelphia Inquirer on Blacks in the American West, Black Literature, the History of Black Philadelphia, and other topics.
Unfortunately for Dukes of Destiny fans, the band has posted the following message —
"The recent upticks in local COVID infections means that the Dukes are going to lay low until December at the earliest. Hopefully, treatments and/or a COVID vaccine can be developed, tested and distributed by then, but we are not doing any live gigs for now. It is simply too risky. We want to thank all of our fans and friends-playing for you is an absolute joy and the reason we do what we do. We are looking forward to a time when we can safely do it live again. Stay safe, be careful and be well."
The 2020 edition of the Shady Grove Music Fest (2126 The Hwy, Arden, Delaware, www.shadygrovemusicfest.com) is scheduled for July 11. Gates open at 11 a.m. with the music slated to start at noon.
This year's schedule is: noon, 12:00 Kitty Rotten; 12:45 p.m., NO SIR E; 1:30 p.m., Rngleader; 2:30 p.m., SLOMO SAPIENS; 3:30 p.m., Ali Awan: 4:30 p.m., St. James & The Apostles; 5:30 p.m., Grocer; 6:30 p.m., Scantron; and 7:30 p.m., Agent Zero Music.
Tickets are $25 at https://www.eventbrite.com/e/2020-shady-grove-music-fest-tickets-111049909268.There is a very limited number of tickets available for the event this year to enable social distancing protocols.
You must wear a mask to enter. Safe distance (at least six feet) must be maintained between groups of people. Masks must be worn when leaving your area of the Shady Grove. Wash Station and sanitizer provided throughout the concert area.
There will be food trucks as well as beer and wine available for purchase. You can bring blankets and chairs, and outside food if you wish – but no dogs.
Proceeds from the festival will benefit the Arden Gild Hall Restoration Fund.
The 2020 Willows Summer Concert Series gets underway with a show this weekend.
Winding Way Records in partnership with the Willows Park Preserve will present a socially distanced outdoor Summer Concert Series at The Willows Park (490 Darby Paoli Road, Villanova,https://www.eventbrite.com/e/summer-concert-series-kick-off-featuring-under-the-oak-registration-111069072586)
The first event will be on July 12 at 5 p.m. and will feature Under The Oak and Cookie Rabinowitz. The rain date for the first event is July 19.
With a line-up of Adam Monaco, Maggie Pope, Chris Peace, and Peter Oswald, Under The Oak crafts a sound rich in harmonies, emotional swells, and intimate lyrics.
This concert series allows for live music to be enjoyed in a safe manner in a time when live entertainment has come to a halt. Guests can spend an evening picnicking with live music at a beautiful and historic outdoor venue. Listeners of all ages are welcomed to attend this secure and family-friendly series.
Tickets are free and preregistration is required.
COVID-19 information on event's website — The goal of the Willows Park Preserve concert series is to provide outdoor live music in a socially distanced setting.
Audience will be capped at 200 people to comply with the state's green phase social gathering cap.
Attendees are encouraged to carpool in order to maximize parking spaces. You will be able to park in the rear parking lot on Willows Road and walk across the lawn to the concert area where you can set up your blanket in marked spaces. As people arrive, a Winding Way volunteer stationed on the lawn entrance will check to ensure everyone is wearing masks when they move to the lawn.
To create socially distanced live music, we plan to setup the concert on the hill to the left of the mansion's driveway entrance on Willows Road. The band will be placed at the top of the hill with each member on a 4×8 foot stage, twelve feet apart from each other.
The audience will be seated picnic style on the slope of the hill starting 25 feet from the stage area, and continuing on a marked grid to space the blankets 20 feet apart at their centers with a 12-foot aisle between them to ensure groups remain distanced from each other. Picnic groups will be encouraged to stay together to limit social contact, and only one member at a time will be able to leave their picnic space.