By Denny Dyroff, Entertainment Editor, The Times
When the COVID-19 pandemic hit and forced virtually everything to come to a halt, it was a shock – and it was something that took a lot of effort to get accustomed to.
It was similar to a blizzard that was unexpected, came on quickly and dropped six feet of snow on the area. Virtually everyone was forced to remain at home – to stay inside and wait until it passed. And, even if you were able to get outside your house and attempt to go somewhere, you quickly found out that there was nowhere to go – that nothing was open.
But a blizzard that incapacitates everyone for a week or more is no match for COVID-19. This deadly virus has forced people to stay at home. And, if you're staying at home 24/7, you need to either find something creative to do or else resign yourself to binge-watching entire runs of television series such as "Game of Thrones," "Buffy the Vampire Slayer" and "Walking Dead."
Despite the doom-and-gloom state of the music industry right now, Chester County's guitar stalwart Fred Mascherino has found things to do at home – things that have kept his music career going and his creative juices flowing.
Mascherino has been performing online, generating interactive projects with his fans and teaching classes virtually.
"One of the things I've been doing during the quarantine has been teaching lessons via Skype," said Mascherino, during a phone interview Wednesday afternoon from his home in West Goshen.
"I've been teaching guitar lessons. I've also been teaching lessons on other music topics such as songwriting, recording techniques and music theory.
"I had been talking to fans online and they'd wind up asking me a lot of questions. I told them that I'm teaching lessons. They were all sitting around bored too. So, they said – we'll take classes too."
Mascherino has written a lot of songs, produced a lot of records and played in quite a few bands. His musical CV is impressive.
Just over a year ago, Mascherino reignited his solo project The Color Fred with a revamped lineup. Mascherino has also resurfaced with a brand-new song titled "Don't Give Up on Me," which was released as a single and a lyric video as well.
To celebrate its first new material in over a decade, The Color Fred played shows in Philadelphia at King Fu Necktie and Brooklyn at the Knitting Factory.
The Color Fred is an indie-rock band headed by Mascherino, a former guitarist/vocalist for Taking Back Sunday.
The Color Fred's debut full-length album, "Bend to Break," was released in October 2007 via Equal Vision Records. The album peaked at #8 on the Billboard Heatseekers Chart. TCF toured the U.S., Canada and the U.K. several times.
The Color Fred released "The Intervention EP" in April 2009. The EP featured new and old songs performed acoustic, plus two home demos.
When Mascherino entered the studio to record the second TCF album, he began collaborating with his friends Josh Eppard (Coheed and Cambria) and Andy Jackson (Hot Rod Circuit) in what eventually became Terrible Things. That band released its self-titled debut album on Universal Motown. Mascherino then went on tour playing bass for The Lemonheads and guitar for Say Anything.
During that time, Mascherino was producing and writing for bands, eventually building his own studio — Diver Down. In late 2018, he decided to close the studio to the public and start recording his own music again.
Mascherino had been living at a house located between Coatesville and West Chester for a while but now is a resident of West Goshen.
"I moved here two years ago," said Mascherino, during a previous interview. "I downsized a bit and turned the garage into a soundproof studio. I finished it about a year ago and then started working on new music. I had been producing and writing for other bands for about the past 10 years."
One band that reaped benefits from Mascherino's studio acumen was June Divided — a Philadelphia-based quartet featuring Melissa Menago, Chris Kissel, Keith Gill and Lenny Sasso.
August 24, 2018 was the official release date for the band's EP "Body Wars" on Revival Recordings.
"The new EP was recorded a while ago in our producer's basement," said Menago, during a phone interview from her home in northern Delaware.
"We recorded five tracks there with Fred Mascherino and the other two were self-produced. Fred is a really good producer who understood what we wanted and how to achieve it."
Mascherino is credited as a producer and engineer on the 2014 EP "Light Years and Heavy Lifting" by Only on Weekends. He also produced the 2014 EP "Every Light" by Modern Suits.
In 2015, Mascherino performed a guitar solo on the Double Experience track "Goddamn Mimetic Business." The veteran musician also performed a guitar solo on Joe Matera's "Endless Summer" from his 2012 debut album "Creature of Habit."
Mascherino seems to always have several irons in the fire.
"I played bass in the Lemonheads," said Mascherino. "I played guitar with Say Anything. And, I had a band called Terrible Things. This is The Color Fred, which is my solo project. The new single – 'Don't Give Up on Me' – is the first thing under that name in 10 years.
"I did all the music on the record. I put out that first song on May 1 (2019) and I'm happy with the response it's been getting. I have four more songs for this summer. In addition to the music, there will be YouTube videos and podcast.
"The podcast is called 'In the Shed with Fred.' It's a bit of a variety show. I'll be playing pieces of new songs and talking about how I wrote them and recorded them. I'll also play older The Color Fred songs and some covers."
Link for "Don't Give Up on Me" — https://eur02.safelinks.protection.outlook.com/?url=https%3A%2F%2Fnightowlpr.us10.list-manage.com%2Ftrack%2Fclick%3Fu%3Dbd593d37ba925b45afb0d93bf%26id%3Dda920cd780%26e%3Df8c9bf4bd2&data=02%7C01%7C%7C7e26857968c942926bd908d6d24aa40d%7C84df9e7fe9f640afb435aaaaaaaaaaaa%7C1%7C0%7C636927615351387823&sdata=pRe2wqvzB6PXmjhtOcX%2BlLokMzD%2FszgTZPPf1ifVVus%3D&reserved=0
Doing "In The Shed with Fred" broadcasts from his home studio is one of those things that COVID-19 hasn't been able to mess with.
"It's a YouTube show," said Mascherino. "There are no set schedules. I post when I have something that I want to put out there. I sing songs and tell the stories behind the songs. I also tell tour stories.
"Lately, I've been putting more time into my YouTube videos. I'm upping my game and doing a few videos a week."
Link for The Color Fred Facebook — https://www.facebook.com/thecolorfred/events/.
"I asked my fans to collaborate with me on one song," said Mascherino. "They would send me stems and WAV files – lead guitar, drums, bass, keyboards. There were some from electronic artists, but most were vocals and lead guitar.
"They all contributed to the song. There was so much response, I needed to do multiple versions. I managed to get them all in by doing four versions.
"The name of the song is 'Future Past.' I wrote it before the quarantine. It was all about sitting around doing nothing with someone you love. I wrote it at the end of January this year."
Video link for "Future Past" project — https://www.facebook.com/thecolorfred/videos/681044465961666/.
There are a number of Coatesville natives who have achieved international stardom and repeatedly expressed pride in their hometown. One of the first was Calvin "Silky Smooth" Grove, who was a world champion boxer. Then, there was basketball star Rip Hamilton, who was one of the premier players in the NBA. Mascherino's name also belongs on that list.
Mascherino, who lived in Coatesville when he was young, has always had respect for his roots and pride in his hometown and it showed up in two tracks by Terrible Things.
"Steel Town" was inspired by the series of fires in Coatesville a few years ago. Another TT song – "Up at Night" – dealt with that period when they told residents to keep lights on at night. The lyrics talk about being able to see Coatesville from space that night.
"I grew up in Coatesville," said Mascherino, who has a degree from Temple University in jazz performance/guitar.
"I have a history of referring to Coatesville in my songs. I'm proud of being from there. Some people don't have a good impression of Coatesville, but I think it was a good place to grow up and is still a good place to live."
Now, Mascherino has been developing an attachment to West Chester.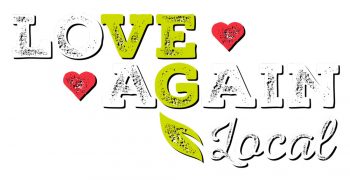 "My wife Elena opened up a vegan restaurant in West Chester," said Mascherino, who was top-flight swimmer at Bishop Shanahan in the 1990s.
His wife's restaurant is called Love Again Local (18 South Church Street, West Chester, www.loveagainlocal.com). It features a wide variety of vegan sandwiches, salads, daily specials and desserts.
"We've been vegans for 20 years," said Mascherino. "Elena's restaurant has been open for two years. It started when she had success making vegan cookies and evolved into a restaurant in downtown West Chester. We make a lot of the meats and cheeses ourselves.
"We closed down when the pandemic first hit. Eventually, we re-opened for take-out. It's been a challenge but we're hanging in there. I'm in the restaurant helping at times but my wife wants me to stay home and focus on my music."
Video link for The Color Fred — https://youtu.be/WcT-4wd-hVE.
Mascherino has been staying busy with several online projects.
There is a series of streamed performances that smartpunkrecords has been presenting called "Smartpunk & Friends – Live on Instragram."
On April 9, the final act on the four-act bill was Mascherino and The Color Fred. The podcast also featured Mover Shaker, Absinthe the Father and Taking Meds.
While that podcast was a limited event, another event featuring Mascherino is a weekly happening.
"Every Sunday morning, I have a Livestream session called 'Coffee with Fred,'" said Mascherino. "It is an acoustic session and it begins at 10 a.m.
"My music career has definitely been affected by the quarantine. When it happened, I had just left my day job of six years – leaving that to go back to music full-time. It looked like my studio was picking up.
"I had a lot of session work. Bands came in and I'd produce them. I'd also help with the songwriting. As a producer, I was always a song guy more than a tech guy.
"I also had live dates scheduled for The Color Fred. I had to cancel shows that were supposed to happen in May."
Mascherino is also a family guy. In addition to assisting his wife in her restaurant venture, he his helping his daughter with her music career.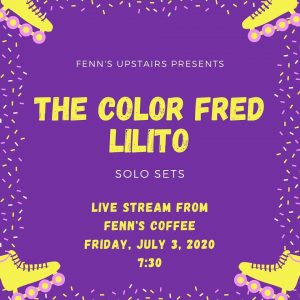 "This Friday night, I'm planning to play a show at Fenn's in West Chester with my daughter Lily," said Mascherino. "The plan now is to play live and stream it from the venue. It's an acoustic set that will start at 7:30 p.m.
"Lily, who just graduated from CPFA (Center for Performing and Fine Arts: PA Leadership Charter School) in West Chester, has her own band called Lilito. My son Scout, who is a student at West Chester East, is also in the band.
"Lily, who is going to Berklee School of Music in Boston in the fall, just released Lilito's first single which is called 'Ding Dong Ditch.' Lily and I will be playing the song live Friday night – a live acoustic version."
The show at Fenn's Upstairs initially was planned with a live audience in mind.
The following message was posted on the venue's Facebook page on June 25 –
"HELLO WEST CHESTER! We are so happy to announce that in the green phase we are reopening our live music venue with reduced capacity and safe measures in place! And what better way to open up our venue than with solo sets from our friends and talented musicians @thecolorfred and @iamlilito ? This is an incredibly exciting show! We will require masks and have a max of 25 people in the venue, but we will definitely get this filmed and work to livestream it if possible! See you Friday, July 3rd!"
It was replaced by this message which was posted Wednesday afternoon –
"Our exciting Friday show with The Color Fred and Lilito is now a live stream only event! We will film and record it in high quality from Fenn's Coffee in West Chester, PA. We are happy to be changing the format and making this show more accessible and safer for everyone. Thank you to the people who reached out and expressed concern given the recent uptick in cases."
Mascherino said, "With the spike in COVID-19 cases over the last few days, I decided that a show with a live audience wasn't what I wanted to do. I was about to call the club to inform them of my decision when they called me to talk about changing the format. I was glad they did."
Video link for show with Lilito — https://www.facebook.com/FennsUpstairs/?__tn__=%2Cd%2CP-R&eid=ARARf0Da9IZaHOGEAkm0_3nTQ7yp6jloyH5y_qYKndlqrmwO1-Ij00A9WXbZKH2KIiOOrhiyU9SYzZBe.
Video link for Fred Mascherino in the studio — https://youtu.be/11C0QSaADdM.