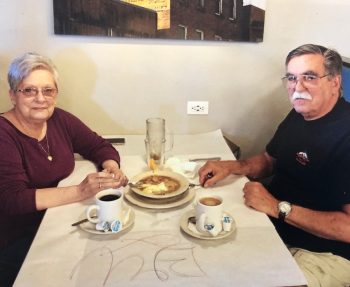 Joe and Patti Testa of Columbia Falls will celebrate their 50th anniversary July 11. Friends and family will be gathering for a 50th anniversary party at the home of Liz and Mike Borg in Columbia Falls.
The couple were high school sweethearts and were married July 11, 1970, at St. Patrick's Catholic Church in Kennett Square, PA. Joe served in the Delaware Air National Guard from 1968 – 1974. He was also employed at Dupont Company in Wilmington, DE.
Patti graduated from The Academy of Hair Design in Wilmington, and was employed as a hair stylist. As their children grew, Patti worked several jobs, her last job being the corporate receptionist at Genesis Healthcare in Kennett Square, PA.
After Joe's retirement in 2008, Joe and Patti decided to make Montana their home to be closer to their daughter's family. The couple moved to Columbia Falls in 2009. Joe became involved with the Badrock Fire Company, serving as president and also as a firefighter, receiving his five-year pin and was also recognized for 50 years of firefighting service.
Patti worked for The HealthCenter in Kalispell, also receiving a five-year pin, retiring in 2015.
The Testas have a daughter, Kristian and James Denny of Butte, and a son, Anthony of Brockton, MA. They have six grandchildren, Sierra, Preston, Joey, Nicholas, Alexis and Madison.