By Mike McGann, Editor, The Times @mikemcgannpa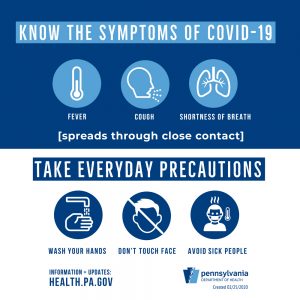 Without child care providers, many Pennsylvanians will not be able to return to work when it is safe do so — especially in counties that have moved to Yellow or are about to do so. Gov. Tom Wolf announced Wednesday that an initial distribution of $51 million of funding from the Coronavirus Aid, Relief, and Economic Security (CARES) Act funding to support child care providers around Pennsylvania. Distributed in partnership with the General Assembly, this initial funding will reach nearly 7,000 child care centers.
"Child care providers are the backbone of our economy in many ways," Gov. Wolf said. "Without their work, children would miss out on an introduction to education that helps them throughout childhood, adolescence, and adulthood, and parents and guardians may have to stay home or not pursue education themselves. I cannot understate how valuable this work is to local communities and the commonwealth as a whole, and as Pennsylvania reopens, we need a robust and healthy child care system."
Pennsylvania received $106 million in funding to support child care providers through the CARES Act that will be distributed to providers in two waves. The first wave of $51 million will be distributed to all eligible, licensed child care providers and is designed to help providers preparing to reopen as counties move to the yellow phase. The remaining funding will be allocated following the completion of a study by the Department of Human Resources (DHS) Office of Child Development and Early Learning (OCDEL) and Penn State Harrisburg's Institute of State and Regional Affairs assessing the economic impact of the COVID-19 pandemic on Pennsylvania's child care providers.
Due to delays in reporting state COVID-19 numbers by the state Department of Health (DOH), The Times will not publish them today. Similarly, Chester County Health had not reported by our 3 p.m. deadline. As of yesterday, Chester County's two-week moving average of daily new cases stood at 42.5, down from earlier in the week, but still more than twice the metric established by the state for it to transition to the Yellow phase of reopening.
Elsewhere in state COVID-19 news, the Wolf Administration received approval from the Food and Nutrition Service (FNS) of the U.S. Department of Agriculture (USDA) to allow Pennsylvania to join the pilot program that lets recipients of the Supplemental Nutrition Assistance Program (SNAP), formerly known as food stamps, purchase groceries online through participating retailers.
"Many people have been purchasing groceries online to facilitate social distancing, but SNAP recipients were not able to do so due to federal restrictions on SNAP and e-commerce. In most cases, SNAP recipients do not have flexibility to use online purchasing for grocery delivery or curbside pick-up, potentially putting health and safety at risk during this health crisis," said DHS Secretary Teresa Miller. "We are grateful that FNS has approved Pennsylvania to join this pilot program to allow us to expand flexibility to SNAP recipients looking to utilize online grocery purchasing to support social distancing and COVID-19 mitigation efforts."
Now that approval has been received, DHS is working with its EBT vendor and approved retailers to implement system changes necessary to implement online payment for PA's SNAP recipients. These system changes have an approximately two-week testing and validation implementation timeline that could not begin without FNS' approval, so DHS expects to have online grocery purchasing activated for SNAP recipients by the beginning of June.