By Denny Dyroff, Entertainment Editor, The Times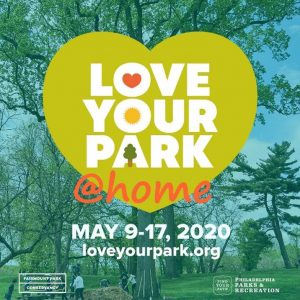 Visiting local malls and restaurants isn't possible right now with the COVID-19 restrictions still in effect. But visiting amazing locations – locally and globally –is available at your fingertips via virtual tours offered by internet websites.
This year, Love Your Park Week, the annual springtime celebration of Philly parks, encourages Philadelphians to celebrate from the comfort and safety of their homes with Love Your Park @ Home now through May 17.  Each day, Love Your Park @ Home, which is hosted by Fairmount Park Conservancy and Philadelphia Parks & Recreation, will offer free park-themed activities for the whole family, from virtual bike and history tours to gardening tutorials and much more.
During Love Your Park @ Home, each day's activities will center around a specific theme. The themes, and a sample of the programming for the day, are: May 15, Share a link to your playlist listing your top park-themed songs; May 16, Work up a sweat at home with exercise videos led by We Walk PHL; and May 17, Learn how to make a native plant container garden for your home with Bartram's Garden.
In addition, Philadelphia Parks & Recreation's virtual programming series "Parks & Rec @ Home" will present its Love Your Park @ Home-themed video on May 15 at 3 p.m. on its Facebook page (facebook.com/PhilaParkandRec).
You can go from around the Delaware Valley to around the world very quickly and effectively at another internet site — Drive & Listen.
Drive & Listen (https://driveandlisten.herokuapp.com/) allows anyone to take a virtual drive around one of the app's available cities while taking in the sights and sounds of the street and listening to local radio stations.
The app takes you on tours of streets in cities such as Paris, New York, London, Beijing, Istanbul, Tokyo, and many more. Some drives include major points of interest in certain cities, such as the Spanish steps or the Colosseum in Rome or Tokyo Tower in Tokyo.
You can even take a tour of Wuhan, China if you so desire – especially since live trips to the city are unavailable. You can try it in person at a later date – before or after you vacation in Chernobyl.
Actually, you can meet the dogs of Chernobyl online at this link — https://www.airbnb.com/experiences/1663575?irgwc=1&irclid=3jYRUaRBPxyOURqwUx0Mo38SUkiwkaSN1SRszY0&ircid=5503&sharedid=travelandleisure.com&iratid=12347&c=.pi73.pk5503_10078&af=10078&iradid=378143.
On the Wuhan tour — not surprisingly — there is not a visit to the mythical science lab in Wuhan where – according to the Trump administration – China created the COVID-19 virus and unleashed it on the world
You can also find another opportunity for a virtual visit to Wuhan at https://www.takewalks.com/online-tours/wuhan-china-virtual-tour/.
An alphabetical list of cities currently available at Drive & Listen includes Istanbul, Antalya, Barcelona, Beijing, Berlin, Budapest, Buenos Aires, Chicago, Delhi, Guadalajara, Havana, Izmir, Kyiv, Lisbon, London, Los Angeles, Madrid, Melbourne, Miami, Mumbai, Munich, Moscow, New York City, Nice, Oslo, Paris, Prague, Rio De Janeiro, Rome, Saloniki, San Francisco, Sao Paulo, Seattle, St. Petersburg, Singapore, Stockholm, Tokyo, Toronto, Warsaw, Wuhan, Yekaterinburg, and Zurich.
Link for Drive & Listen — https://driveandlisten.herokuapp.com/.
If you're in the mood for a walking tour rather than a driving tour, there are five city walking tours you can take right now on Google Maps.
The quintet of interesting attractions includes:
Havana, Cuba — Old Havana Walking Tour highlights Havana's unique historical district, including the Plaza de la Catedral, Plaza de Armas, Castillo de la Real Fuerza, Palacio de los Capitanes Generales, the Museum of the City of Havana, and the Iglesia y Monasterio de San Francisco de Asis.
Melbourne, Australia — Arcades and Laneways Walking Tour focuses on central Melbourne which is known for its cobbled blue- stone laneways. The tour looks at street art, basement restaurants, boutiques and bars. Some of the highlights are Degraves Place, Centre Place, and the Block Arcade.
Rio de Janeiro, Brazil — Rio Walking Tour includes visits to the Praça Floriano, the Municipal Theater of Rio de Janeiro, Largo de Carioca, the Igreja São Francisco da Penitência, the Real Gabinete Português de Leitura (Royal Portuguese Reading Room), and the Travessa do Comercio.
Bangkok, Thailand — Old Bangkok Walking Tour hits many of Bangkok's "must-see" destinations in and around the former royal district (Ko Ratanakosin) including the Temple of the Emerald Buddha (Wat Phra Si Rattana Satsadaram), the Grand Palace, Phra Chan Alley, and the Democracy Monument.
Split, Croatia — Split's Old Town Walking Tour visits historical attractions such as the Golden Gate (which is the grandest portal of Diocletian's Palace), the Bell Tower and Chapel of the Holy Arnir, Narodni Trg, and Stara Gradska Vijećnica (Old Town Hall).
In addition to the Drive & Listen site, Chicago can also be visited virtually at Choose Chicago (https://www.choosechicago.com/) which features many great Windy City experiences that you can enjoy right from home such as Oak Park's Unity Temple, the Art Institute of Chicago, the Brookfield Zoo, the Adler Planetarium, Hyde Park's Frederick C. Robie House, the Lincoln Park Zoo, the Newberry Library, and the world-famous Shedd Aquarium, where the aquarium's Underwater Beauty live cam shows off a number of colorful fish and other sea creatures.
You can also check out Chicago's great museums including the Field Museum, Peggy Notebaert Nature Museum, Chicago History Museum, National Museum of Mexican Art, Oriental Institute Museum, National Hellenic Museum, and IIT Institute of Design.
Another extra look at a location visited by the Drive & Listen site – Russia — can be found by visiting Moscow Metro Career Guidance Center's virtual tours of the Moscow Subway system's artistically enhanced stations at http://aroundthemetro.com/metro_filter/Russia/Moscow/attractions/Russia_Moscow_156.
The Moscow Metro Career Guidance Center is offering five virtual activities per day, including guided tours and history talks about all things underground, through its official Instagram account. Each morning Moscow time, @profmetro posts a schedule of events that will be aired in their stories. These include architecture tours, behind-the-scenes footage of control rooms and training centers, and even access to historic stations that have been closed for years.
In operation since 1935, the Moscow Metro has 236 working stations. It is the sixth busiest rapid transit system in the world and fifth globally in terms of track length.
The website Metro 360 lets you take immersive tours of the Koltsevaya circle line, which has some of the most beautiful stations in the city, and is compatible with VR technology. Metro Walks offers photography and historical background for some of the most exquisitely designed stations.
Video link for Moscow Metro's Mayakovskaya station — https://youtu.be/JMsTuRWIxN0.
With a few touches on your keypad, you can zoom from under the streets of Russia's capital to the thin air found in Colorado's capital with its elevation of 5,280 feet. If you want to get "Rocky Mountain High" – virtually —  just click on Visit Denver's website (www.denver.org).
The tourism authority for the city created a new, online resource called Virtually Denver, where you can find an events calendar for livestreams, or access Denver's top virtual museums, art galleries, performing arts, concerts, cooking classes, local film and literature, and other fun online family experiences.
The list of featured virtual events and activities in the Mile High City includes: Zoo to You: Virtual Safari by Denver Zoo; Denver Museum of Nature & Science: DMNS@Home (lots of resources for learning, updated weekly); Denver Street Art; Comedians Doing Stuff in Denver (video series); Wings Over the Rockies Air & Space Museum's "Behind the Wings" video series; Videos of Red Rocks Amphitheatre's popular concerts; Levitt in Your Living Room (free streaming concerts from Levitt Pavilion every weekday evening); and Kirkland Museum of Fine & Decorative Art's 360-degree tour.
The roster of family-friendly and educational virtual destinations features: Colorado's Most Significant Artifacts from History Colorado Center; Denver Botanic Gardens' fun activities; Museum Fun 101: At-home activities by the Children's Museum of Denver at Marsico Campus; Denver Art Museum's Creativity Resource; Denver Public Library's Maker Challenge; Denver Museum of Nature & Science's Learning Center; Family-Friendly Public Art Virtual Tour by Denver Arts & Venues; Denver Public Library's virtual services and programs; Denver Zoo's animal learning guides; Explore the World of Invertebrates, Virtually, with Butterfly Pavilion; Online French Classes from Alliance Française de Denver​; WOW! @ Home activities; Printable Fun from Elitch Gardens Theme & Water Park; American Museum of Western Art's lessons and activity ideas; and Denver Botanic Gardens' Dig Into Nature at Home.
O.K. – time for a reality check…not a virtual reality check.
You're sitting at home and virtually every part of your consciousness wants you to go outdoors and enjoy the belated arrival of spring weather.
The Visit Pennsylvania website (visitPA.com ) has this to say, "Happy Travelers, while we still want you to get outdoors and enjoy the beauty of Pennsylvania, please be sure to practice social distancing to help keep you and others safe. Make sure that you stay within your community, wear a mask, and take hand sanitizer with you and use it.
With countless trails carving through the mountains and woodlands, hikers can embark on a new journey through a variety of terrains – all while maintaining social distancing. Most of the time, this can be done at locations within 15 minutes of your home! Whether you prefer to hike, bike, bird watch, or sightsee, here are some amazing trails that will leave you breathless. Be sure to check our state park websites, as many facilities (shelters, bathrooms, and offices) are closed to help mitigate the spread of COVID-19."
One of those trails is located right in our own backyard – the Schuylkill River Trail.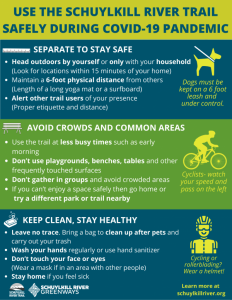 The Schuylkill River Trail (https://schuylkillriver.org/schuylkill-river-trail/ ) is a multi-use trail in Southeastern Pennsylvania with a projected length of almost 130 miles between Philadelphia and Pottsville. There are currently about 75 completed miles of the Schuylkill River Trail in sections, including 30-plus miles between Philadelphia and Parker Ford.
The trail breaks off in Parker Ford and picks up again in Pottstown where it continues for about 20 miles to Reading. From there, cyclists can follow a 20-mile signed on-road route just shy of Hamburg. In Hamburg, trail users can access a scenic seven-mile stretch to Auburn in Schuylkill County.
Chester County's portion includes the Cromby trailhead (located on Township Line Road in East Pikeland Township) northward to Parker Ford (south of Linfield Road in East Coventry Township).
The site's other 15 recommended trail locations are the Great Shamokin Path, the Standing Stone Trail, the Pine Creek Trail,  the Allegrippis Trails, the D&H Rail Trail, the Heritage Rail Trail, the Great Allegheny Passage, the Montour Trail, The Trails at Jakes Rocks, Laurel Highlands Hiking Trail, the Allegheny National Forest, Pine Grove Furnace, Ricketts Glen State Park, the Quehanna Trail and Presque Isle State Park.
Finally, keep in mind that you can help maintain public health and potentially save lives by wearing a mask in public, washing your hands at least 25 times a day, always keeping social distance and isolating if you feel sick.
As the Amish would say, "Blab 'sund" ("stay healthy").