By Denny Dyroff, Entertainment Editor, The Times
The entertainment industry has been thrown into a state of disarray by COVID-19. Shows have been cancelled, album releases have been indefinitely delayed and nobody knows where or when it will end.
Over the next few weeks, this column will feature musicians and entertainers from Chester County and look at what is happening with them right now.
First up is a singer from West Chester who has changed her name during her career more times than pop singer Dua Lipa has changed her hair color in the last few weeks (platinum blonde, orange, brown, pink).
That singer is Laura Diane Auer – formerly known as SOLA – formerly known as Laura Promiscuo – formerly known as Laura Mills.
Auer became her surname a few months ago when she married Kevin Auer at the Chester County Court House on Christmas Eve 2019. She had returned to her hometown for the wedding and then went back to her current home in the Larchmont section of Los Angeles. Auer had moved to Southern California a few years ago to pursue the next phases of her career as an entertainer.
"I was a touring musician for a long time," said Auer, during a phone interview Wednesday night from her home in L.A. "It was hard to be an indie musician.
"So, I started doing voice acting and that led to my move to Los Angeles. And it led to the animation project I'm working on now."
In addition to working on an animation project, Auer has just put the finishing touches on her new album – "In Love." Since it is not a good idea to release an album without being able to do a tour in support of the album, the release date for Auer's new LP has yet to be determined.
"I worked on the album in L.A. with my producer Tim Sonnefeld, who is a two-time Grammy winner," said Auer. "He used to work at MilkBoy Studio in Philadelphia. He came to L.A. around the same time I did."
Sonnefeld is also a Chester County native – a Phoenixville High alumnus. After graduating from the University of the Arts in Philadelphia, he established himself as one of the top record producers in the Mid-Atlantic region and also toured with his own band Town Hall.
"We just finished our entire record together – 10 songs," said Auer. "We cut the album over the course of a couple years at Red Star Records in the Silver Lake area of L.A. I have already released a few of the songs under the name SOLA.
"It's a total fusion album with Arabic melodies, Spanish guitar, Middle Eastern scales and African drumming. I guess you could call it pop with world, classical, fusion and pop influences."
Auer's previous album, "Chasing Down the Dream," was recorded with Sonnefeld at MilkBoy Records in Philly in 2014 and released under the name Laura Promiscuo. It featured eight of her original songs, including "Closer to You," "Water Is Wide," "Take Me As I Am" and "Sweet Lovin' Boy."
"Tim started working with me in the latter stages of that album," said Auer. "The songs on that album were more singer/songwriter songs."
Back in the early part of the 2000s, Auer was Laura Mills – a student at West Chester Henderson High School. She was an athlete as well as a musician during her high school days and played field hockey and lacrosse under the Warriors' legendary coach Kim Jackson.
"I was somewhat rebellious back then and had some clashes with Coach Jackson," said Auer. "Now, looking back I'm really grateful for what she taught me."
Auer was a singer long before she was an athlete.
"When I was growing up, there was always singing going around in our home," said Auer, during a previous interview. "My grandfather had an operatic voice and my father sang. My family listened to opera, classical music, classic rock — and a lot of Disney music.
"I decided to play viola at a young age. I even played viola in the high school orchestra. I attended Penn State University as an operatic voice major.
"I was in an a capella group there. That is what inspired me to start writing — and to become a solo artist. I was a voice major, but I didn't want to just sing opera or classical. I liked all different kinds of music."
Diversity has played a major role in the talented singer's musical development.
"When I started songwriting, I was writing soul music, pop songs, R&B and soulful songs," said Auer, who trained with world renowned artists including international tenor, Maestro Antonio Conte Pugliese, and Arlene Shrut, head vocal coach at The Julliard School.
"I was always very influenced by the Doors, Ani DiFranco, Ella Fitzgerald and Mariah Carey. Other influences are Tina Turner, Otis Redding and Sam & Dave."
Auer's love of the music of the Doors took her down the cover band path for a period of time.
"I was touring with the Soul Kitchen Collective for a while," said Auer. "They're a Doors tribute band. In 2013, I decided to go solo and changed my name from Laura Mills to Laura Promiscuo.
"My mother's maiden name is Promiscuo and I really took pride in my grandfather's name. I've been performing live forever but my first show as Laura Promiscuo was at Pietro's Prime in West Chester in August 2013."
After a while, Laura Promiscuo morphed into SOLA, who was billed as, "a singer and songwriter with a seductive and sultry musical style similar to female pop icons Sade and Lana del Rey– additionally drawing from crossover world artists like Sting, Shakira, Annie Lennox and Robert Plant."
SOLA began recording with music producer and cinematographer Simon Rogers and electronic violinist and Coatesville native Brian Fitzy. Her first video, "Closer To You," won several songwriting awards and jumpstarted her solo singing career. SOLA toured the U.S. as a singer-songwriter and then moved to Hollywood in 2015.
During this time, SOLA was also writing music for TV and film when her photographer connected her with Brazilian DJ/producer, Rey Vercosa, who was spinning for festivals in Ibiza. Vercosa asked her to write songs for his label, RV Records. Their most recent compilation album, "Ibiza Summer 2018," went straight to #1 on Beatport, the world's largest dance music streaming platform.
Auer also holds a 200-Hour Teaching Certification in Ashtanga Yoga and occasionally leads Kirtan sessions, a powerful, meditative concert experience that often escalates in energy to what is called a Devi rave.
Raves of another type are looming in the future for Auer in the form of rave reviews for her animated project and rave reviews for her upcoming album. How soon they will arrive depends on COVID-19. Hopefully, it will be sooner than later.
Video link for Laura Diane Auer/SOLA/Laura Promiscuo — https://www.youtube.com/watch?v=94rFZXDaaXk.
Vimeo link for Laura Diane Auer — https://vimeo.com/lauradianeauer.
For now, attending a live show is just something to dream about. In the meantime, there is plenty of live music available via internet streaming.
Troubadour 77, which features Chester County native Anna Wilson (Piano/Lead Vocals) and her husband Monty Powell (Guitar/Vocals).
is inviting music fans to join the duo for their weekly "T77 SQUARED CONCERTS" featuring songs from their new album, "Revolution & Redemption," which was just released on April 10.
The next edition of "T77 SQUARED CONCERTS" is scheduled for May 14 at 8 p.m. at https://www.facebook.com/Troubadour77music/.
Video link for Troubadour 77 — https://youtu.be/Nidewi0Z3-s.
The New York Guitar Festival's online performance series, "Reverend Gary Davis: In Search of the Harlem Street Singer," celebrates its final days of the festival this week. For its first-ever online festival, NYGF commissioned a diverse group of stellar artists to explore the music of blind blues musician Rev. Gary Davis. Tune in to the New York Guitar Festival YouTube Channelat 4 p.m. EDT each day to watch performance premiers by Warren Haynes (May 14), and Larkin Poe (May 15). Additionally,  NYGF announced that it will host a special "encore" performance by Bill Frisell on May 16.
On May 15 at 2 p.m., King Diamond will be streaming "Songs for the Dead: Live at the Fillmore in Philadelphia" via Knotfest.com and King Diamond's social properties — Knotfest.com: http://www.knotfest.com/; Knotfest Youtube: https://www.youtube.com/channel/UC2LUkxI77a5XeoIeQJzmV4Q; King Diamond Youtube: https://www.youtube.com/user/realkingdiamond; and King Diamond Facebook: https://www.facebook.com/kingdiamond/.
Jorma Kaukonen performs his seventh solo free Quarantine Concert from the Fur Peace Ranch on May 16 at 8 p.m. EDT. For six weeks, Kaukonen has been performing, telling true-life tales and talking about his songs, often playing them on the very guitar he wrote the song on. It is a fascinating look at this artist's history and influences.
The Fur Peace Ranch Station FREE Live Stream Concert link is — https://m.youtube.com/watch?v=7iq_cd06otU.
On May 17, The Kennedys All-Request Livestreaming Concert is slated to get underway at 2 p.m. straight from their New York apartment to your home. The Livestream link is https://youtu.be/ZnDndntVAXE.
The Metropolitan Opera (www.metopera.org) is offering "Live Opera Streams" nightly with a schedule that this week includes such classics as "Macbeth," "Don Carlo" and "Il Barbiere di Siviglia" ("The Barber of Seville").
The schedule for the upcoming week is: May 14, Britten's "Peter Grimes"; May 15, Donizetti's "Lucia di Lammermoor"; May 16, Verdi's "Rigoletto"; and May 17, Verdi's "Nabucco."
Now that the 2019-20 season of Opera Philadelphia (operaphila.org) has been cut short due to the COVID-19 pandemic, the company is extending its season online with video streams of five recent productions, including four new works that received their world premieres from 2015-2019.
The five operas will receive digital premieres from May 1 through May 29 on YouTube. Following each digital premiere, the operas will remain available on-demand for varying lengths of time through Aug. 31, 2020.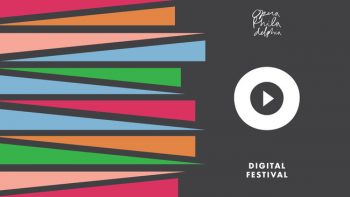 Week 3 of the company's Digital Festival O features a broadcast of Rossini's comic masterpiece "The Barber of Seville," premiering on May 15 at 8:00 p.m. on YouTube and operaphila.org. Following Friday's digital opening night, the 2014 production will stream on-demand through Monday, June 29.
This stellar cast features baritone Jonathan Beyer as Figaro, mezzo Jennifer Holloway in her company and role debuts as Rosina, tenor Taylor Stayton as Count Almaviva, bass Kevin Burdette as Dr. Bartolo, soprano Katrina Thurman as Berta, and bass-baritone Wayne Tigges as a scene-stealing Don Basilio, all under the baton of Jack Mulroney Music Director Corrado Rovaris.
Video link for "Barber of Seville" — https://youtu.be/F-iR8fLrTSQ.
WRTI 90.1 is broadcasting four concerts by the talented young musicians of the Philadelphia Youth Orchestra (PYO) during the month of May in 2020. Performing with exceptional soloists and conducted by Maestro Louis Scaglione, the four-week schedule includes full concerts from 2016, 2017, 2019 and 2020.
The broadcasts – two of which will feature works by West Chester's Samuel Barber — will take place on May 10, 17 and 24 from 4-6 p.m. and will be co-hosted by WRTI's Kevin Gordon and Maestro Scaglione. It is available on the radio at WRTI 90.1, streaming at WRTI.org, and on the WRTI App.
The following concerts are planned in May:
May 17, 4 p.m.
PYO Concert featuring organist Alan Morrison and Bravo Brass Alum and Euphonium Soloist
Joel Collier
(Performance date: June 5, 2016)
The performance opens with Samuel Barber's Toccata Festiva, featuring internationally acclaimed guest organist Alan Morrison. Next on the program, Joel Collier is guest soloist with PYO in the U.S. premiere of Symphony Concertante by Roland Szentpali. It is followed by Blue Cathedral by Pulitzer Prize winner and Philadelphia-based composer Jennifer Higdon and concludes with Sergei Rachmaninoff's Symphonic Dances.
May 24, 4 p.m.
PYO Concert featuring Violinist Michael Ludwig, Mendelssohn Club of Philadelphia, Philadelphia Boys Choir, and guest vocal soloists Alexandra Nowakowski, Eric Rieger, and John Viscardi
(Performance Date: June 4, 2017)
The musical selections include the winning composition by Alan Mackwell in the Inaugural Young Composers Competition titled Secretly Ramses the Second, Glazunov's Violin Concerto with Michael Ludwig and Orff's Carmina Burana with the Mendelssohn Club Chorus, Philadelphia Boys Choir, and vocal soloists Alexandra Nowakowski, Eric Rieger, and John Viscardi.
Sofar Sounds (https://www.sofarsounds.com/v/listeningroom) has these streams upcoming – Lady Sanity on May 14 at 3 p.m.; Bia Ferreira & Doralyce on May 15 at 3 p.m. and MwS on May 16 at 3 p.m.
Nonprofit organization, JusticeAid, has announced Voices To Protect The Vote, an at-home benefit concert in support of its 2020 beneficiary, Election Protection/888-OUR-VOTE. The virtual event, taking place on May 18 at 7 p.m. on JusticeAid's YouTube and hosted by NYC's WFUV Program Director Rita Houston, will shine a light on issues of voter suppression and serve as a gift of uplifting music during these difficult times.
Performing artists Paula Cole, David Shaw and Zack Feinberg of The Revivalists, David Hidalgo of Los Lobos, Leyla McCalla, Kandace Springs, and Paine the Poet will headline the event. Each year JusticeAid organizes concerts and public forums to educate the public about key civil rights challenges, while raising vital funds to support grassroots organizations addressing these issues. This year's focus is on voter engagement and voter suppression.
ONCE Somerville (https://www.oncesomerville.com/) is a place for fans of the venue to interact and enjoy performances under the ONCE Presents identity. The programming will range from music to comedy, yoga, tutorials and more. The following is the lineup for May:
14, Sophia Belle of Home Despot at 7:30 p.m.; 15, Dave Derby of the Dambuilders at 7:30 p.m.; and 16, The Talk Show! with Bethany Van Delft & Carolyn Castiglia, with Nick Chambers and Shalewa Sharpe at 7 p.m.
GRAMMY Museum® (www.grammymuseum.org) has announced the next round of new and never-before-released free digital content while the GRAMMY Museum in Los Angeles is closed until further notice in light of COVID-19. The Museum's Public Programs digital series features new intimate sit-down interviews with artists and musicians recorded via Zoom, as well as archival Programs from its 200-seat Clive Davis Theater. The Museum is also releasing exhibit slideshows featuring items from past exhibitions.
The full May schedule is: 16, Jordan Davis; 18, Dave Stewart with Thomas Lindsey; 20, Shinedown; 23, Bush; 25, Brandy Clark; 27, JP Saxe; and 30, The Zombies.
Paste Magazine has posted the following list of live streaming concerts:
May 14
Don McLean & Ron Pope
When: 5 p.m. ET
Where: Paste Happiest Hour on YouTube;
Ben Gibbard
When: 7 p.m. ET
Where: Death Cab for Cutie on YouTube;
Japanese Breakfast
When: 7 p.m. ET
Where: Japanese Breakfast on Facebook;
Josh Groban
When: 9 p.m. ET
Where: Josh Groban on YouTube;
Waxahatchee & Kevin Morby
When: 9 p.m. ET
Where: Waxahatchee on Instagram;
The Avett Brothers
When: 10 p.m. ET
Where: The Atlanta Braves on Facebook.
May 15
The Tallest Man on Earth
When: 3 p.m. ET
Where: The Tallest Man on Earth on YouTube;
Josh Radnor
When: 5 p.m. ET
Where: Paste Happiest Hour on YouTube;
Frankie Cosmos
When: 9 p.m. ET
Where: @frankiecombos on Instagram;
Runaway Horses with Margo Price
When: 9 p.m. ET
Where: Margo Price on YouTube.
May 16
Courtney Barnett, Georgia Maq & more
When: 5 a.m. ET
Where: @courtneymelba on Instagram;
Bad Bad Hats
When: 5 p.m. ET
Where: Bad Bad Hats on YouTube.
May 17
Todd Snider
When: 12 p.m. ET
Where: The Purple Building.