By Mike McGann, Editor, The Times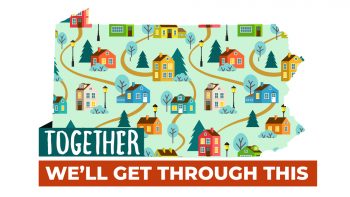 Hopes that the COVID-19 pandemic might be coming under control were dampened as both Pennsylvania and Chester County reported higher infection numbers for the second straight day — and it appears the death toll in Chester County has been much higher than previously reported.
Still, Friday, Gov. Tom Wolf unveiled a three-phase plan to eventually reopen the state.
Wolf and his administration said that it appeared the growth rate of infection had slowed enough to begin mapping out the possible recovery and how the state will ultimately reopen. The administration will work with economic and public health experts to determine the metrics used for safe reopening by taking a regional, sector-based approach.
Wolf first thanked the people of Pennsylvania for their cooperation and patience.
"I asked for you to close schools and businesses, cancel large events, stay at home, all in an effort to simply keep our friends, our neighbors, our families, our coworkers, alive," said Gov. Wolf. "I will be forever grateful for your courage, compassion, and speed. Despite uncertainty, Pennsylvanians acted collectively, not because of any order, but because we care deeply for each other. Now I am asking again for you to believe in our Commonwealth."
Still, a number of metrics — including adequate testing and personal protective equipment, a plan to monitor and quarantine new emerging pockets, and protections for vulnerable populations, such as nursing homes — will have to be in place before even a first phase is enacted. Large gatherings — concerts, sporting events, movie theaters and such will likely still be banned until the final phase.
As proof that such a reopening may be some time in coming, new numbers on the state and local level made it clear that the COVID-19 fight is far from over.
According to the state Department of Health (DOH), said there were 1,706 new cases reported Thursday, boosting the overall infection number in the state to 29.441. Deaths did decline — to 49, down 11 from the day before — bringing the entire death toll in the state to 756.
"COVID-19 cases and deaths continue to rise in Pennsylvania, and even though the daily increases are not exponential, now is not the time to become complacent," Secretary of Health Dr. Rachel Levine said. "We must continue to stay home to protect ourselves, our families, our community. If you must go out, please make as few trips as possible and wear a mask to protect not only yourself, but other people as well. We need all Pennsylvanians to continue to heed these efforts to protect our vulnerable Pennsylvanians, our health care workers and frontline responders."
Startling new data came out Friday morning from the Chester County Coroner, Christina VandePol, saying the county's COVID-19 death toll is at least 52 — with five more fatalities awaiting test results or likely cases not having been tested. That death total includes 32 deaths in the county this week (April 10 through April 16).
Those numbers are markedly higher than had been reported by Chester County Health Department which as of Friday afternoon listed only 27 fatalities. New cases jumped 51 to 773 total.
"I don't think we ever know how many people were infected or even the true number of deaths due to this virus because of the lack of testing available here and elsewhere," VandePol said in a statement. "That's due to a massive systemic failure beyond the local level, in my opinion. Some coroners and medical examiners are starting to make their own test kits and perhaps we'll be doing the same soon. We've been fortunate so far to receive some from hospitals, some from the State Bureau of Laboratories, and some from our County Health Department, but there's never enough to go around. Why is that?"
According to the Coroner, COVID-19 had hit older people particularly hard in the county, with the age range of victims being 57 to 98. The office said 71% of those who died were over age 75. VandePol said underlying medical conditions were present in all decedents, with the most common being hypertension, diabetes, and heart disease.
"This has been a terrible and tragic week," VandelPol said in a statement. "It is unbelievably sad to lose so many of our elders so fast. The grief and trauma of those who have lost a spouse, a parent, or a grandparent to this virus is so much worse because COVID-19 strikes so fast and because they are often unable to say goodbye."
In addition to the impact of the sick and dying, the state's economy has taken a sharp blow. New unemployment numbers announced Friday show the impact of Gov. Tom Wolf's order to shut down non "life-sustaining" businesses to fight the spread of the virus.
Pennsylvania's unemployment rate was up 1.3 percentage points over the month to 6.0 percent in March. The national rate rose nine-tenths of a point to 4.4 percent. The commonwealth's unemployment rate increased by 1.9 percentage points from March 2019 while the national rate was up six-tenths of a percentage point over the year.