By Denny Dyroff, Entertainment Editor, The Times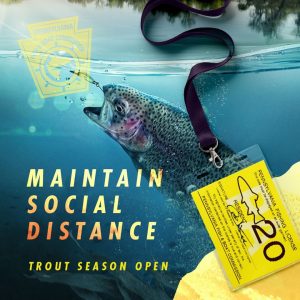 With "stay at home" orders from state and local governments affecting a large portion of the population, people around the area have been housebound for several weeks.
Many of us are feeling a need "to get out." And, there are many who are feeling a need "to get out – to get trout."
April is traditionally the month that Pennsylvania's trout season opens. This year, it was scheduled for April 18. But, the COVID-19 pandemic has changed everything.
The Pennsylvania Fish and Boat Commission made an announcement about the 2020 trout season earlier this week. Surprisingly, it was not a cancellation. Instead, it gave anglers around the state something to rejoice.
Here's the release that was issued on April 7 by the Pennsylvania Fish and Boat Commission:
Effective 8:00 a.m. on Tuesday, April 7, 2020, the Pennsylvania Fish and Boat Commission (PFBC), in consultation with the Office of the Governor, Pennsylvania Department of Health, and Pennsylvania Department of Conservation and Natural Resources (DCNR) opened the statewide 2020 trout season.
This measure allows properly licensed anglers and youth to begin fishing for and harvesting trout. All regulations, sizes, and creel limits apply.
Anglers and boaters must abide by social distancing guidelines provided by the Centers for Disease Control (CDC) and Governor Tom Wolf's Stay-at-Home Order regarding COVID-19.
"We realize that this announcement is another disruption to tradition, but it is in the best interest of public health and safety," said Tim Schaeffer, PFBC Executive Director. "We have already seen that anglers and boaters across the Commonwealth are willing to adapt their behavior to include social distancing, and we ask everyone to follow their lead while enjoying outdoor activities during this challenging time. The trout we have been stocking have had time to spread out, and so should you."
Anglers and boaters should limit travel by fishing close to home, cover their faces with a mask or other cloth covering, keep a distance of at least six feet from others (the length of arm with an outstretched fishing rod is a good guide), only go fishing with members of their families living in the same household, and never share fishing gear with others. If another angler is in an area you intended to fish, move on to another spot.
Non-resident Pennsylvania fishing license holders should comply with the CDC Travel Advisory urging residents in several states, including New York and New Jersey, to refrain from non-essential domestic travel.
The decision to open trout season immediately is intended to discourage concentrated gatherings of people that may have occurred on the traditional opening day, to minimize intrastate and interstate travel, and to reduce the threat of illegal poaching in waters that have already been stocked.
PFBC staff will continue to stock trout throughout the spring, but not all waters have been stocked at this time. To further discourage group gatherings, a stocking schedule and list of waters that have been stocked will not be provided to the public this season. Anglers should also be aware that public access to some waters may be restricted by the landowner or local municipal government.
Fishing and boating are permitted in Pennsylvania state parks and state forests, when social distancing guidelines are followed. DCNR is encouraging people to fish and conduct other outdoor recreation within 15 minutes of their homes. Anglers should note that state park facilities, including restrooms may be closed.
"Outdoor recreational activities, including fishing, lift our spirits and help relieve stress, but they need to be done with attention to social distancing guidelines to help protect ourselves and others, and slow the spread of COVID-19," DCNR Secretary Cindy Adams Dunn said. "That means practicing physical distancing of six feet, avoiding crowds and staying close to home, and being prepared with a mask and hand sanitizer."
Regardless of fishing location, anglers should bring a bag with them and carry out their trash.
To participate in trout fishing, anglers must have a Pennsylvania fishing license and Trout/Salmon Permit, both of which may be purchased online using the FishBoatPA mobile app for smartphones, or at www.fishandboat.com. Those who do not have the ability to purchase online and are unable to visit a retail location may call (814) 359-5222 for purchasing assistance.
Restez à distance des autres personnes ("maintain a social distance" in French).
The Pennsylvania Department of Natural Resources and Environmental Control has restricted use of its state parks and issued the following statement — Pennsylvania has 121 state parks, and 2.2 million acres of state forests. If visitors decide to come, visitors are being urged to do their part to make the experience a healthy and enjoyable one for themselves and others; and be prepared for limited staff and services.
Until April 30, all state park and forest facilities are closed to protect employees and visitors. This includes restrooms, playgrounds, and all overnight accommodations.
The public can access trails, lakes, forests, roads, and parking areas for activities such as hiking if they are able to keep six feet away from others.
Boating and fishing are allowed if adhering to social distancing.
Żomm id-distanza tiegħek minn nies oħra ("maintain a social distance" in Maltese).
Locally, the Chester County Parks & Recreation posted the following — All Chester County parks remain CLOSED to help stop the spread of COVID-19. This includes park trails, waterways, playgrounds, etc.
County Parks include: Black Rock Sanctuary, Exton Park, Hibernia, Nottingham, Springton Manor Farm, Warwick and Wolf's Hollow.
Chester Valley Trail, Schuylkill Trail and Struble Trail remain open but are not staffed. When using the trails please adhere to the social distancing guidelines (minimum 6 feet) and hygiene guide that is strongly advised to prevent the spread of the COVID-19 – take hand sanitizer with you and use it regularly; avoid touching your face, eyes and nose; cover your nose and mouth when coughing and sneezing with a tissue or flexed elbow; and if you are sick, please stay home. We thank you for your patience during this difficult time and look forward to re-opening soon.
Κρατήστε την απόσταση σας από άλλους ανθρώπους ("maintain a social distance" in Greek).
On August 7, New Jersey Governor Phil Murphy closed all state and county parks in an attempt to stop the spread of COVID-19.
Stai lontano dalle altre persone ("maintain a social distance" in Italian).
The National Park Service is modifying its operations on a park-by-park basis in accordance with the latest guidance from the Centers for Disease Control and Prevention (CDC) and state and local public health authorities. While most facilities and events are closed or canceled, outdoor spaces in some parks remain accessible to the public.
Before visiting, please check with individual parks regarding changes to park operations. If you choose to visit a national park, please ensure that you follow CDC and state and local guidelines to prevent the spread of infectious diseases and practice Leave No Trace principles. Updates about the NPS response, including safety information, are posted onwww.nps.gov/coronavirus.
Mantén tu distancia de otras personas ("maintain a social distance" in Spanish).
For those of you who actually stay at home as directed by the "stay at home" orders from state and local governments, there are plenty of trips to interesting destinations that you can take while sitting at home. All you need is an internet connection.
Halten Sie Abstand zu anderen leute ("maintain a social distance" in German).
The National Park Foundation is offering a program called "Take a Virtual Visit to a National Park."
Learn more about it by visiting this link — https://www.nationalparks.org/connect/blog/take-virtual-visit-national-park.
Weka umbali wako mbali na watu wengine ("maintain a social distance" in Swahili).
You can hike the Appalachian Trail – virtually.
Completed in 1937, the Appalachian Trail is the country's longest footpath. It spans more than 2100 miles, crossing two national parks, traversing eight national forests and hitting 14 states from Georgia to Maine.
But this year, the Appalachian Trail is effectively closed to hikers – a result of stay-at-home orders and social distancing measures states across the country are using to combat the spread of the COVID-19 pandemic.
Thanks to a new app for iOS, anyone can virtually hike the Appalachian Trail from wherever they might be trying to flatten the curve. Walk the Distance (https://apps.apple.com/us/app/walk-the-distance/id634548793) is designed to use your iPhone's pedometer feature to track the number of steps you take each day and chart that activity in terms of the Appalachian Trail's 2,200 miles (3,500 km) span.
Houd afstand van andere mensen ("maintain a social distance" in Dutch).
Washington D.C.'s cherry blossoms are a national treasure – and a signal announcing the arrival of spring.
The National Park Service and The National Cherry Blossom Festival are bringing the blooming cherry trees to everyone during their 'peak bloom' time, so that you can enjoy them this season from the comfort of your home or wherever you are around the world.
All you need to do is visit this link — https://nationalmall.org/bloomcam.
Держитесь на расстоянии от других людей ("maintain a social distance" in Russian).
The Penn Museum (www.penn.museum) is one of Philadelphia's premier museum attractions. But, like every other museum in Philly, its doors are shuttered.
Fortunately, it is offering an interesting option for virtual visitors – "Penn Museum at Home."
A message on the museum's website states – At a time when we are connecting to one another from a distance, the Penn Museum invites you to travel the world and explore our Museum from your own home. Enjoy virtual programs and experiences both for kids and families and for adults that expand the possibilities for creativity, learning, and fun."
Featured attractions include "At-Home Anthropology for Kids," "Digital Daily Digs," "Virtual Gallery Tours," "Browse the Collection Geographically," "Lecture Playlists," "Living Room Lectures," "Teacher and Family Resources by Gallery," "Virtual Interactive Learning Programs," "Write Your Name in Cuneiform" and "Write your name in Hieroglyphs."
दूसरेलोगों से अपनी दूरी बनाए रखें ("maintain a social distance" in Hindi).
The Museum of the American Revolution (www.amrevmuseum.org), Museum is hosting a free "Virtual Spring Break" now through April 17 with a line-up of choose-your-own virtual adventures including make-at-home craft activities using household items, virtual story time, living history demonstrations for all ages, and more.
Every weekday, you can check out the Museum's Facebook for a Daily Craft or Coloring Activity — learn the art of paper cutting, "scherenschnitte," brought to America by German immigrants, and create paper decorations inspired by artifacts in the Museum's collection; color a wampum belt like those used by Native American communities; or make your own whirligig – a popular colonial toy – with string and cardboard.
On Mondays and Fridays during Spring Break, tune into Facebook and Instagram for Artisan Field Trips featuring video interviews with living history artisans and makers as they demonstrate their Revolutionary-era crafts, including a shoemaker, seamstress, carpenter, and bookbinder.
On Tuesdays and Thursdays at 11 a.m., the museum will present "Virtual Storytime" on Facebook – reading children's books about the American Revolution and its ongoing impact, including "What Can Citizens Do?" by Dave Eggers and "Now and Ben: The Modern Inventions of Benjamin Franklin" by Gene Barretta.
On Wednesdays at noon, the museum hosts Live Q+A's with its curators and historians on Instagram. Join in and ask your most pressing historical question!
On Thursdays, you can tune into the museum's Instagram account for Colonial Cooking demonstrations, including how to make hard bread like that eaten by Revolutionary War soldiers and how to make cooked pumpkin, inspired by the memoir of Continental Army soldier Joseph Plumb Martin.
The Museum's other virtual resources include: "Virtual Field Trip" — Go behind-the-scenes at the Museum with Scholastic's "Beyond the Battlefield" Virtual Field Trip with host Lauren Tarshis, author of the I Survived series of children's historical fiction novels; "Virtual Museum Tour" — experience the Museum's award-winning, immersive galleries with 360-degree views in its Virtual Museum Tour;  and Digital Collection — explore selected treasures from the Museum's impressive collection of Revolutionary-era objects, works of art, manuscripts, and printed works.
Mbani një distancë të sigurt nga të gjithë personat e tjerë në shtëpi ("maintain a social distance" in Albanian.
The Delaware Art Museum may be closed, but you can still visit the Museum and its collection of over 12,000 works of art through a variety of innovative tours across email and social media.
The Museum recently launched "The View from DelArt," an email highlights tour of the collection, in which staff, members and friends of the Museum share their favorite works of art. The tour kicked off with member Steve Gregg's meditation on "Water Willow" by Dante Gabriel Rossetti, a popular painting from the Museum's extensive Pre-Raphaelite collection.
The staff has been taking over the Museum's social media feeds with their favorite works of art, offering insight into the people who make the Museum a vital hub for the community. Lead Museum Associate Jessa Mendez shared her love for "The Spring Witch," George Wilson's Pre-Raphaelite masterpiece. Meanwhile, Chief Curator and Curator of American Art Heather Campbell Coyle highlighted the bright blossoms featured in Howard Pyle's murals because "they capture spring in this area so perfectly."
The Museum is also celebrating what would have been the opening of the exhibition, "Layered Abstraction: Margo Allman & Helen Mason," with a virtual tour.
According to Margaret Winslow, Curator of Contemporary Art, who curated Layered Abstraction, "So many individuals have worked together over the past several years to create this exhibition in celebration of the careers of Margo Allman and Helen Mason. One of the joys of being a curator is seeing the response visitors have when they enter the gallery and see the results of such a large project. I'm eager for that moment but excited to share a sneak peek through our virtual tour of the gallery."
The Museum has created an online central resource page where you can find all these offerings, family-friendly programming, performances and more — delart.org/connectwithartfromhome.
दूसरेलोगों से अपनी दूरी बनाए रखें ("maintain a social distance" in Arabic).
You can take virtual tours in many of the world's most acclaimed museums including: The Rijksmuseum in Amsterdam (https://www.rijksmuseum.nl/en); the Van Gogh Museum (https://www.vangoghmuseum.nl/en); The Louvre in Paris (https://www.louvre.fr/en); Musée d'Orsay in Paris (https://m.musee-orsay.fr/en/home.html); The Vatican Museums in Rome (www.museivaticani.va); Uffizi Gallery, Florence (https://www.uffizi.it/en).; The National Gallery in London (nationalgallery.org.uk); The British Museum (britishmuseum.org); Guggenheim in Bilbao (www.guggenheim-bilbao.eus/en); Guggenheim Museum in New York (https://www.guggenheim.org); Metropolitan Museum of Art (https://www.metmuseum.org); The National Gallery of Art in Washington, D.C. (www.nga.gov); and Smithsonian National Museum of Natural History (https://naturalhistory.si.edu/).
Mantenha distância de outras pessoas ("maintain a social distance" in Portuguese).
Another popular option is taking "virtual rides" in space or in amusement parks at Space Center Houston (https://spacecenter.org/app/), The National Air and Space Museum of the Smithsonian Institution (https://airandspace.si.edu/), Six Flags Great Adventure (https://www.sixflags.com/greatadventure/attractions/vr2016/experience), Dorney Park(https://www.dorneypark.com/), Walt Disney World (https://disneyworld.disney.go.com/), LEGOLAND Florida Resort (https://www.legoland.com/florida/), SeaWorld Orlando (https://seaworld.com/orlando/), and Universal Orlando Resort (https://www.universalorlando.com/web/en/us).
与他人保持距离 ("maintain a social distance" in Mandarin).
Closer to home, there are quite a few Philadelphia and eastern Pennsylvania attractions currently offering virtual tours.
The list includes Betsy Ross House (historicphiladelphia.org/betsy-ross-house), Valley Forge National Historical Park (https://www.nps.gov/museum/exhibits/valley_forge), the American Treasure Tour Museum (http://americantreasuretour.com/), The Railroad Museum of Pennsylvania (https://rrmuseumpa.org/about/musviews/), The National Toy Train Museum(www.nttmuseum.org), The Pennsylvania Historical and Museum Commission (http://www.phmc.state.pa.us/portal/communities/archaeology/resources/virtual-tour.html), and the Pennsylvania Lumber Museum (http://lumbermuseum.org/).
کنیدفاصله خود را از افراد دیگر حفظ   ("maintain a social distance" in Farsi).
Also getting in on the "virtual" fun are The Academy of Natural Sciences of Drexel University; American Swedish Historical Museum; Barnes Foundation; Bucks County Cultural Sites; The Clay Studio; Elmwood Park Zoo; The Fabric Workshop and Museum; Free Library of Philadelphia; Independence Seaport Museum; Museum of the American Revolution; National Marian Anderson Museum; Philadelphia Museum of Art; and The Philadelphia Zoo.
Legg til i favoritter Avslappende ("maintain a social distance" in Norwegian).
If you go to Visit Philadelphia's website (https://www.youvisit.com/tour/visitphilly), you can be a tourist in the Quaker City without even getting up off the couch.
The organization has links to more than 20 different short virtual tours that provide a great introduction to the city.
The list of links includes Benjamin Franklin Bridge, Race Street Pier, Elfreth's Alley, Independence Hall Exterior, Independence Mall, Liberty Bell Center, Carpenter's Hall, National Constitution Center, African American Museum of Philadelphia, National Museum of American Jewish History, Second Bank of the United States, Washington Square, Reading Terminal Market, Avenue of the Arts, Pennsylvania Academy of Fine Arts, The Franklin Institute, The Barnes Foundation, Schuylkill Riverbanks, Boathouse Row, Fairmount Water Works, andPhiladelphia Museum of Art "Rocky Steps" at Philadelphia Museum of Art.
Diğer insanlara olan uzaklığınızı koruyun ("maintain a social distance" in Turkish).
In a case of ridiculous irony, the 25th anniversary of National Public Health Week is being celebrated from April 6-12. You can help maintain public health – and save lives — by washing your hands (at least 25 times a day), keeping social distance (always) and isolating if you feel sick.