By Gail Supplee Tatum, Columnist, The Times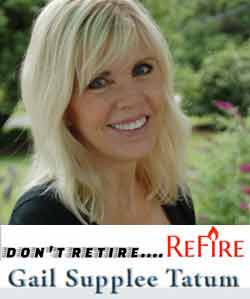 My last article was about "going into the desert", figuratively speaking, to realign myself and focus on guarding and protecting from the distractions that were and still are affecting who I truly am, the "Real Me". That meant disconnecting myself from what was making my heart heavy. It meant to still my mind and to reconnect with myself and my God and in doing so, I would reclaim my life and get back to knowing and loving the person that I am. It was appropriate, since, for many, it was the beginning of Lent.
I extended an invitation to you to do the same.
The most common excuse we have for not doing something like that, is saying we don't have enough time.
What's happening now takes what I was offering to a whole different level!
Little did I know that we were all going to be given the time to take that emotional, spiritual and enlightening journey, if we so chose.
Our present circumstance, has forced us into having time. Obviously, this does not apply to all the men and women who are working tirelessly to protect us and keep us healthy. They have zero time to do anything other than caring for those who need it.
So, what do we do, now that COVID-19 has thrown us off course? Are we sure enough in our own course and strong enough in our beliefs to weather this storm?
However bizarre, we've been given the time.
What do you want to say about how you spent your quarantined days, once it's over?
Some are parents working from home with children being schooled online. Some are alone and feeling isolated.
Whatever your situation is, view this as an opportunity.
We didn't ask for this, however, it is upon us. Viewing this as anything other an opportunity, is an opportunity missed.
If you're having difficulty seeing this as an opportunity, here are a few suggestions:
Reach out by phone, a note or social media to your family and friends who you wished you had more time to spend with. You will be lifting their spirits, as well.
Read a meditation passage every morning to set your mind right for the day.
Move your body, however you can. Movement not only helps circulation and muscle strength, it also strengthens the mind.
Foster an animal. There's a need for this right now. Animals have a tremendous calming effect.
One thing is for certain, getting back to the subject of time and saying that we don't have enough of it, if you don't come out of this quarantine with a renewed sense of the world you live in and are a part of, with more knowledgeable, a new skill, and a deeper understanding and appreciation that one person can truly make a difference, then your time was not wisely spent.
There's no better quote than this, from Barbara Hall, an American writer, producer and singer-songwriter, to describe what we are all living through right now; You're alive. Do something. The directive in life, the moral imperative was so uncomplicated. It could be expressed in single words, not complete sentences. It sounded like this: Look. Listen. Choose. Act.
Threaded through this article is revealing the concept of time and how we relate to it. Our current condition reminds us that time is to be respected.
Time is what we want most, but what we use worst.-William Penn
We now have time. Do we want to look back on this time with a new awareness of the preciousness of life and appreciation for our loved ones and the world we live in? Will we be more inclusive? Will we be humble and kind? Will we be grateful? Above all, be grateful.
How will you remember this time? Will you see it as the world's reassessment of itself? A step back, forced upon us, to recalibrate how we conduct ourselves as we come out of the woods and into the light?
This will forever be imprinted as a time in history where we, as a human race, band together to do what has been asked of us, and that is to STAY HOME!
In the words of Alexander the Great – Remember, upon the conduct of each, depend the fate of all.
Stay well. Be safe.