By Mike McGann, Editor, The Times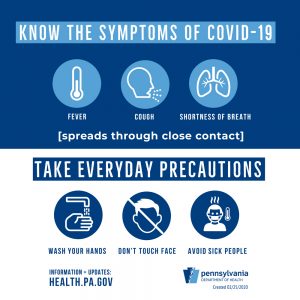 Gov. Tom Wolf issued a "stay at home" order for six counties, including Chester County, as cases of COVID-19 spiked locally and across the state, including six deaths across the state.
Wolf announced the order Monday afternoon, which will be effective Monday night at 8pm.
"Today, I'm issuing a Stay at Home order for Allegheny, Bucks, Chester, Delaware, Monroe, & Montgomery counties," Wolf said on Twitter. "Starting at 8pm, residents must stay home unless someone's life depends on leaving. Our roads will stay open, and so will our grocery stores and pharmacies. My office will be issuing additional guidance on allowable activities, as well as information for people who have no permanent home."
Wolf said the state will be extending the school closure through April 6.
Secretary of Education Pedro A. Rivera said his decision to close all schools for the additional period aligns with the governor's stay-at-home directive announced today for seven counties – Allegheny, Bucks, Chester, Delaware, Monroe, Montgomery and Philadelphia.
"Protecting the health and safety of students, families, teachers and all employees who work in our schools is paramount during this national health crisis and we must continue our efforts to mitigate the spread of the virus," he said. "The number of positive cases increases daily and we're seeing it spread to more counties. We must adhere to the social distancing guidelines. Extending the closure will help every community in its efforts to mitigate the spread."
According to the state Department of Health, there are 644 cases of COVID-19 in the state, resulting in six deaths.
Locally, the state reports 40 cases in Chester County, while the Chester County Health Department reports 30, there has been an increasing discrepancy between those two numbers in recent days, attributed to errors in reporting in the state data. Regardless, it represents a big spike in reported cases over the weekend — Chesco Health was reporting 18 cases as of Friday and just 22 as of Sunday.
The state has moved to close the vast majority of dental offices in the state — essentially those not in hospitals, by requiring all staying open to have facilities with negative pressure isolation and HEPA filtration. Dentists can still prescribe medicine and refer patients to hospital-based practices.
The regulation came down in the middle of the night, Sunday, without any consultation from the Pennsylvania Dental Association — and the proclamation made false claims that the state's Dental Schools (UPenn, Temple and Pitt) use such facilities, they do not. Additionally, it is unclear whether insurance will pay the difference between a $125 charge for a painful cavity and the likely higher charge for the same procedure in a hospital.
It was also unclear why the state Department of Health decided to send additional patients to hospitals at a time when the overall effort has been to reduce the number of patients at hospitals to maximize capacity to deal with COVID-19 patients.
Elsewhere, the Willowdale Steeplechase — already delayed until June initially — has now been cancelled and will next be run on May 8, 2021.