The sixth annual Jam on the Brandywine is set to commence on Sept. 10, bring music, food, and fun for the entire family
By P.J. D'Annunzio, Staff Writer, UnionvilleTimes.com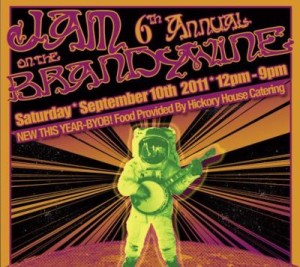 POCOPSON—The Myrick Conservation Center will host the Sixth Annual Jam on the Brandywine, Sept. 10, sponsored by the Brandywine Valley Association.
This event features outdoor musical performances from live bands, Hickory House Catering, libations from Paradocx Vineyard, Starbucks coffee, BYOB, Children's nature activities, hayrides and much more.
The main attractions are, of course, the performers and they will be out in full force representing an array of genres to suit all musical tastes.
The lineup:
Allgood, whose Athens, GA hometown produced Alt Rock giants R.E.M., jams in a different vein influenced by the great Blues and Rock traditions of the Southeastern U.S.  The band has recorded multiple albums and has toured extensively since the early 90s, bringing their Skynyrd-esque tunes to listeners across the nation.
Kennett natives Becca and Guenevere Calabrese, a.k.a. The Calabrese Sisters, have been writing and performing their own material since early high school. Their style is fresh and spirited, incorporating elements of jazz, blues, soul, gospel, pop, and a little bit of the folk music to boot.
The Cameltones incorporate the greatest sounds in rock history into their sets, covering legends such as The Rolling Stones, Jimi Hendrix, The Grateful Dead, Buffalo Springfield, and Bob Marley to name a few. They rock under the banner of "Spreading a wanton disregard for good taste and common sense."
Ticket Magazine's 2010 Artist to Watch, Nancy Micciulla hails from Philadelphia and has packed renowned venues such as the Tin Angel, Club Café, The Knitting Factory, and World Café Live. Her sound has been described as "acoustic pop with an emotional flair"; her melodic voice like "candy for your ears."
Partially James Taylor at heart but 100% himself in soul, Mike O'Brien explores the world of folk through acoustic and vocal performance, harkening back to a time when Bob Dylan, Carole King, and Carly Simon ruled the airwaves.
Montana Wildaxe from Smyrna, DE showcases their talent by borrowing from the tradition of 70s and 80s Roots Music and incorporates it seamlessly onstage with their completely organic and laid back sound.
Comprised of two father/son combos, The Uncle Jimmy Band plays a mix of music spanning from the 60s to today. The band covers their favorites including The Allman Brothers Band, Dave Matthews, 311, The Red Hot Chilli Peppers, G.Love, The Beatles, Eric Clapton, Stevie Ray Vaughan, and Metallica.
The Jam on the Brandywine benefits the BVA and proceeds will help their mission to promote the conservation and enjoyment of the natural resources in the Brandywine Watershed.
Gates open at 11AM; Music starts at noon and lasts until 9PM. Tickets are $7 per person in advance and $10 at the gate. To order tickets, visit http://www.brandywinewatershed.org/2008/news/jamTixPay.asp