By Denny Dyroff, Entertainment Editor, The Times
If the weekend starts on Friday and this Friday is Valentine's Day, then this must be the "real" Valentine's Day Weekend 2020.
If you're looking for a way to celebrate Valentine's Day with something other than a romantic candlelight dinner, you might want to consider taking part in the "Sweetheart Skate" at the Blue Cross RiverRink (Market Street at the Delaware River, Philadelphia, 215-923-6533, www.riverrink.com).
"Sweetheart Skate" is slated for February 14 at the outdoor rink with three skating sessions — 7-8:30 p.m., 9-10:30 p.m. and 11 p.m.-12:30 a.m. The event's focus is providing a suitable atmosphere for guests to skate with their special someone and RiverRink features one of the most romantic settings in the city.
Tickets, which are $25, include skating admission, skate rentals, a box of chocolates, a rose and a photo booth for one keepsake photo. Food, beer, and specialty cocktails can be purchased on-site from Garces, Chickie's and Pete's, and Franklin Fountain.
A deejay will host the evening and serve up a menu of music that will allow guests to skate to their favorite love songs with their significant others. As an added attraction, there will be a variety of special games and opportunities to win prizes.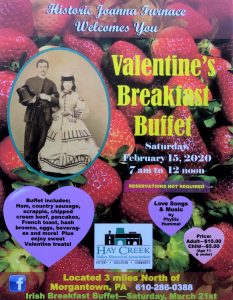 An all-you-can-eat Valentine's Breakfast Buffet — complete with live musical performances — will be held on February 15 from 7 a.m.-noon at Historic Joanna Furnace (Route 10, Morgantown, 610-286-0388, www.haycreek.org).
Visit to the historical site Saturday morning will be able to savor the delicious breakfast foods Joanna Furnace is known for, indulge in a chocolate-enhanced menu and learn about the history of Joanna Furnace. Many of the dishes served at the event will be reminiscent of the breakfasts served in the historic furnace homes.
The 13th annual all-you-can-eat Valentine's Breakfast Buffet will feature bacon, creamed chipped beef, eggs, fresh country sausage, ham, scrapple, pancakes, hash browns, toast, coffee, juice and fresh strawberries accompanied by a fabulous chocolate dip.
The "Lovers' Day" ambiance will be enhanced by live music performed by Phyllis Hummel. The veteran musician from Berks County will play acoustical guitar and sing a variety of romantic ballads throughout the breakfast time.
Tickets for the breakfast are $10 for adults and $5.00 for children (ages 5-11). Reservations are not required for breakfast.
Valentine's Day is here but wine-loving chocoholics have been – and will be — celebrating all month.
The Chaddsford Winery (632 Baltimore Pike, Chadds Ford, 610-388-6221, http://www.chaddsford.com) will host Wine & Chocolate Pairings on Valentine's Day  as well as every Saturday and Sunday in February through February 23.
Visitors can enjoy stops at five stations featuring artisan chocolates carefully paired with the winery's award-winning wines.
This year, the winery is partnering with Philadelphia-based John and Kira's to provide guests with an unparalleled experience.
Sessions will be offered throughout the day at noon, 1, 2, 3 and 4 p.m.  During the session, Chaddsford Winery staff will lead guests through an educational pairing while providing interesting facts about the featured wines and chocolates. Guests who arrive over 15 minutes late for their session are not guaranteed entry to the program.
Advanced tickets are $30/person, and space is limited.  If a session does not sell out of advanced tickets online prior to the event, then a limited number on onsite tickets will be sold at the door for $35/person.
The Chaddsford Winery will have another special event on February 18.
From 11 a.m.-2 p.m., the winery will celebrate National Drink Wine Day with free traditional wine tastings.
Visitors will be able to taste seven one-ounce samples of wine from across the winery's portfolio.
Seating at the Winery is available on a first-come, first-served basis. No outside alcohol permitted and a valid photo ID is required to purchase or consume alcohol.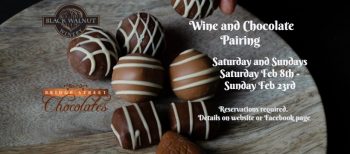 Black Walnut Winery (3000 Lincoln Highway, Sadsburyville, 610-857-5566, www.blackwalnutwinery.com) will have "February Wine and Chocolate Pairings" on February 16 and 23.
The special days will feature a pairing of five of Black Walnut's wines with gourmet chocolates from Bridge Street Chocolates of Phoenixville. Wine and Chocolate pairings will take place at 1, 2, 3 and 4 p.m.
The sessions will also be held same dates and same times at the winery's location in Phoenixville at 260 Bridge Street.
Cost is $25 per person and includes a Black Walnut logo wine glass. Guests can choose to upgrade their pairing to include a Port tasting as well (two port style wines) for $30 per person.
The "Wine and Chocolate Pairings" at Penns Wood Winery (124 Beaver Valley Road, Chadds Ford, 610-459-0808, http://www.pennswoodsevents.com) will be held every Saturday and Sunday in February from 11 a.m.-5 p.m.
In addition to its regular tastings, the winery is offering special tastings to celebrate February because February is the month of wine, chocolate, romance and fun.
Penns Wood is adding new and exciting items to its wine and chocolate pairings this year featuring its wines carefully paired with local chocolate treats from Good Good Chocolates, Double Spiral Chocolate & Taste Artisanal Market.
Tickets cost $28 per person in advance and reservations are required. Cancellations must be made within 48 hours or ticket holders will be charged the full amount of the tasting. Reservations are made and kept on the hour.
On February 21, Galer Estate Vineyard & Winery (700 Folly Hill Rd., Kennett Square, www.galerestate.com) will host a special "Wine and Chocolate Pairing."
At the event, which runs from 6-8 p.m., visitors will be able to enjoy three of Galer Estate's wines paired with local chocolate treats.
Tickets are priced at $35 per person.
The Berks County Wine Trail (www.berkscountywinetrail.com) will present "Chocolate & Wine Pairing Event Weekends" to celebrate Valentine's Day. The event is scheduled for February 15 and 16 from noon-5 p.m. each day.
Visitors can toast Valentines' Day during two sweet weekends on the wine trail sampling sumptuous chocolates and confections paired with featured wines of the region. They can visit each of the 11 participating wineries along the Berks County Wine Trail to determine their favorite pairing combo.
The list of wineries and featured tastings includes: Deerfoot Winery (Shoemakersville) — Country Rose wine or Dragon Heart Raspberry mead with raspberry fudge from Russel Stover. The second pairing will be dark chocolate with our Explorer Port Wine; Stone Barn Cellars (Spring City) — Luscious chocolate panna cotta, homemade whipped cream and topped with a fresh raspberry, paired with 2017 sweet white wine Morning Glory that has flavors of peach and topical fruit; Manatawny Creek Winery (Douglassville) — Chocolate mousse paired with Cabernet Franc Port; Kog Hill Winery (Morgantown) — Dark chocolate coated peppermint cream candy combined with  KOG Hill's Gewürztraminer wine; and Long Trout Winery (Auburn) — Chocolate wines are paired with a tasty assortment of home-made desserts! Imaginatively named Chocolate wines include Mixed Berry, Strawberry, Cherry, Pear, and Orange flavors.
Also featured will be Calvaresi Winery (Bernville) — Cabernet Sauvignon paired with a delectable dark chocolate fudge and also the Ultimate Malted Milk Ball and Autumn Rose; Setter Ridge Vineyards (Kutztown) — Strawberry Rose Cake Truffle, made with Setter Ridge's Pinot Noir Rose wine and topped with White Chocolate, served with Pinot Noir Rose wine; Stoudt's Winery (Shartlesville) –Chocolate fountains will flow white chocolate and milk chocolate for visitors to dip fruits, cookies, and other confections. The dipping will be paired with chocolate covered strawberries and Stoudt's Strawberry wine; Stonekeep Meadery (Fleetwood) — Raspberry Melomel, or honey wine, is paired with a chocolate coated cracker from Berks icon Billy's Chocolates; Weathered Vineyards (New Tripoli) — Whoopie Pies with choice of Merlot or sweet Twister wines; and Ridgewood Winery (Birdsboro) — Flourless Chocolate Cake Pinot Noir and Strawberry Royale wines.
Tickets are $10 and are good for all four event days.
A great way for chocoholics to satisfy their chocolate cravings is to take a trip to Hershey during the month of February. This month, it's time for "Chocolate-Covered February in Hershey" (various locations around Hershey, 800-HERSHEY, www.chocolatecoveredfebruary.com).
It is only natural that Hershey, the town that bills itself as "The Sweetest Place on Earth," hosts a month-long celebration in honor of all things chocolate. Hershey has decadent chocolate events planned throughout the month of February.
This weekend, visitors to the Hershey Store can try their hand at making their own heart-shaped milk chocolate confections and hand-made truffles. Other activities are a "Chocolate Tea," a "Chocolate Dinner Extraordinaire" at the Hotel Hershey and a "Chocolate and Spirits Pairing Class & Chef Demonstration" at the Hershey Lodge.
The "Hersheypark Chocolate Parade" will be held at the amusement park every Saturday and Sunday in February beginning at 2:30 p.m. each day. There will also be an "Interactive Story Time & Hot Cocoa" session at 1 p.m. and again at 3 p.m. at Hersheypark every Saturday and Sunday in February.
Other activities throughout the month include "Chef Demonstrations" at the Hotel Hershey, "Hershey's Chocolate Dessert Buffet" at Hershey's Chocolate World, "Hershey's Character Breakfast" at Hershey Lodge, "Chocolate Themed Animal Treats" at ZooAmerica, and "Chocolate Martini Mixology Class" at Hershey Lodge.
"Dia del Amor" will be celebrated on February 14 at Philadelphia's Magic Gardens (1020 South Street, Philadelphia, www.phillymagicgardens.org).
Visitors can experience an intimate guided tour of Philadelphia's Magic Gardens focusing on the love story behind the mosaicked space, including the relationship between founding artist Isaiah Zagar and his wife, Julia, and their love affair with Mexican folk art.
While touring the space, visitors will be able to sample three kinds of mezcal curated by Salvador Peribán from different regions of Mexico and learn more about the labor of love required to make each one.
They can also enjoy some light Mexican fare from Tamalex and explore the mosaicked labyrinth as it sparkles under the twinkle lights.
Tickets are $40 for the event which will run from 6:30-8:30 p.m.
Cairnwood Estate (1005 Cathedral Road, Bryn Athyn, www.cairnwood.org) is presenting "Hearts & Hops!" on February 15.
Visitors can taste the finest local micro-beers paired with savory and sweet small plates created by Sage Catering.
Featuring YARDS Brewing Company, Bills Best BBQ & Brew, Conshohocken Brewing Company, Moss Mill Brewing Company, 2nd Story Brewing, and Crooked Eye Brewery, the event will get underway at 7 p.m.
The Estate will be transformed into an indoor biergarten with "lawn game" and live music by Anders Hyatt.
Tickets are $50 per person.
"Ribstock 2020," an all-day music event to benefit Expressive Path, The Bridgeport Little League and Musicopia, will be held on February 16 at Bridgeport Ribhouse (1049 Ford Street, Bridgeport, 610-278-8066, http://ribhouse.net/).

The festivities kick off at 2 p.m. and will feature performances by some of the top local artists along with headliner Brian Quinn from veteran Seattle rock band Candlebox.
This popular event was created by the Bridgeport Ribhouse staff, Philadelphia musicians Kevin Burk, Brian Quinn and Paul Hammond, sound engineer Dave Anderson, and dmk Publicity owner Denise Kovalevich as a way to give back to the community.
The 10th Annual "Ribstock" will feature performances by some of the area's best artists including: The Hot Sauce Junkies, Former Strangers, Idlewild South, Nat Attack (featuring Michael Natalini of The Trammps), Bonehead, Old School, Paul Hammond (from Get the Led Out) & Friends (including special guests Brian Quinn of Candlebox, Danny Beissel of Featherborn, and John McNutt of the Mile High Club) and Montoj.
Affectionally known as the "Day Of Peace And Music," this much-anticipated event will benefit the Bridgeport Little League and Norristown's Expressive Path, a non-profit organization committed to enriching, educating, and inspiring adolescents by providing resources in the areas of theater, dance, music, humanities and the visual arts. Musical instruments were also donated to Musicopia, a local non-profit that works to build sustained partnerships with school districts throughout the region and is a leader in revitalizing in and after school music programs.
In addition to the live music located inside the bar, sandwiches and other food items will be served outside in the tented area in the Ribhouse parking lot.
A $10 entry fee is required for the event and specials will be offered throughout the day and evening.
For all you parents who are looking for indoor activities to temporarily offer some relief from your kids' cabin fever, consider crossing the Delaware River for a visit to the Adventure Aquarium (1 Riverside Drive, Camden, New Jersey, 856-365-3300, www.adventureaquarium.com).
Families who visit the Aquarium will have the opportunity to explore and discover hippos, penguins, stingrays, sharks and more – all in one visit.
Some of the popular, family-friendly attractions are "Sea Turtle Cove," "Caribbean Currents," "Hippo Haven," "Creature Feature," "The Grotto," "Touch a Shark," "Ocean Realm," "Stingray Beach Club," "Shark Bridge," "Piranha Falls," "Penguin Island," "Shark Realm," and "Little Blue Beach."
If you make a trip to the Aquarium from February 15-17, you will be able to meet resident hippos Button and Genny during Hippo Conservation Weekend. Visitors can learn more about the Nile hippopotamus and efforts to help the species in the wild. Activities throughout the three-day event include themed crafts, paint-by-numbers art and a prize wheel.
Admission to the Adventure Aquarium is $31.99 for adults and $21.99 for children (ages 2-12). Children under two are admitted free with a paying adult.
From February 14-16, the Wells Fargo Center (3601 South Broad Street, Philadelphia, https://www.wellsfargocenterphilly.com/events/detail/jurassic-world-live-tour) will host the "Jurassic World Live Tour" with shows at 7 p.m. on February 14, 11 a.m., 3 and 7 p.m. on February 15 and noon on February 16.
"Jurassic World Live Tour" is a live entertainment experience for the whole family that is rooted within the Jurassic World franchise complete with life-sized dinosaurs, heroes and villains. Throughout their journey, our heroic male and female characters are faced with obstacles that are overcome through pulse-pounding stunts and action-packed fight sequences that deliver edge-of-your-seat entertainment.
Jurassic World Live Tour will feature more than 20 characters including nine dinosaurs – the mighty T. rex, Blue the Raptor, Triceratops, Pteranodons, Baby Stegosaurus – as well as hero and villain characters.
The trip to Isla Nublar takes a terrifying turn after the Indominus rex escapes and causes chaos in the park. The adventure continues as the audience joins forces with a team of scientists to unravel a corrupt plan and save Jeanie, an all-new dinosaur, from a terrible fate. Along the way, experience some of Jurassic World's most iconic dinosaurs including Blue the Raptor, Triceratops, Pteranodons and the mighty Tyrannosaurus rex!
The show features special effects, including strobe lights and a safe theatrical fog, along with the wonder and thrills that the Jurassic World brand is known for.
Ticket prices range from $25-$175.
On February 15, the Academy of Natural Sciences of Drexel University (1900 Benjamin Franklin Parkway, Philadelphia, 215-299-1000, www.ansp.org) is opening its new exhibition – "Survival of the Slowest." It will run through September 29.
It what could be exciting news for nerds and geeks, sometimes being slow, small or weak can have its advantages.
"Survival of the Slowest," a new exhibition opening this winter, features amazing and adorable live animals that will shed light on overlooked creatures that use their disadvantages to help them survive — and even thrive — in a world where large, strong and fast animals are often the top of the food chain.
The new exhibit explores the fascinating adaptations that certain animals have evolved over millions of years in order to avoid being someone else's lunch. Presented in both Spanish and English, the exhibit features nearly a dozen natural-looking habitats with live animals, plants and rocks, ideal for viewing a range of live species up close and at length.
Visitors will learn about the surprising survival strategies of a dozen species including Linnaeus's two-toed sloth, the African pygmy hedgehog, veiled chameleon, green iguana, green basilisk, ball python, and more.
Sloths, for example, grow algae on their fur which helps conceal them in the leafy forest. And being nocturnal helps sloths avoid their main predator — the harpy eagle, a daytime predator.
An animal keeper will be stationed in the exhibit to answer visitor questions, feed the animals their healthy meals, and sometimes to remove an animal from its enclosure so visitors can have an even closer look.
According to Academy President and CEO Scott Cooper. "As climate change and species extinction continue to alter our world, these amazing animals serve to reminds us of nature's wonder and how much more we need to learn. It's more important than ever to connect people with nature and to inspire everyone to care for it."
The Academy is only the second U.S. showing of this exhibit. The first was the Brooklyn Children's Museum in New York. "Survival of the Slowest" is produced by Little Ray's Nature Centres in Ottawa, in collaboration with the Canadian Museum of Nature. Little Ray's is the largest exotic animal rescue organization in Canada and most of the animals in the exhibit are rescues.
There will be a variety of special Opening Weekend activities on February 15 from 10 a.m.5 p.m. including "Auditorium Show: Meet the Animals," "Survival of the Slowest Education Station," "Cool Camo Cart," and "Survival of the Slimiest."
Opening Day activities are included with general admission, which is $22 for adults, $19 for seniors, students and military and $18 for children (ages 3-12).
Just one block west of the Academy of Natural Sciences sits the Franklin Institute – another great museum for kids of all ages.
Now through March 3,  the Franklin Institute (271 North 21st Street, Philadelphia, 215-448-1200, www.fi.edu) is presenting an expansive exhibition titled, "The Worst-Case Scenario: Survival Experience" based on the internationally bestselling book series
"The Worst-Case Scenario Survival Handbook."
With a 76,000-ball pit as its centerpiece, a horizontal climbing wall, a train car jump, lock picking challenges, upside-down tic-tac-toe, and more—this kid-friendly experience immerses you in various challenges to build your survival smarts.
The "Experiences​" include: Escape quicksand, learn to fall safely, and create and survive an avalanche—in the massive ball pit; Use everyday materials like bobby pins to try to pick a lock; Scale a wall horizontally to practice how to survive rising floodwaters and similar dangers; Practice your lie detection ability on a partner; Hop between simulated train car platforms and jump (and roll) to safety; Discover how your mind adjusts to changes in the environment by playing tic-tac-toe while upside-down; and Spin the wheel and uncover what to do when faced with an angry mountain lion, or a herd of elephants in your path.
"The Worst-Case Scenario: Survival Experience" is open now through April 19.
The Franklin Institute's general admission is $30 for adults and $26 for children (ages 3-11).
The Hands-on House Children's Museum (721 Landis Valley Road, Lancaster, 717-569-5437, http://www.handsonhouse.org) offers a wide array of activities for youngster.
Curiosity, creativity, and discovery will take children (accompanied by an adult) on an educational adventure in The Clubhouse, where learning and fun go hand-in-hand.
Some of the museum's more popular attractions are "Right In Your Own Backyard" where guests can climb in a treehouse and crawl into a honeycomb and see what it's like to live like a bee, and "Marty's Machine Shop," where visitors can put on safety gear and learn how to make the world-famous Watchamagiggles.
Other featured attractions are "Facepaint Porch," "Little Valley Farm," "The Corner Grocery," and "Mostly Make-Believe."
Admission to the museum is $11 for children and $10.50 for adults. To make sure that every attendee has a great experience, please have one adult attending for every two children.
On February 17, Valley Forge National Historical Park (1400 North Outer Line Drive, King of Prussia, www.nps.gov) is hosting "George Washington's Birthday Party" from 10 a.m.-2 p.m.
The site of one of the most storied struggles of the American Revolution pays tribute to Gen. George Washington with a fun-filled birthday party. Indoor and outdoor activities at Valley Forge National Historical Park take place around the visitor center and include games and crafts for kids, as well as a chance for the little ones to join the Continental Army. Washington stops by for a visit, and all guests can enjoy a celebratory birthday cupcake.
The first public celebration of Washington's Birthday was at Valley Forge in 1778. Now in 2020, you can join Mrs. Washington, members of the Continental Army, and others to celebrate His Excellency's 288th birthday.
Produced in conjunction with the Valley Forge Park Alliance, Valley Forge Tourism & Convention Board, and The Encampment Store, the majority of this free event will take place at the Temporary Visitor Center located in the parking lot beyond the "old" visitor center that is being remodeled.
George and Martha Washington will meet the public for pictures in the main tent and kids can show their appreciation to the General by creating a birthday card for him in the main tent.
Kids will also be able to enlist into the Continental Army, learn basic marching steps, and get reviewed by the Commander-in-Chief himself. Enlistment begins in main tent at 10 a.m.
The 2020 edition of the popular Philadelphia International Auto Show at the Pennsylvania Convention Center (1101 Arch Street, Philadelphia, 610 279-5229, www.phillyautoshow.com) is running now through February 17.
The Philly Auto Show, which is one of the premier auto shows in the nation, continually grows and improves with new attractions every year. The 2020 show will be the biggest yet with more than 700 vehicles — and more than 40 brands — on display under one roof.
This year's 120th annual staging of the event features a 700,000-square foot display floor with a wide array of pre-production, production, exotic, classic, and concept cars. As one of the largest auto shows in the nation, the Philadelphia Auto Show annually welcomes approximately 250,000 attendees during its nine-day run.
The Philadelphia Auto Show is a showcase for the newest batch of models to capture the public's eye including Lamborghinis, Aston Martins, Bentleys and Maseratis.
The 2020 Philadelphia Auto Show hours are noon-10 p.m. on Monday-Friday, 9 a.m.-10 p.m. on Saturdays, and 9 a.m.-8 p.m. on Sundays. Tickets are $14 for adults (age 13 and up), $7 for children (ages 7-12). Children age 6 and younger do not require a ticket.
Wonderspaces, an experiential, interactive arts venue, is celebrating its largest location to date this month in Philadelphia at the Fashion District (27 North 11th Street, Philadelphia,philadelphia.wonderspaces.com/).
Building on the success of annual pop-up shows in San Diego, and its first permanent location in Scottsdale, Arizona, Wonderspaces features a 24,000 square foot gallery space.
Wonderspaces presents 14 art installations that all play with the idea of perspective.  The artwork ranges from award-winning virtual reality short film about a dinner party-turned-alien abduction, to a room where visitors digitally paint the walls with the movement of their bodies.
The first line-up of artwork at Wonderspaces includes: Submergence by Squidsoup, Blooms by John Edmark, Sun by Phillip Schutte, Transition by Mike von Rotz and Joost Jordens, Black Balloons by Tadao Cern, Body Paint by Memo Akten, Come Together by Michael Murphy, The Last Word by Illegal Art, Stories of Mechanical Music by Myriam Bleau, and Myrkviðr by Yasuhiro Chida.
Tickets for Wonderspaces are $24. An average tour of a Wonderspaces show lasts 80-90 minutes but visitors are welcome to stay as long as they want. Tickets are tied to a specific date and time. The number of visitors allowed to enter every fifteen minutes is limited to ensure the space never becomes too crowded.
The Greater Philadelphia Expo Center (100 Station Avenue, Oaks, 484-754-3976, www.phillyexpocenter.com) is hosting the "Philly Home + Garden Show" from February 14-16.
If you're considering projects that deal with working on or around your house — doing repairs, renovations, improvements or expansions, you should visit this weekend's informative event.
The popular annual show features a large number of exhibits representing the home renovation and decorating industry. Featured products and services include roofing, windows, flooring, decking, landscaping, spas, contractors, designers, water, swimming pools, doors, gutters security systems, cabinetry, entertainment systems, appliances, furniture, vacuums and more.
Six of the region's top landscaping companies are coming together to help visitors escape the winter and start planning for spring. There will be more than 7,500 square feet of inspirational gardens showcasing new gardening techniques, ideas and must-have products for 2020. This year the garden area will include wine and beer tastings and live music.
There will also be an open-market style area featuring vendors with antiques, home-made, finely crafted items and original art and a "Make-it, Take-it" area where homeowners can get their hands dirty with our new hands-on workshops. Visitors will learn from the experts, discover new DIY project tips and ideas plus walk-away with their own creation.
Hours are 11 a.m.-9 p.m. on Friday, 10 a.m.-9 p.m. on Saturday and 10 a.m.-6 p.m. on Sunday.
Admission is $11 for adults and free for children (12 and under).
Every year when the heart of winter arrives in the Brandywine Valley, Longwood Gardens (Route 1, Kennett Square, 610-388-1000, www.longwoodgardens.org) celebrates one of the largest families of plants in the world.
If you did a Google search to find out which are the largest families of flowering plants in the world, this is the answer you'd receive – "The three largest flowering plant families containing the greatest number of species are the sunflower family (Asteraceae) with about 24,000 species, the orchid family (Orchidaceae) with about 20,000 species, and the legume or pea family (Fabaceae) with 18,000 species."
The orchid is a flower that is acclaimed as one of the most beautiful, delicate and graceful flowers in the world. The Royal Botanical Gardens of Kew list more than 20,000 accepted species with about 800 new species added each year. Additionally, horticulturists have more than 100,000 hybrids and cultivars.
Longwood celebrates the orchid each year with its ultra-popular "Orchid Extravaganza" — an annual event that this year is running now through March 22.
The celebration of the orchid species features thousands of orchid blooms along with a variety of displays and special exhibits throughout its four-acre conservatory. "Orchid Extravaganza" will also feature stunning displays of orchids in planting beds, containers and innovative exhibits.
As one of the first plant collections at Longwood, orchids have held a place of distinction since 1922.
Visitors will be able to escape to a balmy oasis filled with nearly 5,000 blooming orchids during Orchid Extravaganza. Longwood's heated four-acre Conservatory provides an escape from winter's chill and features thousands of colorful orchid blooms displayed in extraordinary ways.
In addition to the one-of-a-kind horticultural display, Orchid Extravaganza features activities and programs for the entire family, including concerts, talks, tours, OrKid Days, and more. The Gardens are open daily from 9 am–5 pm.
Guests will be amazed as orchid blooms cascade down walls, spill from containers, and hang from the ceiling– featuring Cattleya, Dendrobium, Phalaenopsis, Paphiopedilum, and Oncidium, among others.
In the Main Conservatory, a canopy of pink and purple Orchid Orbs welcomes you to a lush sanctuary of vibrant, artfully presented orchids.
In the Acacia Passage, delicate cascading branches of cinnamon wattle beckons with fragrant blooms, while 18 urns filled with yellow and white Oncidium and Phalaenopsis line this picturesque passageway.
Additional indoor highlights include the Mediterranean Garden featuring a riot of vibrant color January through April with Australian purple coral-pea (Hardenbergia) vines blooming like miniature wisteria. In the Estate Fruit House, nectarines, melons, and other fruits and vegetables flourish in the midst of winter.
OrKID Days are feature activities where families can discover the colors, patterns, and beauty of orchids through art activities and storytelling. OrKID Days are February 18, and March 9 from 11 a.m.-2 p.m. and are free with Gardens Admission.
Admission to Longwood Gardens is $25 for adults, $22 for seniors and $13 for students.
A huge selection of model trains and toys will be on display and available for sale when Greenberg's Train & Toy Show visits the area for a two-day stop at the Chase Center on the Riverfront(815 Justison Street, Wilmington, Delaware, 630- 279-4087, www.greenbergshows.com).
The show, which is scheduled for February 15 and 16 from 10 a.m.-4 p.m. both days, will have a wide variety of toys for sale — space toys, Thomas the Tank Engine items, dolls, collectible bears, Barbie, Matchbox, action figures, die-cast models, wrestling stars, Pokemon figures and much more. And, there will be an amazing array of toy trains.
The event will feature a number of operating train displays, including First State Model Railroad Club's HO Scale Layout, North Penn OGaugers, New Jersey Southern N-Trak's N Scale Layout,East Penn Traction Club O & HO Scale Layout and Northern Delaware Model Railroad Club's HO Scale Layout.
Other special attractions will be the "Roaming Railroad", which is a riding train for kids and adults, Roaming Raceway's "Interactive R/C Car Racetrack", which is one of the country's most advanced model racing tracks.
This weekend's show will also offer free clinics on a wide variety of topics, including track work, using accessories and using a digital command control. There will be a large number of dealers with toys, trains, accessories and hobby publications. Other features include hourly door prizes.
Tickets for adults are $10 for Saturday and $9 for Sunday. Tickets are good for both days. Children (12 and under) are admitted free.
If full-sized trains are more interesting to you, there is another train-related event this weekend just for you.
The Strasburg Rail Road (Route 741, Strasburg, 717-687-7522, www.strasburgrailroad.com) is running a special train on February 15 – the "Long John Limited" at 11 a.m., noon and 1 p.m.
According to the rail line's website, "Passengers are invited to don their long johns and winter attire, brave the weather aboard our Open Air Car, and enjoy complimentary Long John donut and coffee."
Not to be confused with the long undergarment worn on cold days, Long Johns are rectangular, yeasted doughnuts that are either filled or unfilled and topped with a variety of icing flavors.
Strasburg Rail Road's Long Johns will be provided by Achenbach's Pastries Inc and available while supplies last to those customers purchasing a ticket for the Open-Air car. They can pick up their Long John donut and coffee at the Station before boarding the Open Air Car.
The rail line's website also posts this advisory — Please note: Passengers assume full responsibility for dressing warmly enough for the weather conditions presented the day of the event. Due to the potentially frigid temperatures, this ride is not recommended for very young children, though tickets for all ages are available for purchase in the event of unseasonably mild conditions the day of. During the train ride, any passengers needing a respite from the cold may retreat to a heated Coach directly adjacent the Open Air Car.)
Tickets for either train ride are $17.50 for adults and $10.50 for children (ages 2-11).
Now through February 17, the town of Lititz is hosting its annual Fire & Ice Festival (lititzfireandice.com).
On February 14, it's time for the "Friday Night Block Party" at Main and Broad streets from 5-9 p.m. Featured attractions will be live ice carvings around town and sculptures out for view all over Broad Street and Main Street (which will be closed to vehicular traffic).
The will be live music presented on stage located at the intersection of Broad and Main Streets. Food trucks will be located around town and retailers will be open late for shopping.
Ice sculptures are available for viewing from dawn to dusk in the Lititz Springs Park and throughout downtown Lititz.
Saturday's events will feature the Chili Cook-off, the Winter Wonderland Carnival and the Vendor Fair — all taking place at Warwick High School from 11 a.m.-3 p.m. Activities include charities, rides, games, food, and various vendors.
On Sunday and Monday, visitors are invited to walk around downtown Lititz and enjoy the ice sculptures, dine at local restaurants, and shop at the local stores.
For the past few months, people have been able to get in a happy mood by visiting HAPPY PLACE (www.HappyPlace.me).
Live Nation Philadelphia brought HAPPY PLACE, an interactive, immersive pop-up exhibit with larger-than-life installations and multi-sensory themed rooms, to the King of Prussia Mall where it was slated to be open until just after Christmas holiday.
Originally scheduled to run through January 5, HAPPY PLACE has been extended until February 29 and will be operating on Fridays, Saturdays, Sundays and Mondays only.
HAPPY PLACE is filled with multi-sensory immersive rooms inducing smiles and laughter, plus larger-than-life, one-of-a-kind installations including seven-foot stilettos made of a million candies and six-foot tall mirrored X and O letters surrounded by a wall of one thousand red lips. It features more than 15,000 square feet of playful spaces and cheerful moments.
HAPPY PLACE is created for an audience for all ages. Minors under 16 must be accompanied by an adult.
Tickets start at $30 for adults and $20 for children (ages 4-12).
February is African American History Month and the National Constitution Center National Constitution Center (525 Arch Street, Independence Mall, Philadelphia, 215-409-6700,www.constitutioncenter.org) is honoring it with a number of special events and attractions that are running now through the end of February.
February 2020 marks the 150th anniversary of the 15th Amendment, which said the right to vote could not be denied based on race. During the month of February, the National Constitution Center will pay tribute to the achievements and the courageous sacrifices made by African Americans throughout history as they strived to become recognized as an integral part of "We the People."
Visitors can also take a self-guided tour of the museum's The Story of We the People exhibit to discover key milestones in African American history, and then test their knowledge at the Center's giant game board activity.
Activities at the Center will feature interactive programming designed for visitors of all ages, including "Decoding the Document: Emancipation Proclamation Document Workshop,"
Visitors can take a closer look at the museum's rare printing of the Emancipation Proclamation to learn more about its history, the history of the Civil War, and the background of the 13th, 14th, and 15th Amendments.
On the "Self-Guided African American History Tour", visitors can tour the Center's main exhibition "The Story of We the People" and discover important moments in African American history through historical artifacts.
Some of the featured attractions on the tour are rare, signed copies of the Thirteenth Amendments and Emancipation Proclamation, President Obama inauguration artifacts, The American National Tree (featuring influential African Americans including Paul Robeson, Fannie Lou Hamer, Ward Connerly and Muhammad Ali) and an original printing of the Supreme Court's controversial Dred Scott decision.
As part of the museum's interactive daily programming in February, visitors can test their knowledge of African American history at the museum's "Giant Game Board." Children and families compete to see who can cross the finish line first.  Participants serve as game pieces as they roll the giant dice, answer questions and work their way across the board.
As an added attraction, the Center is offering a special "Winter Warm Up" on admission. Now through March 31, tickets are only $10 for adults and $7.50 for children.
On February 15, XFINITY Live! (1100 Pattison Avenue, Philadelphia, 267-443-6415, http://www.xfinitylive.com) will host its annual "Winterfest Live" from 2-6 p.m.
The event, which is also billed as "The Great Philadelphia Winter Craft Beer Festival," will feature a number of beer gardens – lively areas with more than 150 craft beers from 75 breweries available for unlimited sampling.
The beer selection will range from winter warm-up lagers to porters and stouts.
Other attractions at the seventh annual staging of the event include live DJs, a variety of local bands onstage, fun-filled contests in Victory Beer Hall, outdoor fire pits, games, activities, prizes and giveaways.
Tickets, which are $45 ($20 for designated drivers), include a souvenir beer stein, and access to the official after party. Free parking will be available in lots S and T, which are on Pattison Ave near Citizens Bank Park across from XFINITY Live!