By Denny Dyroff, Entertainment Editor, The Times
Two of the most highly acclaimed new musicals visiting Philadelphia as part of the Kimmel Center's Broadway Philadelphia's 2019-2020 season have a major similarity. They are about strangers in another land – people who have inadvertently been stranded far from home.
The shows are "Come From Away," which recently had a run in Philly and "The Band's Visit," which is running now through January 19 at the Academy of Music (Broad and Locust streets, Philadelphia, 215-731-3333, www.kimmelcenter.org).
"Come From Away" is set in Newfoundland, Canada and features a relatively homogeneous group of characters – North Americans who were stranded in the Maritime province when flights were rerouted during the 911 crisis.
"The Band's Visit" is set in a "mythical" Israeli town and features two very diverse groups of characters – local Jewish townspeople and an Egyptian Police Band that ended up there by mistake. It's a story of Jews and Arabs getting "up close and personal."
"The Band's Visit" is a stage musical with music and lyrics by David Yazbek and a book by Itamar Moses, based on the 2007 Israeli film of the same name. The musical opened on Broadway at the Ethel Barrymore Theatre in November 2017, after its off-Broadway premiere at the Atlantic Theater Company in December 2016.
The Off-Broadway production of "The Band's Visit" won several major awards, including the 2017 Obie Award for Musical Theatre, as well the year's New York Drama Critics' Circle Award for Best Musical. At the 72nd Tony Awards, the show was nominated for 11 awards and won 10 — including Best Musical.
"The Band's Visit" is one of four musicals in Broadway history to win the unofficial "Big Six" Tony Awards, which include Best Musical, Best Book, Best Score, Best Actor in a Musical, Best Actress in a Musical, and Best Direction of a Musical. It also won the 2019 Grammy Award for Best Musical Theater Album.
The play takes place over the course of one evening in the tiny desert town of Bet Hatikva, Israel. The Egyptian Police Band was actually bound for the similarly named town of Petah Tikvah.
The Egyptian Police Band arrives in Israel to play a concert. After a mix-up at the border, it is sent to a remote village in the middle of the desert. With no bus until morning and no hotel in sight, the unfortunate travelers are taken in by the locals. Under the spell of the desert sky, their lives become intertwined in the most unexpected ways.
 The cast of the National Tour features Sasson Gabai as Tewfiq Zakaria, Chilina Kennedy as Dina, Pomme Koch as Itzik, Adam Gabai as Papi, Or Schraiber as Zelger and Marc Ginsburg as Sammy. Ginsburg is an area native who graduated from Bensalem High.
"I didn't know much about the show other than I had heard a lot about ot and listened to the original soundtrack," said Ginsburg, during a recent phone interview.
"When I heard that I had an audition, I watched the movie. I auditioned initially in February 2019. I'm based in L.A. I had a relationship with Rubin Casting and they thought I'd be a decent fit.
"They asked me for a video audition. They sent me a scene and a song. I didn't hear anything for about a month and then they called e to come to New York.
"I worked with a friend who helped me with the Israeli language. And I also worked with a vocal coach. I auditioned in New York and got a call two days later. That was in late March and rehearsals started in mid-May.
"Now, I'm on the road with the tour. I have a wife and a three-and-a-half-year-old son and we live in Encino (CA). I didn't want to leave them there, so they came with me on the tour."
Bet Hatikva is a rural town where the residents bemoan the boring and monotonous lives they lead in the desert. It has no hotel, one café and one pay phone. The arrival of a band from Egypt is the most exciting thing that has happened there in years.
Dina, the café owner, tells the group that the next bus does not arrive until the next day. Dina offers the band a meal and a place to stay for the night, and Colonel Tewfiq, the band's leader, reluctantly agrees. In her kitchen, Tewfiq asks her about her background, and she tells how she was once married, and nothing in real life went as she had idealistically and naively thought. She asks Tewfiq the same, and he tells of a wife and son in Egypt.
"What draws me to this show and still keeps me passionate about it is the simplicity of it," said Ginsburg. "There is something about watching real people on stage not acting – just being. It's about relationships and humanity – and human kindness.
"I play Sammy and also play the roller rink guard. I play the people with hot tempers and questionable decisions. Sammy is seeing Dina, but he also is married. The roller rink guard sees Egyptians in town and, automatically, his prejudice shows.
"A lot of what I speak in the show is in Hebrew. My Israeli friends helped me. We have five native Israelis in the cast."
Video link for "The Band's Visit" — https://youtu.be/qr4N-LFfYNE.
"The Band's Visit" is running now through January 19 at the Academy of Music. Ticket prices range from $25-$129.
When music fans think of bluegrass music, they think of the South – especially the mountains. The southern Blue Ridge area has been known through generations and still today as a hotbed of old-time, bluegrass, blues, and country music.
When people think of Kalamazoo, Michigan, they think of – well, who knows what they think of. Maybe they know it's the home of Western Michigan University. Guitar fans might know it as the home of Gibson Guitars.
Not many people would link Kalamazoo with bluegrass music – unless they are fans of Greensky Bluegrass.
Greensky Bluegrass is a five-piece American bluegrass/rock band founded in Kalamazoo in 2000 featuring Anders Beck (dobro), Michael Arlen Bont (banjo), Dave Bruzza (guitar), Mike Devol (upright bass), and Paul Hoffman (mandolin).
"We got our start in Kalamazoo," said Hoffman, during a recent phone interview from his home in Denver, Colorado.
"I met two of the guys – Michael and Dave — at open mics. We started playing together informally. Anders and Mike joined a little later and the five of us have been together ever since."
Greensky Bluegrass has built a reputation for bringing rock 'n' roll showmanship to high-energy bluegrass.
"When we first started, we were learning bluegrass but still had rock-and-roll roots," said Hoffman. "So, we've always approached it with a rock mentality.
"We were a single mic band for a long time. It has evolved from bluegrass to a psychedelic rock thing. It was a natural evolution – learning new tricks step-by-step.
"Our instrumentation is dobro, banjo, mandolin, acoustic guitar and upright bass. Two of us – myself and Dave – write the songs and sing lead. Altogether, four of us sing."
Greensky Bluegrass is known for pushing the limits of traditional bluegrass.
According to Beck, "We're a rock-and-roll band that plays bluegrass instruments. Bluegrass is such a finite thing. Because you have a banjo and a mandolin, you're supposed to do it a certain way. But we've always been ourselves."
For the past 18 years, the band has played up to 175 shows per year and sold out venues such as Red Rocks Amphitheatre and the Ryman Auditorium, as well as performed at festivals such as Bonnaroo, Austin City Limits, and Outside Lands.
Last week, Greensky Bluegrass released a new live album – "Courage For The Road: Fall 2019." It features 14 songs, hand-selected from various performances on their Fall 2019 tour and remixed and mastered by the band's longtime studio engineer Glenn Brown.
Now, Greensky Bluegrass has embarked on a tour to support the new album. The tour will make a stop locally on January 18 at The Met (858 North Broad Street, Philadelphia,http://themetphilly.com).
Greensky Bluegrass has released 11 albums to date beginning with "Less Than Supper" in 2004. All their releases have been on their own label – Big Blue Zoo.
"We always just released our records on our own," said Hoffman. "We released our records on Big Blue Zoo and have used national distribution companies along the way. CD Baby has been a big help.
"We did I all ourselves. Our fanbase is a thing that we've been feeding and it's growing every day. It's interesting what you can do independently.
"Our fanbase has grown by word-of-mouth. Also, the festival world has been good for our kind of music. We've been touring our asses off for 15 years – 200 shows a year for a couple years in a row. We certainly went at it and hit the concrete hard. We played the entire country two times a year for eight years in a row."
The band's most recent studio album is "All For Money," which was released in January 2019 and debuted in the top 10 of Billboard's bluegrass chart.
"We recorded 'All For Money' – digital and tape – at Echo Mountain Studio in Nashville," said Hoffman. "We spent two weeks recording the tracks and used a lot of analog gear. We like the way tape sounds. We like some of that vintage character and warmth.
"We don't pay too much attention to whether it's bluegrass or rock. We just want to push the boundaries and keep challenging ourselves."
Video link for Greensky Bluegrass – https://youtu.be/VRwyBwt3dLk.
The show at The Met (858 North Broad Street, Philadelphia, http://themetphilly.com)
There will be two interesting and very different shows in Wilmington, Delaware this weekend – classical music by the Serafin Ensemble and non-mainstream humor by the Popovich Pet Comedy Theater.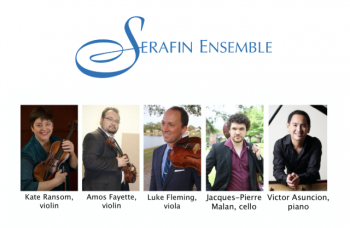 On January 19, Serafin Ensemble will present another installment in its 2019-2020 season at The Arts at Trinity at 4 p.m. at Trinity Episcopal Church (1108 North Adams Street, Wilmington, Delaware, serafinensemble.org).
"Serafin used to be Serafin String Quartet," said Artistic Director/violinist Kate Ransom, during a recent phone interview. "That started in spring 2001. It became Serafin Ensemble last season. We had been functioning as a quarter for a long time. This is the beginning of our first full season as Serafin Ensemble.
"We had a lot of changes happening in the viola seat. And, our residency as University of Delaware's String Quartet was coming to an end. So, we decided to move away from the fixed line-up of a string quartet and move to a roster of artists. We wanted more work with other instrumentalists, so we changed to an ensemble. We have a roster of 11 with strings, piano, horn, flute and voice."
Serafin Ensemble is presenting a musically diverse program on Sunday afternoon.
The program will feature three pieces — Michael Haydn's "Duo for violin and viola," Caesar Franck's "Piano Quintet," and Joseph Haydn's "Piano Trio in C Major Hob XV:27."
"Hob XV:27 in C major" is the first of a set of three trios dedicated to Therese Jansen, and published in London in 1797, after Haydn had returned to Vienna. Jansen was another pianist whom Haydn had met during his two visits to London. In 1795, at the age of 25, she married Gaetano Bartolozzi and Haydn was a witness at their wedding.
Haydn also dedicated to her two of his most important solo piano sonatas, in E flat and C major. This trio, with its virtuoso piano-writing, suggests that she was a very fine performer.
Franck's "Piano Quintet in F minor" is a quintet for piano, two violins, viola, and cello. The work was composed in 1879 and has been described as one of Franck's chief achievements alongside his other late works such as Symphony in D minor, the Symphonic Variations, the String Quartet, and the Violin Sonata.
The work, which has been described as having a "torrid emotional power," features three movements – Molto moderato quasi lento – Allegro; Lento con molto sentimento; and Allegro non troppo ma con fuoco.
On Sunday, the Serafin Ensemble lineup will feature Kate Ransom and Amos Fayette, violins; Luke Fleming, viola; Jacques-Pierre Malan, cello; and Victor Asuncion, piano.
Ransom is the artistic director of Serafin Ensemble and a distinguished chamber musician, recitalist and teacher who has presented hundreds of concerts in major chamber music concert halls in North America and Europe. Ms. Ransom pursued post-graduate chamber music study at The Juilliard School with Robert Mann and holds master's and bachelor's degrees in violin performance from Yale University and the University of Michigan, respectively. She currently serves as president of The Music School of Delaware and plays a violin made in 1728 by the Venetian master, Sanctus Serafin.
Fayette started playing the violin at age two and made his professional debut at the age of eight. He enjoys a diverse career as a performer, educator, and administrator. He holds a bachelor's degree from the Peabody Conservatory of the John Hopkins University and a master's degree from the Julliard School of Music. He currently serves as director of The Music School of Delaware's Milford Branch. 
Fleming is founding artistic director of both the Manhattan Chamber Players and the Crescent City Chamber Music Festival, and Lecturer-in-Residence for the concert series – "Project: Music Heals Us." Fleming holds the degrees of Doctor of Musical Arts, Artist Diploma, and Master of Music from the Juilliard School, a Postgraduate Diploma with Distinction from the Royal Academy of Music in London, and a Bachelor of Music summa cum laude from Louisiana State University
Malan is a soloist, orchestral musician, teacher, chamber musician and music entrepreneur from South Africa. He received his first cello at the age of six and has pursued an intense musical life and career. Malan holds diplomas, bachelor's and master's degrees in musicology, jazz piano and cello performance from the University of South Africa, University of Pretoria and Peabody Conservatory of the John Hopkins University.
Asuncion is a Filipino-American pianist who has appeared in concert halls in Brazil, Canada, Ecuador, France, Italy, Germany, Japan, Mexico, the Philippines, Spain, Turkey and the USA, as a recitalist and concerto soloist. He played his orchestral debut at the age of 18 with the Manila Chamber Orchestra, and his New York recital debut in Carnegie's Weill Recital Hall in 1999. Asuncion is a Steinway artist and founder of FilAm Music Foundation, a nonprofit foundation that is dedicated to promoting Filipino classical musicians through scholarship and performance.
The concert at Trinity will start at 4 p.m.  Admission is free with donations appreciated.
The Popovich Comedy Pet Theater is a family-oriented blend of the unique blend of comedy and juggling skills of former Moscow Circus veteran Gregory Popovich and the extraordinary talents of his performing pets. His entourage consists of world-class jugglers, Diamond the Shetland Pony and a variety of performing pets including house cats and dogs, geese, white doves and parrots.
There are more than 30 pets in the show. Each one of the dogs and cats has been rescued from animal shelters and given a new "leash on life!" These rescued animals love to perform their skills and stunts on stage.
According to Popovich, "One of the main messages of my show is to bring attention for animal shelters, and the many homeless pets and rescue efforts out there. Because all my pets in my shows have been rescued by animal shelters, I feel it's my mission to 'payback' animal shelters and try to help other pets if I have this opportunity."
Popovich's unique philosophy toward animal training is to build tricks around the animals' personalities, instead of pushing them to perform. His technique centers on positive reinforcement and compassion. Comedy Pet Theater is a new way to incorporate pets in showbiz while spotlighting the personality and individualism of each pet.
The animal antics are adorable and amazing with dogs and cats jumping rope, riding scooters, jumping over hurdles, balancing on perilously thin beams and moving wheels, and even pushing a stroller… with a dog in the baby basket.
Popovich is a fifth-generation circus performer whose parents were stars of the Russian circus. It was in the Big Top where Popovich honed his natural ability by forming special bonds with the animals in his parents' act. He learned to juggle at a very early age and went on starring in his first solo performance when he was barely a teenager.
For the next few years, Popovich traveled the world with the Moscow Circus, eventually becoming the star of the circus and its representative at international circus competitions worldwide.  He performed his juggling act in the center ring and became the first Russian artist to ever appear in the "Greatest Show on Earth."
Popovich, whose resume includes being voted "Entertainer of the Year" in Las Vegas, has shared his expertise for raising, training and living harmoniously with pets in two books – "You CAN Train Your Cat" and "Doggy Gone Good".
He has also produced and starred in a feature film now available for purchase. "Popovich and the Voice of the Fabled American West" has already won several awards including "Audience Choice Award" at the Dances With Films Festival in Los Angeles, and International Film Festival in Austin, Texas.
The Popovich Comedy Pet Theater has a rich performance history, presenting thousands of shows in more than 20 countries and is currently in its 12th season at the Planet Hollywood Resort/Casino in Las Vegas.
Video link for Popovich Comedy Pet Theater — https://youtu.be/-ZG4L6QsBAQ.
The show at the Grand's Copeland Hall on January 18 will start at 3 p.m.  Tickets are $22.
Kennett Flash (102 Sycamore Alley, Kennett Square, 484-732-8295, http://www.kennettflash.org) will present "Collin O'Meara: The Experience — An Evening of Standup Comedy" with special guests John Slack, Diego Panessa, and Al DeChino on January 17, Western Centuries with Sarah Larsen on January 18, and "Open Mic with guest host Jimmy McFadden " on January 19.
The Steel City Coffee House (203 Bridge Street, Phoenixville, 610-933-4043, www.steelcitycoffeehouse.com) will host Kicking Down Doors on January 18.
Chaplin's (66 North Main Street, Spring City, 610-792-4110, http://chaplinslive.com) will have Dancing With MaryJane on January 18.
The Ardmore Music Hall (23 East Lancaster Avenue, Ardmore, 610-649-8389, www.ardmoremusic.com) will host Lez Zeppelin with special guest Olivia Jean on January 17, Splintered Sunlight with special guest John Kadlecik (acoustic) on January 18, Funky Brunch on January 19, and J Roddy Walston (solo) on January 20.
The Living Room at 35 East (35 East Lancaster Avenue, Ardmore, https://thelivingroomat35east.com) will present "An Evening with Lauren Hart" on January 17 and Jessica Graae and Marion Halliday on January 18.
118 North (118 North Wayne Avenue, Wayne, www.118northwayne.com) will host "All For Laughs Comedy Night" with  Terry McNeely,
Mike Merk, and Gary Garcia on January 16, Plush in the Box and Party Line January 17, Loose & Alright (118 Day!) on January 18 and Silas Irvine on January 19.
The Keswick Theater (291 N. Keswick Avenue, Glenside, 215-572-7650, www.keswicktheatre.com) presents "Ray On My Mind – The Ray Charles Story" on January 19.
The Sellersville Theater (24 West Temple Avenue, Sellersville, 215-257-5808, www.st94.com) will present The Launch (Boston, Styx & Queen Tribute) on January 16, Slipkid Ft. Gary Cherone (Of Extreme): A Celebration Of The Who on January 17, Son Little with Max Swan on January 18, Masters Of The Telecaster Ft. G.E. Smith & Jim Weider on January 19, and China Crisis & Richard Lloyd (Of Television) on January 22.
The Locks at Sona (4417 Main Street, Manayunk, 484- 273-0481, sonapub.com) will host Lazer Lloyd with special guest Walt Lafty on January 18.