By Gail Suplee Tatum, Columnist, The Times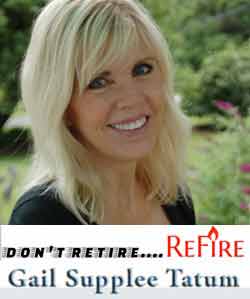 So many of us enter the New Year with great expectations and high hopes for a year greater than the year before.  In order to accomplish that, we look for ways to start over and improve ourselves. We're ready to turn over a new leaf, to make things different, to get ahead, and to achieve greatness.
Whether resolutions were made or not, my guess is that every one of us thought about it. Did it get any further than that? Do you want it to?
As we strive for change to improve our lives, we often times get too ambitious with the size of our intentions. We want so much to be perfect at EVERYTHING, like all of a sudden, in the blink of an eye, we are going to magically transform! Instead, what inevitably happens? Our humanity and all of its imperfections kick in. The desire might be there but the real drive is lacking.
Why is that? Is it because there isn't honest conviction to the intentions?
Let's explore those questions.
First, we, as human beings, have the need and deep desire to start with a clean slate over and over again. We do that because we want to do better, to be better. The turning of a new year is the perfect and most obvious time to reboot. Is that the only time we can start over?
Since not one person is alike, defining "starting over" is not the same for everyone, either. We each must determine what starting over is for us, and, if we are to be successful, we must describe what it is in great detail and follow through.
For example, starting a new exercise program and eating plan only has a shot at being successful if what you're going to do is written out in detail. Are you going to walk? If so, what time of the day do you know you'll be able to walk without the chance of interruption? Start off slow, maybe fifteen minutes, and add another fifteen minutes the next week, and so on, making sure that you get in a minimum of fifteen minutes a day. Pick a meal plan that is written out for all meals and includes foods that are not hard to find in your grocery store. Adjust your mindset to look at this program as a healthier way of life and not as deprivation. Think of one thing you'll be able to do as a result of this improved lifestyle. Is it signing up for that 5K walk/run with your friends or running after your grandchildren in the park? It is for you to design.
Now, back to exploring why we fall off and how we can zero in on our true intent for the coming year that will set the stage for the next decade.
Here are a few questions to consider as you discover what you really want.
Do you know what your special gifts/attributes are? I'm talking about your very own "super power", if you will. If you know what they are, ask yourself if you're using them and sharing them with the world. We were born with gifts that are uniquely ours. These gifts are not to be kept to ourselves and used for our own desires and wants. They were given, in order to share them and make a difference in the world. How well do you use the gifts that you've been given? Write them down and embrace them.
Let your conscience, your inner voice, your higher power, be your guide, your North Star. In a world where so many follow the crowd in order to blend in, follow your individuality. Are you being true to yourself? Listen for the answer.
Will you work hard to be and stay consistent? A great way to stay on track is to post reminders in prominent places like the bathroom mirror, the refrigerator and your car or any other place where you would see your goals, in writing, throughout the day.
You ARE worth all the effort you put into making this year different. You have what it takes! Do you believe that? Believe it!
In closing, remember, starting over is an opportunity we have every single day. Be willing to be a beginner every single morning.– Meister Eckhart
If you're off track already….No Worries! Get back on track!
Be joyful. Be kind. Be grateful. Be a person of your word. Have character. Have integrity. Help others. Bring out the best in people. Have 2020 vision (a little play on words). Let this be your mantra and your resolution for the years to come. If we all do this, our world will be a much brighter place to live.