By Denny Dyroff, Entertainment Editor, The Times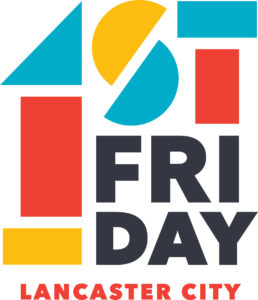 If you want to get out of the house and do something fun this weekend, you do have some interesting options.
The first Friday of the month is a good time to check out a First Friday event. This weekend, two good choices are Kennett Square and Lancaster.
January 3 will be the opening day of the 2020 season for the Kennett Square Winter Farmers Market (https://historickennettsquare.com/).
The market, which is open along State Street, will be held on bi-weekly on Fridays through April 24.
On January 3, the market will be open from 3-5:30 p.m.
This month's edition of First Friday Lancaster (https://visitlancastercity.com/first-friday) will run from 5-9 p.m. on January 3 in downtown Lancaster.
The event will feature attractive exhibitions at art galleries, artisan studios and museums. There will also be live performances presented in a variety of genres — professional theater, symphony orchestra and performing groups.
The opening of the 2020 season of the West Chester Growers Market (North Church and West Chestnut streets, West Chester, http://www.westchestergrowersmarket.com/) is scheduled for January 4.
The market, which is the first and longest-running, outdoor producer-only market established in southeastern Pennsylvania, will be open from 10 a.m. until noon (rain, snow, or shine).
Producer-only means that that the fruits, vegetables, herbs, plants, chicken, beef, pork, eggs and cut flowers that are sold at the market must be farmed by the farmer that you meet at market and that the cheeses, salsas, sauces, pies, jams, pasta, honey, maple syrup, breads, and soap on sale there can only come from the local artisans who make them.
The farmers and artisans want to meet you, shake your hand, share their stories and talk about the importance of eating locally grown sustainable foods and purchasing locally produced goods.
Farmers, growers, and artisans participating on January 4 will be Big Sky Bread, Butterfly Farm Pet Treats, Cocky Gourmet Confections LLC, Conebella Farm, Crisp Microgreens, Fahnestock Fruit Farm, Lancaster Hummus Co., and Lindenhof Farm,
Also featured will be Maiale Deli and Salumeria, Nutty Novelties, Oley Valley Mushrooms, Queens Farm, Tally Ho Coffee, Taste of Puebla, Vera Pasta, and Yomi Bites.
The Greater Philadelphia Expo Center (100 Station Avenue, Oaks, 484-754-3976, www.phillyexpocenter.com) will host "Jurassic Quest" from January 3-5.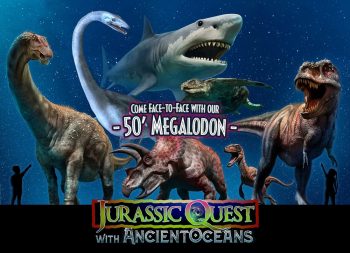 "Jurassic Quest" which is billed as "The Largest Exhibition of Lifesize, Moving, Museum-Quality Dinosaurs in North America!", features "The All-New Ancient Oceans Exhibit!"
"Jurassic Quest" is America's largest and most realistic dinosaur event. Guests will walk through the Cretaceous period, the Jurassic Period and The Triassic period and experience for themselves what it was like to be among dinosaurs of all kinds. It is the only dinosaur event that has true to life size dinosaurs – more than 80 true-to-life size dinosaurs.
In collaboration with leading paleontologists, each dinosaur was painstakingly replicated in every detail. Whether their prehistoric counterpart had skin that was scaly, had feathers or fur, Jurassic Quest has them right. The dinosaurs roar and move — some even walk around.
In addition to the life-like dinosaur exhibits, there are many attractions and activities for all kinds of dinosaur fans.
Visitors will be able to dig up fossils like a real paleontologist, see real dinosaur fossils dating back over 60 million years, and ride on the back of a huge 24-foot T. Rex or the spiky, overgrown Carnotaurus.
There is a large variety of dinosaur themed rides throughout the event including inflatable mazes, huge slides, and the multitrack Dino Bungee Pull. "Jurassic Quest" has a Dinosaur Petting Zoo where little ones can pet dinosaurs that are more their size.
Hours are 3-8 p.m. of Friday and 9 a.m.-8 p.m. on Saturday and Sunday. Admission is $24 ($22 for seniors).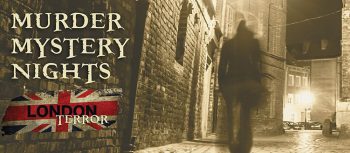 Every Friday and Saturday in January, the Chaddsford Winery (632 Baltimore Pike, Chadds Ford, 610-388-6221, http://www.chaddsford.com) will present "Murder Mystery Nights 2020" from 6:30-9 p.m. each night.
Here is the scenario as posted by the winery – "After laying his claim in the East End, Jack the Ripper's killing spree fills the dodgy streets of London with panic and fear.  But as the fall weather sets in, the murders begin to subside.   The townspeople grow hopeful that Jack's finally buggered off and his horrific reign of terror has ended.
Then, on a bitter cold night in November, a baffling murder occurs.
Scotland Yard proves to be straight rubbish, unable to solve the crime.  Has Jack the Ripper returned or has another chap taken his place?
London needs your help!  Polish up your looking glass and help them uncover clues to pinpoint the killer and the motives.
Along with an evening of mystery and suspense, you'll enjoy bloody good hors d'oeuvres and downright brilliant PA wine!
Share this first-rate experience with your best lads – and don't forget to don breeches and frocks that are fit for the Queen."
The "Menu and Pairing Lineup" features Charcuterie Board with '17 The White Standard and '17 The Red Standard, Cucumber Finger Sandwiches with '17 Sauvignon Blanc and Chaddsford White, Shepherd's Pie with '17 Merlot and '16 Pinot Noir, Salt Beef Slider with PA Craft Beer, Corn Chowder with '16 Sur Lie Chardonnay and '17 Harbinger and dessert with coffee and tea.
Tickets are $60, and reservations are required.
The "Wine, Cheese & Honey Pairings at Penns Woods" at Penns Wood Winery (124 Beaver Valley Road, Chadds Ford, 610-459-0808, http://www.pennswoodsevents.com) provide a nice way for visitors to enjoy a winter weekend day.

Penns Woods Winery is joining forces with local cheese makers and local honey artisans to present exclusive pairings of wine, cheese and honey. The tastings will feature five premium Penns Woods wines, each paired with various cheeses and honey from local farms.
The mouth-watering tastings will be held every weekend in January from 11 a.m.-6 p.m. on Saturdays and 11 a.m.-5 p.m. on Sundays. As an added attraction, live music will be featured on January 4, 5, 11, 12, 13, 19, 25, and 26 from 2-5 p.m. each day.
Tickets cost $28 per person in advance and reservations are required. Cancellations must be made within 72 hours or ticket holders will be charged the full amount of the tasting. Reservations are made and kept on the hour.