By Denny Dyroff, Entertainment Editor, The Times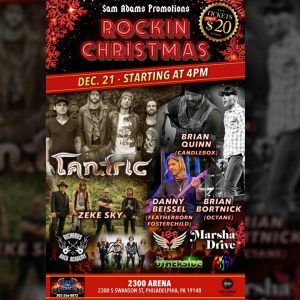 Tantric's singer Hugo Ferreira could ask the band's live audience if he could sing a fado song for them. Having no idea what he was taking about, they would probably respond – "forget that…just rock out, dude."
Ferreira is an Portuguese-American singer, songwriter and musician who has been the front man of the hard rock band Tantric since 1999. Ferreira would have no problem singing fado, a unique Portuguese style of blues, but Tantric fans would rather hear him play the band's music which has American blues-based rock in its DNA.
On December 21, Ferreira and his current bandmates will be rocking the house at Philly's "Rockin Christmas" concert – a show featuring nationally-renowned rock band Tantric as well as fellow national recording artist and Philly native Brian Quinn.
The concert, which will start at 4 p.m. at 2300 Arena (2300 South Swanson Street, Philadelphia, https://2300arena.showare.com/eventperformances.asp?evt=158), features a line-up that definitely has a Philly vibe.
Quinn (Candlebox) will be performing a special, intimate acoustic set with former bandmates Brian Bortnick (Octane), Bobby Pirylis (Octane) and Danny Beissel (Fosterchild/Featherborn). The concert will also showcase a variety of established and emerging Philly artists.
According to the event's CEO and Founder Sam Adams, "The show will be a 'celebration of some of the best music in Philadelphia.'"
In addition to the nationally renowned artists, "Rockin' Christmas" will showcase the diverse talents of several of Philly's favorite bands including Zeke Sky, Marsha Drive, Zenora, The Otherside, Roygbiv, Future Stars Students and Richards Rocks Academy Students.
Candlebox is a band from Seattle, Washington with a key member from Philadelphia. The group has released six studio albums, which have achieved multi-platinum and gold certification, as well as numerous charting singles, a compilation, and a CD+DVD.
When Candlebox was in its early days, Quinn was a young musician in Pennsylvania – and a devoted Candlebox fan.
In the late 1990s, Quinn moved from his hometown of Pittston (PA) to Philadelphia. Soon after arriving, he co-founded the Philadelphia-based rock band Octane (2000-2005). During this time, Quinn was named "Best Guitarist" in the Philadelphia region by the Philadelphia Music Awards in 2001 and 2004.
After five successful years with Octane, Quinn left the band to form a blues-based hard rock band that would later become known as Fosterchild. Then, Quinn joined Candlebox a few years ago when the band needed to replace its guitarist.
"Kevin and I were labelmates when I was with Fosterchild," said Quinn, who now lives in King of Prussia. "We met at a label showcase and stayed in touch after that. When personnel changes started with Candlebox, he asked me to join the band."
Beissel has spent the past decade performing with such musical stalwarts as Jeffrey "Skunk" Baxter (Steely Dan, Doobie Brothers), Barry Goudreau (Formerly of Boston), James Burton (Elvis, Ricky Nelson) and more. He released his debut album "Featherborn" earlier this year.
The first record from his new project "Featherborn," the album is described by Beissel as a "the culmination of [his] musical voyage" after fronting such super-star bands as The American Vinyl All Star Band, which featured current and former members of Steely Dan, The Doobie Brothers, Boston, The Wailers and Fosterchild (with members of Candlebox, Tantric, and FUEL).
Tantric's current line-up adds to the local vibe of the event.
"Our lead guitarist Sebastian LaBar is from Media," said Ferriera, during a phone interview Wednesday afternoon from his home in Boston. "And, our bass player Jaron Gulino is from Downingtown."
Over the years, Tantric has had more than 25 members. Ferreira has been the constant – but he is not truly an original member.
Guitarist Todd Whitener, drummer Matt Taul and bassist Jess Vest formed Days of the New with singer/songwriter Travis Meeks. The group chalked up a history of band brawls, missed shows and cancelled tours with Meeks at the forefront. In 1998, Meeks fired his former friends.
The trio began writing new songs and formed their own band – Tantric. In 1999, Ferreira, who had been in a band called Merge, merged with the three others to form the first full working incarnation of Tantric.
Eight months later, Tantric's demos caught the ear of Maverick Records. A deal was struck that gave the group healthy advances and budgets to record an album in Nashville with producer Toby Wright. The album – Tantric" – dropped in 2001.
In 2005, Vest left the group and Taul and Whitener departed two years later. In late 2007, Ferreira began searching for new bandmates and then released Tantric's third album titled "The End Begins" in April 2008.
Members came and went over the next decade. Line-up stability arrived in 2017 with the arrival of LaBar and Gulino.
"This particular line-up is the best I've ever had," said Ferreira. "These guys have been around since the life cycle of this record. All of them were on the record except for Ian (drummer Ian Corabi)."
Ferreira was referring to the band's most recent album, "Mercury Retrograde," which was released in October 2018.
"I had incredible chemistry with Sebastian and Jaron right from the start," said Ferreira, who was born in Luanda, Angola (which at the time was a Portuguese colony), speaks Portuguese fluently and is a fan of Porto FC (and Port wine).
"We all knew we hit the jackpot with this relationship. It's a symbiotic stage of friends who like to be around each other along with a great music relationship.
"It all happened by word-of-mouth. Jaron was the first to come in and he brought on Sebastian, I trusted Jaron's judgement – and the fact that I knew those two had played together in the past. That gave us a head start.
"We had done enough gigs that we had a solid relationship before we went into the studio to make the album. We know what each other is going to do which is especially important in adapting and improvising.
"We adapt our show to the audience every night. The two most important elements in a show are the players and the audience."
Tantric plays around 250 shows a year but took enough time off from the road to record "Mercury Retrograde" in early 2018.
"The album came out on Pavement Entertainment, which is a subsidiary of Sony Records," said Ferreira. "We cut it in Detroit at Pearl Sound Studio with co-producer Chuck Alkazian."
Tantric, fresh off its European tour with Attic Theory, is slated to perform a set that spans the band's seven-album career — including such hits as "Breakdown," "Astounded", and "Live Your Life." The Gold-selling rockers will also unveil their latest single "Angry," for which they just released a video in late November.
Video link for Tantric – https://youtu.be/Svexrdjv2Tc.
Philadelphia's "Rocking Christmas" will start at 4 p.m. on December 21 at 2300 Arena. Tickets are $20.
Another band with Pennsylvania roots will be wrapping up a national tour with a show in the area this weekend.
On December 22, Chameleon Club (223 North Water Street, Lancaster, 717-299-9684, http://www.chameleonclub.net) will host an all-ages show – Crobot's "Year of the Dawg Tour."
Crobot — Brandon Yeagley (lead vocals, harmonica), Chris Bishop (guitar, vocals), Dan Ryan (drums) – is a rock band from Pottsville that describes its music as "Dirty. Groove. Rock." James Lascu and Eddie Collins share the role of touring bassist for Crobot.
"People don't know where to categorize us," said Yeagley, during a phone interview last week as the band was travelling to a gig in Springfield, Missouri.
"I'd say we're a tad different than a radio rock band and more digestible than stoner rock. We try to hold on to our identity."
In August, Crobot released a new album titled "Motherbrain" and the lead single, "Low Life," celebrated a Top 40 debut on both Media Base and the Billboard Rock Airplay Chart. 
According to Yeagley, "It's an anthem about this outside perspective on the definition of a low life.  There's a misconception that being a touring musician without a lot of money makes you a lowlife, but how is that really any different from the rest of the world? And, if that does make you a lowlife, we're okay with it!"
During late 2017, Crobot began writing songs for "Motherbrain."
"We had been writing songs for three years before we went in to make the album," said Yeagley. "As soon as an album comes out, we start writing for the next one.
"This album was a little different. Usually, we don't have a lot of time between tours. For this one, we had more time because of lineup changes and label changes.
"Our previous label was Wind-Up and they got bought by Concord Music – a major label that focuses on its big acts like Paul McCartney and James Taylor. We got caught in that storm and got tossed around.
"We shopped our band around, and Mascot Records was interested from the get-go. We've been having a great experience with Mascot."
"Motherbrain" is Crobot's first release with Mascot.
"We spent about a month in Marietta, Georgia working with producer Corey Lowery," said Yeagley. "We lived there while we were recording. We wanted to spend most of the time in the studio rather than with outside activities. We didn't want any distractions."
According to Yeagley, "I think it's a much darker record, musically, lyrically, and thematically. It's some of the heaviest material we've
ever done, but it's also some of the funkiest.
"We're widening the Crobot spectrum even more. It's the catchiest too. It's less about wizards and dragons and more about everyday turmoil and the struggles of life. Corey made it digestible and appealing for not just dudes with beards or chicks with dicks."
Lowery, who has produced records for Seether, Saint Asonia, Sevendust, and Stereomud, understood what Crobot was looking for.
"Corey helped bring darkness to the album," said Yeagley. "We wanted to focus on the grungy side of the songs. Chris Cornell died when we were writing the songs. It just happened that that sound was the way we were leaning."
Crobot's roots go back to Pottsville at the beginning of this decade.
"Chris and I were in cover bands together in Pottsville," said Yeagley, who went to high school at Williams Valley in nearby Tower City.
"Chris was from Tennessee and had moved to the Pottsville area. Instead of playing in cover bands, we wanted to do original band music.
"Dan came aboard in 2017. Eddie has been touring with us for about a year. We love playing live shows.
"We like to keep every show different – some of the jams are a little longer and some are a little shorter. We're very spur-of-the-moment. It's important for us to stay organic and let things happen naturally. And it's important for us to always be Crobot."
Video link for Crobot – https://youtu.be/bhfaPK70ShM.
The all-ages show at the Chameleon Club will start at 6 p.m. Tickets are $15.