By Denny Dyroff, Entertainment Editor, The Times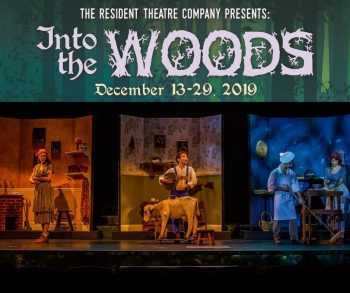 Shows based on fairy tales can be a welcome alternative to holiday stories in the middle of the Christmas season —  and two of them are running now at theaters in Chester County.
The Resident Theatre Company (RTC) at Uptown! Knauer Performing Arts Center (236 North High Street, West Chester, http://www.rtcwc.org) is presenting the second production of its third season – "Into the Woods." The show is running now through December 29 at Uptown! Knauer Performing Arts Center in West Chester.
Two Barrymore Award winning actresses will be leading the cast, Hillary Parker and Jennie Eisenhower. Parker whose credits include "The Miracle Worker," "Romeo and Juliet," and "Hello Dolly" will perform as the Baker's Wife. Eisenhower, a two-time Barrymore winner and a Philadelphia-based favorite who was last seen in RTC's production of "Bullets Over Broadway," Eisenhower returns as The Witch.
"This is a great show and the cast is really good," said Eisenhower, during a recent phone interview from her home in Paoli. "I'm excited to do this show with the Resident Theatre Company,
"I did 'Bullets Over Broadway here in their second season. When I saw that they were doing 'Into the Woods' in the third season, I said to myself — that's a production I want to do.
"I reached out to Kristin (Resident Theatre Company's Artistic Director Kristin McLaughlin Mitchell) and told her I wanted to be The Witch. She said – let's do it."
"Into the Woods" is a musical with music and lyrics by Stephen Sondheim and book by James Lapine. The musical intertwines the plots of several Brothers Grimm and Charles Perrault fairy tales, exploring the consequences of the characters' wishes and quests. The main characters are taken from "Little Red Riding Hood," "Jack and the Beanstalk," "Rapunzel," "Cinderella" andseveral others.
"I did 'Little Red Riding Hood' when I was in high school," said Eisenhower. "They called me 'Big Red'."
Eisenhower, who graduated from Conestoga High in 1996, has performed in Off-Broadway productions and done a lot of work in regional theater including "The Secret Garden" at the Media Theatre and "Once in A Lifetime" at People's Light Theatre.
The musical "Into the Woods" debuted in San Diego at the Old Globe Theatre in 1986 and premiered on Broadway on November 5, 1987, where it won several Tony Awards, including Best Score, Best Book, and Best Actress in a Musical in a year dominated by "The Phantom of the Opera" (1988). The musical has since been produced many times, with a 1988 US national tour, a 1990 West End production, a 1997 tenth anniversary concert, a 2002 Broadway revival, a 2010 London revival, and in 2012 as part of New York City's outdoor Shakespeare in the Park series.
James Lapine and Stephen Sondheim take everyone's favorite storybook characters and bring them together for a timeless, yet relevant, piece… and a rare modern classic. The Tony Award-winning book and score are both enchanting and touching.
The story follows a Baker and his wife, who wish to have a child; Cinderella, who wishes to attend the King's Festival; and Jack, who wishes his cow would give milk. When the Baker and his wife learn that they cannot have a child because of a Witch's curse, the two set off on a journey to break the curse.
Everyone's wish is granted, but the consequences of their actions return to haunt them later with disastrous results. "Into the Woods" is a musically sophisticated show with the opportunity to feature actors who are adept at dark comedy.
According to McLaughlin Mitchell, "I'm excited to get this talented cast together and to work on this beautiful, funny piece of theatre. We have an amazing group of 16 professional actors coming in to create RTC's first Sondheim show."
Cinderella's Prince Charming with a roving eye, is Kevin Toniazzo-Naughton, who RTC audiences might remember as Sir Galahad from RTC's "Spamalot!" Cinderella is played by Sophie Jones, whose credits include "Brigadoon," "Titanic," and "Aida." Jack is played by Jacob Entenmen, a Northwestern University grad whose recent credits include "Oliver" and "To Kill a Mockingbird."
Little Red Riding Hood is portrayed by Colleen Murphy, who recently appeared in "Little Women," "Gypsy," and "Hairspray." Jeff Raab, who has multiple Shakespeare and musical credits such as "Seussical" and "The Music Man," will appear as the Baker. 
The cast of characters in this fractured fairy tale also features Paul Weagraff as the Narrator, Heidi Hayes as Jack's Mother, Phoebe Gavula as Florinda, Gerri Weagraff as Cinderella's Step Mother, Abby Anderson as Lucinda, Ashley Lennick as Rapunzel, Grant Struble as Rapunzel's Prince, Matt Flocco as Steward, Benjamin Lovell as Cinderella's Father and Rachel Barnhart as Snow White.
McLaughlin Mitchell is the show's director while the music director is Brigitte Rottman. The production team also includes set designer Brydon Lidle IV, lighting designer Lily Fossner, costume designer Brian Strachan and sound designer Damien Figueras.
"My role is The Witch and I'd call it a supporting lead," said Eisenhower, who was a theater major at Northwestern University.
"She's the truth-teller. She's pretty annoyed at people for being so self-absorbed.
"It's fun to play the villain. She's the Rapunzel witch. She keeps her daughter in power and tries to protect her from the nefarious world.
"She is painfully honest with people – a little cruel but she's speaking the truth. She reverses a spell in the second act and looks nicer. In the first act, she's ugly and she doesn't care."
The Witch plays an integral role in the story.
"She is the catalyst that brings all these people into the woods," said Eisenhower, who has a direct link to two former American presidents (Dwight Eisenhower is her great-grandfather and Richard Nixon is her grandfather.)
"I like that she's brutally honest," said Eisenhower. "She's powerful without being beautiful. She has no concern what other people think of her."
In the show's program bio, Eisenhower writes, "Thank you to Kristin for having me back! This show is dedicated to Chloe." Chloe is her six-year-old daughter.
Video link for "Into the Woods" — https://www.facebook.com/residenttheatrecompany/videos/3478921655481313/
The show at the at Uptown! Knauer Performing Arts Center will run through December 29. Ticket prices range from $25-$64.
The Uptown Theatre will also host "Family Jazz Night: The Cartoon Christmas Trio" on December 19.
Since its inception in 1995, established solely for the purpose of capturing the nuances of the holiday music of Vince Guaraldi and his contemporaries, Cartoon Christmas Trio has been the premier interpreter of the classic soundtracks of holiday cartoon music, especially the music of "A Charlie Brown Christmas".
The Trio will be joined by baritone Grant Youngblood and Hillendale, Pocopson and Unionville Elementary School Choirs.
The Cartoon Christmas Trio will also perform at Tellus 360 (24 East King Street, Lancaster, 717-393-1660, www.tellus360.com) on December 21 at 1 p.m. and the Delaware Art Museum (2301 Kentmere Parkway, Wilmington, Delaware, www.delart.org)  on December 21 at 7 p.m.
The show at the Uptown on December 19 will start at 6:30 p.m. Tickets are $33.
Ironically, another show based on fairy tales – including "Little Red Riding Hood" – is currently being presented in Chester County.
Now through January 5, People's Light (39 Conestoga Road, Malvern, peopleslight.org) is presenting "Little Red Robin Hood: A Musical Panto!" — a production in which fairy tales collide.
In this world premiere panto, Robin Hood is dead, his merry men are in hiding, and Nottinghamshire is taken over by greedy villainess Lady Nottingham. When young Amelia, a bow-wielding orphan raised by outlaws, is sent on a mission to save "the Granny in the woods" from Lady Nottingham's right-hand wolf, an epic adventure begins. The show is set in the 1940s with a dash of the medieval.
Video link for "Little Red Robin Hood: A Musical Panto!" — https://youtu.be/ZqqLVwFoaBI.
The show at People's Light will through January 5. Tickets range from $21.50-$53.
Live stage presentations this weekend also include three productions of the timeless ballet, "The Nutcracker" and two special holiday-themed shows at area theaters and a thought-provoking chorale concert featuring a world premiere.
On December 20, the Annenberg Center (https://annenbergcenter.org/events) will present a special concert – "The Crossing @ Christmas" – at the Church of the Holy Trinity (Rittenhouse Square, 1904 Walnut Street, Philadelphia).
Known for its "rich, warm and beautifully focused sound," (The New York Times) the multiple Grammy® Award-winning new music choir, The Crossing, performs its annual concert reflecting on our world in the winter holiday season.
Conducted by Donald Nally, this year's "The Crossing @ Christmas" features two modern passions: David Lang's Pulitzer Prize-winning "the little match girl passion," based on the Hans Christian Andersen story, and "Spectral Spirits," a world premiere by composer Edie Hill, with elegiac remembrances of birds that are no longer with us.

The Crossing is an American professional chamber choir based in Philadelphia. The Crossing is conducted by Donald Nally and dedicated to new music. It is committed to working with creative teams to make and record new, substantial works for choir that explore and expand ways of writing for choir, singing in choir, and listening to music for choir.
Many of its nearly ninety commissioned premieres address social, environmental, and political issues. With a commitment to recording its commissions, The Crossing has issued nineteen releases, receiving two Grammy Awards for Best Choral Performance (2018, 2019), and three Grammy nominations in as many years.
In the 2019-2020 season The Crossing will return to Carnegie Hall and make debuts at The Met Cloisters in New York, The Mann Center in Philadelphia, and the Finnish National Opera in Helsinki.
"Even though the show is titled 'The Crossing @ Christmas,' we don't sing traditional Christmas music," said Nally, during a phone interview Tuesday morning from his office in Philadelphia. "We don't ever sing traditional music."
The show in Philadelphia will absolutely be non-traditional – and will include a world premiere.
According to Nally, "Few works in our ever-growing repertoire return to us repeatedly. Yet, our first venture into David Lang's art — his Pulitzer-winning "the little match girl passion" — is an exception: a passion, designed to invite thought and reflection on The Other. It is a familiar story distilled to its essential words.
"David's iconic opus is paired here with a major new commission from Edie Hill as she expands on The Other to include the natural world — those whom we were charged with curating and failed — birds lost to extinction, yet captured forever in Holly Hughes' poems from 'Passings.'"
The program in Philadelphia has a vibe all its own.
"It's an observation of the world," said Nally. "It's an opportunity to take the Advent season and ponder our relationship to each other.
"The piece 'Spectral Spirits' is a new piece from Edie Hill and is based on poetry by Holly Hughes – poems from 'Passings.' It is poetry about the uniqueness of birds that have gone extinct and the loss.
"Each of the four big sections are preceded by observations of the birds' past. The four birds are Passenger Pigeon, Eskimo Curlew, Carolina Parakeet and Ivory-Billed Woodpecker, which is also known as the 'Lord God Bird.' This piece is a heart-breaking piece with a wide variety of colors and textures in every movement.
"This piece is paired with 'the little match girl passion.' Both talk about our relationships with others. The 'little match girl' is about a poor young girl who tries to sell matches on the street. She uses up all the matches trying to stay warm and eventually freezes to death. It's about hope and despair and how we interact with each other. It's a chorale piece with minimal chords based on Bach's 'St. Matthew Passion' and it goes back-and-forth with narrative from Hans Christian Andersen's 'The Little Match Girl.'"
Video link for The Crossing – https://youtu.be/HeRU3iKonhM.
The concert at the Church of the Holy Trinity will start at 7:30 p.m. Tickets are $29.
The Pennsylvania Ballet's annual production of "George Balanchine's The Nutcracker" is running now through December 31 at the Academy of Music (Broad and Locust streets, Philadelphia, 215-893-1999, www.paballet.org).
The 51st annual staging of the classic ballet, which is based on E.T.A. Hoffman's tale "The Nutcracker and The Mouse King" and set to a score by Peter Ilych Tchaikovsky, features lively dances, colorful costumes and elaborate sets.
Balanchine's choreography plays a major role in the Pennsylvania Ballet's annual production of "The Nutcracker." The company has been doing both acts by Balanchine for more than three decades.
Video link for Pennsylvania Ballet's "George Balanchine's The Nutcracker" — https://youtu.be/WrGAwSk6tVY
Evening, matinee, and morning performances are scheduled now through December 31. Ticket prices start at $35.
The Brandywine Ballet's production of "The Nutcracker" (www.brandywineballet.org) marks the 40th year the local company has been presenting its version of "The Nutcracker."
This performance is one of Chester County's signature holiday events, and features original, traditional choreography by David Kloss and Donna L. Muzio, integrated with new choreographic elements by Nancy Page.
The Brandywine Ballet's "The Nutcracker" is a professional show that features skilled dancers, lively choreography, colorful costumes and sparkling sets. The show will run now through December 22 at West Chester University's Emilie K. Asplundh Concert Hall (700 South High Street, West Chester, 610-696-2711, www.brandywineballet.org).
Performances of the ballet are scheduled for December 19 at 10 a.m., December 21 at noon and 4 p.m., and December 22 at 2 p.m. Ticket prices start at $25.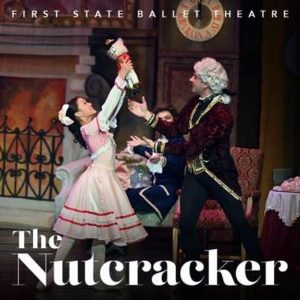 The Grand Opera House (818 North Market Street, Wilmington, Delaware, 302-652-5577, www.thegrandwilmington.org) is hosting a quartet of performances of "The Nutcracker" by the First State Ballet Theatre.
Performances by the First State Ballet Theatre are scheduled for 2 and 7 p.m. on December 21 and 1 and 4:30 p.m. on December 22.
Video link for First State Ballet's "The Nutcracker" — https://youtu.be/Ceun9LRWy_A.
Ticket prices for the shows at The Grand Opera House range from $14.99-$50.
The New Candlelight Theatre (2208 Millers Road, Arden, Delaware, 302- 475-2313, www.candlelighttheatredelaware.org) celebrates the holiday season with special dinner theater show.
"Christmas by Candlelight" is the theater's heartwarming celebration of the yuletide season – a bi-annual event that is back by popular demand. The show features classic holiday tunes, as well as some new surprises – all performed by fans' favorite "Candlelighters."
Performances are Friday and Saturday evenings (doors 6 p.m./show, 8 p.m.) and Sunday afternoons (doors, 1 p.m./show, 3 p.m.). Tickets, which include dinner and show, are $63 for adults and $33 for children (ages 4-12). All seats are reserved.
The American Music Theatre (2425 Lincoln Highway East, Lancaster, 800-648-4102, www.AMTshows.com) has its holiday show running now through December 30.
The AMT's 2019 show "Joy to the World" is an all-new presentation of favorite sacred and secular holiday songs performed by professional artists from across the country. The show will feature spectacular vocal harmonies, lively musical arrangements, impressive dancing and the music of the AMT Orchestra.
Also featured will be elaborate scenery, elegant costumes and a theater decked out with holiday decorations.
The show will have both matinee and evening performances each week with the addition of 10:30 a.m. performances on Saturdays throughout December. Show length is two hours and 15 minutes with a short intermission. Tickets are $46 for adults and $23 for children.
There also is plenty of live music on tap over the next few days including a show by Nicholas David on December 19 at the World Café Live (3025 Walnut Street, Philadelphia, 215-222-1400,www.worldcafelive.com).
David is currently touring in support of his new album "Yesterday's Gone," which was produced by Samantha Fish and released on November 29 on Fish's label — Wild Heart Records. David is the opening act for Fish on the tour.
David is a family man with young children who had a strong regional following in Minnesota, having released a steady output of albums and EPs over the past 15 years. He had begun to work on the songs heard on this album when he took a solo opening spot for the Devon Allman Project in 2015.
"I just got off tour with Devin's band," said David, during a recent phone interview from a tour stop in Iowa.
"We really connected on stage. Later our paths crossed after his mom and dad passed. After taking time off, he formed a bigger band and offered me the keyboard spot."
David was a key member of the Devon Allman Project on its 2018-19 world tour. Among the many notable musicians David met during the 14-month-long trek across the globe was guitarist and singer Samantha Fish. David was struck by the beautiful sincere quality of Fish's music when she was touring behind her "Belle of the West" album.
According to David, "She moved me and a song or two of mine caught her attention. She invited me to come to New Orleans and I said – absolutely. She said she would like to help me make the record."
David focuses on blues and Southern Soul along with pop influences om "Yesterday's Gone."
David headed to New Orleans to commence work on the album with Fish in the producer's chair. That week in January resulted in 13 tracks, to be trimmed to 11 for the record. The album is a collection of songs that display beautifully both the heartland tug and Crescent City yearning possessing David's musical mind, body, and soul.
According to David, "I've had some people tell me I sound a bit like Dr. John and it's funny because I never really listened to his music until now. This pull of The South has become such a strong force that I feel like I understand some of Dr. John's language now."
Back in 2012 David was invited to audition for NBC's hit reality competition series, "The Voice." Nicknamed by the show producers as the "Family Man," David captured America's attention with his outstanding vocal prowess and outsized personality and took third place. It's fitting that, by the nation's measuring stick, he nearly was crowned champion of "The Voice."
"My involvement with 'The Voice' came about unexpectedly," said David. "I had been doing some voice-over work and my agent asked me to do 'The Voice.' I said – absolutely not.
"Then, she told me that she had submitted a video to them, and they were looking for a bearded singer in the snow playing guitar—and that was me.
"The first audition was in Chicago at Roosevelt University. Then there was the 2012 audition, the blind audition and, by the end, I had finished in the Top Three.
"It's hard to say which was my favorite song on 'The Voice.' They all had their cool parts. And, a lot of the songs had a spiritual connection. My version of 'Over the Rainbow' hit the Billboard Hot 100."
The Top-Three finish catapulted David from regional musician to international success. His recordings routinely charted on Top 10 lists for Billboard and iTunes with more than one million hits on Soundcloud.
David and his Feelin Band toured behind his newfound fame and played support on bills with national acts ranging from The Avett Brothers to Rusted Root to The BoDeans …and eventually the opening slot for Devon Allman.
"Being on 'The Voice' really helped my career," said David. "It took what I was doing around the Midwest and expanded the circle around the world."
Video link for Nicholas David – https://youtu.be/AV6GtcGLtKM.
The show at the World Café Live on December 19 will start at 8 p.m. Tickets are $22 and $32.
Other upcoming shows at the World Café Live are York Street Hustle on December 20, Peek-A-Boo Revue Holiday Show on December 21, and the Peace Creeps CD Release Party on December 21.
Kennett Flash (102 Sycamore Alley, Kennett Square, 484-732-8295, http://www.kennettflash.org) will have Rise Twain + Valdez with Katie Barbato on December 20, We Kids Rock Christmas Show on December 21, Runnin' Late – Rock & Roll Christmas Jam on December 21, Hometown Holiday Show – Songwriters In The Round with Lisa Jeanette, EB Hawkins, Todd Chappelle, and Lori Citro on December  22 and Vinyl Artifacts with Olivia Swenson on December 23.
Chaplin's (66 North Main Street, Spring City, 610-792-4110, http://chaplinslive.com) will host Brick Nova, Merchant Copy and Joel Keeley
on December 20, and Sarles Music Fest on December 21.
The Ardmore Music Hall (23 East Lancaster Avenue, Ardmore, 610-649-8389, www.ardmoremusic.com) will present Marky Ramone's Blitzkrieg on December 19, Electron on December 20, Living Color on December 21 and Motown for Kids on December 22.
The Living Room (35 East Lancaster Avenue, Ardmore, https://thelivingroomat35east.com) presents Vernon Reid Presents Tones and Tales on December 19, A Very Cheadle Christmas on December 20, and Rupert Wates and Cassendre Xavier on December 21.
118 North (118 North Wayne Avenue, Wayne, www.118northwayne.com) will host Kevin Downey Jr. and Norm Klar on December 19, DNR (Classic Rock Tribute) on December 20, Billy Price Charm City Rhythm Band and The Nighthawks on December 21, Zen Dog on December 21, A Charlie Brown Christmas with the Eric Mintel Quartet on December 22 and Elijah Cole + Justin Sekelewski on December 22.
Jamey's House of Music (32 South Lansdowne Avenue, Lansdowne, 215-477-9985,  presents David Mowry with Dale Melton & Bill Zinno on December 20, and The Tommy Froelich Band on December 21.
The Keswick Theater (291 N. Keswick Avenue, Glenside, 215-572-7650, www.keswicktheatre.com) presents "Sister's Christmas Catechism" on December 22.
The Sellersville Theater (24 West Temple Avenue, Sellersville, 215-257-5808, www.st94.com) hosts Jerry Douglas on December 19, Popa Chubby on December 20, Annie Haslam on December 21, Elisabeth Von Trapp Home For Christmas on December 22 and B.J. Thomas on December 22.
The Locks at Sona (4417 Main Street, Manayunk, 484- 273-0481, sonapub.com) will host Max Seidman with special guest Seth Aaron on December 21.
MilkBoy Philly (1100 Chestnut Street, Philadelphia, 215- 925-6455, www.milkboyphilly.com) will present Melt With You on December 20.