By Denny Dyroff, Entertainment Editor, The Times
Now is a great time to take a break from the holiday frenzy and enjoy a few hours of watching a stage production. It's a great time because there are great options – several classic ballet productions of "The Nutcracker," two holiday-themed stage shows and a brand-new panto.
Now through January 5, People's Light (39 Conestoga Road, Malvern, peopleslight.org) is presenting "Little Red Robin Hood: A Musical Panto!"
This might sound confusing – is it about Robin Hood or about Little Red Riding Hood?
Actually, it's a production in which fairy tales collide.
Each year, the People's Light holiday panto transforms a beloved children's story into a musical extravaganza filled with outrageous characters, toe-tapping original music, slapstick comedy, and topical humor for both kids and adults. For the first time, People's Light adapts not one, but two classic stories – the Robin Hood legend and Little Red Riding Hood – to create a holiday show like nothing you've ever seen.
If you're wondering what a "panto" is – here's the answer.
Emerging from commedia dell'arte, the Twelfth Night holiday, and the Festival of Fools, the Christmas "pantomime" dates back to the 18th century and remains the most popular theatre form in Great Britain. In a single year, 19 pantos played in London and 187 in the rest of the country. Over the past 16 years, People's Light has tailored the British form into its own unique brand of holiday hilarity, attracting thousands of visitors every holiday season.
Traditionally, pantos typically take a well-known fairy tales or other favorite children's story and turn it on its ear. Favorite stories, which have inspired countless different pantos, are Aladdin, Robin Hood, Cinderella, Dick Wittington, Jack and the Beanstalk, Mother Goose, Puss in Boots, Sleeping Beauty, Goldilocks and Snow White.
These familiar stories form the basis for exaggeration, variation and topical social commentary, as well as outrageous jokes, humorous songs, sprightly dances and, sometimes, a strangely affecting love story. The tradition has developed some fairly rigid conventions of plotting, casting and story.
Here are some of the familiar elements that audiences at People's Light have come to relish: The Dame: a boisterous yet benevolent matriarch played by a man in a fabulous dress; a hero (sometimes played by a woman); a heroine; and a stock villain; "Skin roles," animal pals who help our hero in his or her adventures; a comic duo; A basic story that explores themes of love, friendship, and good vs. evil; music, dance, and slapstick; audience participation: boo, cheer, even argue with the characters onstage; satire of local events, government policies, and famous people; a "slosh scene" or "messy bit": a slapstick routine with something wet, gooey, and/or slippery; a "candy bit": the actors throw candy into the audience, sometimes by the villain's lackeys to get information about the hero; and silly songs that the audience joins in singing.
Since the 18th century, audiences have gathered in droves to enjoy the songs, jokes, costumes and treats of this Christmas celebration. At People's Light, we're having great fun joining this tradition, adjusting it to our culture and aesthetic, bringing it to our time and place.
In this world premiere panto, Robin Hood is dead, his merry men are in hiding, and Nottinghamshire is taken over by greedy villainess Lady Nottingham. When young Amelia, a bow-wielding orphan raised by outlaws, is sent on a mission to save "the Granny in the woods" from Lady Nottingham's right-hand wolf, an epic adventure begins. The show is set in the 1940s with a dash of the medieval.
The show features Viveca Chow as Amelia (Little Red Riding Hood herself), Mary Elizabeth Scallen as a villainous Lady Nottingham, Mark Lazar as Maud (The Dame), and Tom Teti as Friar Tuck. This marks the fifth collaboration between playwright Kathryn Petersen and composer/lyricist Michael Ogborn. Petersen and Ogborn are joined by award-winning director Bill Fennelly, whose work has been seen on Broadway, Off-Broadway, and regionally.
"It's always exciting to be creating something," said Chow, during a phone interview last week from Malvern.
"This is my first panto but not my first experience with panto. I grew in Hong Kong, which was a British colony. So, the English art form was strong there. I remember seeing a panto of 'Sleeping Beauty' when I was young."
Chow is an actress known for the films "The Country Club" and "The 71st Annual Tony Awards." She also performed in "Miss Saigon" on Broadway in 2017.
"I left Hong King when I was 18," said Chow, who is fluent in English, Cantonese and Mandarin.
"I came to America and got a BFA in music theater from Point Park College in Pittsburgh. Then, I moved to New York.
"Earlier this year, I got a call from Steven Purdy, my vocal coach in New York, who said – my friend Bill Fennelly is looking for an actress to play Amelia.
"I was working in a show – 'Grease' – up in the Finger Lakes so I sent them a tape. After watching the tape, the wanted me for a callback. I still was unable to come to New York, so I did the callback via Skype. Being able to do it via Skype was very special."
Obviously, the team of Fennelly, Ogborn and Petersen felt Chow was something special and they offered the part.
"At the end of August, most of the cast got together at People's Light and read a very-close-to-final draft," said Chow. "We started rehearsals in late October.
"Because these songs were never sung before, some things were changed during rehearsals. One thing was finding the perfect key for me as Amelia. This show has a lot of room for improv – and the audience is in on the improv. There is a lot of 'yes, and…'"
"Yes, and…" thinking is a rule-of-thumb in improvisational comedy that suggests that a participant should accept what another participant has stated ("yes") and then expand on that line of thinking ("and").
While "Little Red Robin Hood" delivers exciting new characters, music, and adventures, People's Light audiences can expect those same signature panto elements they know and love – the Dame: a boisterous and benevolent matriarch played by a man in a fabulous dress, heroes to cheer, villains to "boo", animal sidekicks, candy for the crowd, a "messy bit", and audience participation that brings everyone into the action.
"It's been rewarding because you have to think quickly on your feet," said Chow, who spent time a few years ago teaching English to kids in Cambodia.
"Bill gave us a very detailed description of the panto process. Certain roles such as heroine and villain have to be in there. The heroes always have to enter from stage right and the villains from stage left. There is always a messy bit and it always has to be based on a fairy tale."
Video link for "Little Red Robin Hood: A Musical Panto!" — https://youtu.be/ZqqLVwFoaBI.
The show at People's Light will through January 5. Tickets range from $21.50-$53.
The Pennsylvania Ballet's annual production of "George Balanchine's The Nutcracker" has been one of the premier Philadelphia holiday traditions for more than a half-century. For thousands of people, a trip to Philadelphia to enjoy the lavish presentation by the world-famous Pennsylvania Ballet is an integral part of the holiday season.
This year's production, which is running now through December 31 at the Academy of Music (Broad and Locust streets, Philadelphia, 215-893-1999, www.paballet.org), is the 51st annual staging of the classic ballet. The ballet is based on E.T.A. Hoffman's tale "The Nutcracker and The Mouse King" and set to a score by Peter Ilych Tchaikovsky.
Featuring lively dances, colorful costumes and elaborate sets, "The Nutcracker" is a production that appeals to audiences of all ages. The original version of the timeless classic was first presented in Saint Petersburg, Russia in 1892. This is the sixth season artistic director Angel Corella has been doing "The Nutcracker" with the Pennsylvania Ballet.
Dancer Adrianna de Svastich has an even longer history with the show.
"This is my 11th season doing 'The Nutcracker' with the Pennsylvania Ballet," said deSvastich. "But it hasn't been 11 years in a row. I took a couple years off to freelance.
"In my first year in the show back in 2005, I was in party scene, dolls, snow, flowers and marzipan. This year, I have party scene, snow, flowers and marzipan – and I dance the lead in Spanish."
Adrianna de Svastich began her training under Leonid Kozlov in Ramsey, NJ and then continued at the School of American Ballet (SAB) in New York City. During her final year at SAB, Adrianna performed with New York City Ballet in George Balanchine's Serenade" and "Chopiniana," as well as Susan Stroman's "Double Feature."
She joined Pennsylvania Ballet in 2005 as a member of PBII. She was hired as an apprentice in August 2007 and promoted to corps de ballet in 2009, where she remained through the 2010/2011 season before rejoining our corps de ballet in May of 2016.
While with Pennsylvania Ballet, de Svastich has performed in a wide range of ballets, including George Balanchine's "The Four Temperaments" and "Serenade," Jerome Robbins' "The Concert," and Christopher Wheeldon's "Carnival of the Animals." Her featured roles include Cygnets in Christopher Wheeldon's "Swan Lake" and the second pas de deux in Hans van Manen's "Adagio Hammerklavier."
From 2011-2016, de Svastich performed with numerous companies, including Ballet Fleming and Nora Gibson Contemporary Ballet in Philadelphia, Barak Ballet in Los Angeles, New Orleans Ballet Theatre, Kathryn Posin Dance Company, and MorDance in New York. She has choreographed for the School of American Ballet Student Choreography Workshop, Shut Up & Dance, BalletFleming, and the Koresh Artist Showcase. She received her Bachelor of Arts in history from the University of Pennsylvania in 2012, having graduated with honors (magna cum laude).
"I was going to the University of Pennsylvania part-time while I was dancing with the Pennsylvania Ballet," said de Svastich. "I was a history major and did two archive digs in Tuscany, Italy.
"With 'The Nutcracker, my favorite roles are demi-flower in 'Waltz of the Flowers' and the lead in 'Spanish.' It's a lot of fun to do 'Spanish.' It's the first dance of the second act so we come out with a burst of energy."
Corella has also appeared as a guest artist with the Royal Ballet in London, the Kirov Ballet in Russia, and New York City Ballet. From 2008-2014, he served as director for his own company, the Barcelona Ballet.
"Ballet is full-time—for me and for the dancers," said Corella. "We try to refresh 'The Nutcracker' every year – to bring a new direction and a new energy to it – to have new dancers and old dancers in new roles. I try to bring in new elements.
"The energy and dynamic of the company are changing. It's very exciting now. With 'The Nutcracker,' it might be the first time for audience members, so dancers have to go onstage like it's the first time. It's very important that the theatrical part of the show is there.
"The challenge is to keep it fresh. But no-one would dare to change the choreography. It's always true to Balanchine. We have to record all the shows and send them to the Balanchine Trust."
Balanchine's choreography plays a major role in the Pennsylvania Ballet's annual production of "The Nutcracker." The company has been doing both acts by Balanchine for more than three decades.
George Balanchine, who was named Giorgi Balanchivadze when he was born in Russia in 1904, was one of the last century's most celebrated choreographers. He was a primary developer of ballet in the United States in his position as co-founder and ballet master of New York City Ballet. Balanchine created his version of "The Nutcracker" for the New York City Ballet in 1955.
The Pennsylvania Ballet's production of the ballet features over 100 performers and has an annual audience attendance of over 50,000. The company's production is big, colorful and elaborate. And, it is staged in one of the most beautiful performance halls in the country.
The version of "The Nutcracker" performed by the Pennsylvania Ballet features everything audiences associate with the timeless ballet—a cast of 19th-century families celebrating Christmas Eve, a little girl's dream of her Nutcracker Prince, the Prince's toy soldiers battling a fleet of mice led by the Mouse King and the crowd-pleasing second act of dances in the land of the Sugar Plum Fairy. 
"Right now, we're still doing Balanchine's 'Nutcracker' because it works," said Corella. "Balanchine's 'The Nutcracker' is one of the best in the world. At the Pennsylvania Ballet, I've gotten my first chance to do Balanchine's choreography. I've always done other versions – even when I was a dancer.
"It has nice choreography. It's great to be able to do this show and give it justice. I haven't made any changes to the choreography. We stay respectful to Balanchine's original choreography. We just make sure the dancers stay under control.
"It's a classic that dancers love. A good way to change it is to have a different approach. When I danced, the approach would be different every night. I think every dancer can make it special and different every day."
One thing that never changes is the audiences' love for "The Nutcracker." It is a spectacular production that turns everyone—adults, children and seniors—into wide-eyed kids.
"The Pennsylvania Ballet's production of 'The Nutcracker' is a tradition – a time for everyone to come together," said de Svastich. "And, we have the tradition of doing the Balanchine version for a long time."
Video link for Pennsylvania Ballet's "George Balanchine's The Nutcracker" — https://youtu.be/WrGAwSk6tVY
Evening, matinee, and morning performances are scheduled now through December 31. Ticket prices start at $35.
Another annual top-flight production of the classic ballet "The Nutcracker" is presented by the Brandywine Ballet (www.brandywineballet.org). The 2019 production marks the 40th year the local company has been presenting its version of "The Nutcracker."
The ballet is based on the timeless tale "The Nutcracker and The Mouse King" and set to a score by Peter Ilyich Tchaikovsky. With its familiar music and energetic dance numbers, "The Nutcracker" is a show that appeals to audiences of all ages.
This performance is one of Chester County's signature holiday events, and features original, traditional choreography by David Kloss and Donna L. Muzio, integrated with new choreographic elements by Nancy Page. Brandywine Ballet's eight-performance run of "The Nutcracker" continues to delight audiences each December with a tour de force of beauty and elegance.
The Brandywine Ballet's "The Nutcracker" is a professional show that features skilled dancers, lively choreography, colorful costumes and sparkling sets. The show will run now through December 22 at West Chester University's Emilie K. Asplundh Concert Hall (700 South High Street, West Chester, 610-696-2711, www.brandywineballet.org).
Performances of the ballet are scheduled for December 19 at 10 a.m., December 21 at noon and 4 p.m., and December 22 at 2 p.m. Ticket prices start at $25.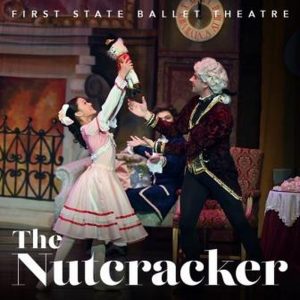 The Grand Opera House (818 North Market Street, Wilmington, Delaware, 302-652-5577, www.thegrandwilmington.org) is hosting a quartet of performances of "The Nutcracker" by the First State Ballet Theatre.
The production is a ballet in two acts with music by Pyotr Ilyich Tchaikovsky and choreography by Pasha Kambalov. The ballet, which had original choreography by Lev Ivanov and Marius Petipa, had its premiere on December 18, 1892 at the Mariinsky Theatre, St. Petersburg, Russia.
Performances by the First State Ballet Theatre are scheduled for 2 and 7 p.m. on December 21 and 1 and 4:30 p.m. on December 22.
Video link for First State Ballet's "The Nutcracker" — https://youtu.be/Ceun9LRWy_A.
Ticket prices for the shows at The Grand Opera House range from $14.99-$50.
The New Candlelight Theatre (2208 Millers Road, Arden, Delaware, 302- 475-2313, www.candlelighttheatredelaware.org) celebrates the holiday season with special dinner theater show.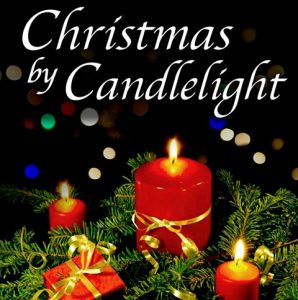 "Christmas by Candlelight" is the theater's heartwarming celebration of the yuletide season – a bi-annual event that is back by popular demand. The show features classic holiday tunes, as well as some new surprises – all performed by fans' favorite "Candlelighters."
Performances are Friday and Saturday evenings (doors 6 p.m./show, 8 p.m.) and Sunday afternoons (doors, 1 p.m./show, 3 p.m.). Tickets, which include dinner and show, are $63 for adults and $33 for children (ages 4-12). All seats are reserved.
The American Music Theatre (2425 Lincoln Highway East, Lancaster, 800-648-4102, www.AMTshows.com) has its holiday show running now through December 30.
The AMT's 2019 show "Joy to the World" is an all-new presentation of favorite sacred and secular holiday songs performed by professional artists from across the country. The show will feature spectacular vocal harmonies, lively musical arrangements, impressive dancing and the music of the AMT Orchestra.
Also featured will be elaborate scenery, elegant costumes and a theater decked out with holiday decorations.
The show will have both matinee and evening performances each week with the addition of 10:30 a.m. performances on Saturdays throughout December. Show length is two hours and 15 minutes with a short intermission. Tickets are $46 for adults and $23 for children.
There is aslo a one-night only event taking place at a rock club in Philly – a concert by Moniker.
The word "moniker" means "a name."
What's in a name?
Well, a lot actually if you're talking about Moniker as a band name.
Moniker as a band name could refer to a rock trio from Richmond, Virginia or to a rock band from Wellington, New Zealand. It could refer to a jazz/hip hop band from Atlanta or an EDM band from Australia. It could refer to a soul band from LaCrosse, Wisconsin or it could refer to The Moniker, a singer/songwriter from Sweden.
On December 18, Century Bar (1350 South 29th Street, Philadelphia, https://www.facebook.com/centuryphila/) is hosting a show by Moniker.
Which Moniker will be performing in South Philly Wednesday night?
The answer is Moniker from Richmond — a trio featuring Jordan Scott, Ro-Derrick Branch and Madison Hinson.
The project of songwriter Jordan Scott, Moniker began from some home recordings he made while living in New York and working odd jobs, with the "MONiKER EP" and "All Things Excellent" both released in quick succession in 2015.
"It started out as a solo project," said Scott, during a phone interview last week from his home in Richmond.
"It was more by necessity – as an outlet for my songwriting. It made sense to give it a band name. It's been a slow evolution since then,"
In 2016, the first full album "MONiKER LP" was released.  Dealing with the loss of a friend, "Good Bye Waste Land" was written by Scott in 2016, using the sounds of rock music to evoke bygone memories of teenage years in suburban Virginia. The album came out in 2017.
Afterwards, he returned Moniker to Richmond and assembled a new lineup while continuing to tour and record. With Ro-Derrick Branch joining the project, Moniker's new album, "Private Prophet," was released on Good Eye Records in early 2019.
"Ro-Derrick and I met in college – at William & Mary University," said Scott.
"When we were at William & Mary, we played in a Middle East music ensemble. I played oud. We went on a trip together to Morocco.  New York was the first place I moved after college.
"The 'MONiKER EP' was a home version. I had a group of songs and I was trying out some different styles. I spent some time teaching in the Alsace region of France. When I came back, 'Good Bye Waste Land' was the first real Moniker album."
Scott eventually returned to Richmond where began working with Branch. He also he works as a substitute teacher there.
"Ro-Derrick and I have been playing together in this band for about two years now," said Scott.
On March 1, 2019, Moniker officially released its "Private Prophet" album.
"We recorded the album at the end of 2018," said Scott. "We recorded it using Logic and then used mixing gear in a studio. We spent a few months mixing and mastering it and the pressed CDs early this year."
Video link for Moniker – https://youtu.be/8db_ox9RVnk.
The show at Century Bar, which also features The Bad Bees and Birdspotter, will start at 8:30 p.m. Tickets are $5.