By Denny Dyroff, Entertainment Editor, The Times
"The Clairvoyants" — Amélie van Tass and Thommy Ten — are visiting the area for a show on December 14 at Xcite Center at Parx Casino (2999 Street Road, Bensalem, 888-588-7279, https://parxcasino.com).
They are an Austrian magician and mentalist duo and have been performing together since 2011.
If you watch videos of their performances, you'll likely say – what? – and then follow by saying — how?
With Ten as the front man and van Tass as the mentalist, they put on an amazing show with a blindfolded van Tass delivering information that she could not possibly know.
You could be 50 yards away from her and she still could tell you the make of your underwear, its style and probably even the size.
"Right now, we're doing one-nighters all over the United States," said Ten, during a recent phone interview from a stop at the Horse Shoe Casino. "Most of it is at casinos.
"We grew up in different cities in Austria – St. Pölten and Krems. Both cities are near Vienna, where we now live."
The two have been together for almost a decade.
"We met in 2011," said Ten, whose real name is Thomas Höschele. "I was performing in a show and I needed an assistant. A friend of mine introduced me to her.
"She was always fascinated by dancing and acting onstage and I was always interested in magic. Together, we got interested in mentalism."
In late 2011, they began to develop their "second sight" act, and two months later brought it on stage for the first time. Within a year they had developed a full-length show. Shortly thereafter, they started touring Europe.
In 2014, they received their first long term contract in America. After a six-month run in the show "The Illusionarium," they were offered a featured spot in the largest touring magic show in the world, "The Illusionists." 
The Clairvoyants' next challenge was to compete in the biggest talent show in the world — "America's Got Talent." After four months, six different performances and more than 100,000 contestants, they finished runner-up to Grace VanderWaal on Season 11 of the hit TV show. In October 2016 they appeared, together with winner Grace Vanderwaal, at Planet Hollywood in Las Vegas.
More recently, they were personally invited to compete in the AGT spinoff, "America's Got Talent: The Champions" in early 2019 and they impressed the judges with every performance.
"We had a job performing on a cruise ship," said Ten. "We were living in a small cabin together and fell in love not long after
Van Tass, whose real name is Christina Gruber, and Ten were awarded "The German Champions of Mentalism — Magicians of the Year 2015," and, also in 2015, were chosen as the "World Champions of Mentalism." In April 2017, the Academy of Magical Arts and The Magic Castle Hollywood named the duo "Stage Magicians of the Year 2016."
"We work on it every day," said Ten. "Otherwise, it wouldn't work. We are challenging ourselves every day.
"It's all about the connection with Amélie and myself. The cool thing is that it works anywhere – and all the time. We don't have any acts that were inspirations. We always try to go our own way."
Video link for The Clairvoyants – https://youtu.be/BdivjT4yfRo.
The show at Xcite Center at Parx Casino on December 14 will start at 8 p.m. Tickets are $25-$65.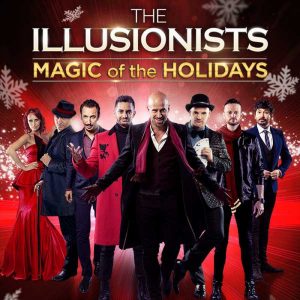 Ironically, "The Illusionists," the touring production that introduced the Clairvoyants to America as a live act, is playing this weekend in Wilmington.
From December 13-15, the Playhouse at Rodney Square (Market Street, Wilmington, Delaware, www.thegrandwilmington.org) is presenting "The Illusionists – Magic of the Holiday."
Full of hilarious magic tricks, death-defying stunts and acts of breathtaking wonder, "The Illusionists" has shattered box office records worldwide and thrilled audiences of all ages with a mind-blowing spectacular showcasing the jaw-dropping talents of six of the most incredible illusionists on earth.
This production's line-up includes The Elusive, Valentin Azema; The Trickster, Darren Partridge; The Transformationalists, Sos & Victoria; The Daredevil, Jonathan Goodwin; The Manipulator, Florian Sainve; and The Showman, Steve Valentine.
There will be three performances at The Playhouse on Rodney Square – December 14 at 2 and 8 p.m. and December 15 at 2 p.m. Ticket prices start at $40.
If Doobie Decibel System were a Member Decimal System, the key number might be 2534.
For years, Doobie Decibel System (DDS), which is performing on December 15 at 118 North (118 North Wayne Avenue, Wayne, www.118northwayne.com), had two configurations — DDS Duo featuring Jason Crosby and Roger McNamee and DDS Band featuring Jason Crosby, Roger McNamee, Pete Sears, Dan "Lebo" Lebowitz and Jay Lane.
At other times, there was Doobie Decibel System Trio with Crosby, McNamee and Lebowitz. It was a duo (2), a quintet (5) or a trio (3). The current line-up continues the evolutionary process.
"We've added a fourth member, which is a pretty cool thing," said McNamee, during a phone interview Thursday from a stop in Philadelphia.
With duo-quintet-trio-quartet, DDS's line-up progression could be expressed decimally as 2-5-3-4.
"I think you're really going to like what you hear," said McNamee. "Our new member is Erica Jeski. She's a classically trained vocalist so now we have four-part harmonies.
"Doobie Decibel System hasn't played that many shows this year. This is our first run playing as a quartet. With the addition of Erica, it's unbelievably fun."
The current Doobie Decibel System line-up features Crosby on guitar, fiddle and vocals; Lebowitz on lead guitar, lap steel and vocals; Jeski on vocals; and McNamee on acoustic guitar and vocals.
The band is based in the San Francisco Bay area. For this East Coast tour, the veteran musicians are "riding the rails."
"We're a small group with little instruments," said McNamee. "So, when we come to the East Coast, we get around a lot on trains – Amtrak and local service. For example, after our show in Asbury Park, we'll use New Jersey Transit and Amtrak to get to Philly. We started doing this two tours ago."
Doobie Decibel System was the brainchild of Crosby and McNamee. Both musicians have impressive credentials.
Crosby has been a member of Robert Randolph and the Family Band and the Susan Tedeschi Band, among others. In recent years, Crosby has played with Bob Weir, Phil Lesh, Carlos Santana, Pete Seeger, Eric Clapton, Bruce Springsteen and Dave Matthews in various configurations.
McNamee is lead vocalist and plays bass and guitar with Moonalice, performing 90-100 shows a year. Additionally, Lebowitz has played or recorded with ALO, Lebo & Friends, Jack Johnson, Phil Lesh, Steve Kimock Band, and Brokedown in Bakersfield.
Moonalice has leveraged technology to help build a national audience. The Moonalice Couch TourTM on Moonalice.com enables fans to watch any show on a smartphone, PC or tablet without an app. Moonalice works with 24 poster artists to produce a unique poster that is given to guests at every concert.
Doobie Decibel System also supports the creative community by offering a commemorative poster by a well-known artist to fans at each show. Live streaming video in HD of every performance is available and archived for free listening via their website DDSband.com.
Doobie Decibel System's debut album came out in 2015.
It's fortunate for DDS that its fans are very supportive because they could listen to DDS music non-stop and never have to pay for it.
"We recorded 27 songs for that album and videos for all of them are up on our website (http://www.ddsband.com)," said McNamee, who lived in Delaware County for 20 years when his wife was the chair of the music department at Swarthmore College.
"We also broadcast all our shows and then archive them on the site. And, we do a different poster for every show. We're big believers in the integration of music and art. We've done 1,160 posters to date
"We started Doobie Decibel System about five years ago. In the Bay Area, members of the Grateful Dead have opened clubs — Bob Weir's Sweetwater (Music Hall & Café) and Phil Lesh's Terrapin Crossroads.
"They changed the scene dramatically. They provided a place where musicians could do 'friend' concerts with the main artist and his invited friends. Because of Lesh and Weir, the city has a new level of interest for local acts."
Doobie Decibel System bridges the gaps between generations and genres.
"With Doobie Decibel System, we're playing psychedelic music, but it's playing in folk music style – playing electric guitar music as acoustic folk music," said McNamee. "We do covers of artists such as the Beatles, Grateful Dead and Pink Floyd — songs that emphasize harmonies."
Both Doobie Decibel System and Moonalice have new albums on the horizon.
"We recorded the Moonalice album live in the studio in San Rafael," said McNamee. "Right now, we're also working on finishing a new Doobie Decibel System album."
Doobie Decibel System will also be playing on December 16 at the Rising Sun Inn (898 Allentown Rd, Telford, www.risingsuninn.net).
Video link for Doobie Decibel System – https://youtu.be/dkiyagFa22c.
The show at 118 North on December 15 will start at 6:30 p.m. Tickets are $5.
Other upcoming shows at 118 North are Brian Seymour on December 17, and Open Mic hosted by Raph Cutrufello on December 18.
Another band that recently tweaked its line-up and took its sound to a higher level is playing the area this weekend – the Dukes of Destiny, who are headlining a show at Jamey's House of Music (32 South Lansdowne Avenue, Lansdowne, 215-477-9985, www.jameyshouseofmusic.com).
The Dukes of Destiny, who have been treating fans to live performances of top-flight blues and soul music for almost three decades, are Arlyn Wolters (vocals), Ian Lander(guitar, vocals), Bob Holden (drums, vocals), Chicago Carl Snyder (keyboards, vocals), Rich Curtis (bass, vocals) and John Colgan-Davis (harmonica, vocals).
"We have a new guitarist," said during a phone interview Wednesday night from his home in the Mount Airy section of Philadelphia. "He replaced our old guitarist AC Steel.
"The new member is Ian Landes on guitar. He is quite a good guitarist – and quite a good singer. He's a bit of a younger guy who has played around Philly with his own band. AC Steel left the Dukes because he also has his own band The Galvanizers and he wanted to concentrate on that."
The new guy has added more depth and versatility to the Dukes of Destiny's sound.
"Ian is into blues and rock – and a lot of different things," said Colgan-Davis. "He has a different style than AC Steel. It's been fun working with him.
"We've also added some new material – soul songs like Marvin Gaye—not just straight blues. We've also added some swing songs. We like to get people moving."
In addition to performing at most of the clubs in the Tri-State area, the Dukes of Destiny have performed at the Pocono Blues Festival, the Waterfront Jam at Philadelphia's Penn's Landing, the State Street Blues Stroll in Media, the Bucks County R'n'B Picnic, the New Jersey Folk Festival and the Longwood Gardens Summer Concert Series.
"For the past few years, we've had great years," said Colgan-Davis. "We played places we had never played before – like the Philadelphia Folk Festival. We also played places we really love like the Kennett Flash and the West Grove Friends Meeting.
"We played the Phoenixville Blues Festival and the Paoli Blues Festival. We really love playing the Kennett Flash. And, we love our Chester County crowd. They've been coming to see us play for 14-15 years."
Chester County music fans and the Dukes of Destiny definitely have a love affair going.
"We did the Turks Head Festival in West Chester two years ago – and 'Rhythm and Roots' in Media," said Colgan-Davis. "We love the Flash – the intimacy and the sound system. And, we love what it stands for and what it means to Kennett Square.
"We love the people of Chester County and I really like the landscape of the area. It's always a special place for us. Chester County gigs have the vibe of old coffee houses. We put out the energy and the audience give sit back to us."
Audiences that like to get out of their seats and dance are a big part of the Dukes of Destiny live experience.
"We get all kinds of dancers at our shows," said Colgan-Davis. "We've been playing a lot more festivals. We're back on the festival circuit. I love playing festivals for a couple reasons. You get a whole bunch of people playing together. That takes me back to the 60s and the be-ins back then.
"Sun Ra had said the message that music is the healing force of the universe and you feel that at festivals. And, kids get to hear real music played by real people. With a band like us that plays off the crowd, a festival show is a real exciting thing."
Colgan-Davis's introduction to the blues came when he was in high school at Central High in Philadelphia and saw the Stones performing with Howling Wolf on the "Shindig" TV show. Howlin' Wolf, whose real name was Chester Burnett, was an American blues singer, guitarist and harmonica player who was one of the premier Chicago bluesmen.
"When I saw Howlin' Wolf on that TV show, I jumped up and said — this is what I want to do," said Colgan-Davis. "I started playing blues when I was 16. My dad gave me a grab bag for my birthday and a harmonica was in it.
"I started listening to blues records a lot — players like Muddy Waters and James Cotton. I was really into Chicago blues of the 1950s and 1960s when I started. Then, I got into guys like Sonny Terry and Brownie McGhee. One of the first bands I played in was a Philly blues band called Sweet Stavin' Chain."
A while later, the Dukes of Destiny became the main musical vehicle for Colgan-Davis. At first, they played house parties in Germantown, generating word of mouth interest. A gig at the now-defunct Taker's Cafe in Germantown launched their public career
"The Dukes got together in the mid-1980s," said Colgan-Davis. "Steve Brown started the band and it began with that gig at Taker's Café. Steve died of pancreatic cancer in 2000 and I've been the leader ever since. Steve has always been in my mind. We did a tribute concert to him a few years ago and we still do some of his favorites in our set.
"We have a whole range of music in what we can play — everything from Chicago blues to old-school soul. What's great about the Dukes is that we're a band. We use each other's strengths. Arlyn and I do the bulk of the singing but everybody in the band sings."
The Dukes of Destiny will also be playing on January 25 at the Mermaid Inn in Philadelphia.
Video link for the Dukes of Destiny – https://youtu.be/j5fM0sugB5w.
The show at the Jamey's House of Music will start at 8 p.m. Tickets are $15 in advance and $18 at the door.
When Natalie MacMaster first started performing in this area, she was a versatile musician in her early 20s from Nova Scotia – a talented fiddler, vocalist and step dancer with several impressive albums on Rounder Records.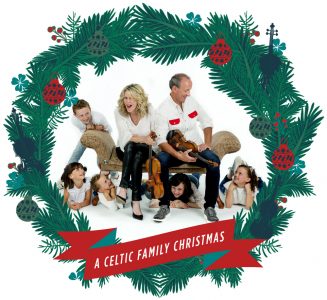 That era in her career was more than a 25 years ago. Fortunately, MacMaster is still fiddling, dancing, singing and making music. She also has been making babies over the last two decades.
Even more fortunate for her fans, MacMaster has found a way to combine music and motherhood.
"I have been making music and making babies," said MacMaster, during a phone interview last week from a tour stop in Fairfield, Connecticut.
"I have seven children – ages 14, 12, 10, 8, 7, 5 and 1. All of them except the last two were 18 months apart. The five oldest are in the show with me and my husband Donnell."
The show is "Natalie MacMaster & Donnell Leahy: A Celtic Family Christmas." The concert will be presented by the Sellersville Theater (24 West Temple Avenue, Sellersville, 215-257-5808, www.st94.com) on December 15.
"Our five children in the show song, fiddle, dance and play piano," said MacMaster. "They all do everything. I taught them dancing and fiddle when they were about four. They do all take to it naturally. It's organic. It's in their genes. They love being onstage."
For Leahy, playing onstage with family members is nothing new – especially with his history in Leahy.
Leahy is a Canadian folk music group. The eight band members, all from the Leahy family of 11 siblings, are from Lakefield, Ontario and have been touring Canada and internationally since the early 1980s, when they were known as The Leahy Family.
"I've been together with my husband for 17 years," said MacMaster. "He heard my music with my 'Four in the Floor' album. He was 23 and I was 19."
Back then, MacMaster was like a one-woman "Riverdance" — playing fiddle feverishly and performing intense step dancing throughout almost every song.
"My step dancing has slowed down a little after seven pregnancies," said MacMaster, whose resume includes a GRAMMY Award win and nomination, a JUNO Award win and seven nominations, 19 East Coast Music Association awards, and five Canadian Country Music Association's "Fiddler of the Year" nods — as well as three honorary doctorates, an induction into the Casino Nova Scotia Hall of Fame, and a member of the Order of Canada. 
"I did dance through all my pregnancies, but I had to keep the cardio down. I could do the steps, but I had to cut back on the hopping."
MacMaster didn't cut back on her recording. She has released six albums since her first child was born. The most recent LP is "Sketches," which was just released on November 1 via Linus Records.
According to MacMaster, 'Sketches" is "a moment during my 47th year of life, my 37th year of fiddling, my 16th year of marriage, and my 13th year of parenting. It'll be a moment of joyous appreciation inspired by years of parenting, marriage, friendships, music, and life."
This is a professional life that includes performances with Béla Fleck, Faith Hill, Carlos Santana, The Chieftains, Sharon, Lois & Bram, Buddy MacMaster and Jesse Cook, as well as award-winning collaborations with Yo-Yo Ma, and a blended line with award-winning collaborations with Leahy and their children.
"With this show, we have our band – bass, guitar, piano and myself and Donnell — and our kids contribute quite a lot," said MacMaster.
"And, we have a video component as well. We did an American TV Christmas special and it's getting aired in the states. A lot of footage was shot at our home so we out it in the show here and there."
Video link for Natalie MacMaster — https://youtu.be/2FWQz0iSjC0.
The show at the Sellersville Theater will start at 3 p.m.
Ticket prices range from $69.50-$85.