By Denny Dyroff, Entertainment Editor, The Times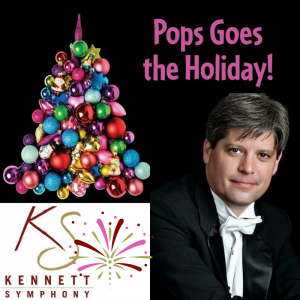 The Kennett Symphony is one of the area's musical and cultural treasures. The highly talented orchestra performs several shows in the area each year with highlight concerts being the annual summer program "Symphony Under the Stars" at Longwood Gardens and the annual winter holiday concert, "Pops Goes the Holidays."
On December 7, the Kennett Symphony will present "Pops Goes the Holidays" at Rustin High School Auditorium (1100 Shiloh Road, West Chester, www.kennettsymphony.org).
Under the baton of Conductor and Music Director Michael Hall, the Kennett Symphony along with the Chester County Choral Society, will perform a variety of holiday classics.
 "We do a different holiday show every year," said Hall, during a phone interview Monday afternoon. "This is the first year in my time to feature a full choir.
"Instead of a children's choir, the Chester County Choral Society will be joining in. The first time to work with the chorus for this show will be Tuesday night and then we'll be rehearsing Friday night and Saturday morning.
"A great thing about holiday concerts, people expect things they know. But you also want a program with pieces they don't know."
The program for the 2019 musical extravaganza includes John Williams' "Merry Christmas" from the movie "Home Alone," Carl Strommen's "There's Christmas in the Air," John Rutter's "What Sweeter Music," Pyotr Ilyich Tchaikovsky's  "Nutcracker: Trepak; Arabian; Waltz of the Flowers," and Robert Shaw and Robert Russell Bennett's "Many Moods of Christmas."
Also featured will be Robert Wendel's "A Chanukah Overture" and "An Evergreen Christmas," Leroy Anderson's "Sleigh Ride," Richard Hayman's arrangement of"Carol of the Bells," Bruce Chase's arrangement of "Christmas Favorites," George Frideric Handel's "Hallelujah Chorus," John Finnegan's "Sing a Long," and Gary Fry's arrangement of "We wish you a Merry Christmas."
"We begin the program with John Williams' piece from 'Home Alone," said Hall. "The program has a lot of familiar holiday sing-alongs with the full symphony – songs such as 'Sleigh Ride, 'Carol of the Bells,' 'We Wish You a Merry Christmas' and music from the 'Nutcracker.' People love it
"'Many Moods of Christmas' is a collection of carols. Rutter's piece is a beautiful thing for chorus. He's an English composer known for writing choral pieces for holiday concerts.
"There is a lot of variety in this program and a lot of songs people will recognize. Some pieces are boisterous, and some are really tender. It's important to find the right arrangements. That's the key.
"The final piece in the show is 'We Wish You a Merry Christmas,' which features a wonderful arrangement by Gary Fry. It's a great send-off."
Video link for "Pops Goes the Holidays" — https://youtu.be/vLKReOZZgDI
The show at Rustin High School on December will start at 7:30 p.m. Ticket prices range from $50-$63.