By Denny Dyroff, Entertainment Editor, The Times
There is a six-mile stretch along Lancaster Avenue on Philadelphia's Main Line that has been a hotbed for top-flight music clubs for a long time – clubs that regularly present highly acclaimed national acts as well as respected local acts.
The stretch, which runs from Ardmore to Wayne, was previously home to clubs such as the venerable Main Point, 23 East Cabaret and The Point. It now features two venues in Ardmore – the Living Room and the Ardmore Music Hall – and one in Wayne – 118 North.
On Friday night, these three clubs will host a variety of interesting acts — Mike Zito at 118 North, Dan Navarro and Laura Mann at the Living Room and Eric Bellinger at the Ardmore Music Hall.
At 118 North (118 North Wayne Avenue, Wayne, www.118northwayne.com) blues ace Mike Zito will headline a show with the Jamie McLean Band as the opening act. Zito arrives in the middle of his "Rock N' Roll World Tour," which is named for his new album on Ruf Records.
While Zito has made a name for himself in the world of blues music, his new album has a different direction. Zito's "Rock N Roll: A Tribute to Chuck Berry" was released on November 1 and quickly rose to #1 on the Billboard Blues Chart.
Featuring 21 guest guitarists honoring the Berry including Joe Bonamassa, Walter Trout, Eric Gales, Robben Ford, Richard Fortus, Sonny Landreth, Luther Dickinson, Albert Castiglia, and Anders Osborne. Also performing on the album is Charles Berry III, Berry's grandson. The album is produced by Zito and was recorded at his Marz Studios.
"I grew up in St. Louis," said Zito, during a phone interview last week as he was driving from Illinois to a gig in Nashville.
 "Chuck was from St. Louis and I lived there for 32 years. When I was young, I worked at a small musical instrument store in a record store and Chuck used to come in there.
"Being away from St. Louis for the last 17 years, I wanted to do something about St. Louis. If you're a musician from St. Louis, you have to learn to play Chuck Berry and learn how to play the blues. So, I decided to do a Chuck Berry tribute and add the guitarist aspect. I've had the idea for the last four years."
Berry is unquestionably the city's most famous musician.
According to Zito, "He was an icon, and rightfully so. I've been playing his songs since I was a kid. Needless to say, he was a tremendous influence on my career, and, of course, on many other musicians' as well."
Making an album like the one Zito has just released provided special challenges.
"I recorded the album without the guitarists initially," said Zito. "I decided how much space to leave for the guitar and then had to send off the tracks to the different guitarists. I could never bring them to my studio to record live because they're always on tour playing all over the country.
"The best way to do it was to accommodate them as much as possible. I'd send them a track and say – send it back in four or five months. I went into this knowing I'd need a big window.
"As the songs came back, I had to re-record my parts to make sure the intensity was the same. In the end, it sounded like we were in the studio together. I'm pretty proud of the production. The album was completed at the end of July."
Zito began playing guitar at the age of five, and by the time he reached his late teens, he was already a fixture on the local St. Louis music scene. He initially released his music independently and then signed with Eclecto Groove Records in 2008. "Pearl River," the title track of his 2009 album for the label, won Song of the Year at the Blues Music Awards and marked his first collaboration with Cyril Nevill, with whom he'd later work in the Royal Southern Brotherhood.
A steady succession of critically acclaimed albums followed, culminating in 2011's "Greyhound," which was nominated for Best Rock Blues Album at that year's Blue Music Awards ceremony in Memphis. Two years later, he signed with Ruf Records and released "Gone to Texas," the story of how he gained his sobriety, offered an emotional homage to the state that left an indelible imprint on his entire life. It also marked the debut of his band, the Wheel.
​From 2010-2014, Zito also played an integral role in the super group of sorts, Royal Southern Brotherhood. The group released two albums and a DVD — "Songs from the Road – Live in Germany," which was winner of the year's Blues Music Award for Best DVD.
Zito recently launched his own new label, Texas-based Gulf Coast Records, which counts among its artists, Albert Castiglia, Billy Price, Jimmy Carpenter, Tony Campanella, Diana Rein, The Proven Ones, Kid Andersen, and others to be announced. But, he stayed with Ruf Records for his solo work.
But, for right now, Zito's focus is playing the music of one of America's rock-and-roll legends.
"The best thing about making this record was going to the lyrics," said Zito. "Chuck Berry was a genius. He was an amazing writer whose songs told great stories and were really catchy."
Video link for Mike Zito – https://youtu.be/Bbxcj29b5Iw.
The show at 118 North will start at 8:30 p.m. Tickets are $20.
Dan Navarro is no stranger to area fans. As a solo artist, he has played a number of gigs in the area over the last few years including shows at Kennett Flash and the Living Room (35 East Lancaster Avenue, Ardmore, https://thelivingroomat35east.com), which is owned by Laura Mann, the show's opening act.
"I love the place that Laura has created (the Living Room)," said Navarro, during a phone interview last week from his home in Los Angeles.
"For this show, she's the opening act. And she'll be joining me onstage for a song we did together – 'Satisfied,' which is on her new record. We wrote it together about six months ago.
"She's got a great venue. It's not an easy thing to do but she's made it work. I've played there at least three times and sold it out every time."
Navarro became familiar to a lot of listeners not so much as a solo artist but more as one-half of the popular duo Lowen & Navarro.
Lowen & Navarro was a songwriting team composed of David Eric Lowen and Dan Navarro, who met in Los Angeles, California, in the 1980s.
They wrote the song "We Belong," which became a major hit for Pat Benatar in 1984.  They became active as a performing group in 1987. In 1990, they began to release a number of records of their own, including "Learning to Fall" and "Purpose."
In March 2004, Lowen was diagnosed with amyotrophic lateral sclerosis (ALS), also known as Lou Gehrig's disease. Because of compromises to his playing and singing, Lowen ceased touring.
The duo played its last shows in June 2009. Lowen died of complications of ALS on March 23, 2012 at the age of 60.
After a career spanning decades and a dozen albums with Lowen & Navarro, Navarro is releasing his first true studio-recorded solo album this spring – "Shed My Skin." Recorded and produced by Steve Postell, the album features Navarro (vocals, guitar, percussion) along with Postell (guitars), Jon Ossman (upright bass), Brendan Buckley (drums), Peter Adams (piano), Phil Parlapiano (accordion), David Glaser (mandolin), and Debra Dobkin (percussion).
"I was determined to write everything alone," said Navarro. "It took some adjusting after writing for 20 years in a partnership. I went in with the 12 songs we used. The 12 songs include eight originals, a few obscure covers and a standard thrown in."
Navarro's career started as a songwriter — most often with Lowen — for artists as diverse as Pat Benatar, The Bangles, Jackson Browne, Dave Edmunds, The Temptations, Dionne Warwick, The Triplets, Marco Borsato, and Rusty Weir.
"I've been in L.A. since high school," said Navarro. "I grew up in Calexico (CA) and went to UCLA to study music. I moved to L.A. in 1969. I'm 66 and I'm still living here.
"The thing about this run, it's not a comeback tour. It's what I do – and I keep doing it. I still have the energy to tour and do the drive. It's just me.
"About 90 per cent of my shows are just me. It maximizes the finances. And, it's easier to move around. I'm playing folk clubs, so I can get away with solo shows. And, I never need to rehearse."
Navarro has transitioned smoothly into a busy solo career over the past decade, touring nationally almost constantly.

He has a parallel career as a voice actor and singer in films such as "Pirates of the Caribbean 5," "The Book Of Life," "Rio," "Happy Feet," and "The Lorax" and TV work on variety of shows including "Family Guy" and "American Dad."
"I've been doing solo work for 10 years now and I've got it down," said Navarro. "I do close to 100 dates a year. I don't see any need to retire.
"I do have to find new things to say. Our generation has to find a way to stay relevant. To do that, you have to say something worth hearing. I'm not trying to be hip – but, I want to remain relevant."
Video link for Dan Navarro – https://youtu.be/H_uZGnqFlUc.
The show at the Living Room, which also features Laura Mann, will start at 8 p.m. Tickets are $30.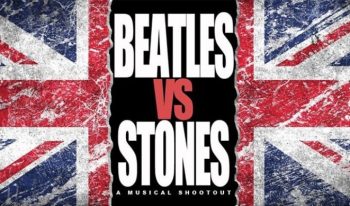 At the Keswick Theater (291 N. Keswick Avenue, Glenside, 215-572-7650, www.keswicktheatre.com) on Friday night, there will be a show featuring a "Battle of the Bands." But it won't just be any bands – it will be the Beatles and the Rolling Stones (sort of). The show is billed as "Beatles vs. Stones – A Musical Showdown."
The debate between the Beatles and the Rolling Stones has been going on ever since they first crossed paths on the charts 54 years ago. The argument at the time, and one that still persists, was that the Beatles were a pop group and the Stones were a rock band.
In a modern-day alternate universe, these two legendary bands will engage in an on-stage musical showdown courtesy of tribute bands Abbey Road and "Satisfaction – The International Rolling Stones Show. "
Taking the side of the Fab Four is Abbey Road, one of the county's top Beatles tribute bands. With brilliant musicianship and authentic costumes and gear, Abbey Road plays beloved songs spanning the Beatles' career.
With their tight harmonies, flawless note for note renditions of Beatles hits, custom–tailored costumes, vintage instruments, Liverpudlian dialect and precise attention to every detail, Abbey Road has honed their show to become one of the most musically and visually satisfying Beatle tribute acts in the world. Abbey Road recreates the magic, music, wit and charm of the Beatles, including the Fab Four's cheeky personalities, familiar onstage banter and patter between songs.
"Both bands on this show are separate functions entirely," said Abbey Road's Ringo Axel Clarke, during a phone interview Tuesday from a tour stop in Baltimore.
"We're from Southern California. A few years ago, we experimented with a Beatles vs. Stones show but didn't find what we were looking for here.
"We decided it was a good project. We searched for the best Stones cover band and got this band — Satisfaction – The International Rolling Stones Show – to come to SoCal. Now, we've been touring with them for almost five years."
The Abbey Road Band faces off against renowned Stones tribute band "Satisfaction – The International Rolling Stones Show."
faithful rendition of the music and style of Mick Jagger, Keith Richards and the bad boys of the British Invasion. This international touring tribute show to the Rolling Stones is entering its 18th year in production with over 3500 performances to date.
Performing up to 150 shows a year, this music act showcases the most authentic cast and costuming of its kind. The lineup of Stones tribute performers brings a colorful performance to over 50 years of classic hits. The cast now has four successful projects including "A Symphony For The Devil" and "Beatles vs. Stones-A Musical Showdown."
The project was put together by Chris LeGrand, who also plays the role of Mick Jagger.
"This is the 20th year for 'Satisfaction/The International Rolling Stones Tribute Show,'" said LeGrand, during an interview from Baltimore.
"I put the show together in the Dallas-Fort Worth area. It took a while to find the right group of musicians. So, it started small as a nightclub act. Now we do 125-150 shows a year so it's a very demanding schedule. I never saw a Stones show doing 100-plus shows a year."
The bands alternate time on stage as the 'battle' evolves – each with three mini-sets.
"The Beatles had three distinct eras," said Clarke. "The first was the Ed Sullivan time up to the 'Rubber Soul' album. The second was 'Sgt. Peppers' and the third was the era of 'Abbey Road' and the 'White Album.'"
 "Satisfaction/The International Rolling Stones Tribute Show" looks at the Stones career from the early 1960s to the start of the 1980s.
"Our first set in the 1965 era with Brian Jones in the band," said LeGrand. "The next set is 1969-1972 – the Mick Taylor years. The third part is the Ron Wood era from 1975-1981."
The show offers fans a chance to travel back in time to London in the 1960s and 1970s. During the two-hour show, the bands perform three sets each, trading places in quick set changes and ending the night with an all-out encore involving both bands.
According to LeGrand, "Music fans never had a chance to see the Beatles and the Rolling Stones perform on the same marquee. Now, music aficionados can watch this debate play out on stage."
Video link for "Beatles vs. Stones – A Musical Showdown" — https://youtu.be/ibGtk0WbDbY
The show at the Keswick will start at 8 p.m. Ticket prices start at $38.50