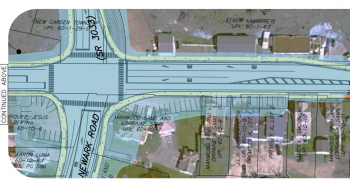 In an effort to advance the newly adopted 2018 Comprehensive Plan, New Garden Township applied for and was awarded a grant through the DVRPC Transportation and Community Development Initiative to fund the engineering of a Streetscape and Transportation Improvement Plan in the Village of Toughkenamon. The Township advertised for interested residents and business owners to form a committee  to guide the streetscape plan, identify  ways to improve transportation and mobility in the Village, and  enhance  aesthetics, housing diversity, and investment.
The committee has worked together, over the past 10 months, towards the creation of a final plan that will enable a mixed-use business corridor along Newark Road, Baltimore Pike and Main Street and that is focused on  sidewalks, ADA considerations, safe routes to public transportation, crosswalks, pedestrian amenities, landscaping, a park, and overall beautification of the Village.  The plan is intended to attract investors, visitors, and economic growth, as well as making the village safer and more livable for residents.
We invite you to join us and review the draft plans and provide your feedback.  Prior to the next committee meeting there will be an Open House from 5:30pm to 6:30pm on December 9th, for residents to review recommendations and discuss concepts, one-on-one, with our consultants.  If you are unable to attend, please find the same information HERE and submit written comments to New Garden Township, 299 Starr Road, Landenberg, PA 19350 or office@newgarden.org no later than December 18th.
Thank you for your interest and we look forward to seeing you on December 9th at 5:30pm.
History of Toughkenamon
Toughkenamon's earliest recorded history dates to an 18th century surveyor's map identifying the valley between two ridges as "Doch ran amon." According to 19th century accounts, Dochranamon is the literal representation of the Lenape word, "firebrand," and was affixed to the area based on Native American legends, legends about repelling an invading tribe by using firebrands.  Firebrand, wooden torches, may also have been used for signaling allies on neighboring promontories. The origin of the name is shrouded in mystery; it might even have been the name of the tribe that inhabited the valley's northern high ground.
The name Toughkenamon became official in 1868, when a post office opened in the railway station.
Toughkenamon owes its genesis to the coming of the Philadelphia and Baltimore Railroad; it was in fact a railroad town. Prior to 1852, there were only five buildings clustered around the intersection of Newark Road and the Baltimore Pike. There were three houses, Warner Paxson's general store and a tavern known as the Hammer & Trowel. From these modest beginnings, Toughkenamon began to grow; 14 houses went up in 1860, and in 1870, the population numbered about 300 persons.
One man, Isaac Slack, is generally acknowledged to be the "Father of Toughkenamon." In 1852, knowing that the railroad was to come through the valley; Slack began to buy land and build houses. In 1855, he purchased a farmstead of 132 acres south of Baltimore Pike; here he built a brick wheel and spoke factory, a stone steam powered sawmill, and houses for his workers.  For Slack's enterprises to succeed he needed to encourage the railroad to make a regular stop. Slack built a station, installed a water tank and deeded the surrounding land to the railroad. By 1863, trains were carrying ship timbers to Boston and thousands of handles for axes, picks and hatchets were being shipped to Philadelphia and New York. Orders for spokes and carriage wheels were coming from all across the country.
Slack's small tracts soon sprouted a flour and feed mill, blacksmith shop, wheelwright shop, broom factory, saddle and harness shop, feldspar mill, a creamery and a brick yard. The amenities of a village followed: Hannah Cope opened a private day and boarding school in 1868 and in 1877, a public school house was built. Harry Owens purchased and enlarged the general store in 1872, a Presbyterian church was established in 1874, and not to be outdone by other towns, Ed Yetter laid down a half-mile racetrack in 1875. Telephone service came to the village in 1885; electricity with streetlights followed in 1893, and in 1905, a trolley was built along Baltimore Pike from Kennett Square to Oxford.
If in the period up through the mid-1880's Toughkenamon's economy depended on Slack's factories, after 1882, Sharpless' Creamery was the big business in town. Making cottage cheese and butter, it processed between 3000 and 5000 pounds of milk daily. By the early and mid-20th century, however, the town's economy was tied to the mushroom industry with a basket factory, mushroom supply houses and Losito's mushroom cannery providing jobs. Many families of Italian descent replaced the Scotch-Irish workers of Isaac Slack's day. Gradually, the town became a country village with homes, the Presbyterian Church, DiFilippo's general store, Martelli's bakery, a barber shop, the post office, and a few businesses to support the mushroom industry. Then, toward the end of the century Toughkenamon's demographics again shifted; Hispanic families, many of them mushroom workers, began to move to the village making their homes in houses built more than a hundred years ago.   – History provided by: Dr. Margaret Jones