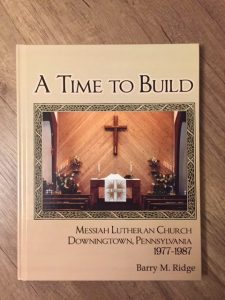 The Rev. Barry M. Ridge has published a book about the building of Messiah Lutheran Church, 46 W. Lancaster Avenue, Downingtown. Pastor Ridge served the congregation from 1977 to 1987. Messiah's current building, which was dedicated in 1986, replaced an earlier building at the same location.
A Time to Build is a collection of sermons and photographs tracing Messiah's adventure in building: from early discussions about the congregation's future, to  buying and renovating a Parish House, to the purchase of the shopping center adjoining the old building, to the construction of a new building and the demolition of the old one.
Pastor Ridge presented a copy of the book to the congregation at the Sunday services on September 22. Messiah's current pastor is the Rev. Timothy Knauss. Pastor Ridge and his wife, Hope, are retired and living in Gratz, Pennsylvania.
Copies of A Time to Build are available through the author for $20. Please send your name and mailing address to Pastor Ridge at hridge@epix.net, or write to him at P.O. Box 148, Gratz, PA 17030.