By Denny Dyroff, Entertainment Editor, The Times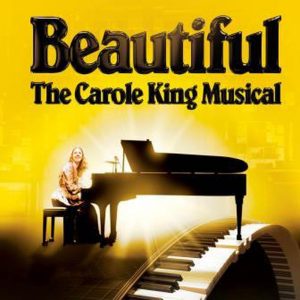 For more than a century, many beautiful national touring productions of Broadway shows have been presented at The Playhouse on Rodney Square (10th and Market streets, Wilmington, Delaware, 302-888-0200, www. duponttheatre.com), which formerly has been known as the DuPont Theatre and the Playhouse Theatre.
This week, the theater in downtown Wilmington will present another beautiful show — "Beautiful: The Carole King Musical." The jukebox musical is running from November 14-17.
Here are some songs that you almost certainly know — "Some Kind of Wonderful," "Will You Still Love Me Tomorrow?" "It's Too Late," "You've Got a Friend," and "I Feel the Earth Move."
But you may not know what links these familiar songs together.
All these classic hits were written by Carole King and Gerry Goffin.
Do you know what bond links these familiar songs — "On Broadway," "Make Your Own Kind of Music," "Walking in the Rain," "We Gotta Get Out of This Place" and "You've Lost That Lovin' Feeling."
All these classic hits were written by Cynthia Weil and Barry Mann.
These 10 songs and a whole lot of other all-time great pop songs are featured in the lively musical "Beautiful: The Carole King Musical."
"Beautiful: The Carole King Musical" tells the inspiring true story of King's remarkable rise to stardom — from being part of a hit songwriting team with her husband Gerry Goffin, to her relationship with fellow writers and best friends Cynthia Weil and Barry Mann, to becoming one of the most successful solo acts in popular music history.
The hit show is a jukebox musical with a book by Douglas McGrath that looks at the early life and career of King using songs that she wrote with Goffin along with other contemporary songs by Mann, Weil, Phil Spector and others.
The original production of "Beautiful" had its world premiere at the Curran Theatre, San Francisco in October 2013. It made its Broadway debut at the Stephen Sondheim Theatre in January 2014.
In the national tour, Kennedy Caughell plays King, James D. Gish plays Goffin, Kathryn Boswell plays Weil and James Michael Lambert plays Mann.
"The Broadway production just closed a week ago," said Gish, during a recent tour stop in Poughkeepsie, New York.
"We're the only production of this show right now. This national tour has been out for four years. This company has only been out for a month-and-a-half.
"It's staged slightly differently and has an all-new cast except for two cast members. They brought me in for an audition in May. I had auditioned once before a long time ago.
"I was familiar with the show – and familiar with the music. It was he music I was raised on. It was all my parents listened to. I actually didn't get into current music until I was in college."
Gish grew up in the small town of Bullhead City, Arizona, where he discovered his passion for music and live performance. He then put himself through business school at the Barrett Honors College of Arizona State University by performing in productions culminating in over 400 performances.
Gish's sound has taken him all over the U.S. in a variety of concerts and theatrical engagements alike. He moved to Nashville to produce his debut album with DW Music at Warner Brothers Studios – an album that featured a 53-piece orchestra and full supporting choir. His solo classical crossover album, "So In Love," hit the Top 10 on iTunes for the full week of its release.
"My audition songs for this show were 'Take Good Care of My Baby,' and 'Pleasant Valley Sunday,'" said Gish. "It's really cool and special to sing pop songs because I've worked mainly with classical music as a tenor. My last show was the National Tour of 'Les Miserables.'"
Audiences love Carole King's music and love to hear it played live. On top of that, they get to hear the story of the pre-"Tapestry" Carole King. They learn a lot about a songwriter's life in that era — going to an office building like the Brill Building every day to write songs. This show is based at 1650 Broadway.
On his website, rock music legend Al Kooper wrote, "The greatest writers of the early-'60s — Carole King and Gerry Goffin, Barry Mann and Cynthia Weil, Howie Greenfield and Neil Sedaka, Jack Keller and Helen Miller — were all signed to the same publishing company. It was called Aldon Music and it was named after its two partners Al Nevins and Don Kirshner.
"Songs like "Will You Love Me Tomorrow," "You've Lost That Lovin' Feelin," and "Up On The Roof" poured out of this genius monopoly like water from the tap. The Brill Building's finest moments were in the '40s and late '50s at best. The Brill Building was a throwback to the past and the original Tin Pan Alley.
"The rents were high, and so the embryonic music business minions of the early '60s flocked to 51st and Broadway to the renovated building with the reasonable, competitive rents known as 1650 Broadway. That's all it was called. It wasn't "The ______ Building." And while it was only 1650 Broadway, the brilliance of pop and soul music birthed there hides in revisionist anonymity."
Gish said, "This show sheds some very due light on Carole King and these other great writers. Carole King was the backbone of pop music in her generation.
"I like playing Gerry Goffin because there are a lot more layers to him than a lot of other characters in musical theater. Gerry Goffin had a lot of inner demons.
"I had no idea that he struggled so much and that his life was so hard. He had electro-shock treatments for most of his life."
Audiences of this show not only get to hear this array of great music but also have the opportunity to see what went on in the lives of the people responsible for it.
"This show is so uplifting," said Gish. "It's happy and energetic – and it has a great ending."
Video link for "Beautiful: The Carole King Musical" – https://youtu.be/IIz5Z2mAe5k.
Ticket prices for "Beautiful: The Carole King Musical" start at $75.
Another interesting stage production has arrived for an extended stay in the area. Now through December 8, the Arden Theatre is presenting "Tiny Beautiful Things" at the Arcadia Stage (40 North Second Street, Philadelphia, Ardentheatre.org).
Based on the book by Cheryl Strayed, "Tiny Beautiful Things" explores Strayed's time as the anonymous advice columnist, Dear Sugar. While navigating her readers' questions and pleas for advice, Strayed weaves together her own personal experiences and finds the courage to create a column full of light, laughter, and humanity.
Strayed's best-selling book, which collects the highlights of The Rumpus's "Dear Sugar" advice columns, is loved for its insight, humor, and compassion. Nia Vardalos, the star of "My Big Fat Greek Wedding," along with Marshall Heyman and Thomas Kail, co-conceived a stage version inspired by Strayed's beloved book.
The play personifies the questions and answers that "Sugar" was publishing online from 2010-2012. When the struggling writer was asked to take over the unpaid, anonymous position of advice columnist, Strayed used empathy and her personal experiences to help those seeking guidance for obstacles both large and small.  A NY Times Critics Pick, the play was called "a theatrical hug in turbulent times" by Variety.
The Arden Theatre Company production will feature noted Philadelphia actress Emilie Krause, who is performing in her seventh Arden production, as Strayed, with Akeem Davis, Joilet Harris, and Bailey Roper rounding out the company. "Tiny Beautiful Things" will also mark the Arden directorial debut of director Maura Krause, known for her work at Oribter 3, InterAct Theatre Company, and others.
"This is my first show with the Arden Theatre," said Maura Krause, during a recent phone interview from her home in West Philadelphia.
"I had directed a show – 'Boycott Esther' – at the Azuka Theatre.
"Terry Nolan (Arden Theatre Producing Artistic Director) came to see it and was excited enough about the direction to talk to me. We were on the same page and he offered me this job.
Krause is an award-winning director, creator, and producer of new work. She was the Artistic Director of Barrymore Award-winning company Orbiter 3, Philadelphia's first producing playwrights collective, as well as a National New Play Network Producer-in-Residence at InterAct Theatre Company.
Krause has also worked with the Samuel French Off-Off Broadway Festival, Woolly Mammoth Theatre, EMP Collective, PlayPenn, Arcadia University, Philadelphia Young Playwrights, and Tiny Dynamite, among others.
Selected recent projects include "Boycott Eshter" (Azuka Theatre), "Red Ash Mosaic" (Cleveland Public Theatre), "Breathe Smoke" by Douglas Williams (Orbiter 3), "Tilda Swinton Adopt Me Please" (The Greenfield Collective), "This Is On Record" (Applied Mechanics), and "Now More Than Ever" by Val Dunn (independently produced).
"I'm actually a big fan of Cheryl Strayed," said Krause. "She wrote the book, 'Wild,' and I loved that book. It came into my life at a perfect moment. But I wasn't familiar with 'Dear Sugar.'
"I think she's a beautiful writer in a way that redefined vulnerability. She demonstrated that one of the ways you can communicate with people who are vulnerable is to delve into your own experiences – to tell people that pain is something you have to sit in and I'll."
sit in it with you. She makes people feel less alone.
"Now, I've read some of her 'Dear Sugar.' The book is just a collection of selected letters and columns from the internet. It included a lovely intro into how Cheryl Strayed got into 'Dear Sugar' – how she agreed to being Dear Sugar and how it opens her up."
This play has its biographical aspect and also psychological aspects.
"The play is about Strayed finding her voice and about the people who write to her and share a space. It's abstract but there is a through line that condenses it into a metaphysical day. The script is extremely generous."
Video link for "Tiny Beautiful Things" — https://youtu.be/ZnMcdZEfGCE.
The Arden Theatre production will run through December 8 at the Arcadia Stage. Ticket prices start at $18.
Another multi-night presentation coming to the area this week is not a theater production but rather a pair of rock concerts.
On November 13 and 14, Taking Back Sunday is bringing its 20th anniversary tour to Franklin Music Hall (421 North Seventh Street, Philadelphia, https://www.bowerypresents.com/greater-philly/shows/franklin-music-hall)
The shows are part of the band's year-long anniversary celebration that has the internationally celebrated mainstream rock band touring the world and supporting the recent release of a 21-song career-spanning compilation (featuring two new songs), titled "Twenty."
On this tour, Taking Back Sunday — Adam Lazzara (lead vocals), John Nolan (lead guitar, keyboards, vocals), Shaun Cooper (bass guitar), and Mark O'Connell (drums) — will be performing its debut album "Tell All Your Friends" in its entirety. For tour stops where the band is performing over two-nights, each nightly set will offer a double-album play. Using a specially designed coin, Taking Back Sunday will flip to play either "Where You Want To Be" or "Louder Now," in addition to "Tell All Your Friends."
In headline cities where they are playing only one night, they will perform "Tell All Your Friends," plus a selection of fan favorites from their extensive catalog. Obviously, the Philly tour stop will allow TBS fans to "double their pleasure, double their fun."
"Almost every city is two nights," said Cooper, during a recent phone interview from a tour stop in Orlando, Florida.
"We play 'Tell All Your Friends' and then flip a coin for the other album to be featured. It's been really interesting – and it keeps us on our toes. We play around a two-hour set but in one-city stops, it's about an hour and change.
"This year was a 20-year celebration. We're letting people know that we're really grateful for all the support they've given us for more than two decades."
Taking Back Sunday has the current four members – all of whom date back to the 1999-2001 era – along with a handful of former members. One of the former members is Coatesville's Fred Mascherino, whose current band is The Color Fred.
The band's first line-up change was in 2001 with the departure of bassist Jesse Lacey and drummer Steven DeJoseph who were replaced by current members Adam Lazzara and Mark O'Connell. Not long after, original lead vocalist Antonio Longo also departed from the band, leaving Lazzara on lead vocals duty. Being left without a bassist, Eddie Reyes brought in Shaun Cooper to play bass guitar for the band. Soon after the band headed to the studio to record and release their debut studio album, "Tell All Your Friends."
The band's second line-up change came when Nolan and Cooper announced their departure from the band in 2003. Nolan and Cooper were replaced by Mascherino and Matt Rubano, with Mascherino performing guitars and vocals, along with Rubano performing bass guitar. With a fresh line-up, the band went onto release two more studio albums – "Where You Want to Be" and major label debut, "Louder Now."
The band's third line-up change came in 2007 when Mascherino left the band to pursue his solo projects — The Color Fred and Terrible Things. He was replaced by Matthew Fazzi on guitars, keyboards, and vocals in 2008.
The next line-up change came in 2010 when Rubano and Fazzi announced that they were no longer members of Taking Back Sunday. Later it was announced that Nolan and Cooper had rejoined the band. With the reunion of the "Tell All Your Friends", the band went on to release "Taking Back Sunday,' "Happiness Is" and "Tidal Wave."
TBS's most recent line-up change came in 2018 when the band announced that it had parted ways with founding member and guitarist, Eddie Reyes
"Coming back in 2010, Mark and I had always been the closest friends since kindergarten," said Cooper. "Everybody from the original line-up got together to see if we had any chemistry left and if we were all on the same page. All awkwardness was gone in 30 minutes."
Now, the two-decade troopers seemed pumped and ready to move ahead on the next 20 years.
"The band is always going to keep going," said Cooper. "And. We'll never retire all the songs. We want to honor our history. Our last album was 'Tidal Wave' in 2016 and we'll have a new one soon.
"Currently, we're focusing on what will be the next step. We'll all get in a room together and work on new material. And, we also all write on our own. We have no idea what we'll do with the next album. Our influences just start showing themselves. We always want to try something that is new to us. We never start with a pre-conceived idea."
Video link for Taking Back Sunday – https://youtu.be/3FvVyMJMViQ.
The shows at Franklin Music Hall, which have Oklahoma City punk rock band Red City Radio as the opening act, will start at 8 p.m. Tickets are $35 each night.