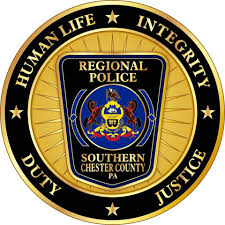 The Southern Chester County Regional Public Safety Commissioners announced Friday that the Intermunicipal Agreement between New Garden Township and West Grove Borough, originally adopted on July 6, 2016, received overwhelming support from both communities to renew the agreement, which ensures the continued operations of the Southern Chester County Regional Police Department through December 31, 2023.
According to a statement issued by the department, "This event marks another successful and noteworthy accomplishment, or undertaking, by the department in the past year.  From the creation of a School Resource Officer and Motor Carrier Enforcement program, the opening an Office of Accreditation, the expansion of police services into Avondale Borough, the opening of a new and modern police facility, the graduation of two officers graduating from the prestigious Command & Leadership Academy, and the introduction of body worn cameras for uniformed personnel, it has been an assertively progressive era in the Department's short-lived history."
The statement continues:
"The Commissioners, Management Team, and Command Staff give credit to a spirited environment of collaboration committed to providing a professional and affordable law enforcement service.  Our dedication is aimed at equipping our officers with the knowledge, skills, abilities to respond and react, and to problem-solve challenges originating from our partnered communities and region of influence."
For more information about this and other public safety activities, interested parties can go to the department's Website: www.newgarden.org/southern-chester-county-regional-police or at the Crime-watch page www.sccrpd.org, Facebook or on Twitter at @1SCCRPD.