By Denny Dyroff, Entertainment Editor, The Times
This weekend, there are more Halloween events than you could imagine – big and small, near and far, inexpensive and costly, family-friendly and really scary. If you can't find something you like, then you better erase Halloween from your list of annual holidays to celebrate.
One of the most ambitious area Halloween attractions is "The Glow: A Jack O'Lantern Experience" (www.theglowjackolantern.com).
"The Glow," which runs now through November 3.
This is a family-friendly, immersive Halloween stroll along a trail illuminated by more than 5,000 hand-carved jack o' lanterns.
The Halloween-themed happening will delight visitors as they are surrounded by thousands of intricately-carved pumpkins dangling from above and along the third-of-a-mile walk. In the pumpkin graveyard, guests will encounter black cats, ghosts and gravestones.
"The Glow" also illuminates some of Philly's most famous natives with pumpkin look-a-likes featuring sports figures, famous icons, superheroes and princesses.
"The Glow" is located in West Fairmount Park adjacent to the Mann Music Center on Parkside Avenue. Tickets start at $16.99.
 "Ghost Ship" (delawareriverwaterfront.com/ghostship), which is visiting Philadelphia's waterfront through November, is the first major installation in Delaware River Waterfront Corporation's ambitious new Waterfront Arts Program, which plans to bring a host of site-specific artworks to the waterfront alongside attractions like Cherry Street Pier and all the seasonal fun at Penn's Landing.
The haunting 18th-century ship, which is 90 feet wide and 50 feet tall, appears under the Benjamin Franklin Bridge, hovering over the water and looking every bit like a supernatural phenomenon that rose out of the depths of the dark river.
Estonia-based artist collective Biangle Studio created the three-dimensional work using light and jets of water, which make the ship look like it's moving as the wind blows and the water shifts. It is meant to be examined from many angles along the banks of the Delaware River.
Inspired by the nuanced and complex history of the Delaware River in the 1700s, Biangle Studio created the site specific, three-dimensional light and water-based public art installation. The 18th-century ship appears on the Philadelphia Waterfront as Ghost Ship for the month of October to shine a light on the shared history of the Delaware River, and reflect on its role in shaping Philadelphia today.
Ghost Ship will be visible Wednesday through Sundays now through November 3 from 7-10 p.m. each night at the Race Street Pier, which is located at Race Street and North Christopher Columbus Boulevard.
Video link for "Ghost Ship" — https://youtu.be/ZCr-kLwVHfk.
Admission is free.
"Hockessin Haunted House – The Manleyville Horror" will be held on October 25 and 26 from 7-11 p.m. at the Manleyville House (19 Nathalie Drive, Village of Manley, Hockessin, Delaware, hockessinhauntedhouse.org).
Guests will be escorted by a private guide through three floors of rooms and passageways of the Manleyville house where they will encounter the spirits and demons that reside within.
Participants will be able to visit the parlor, the library, the kitchen, a bedroom, and more. They can also venture poolside and see a witch's spell, experience paranormal activity, meet a mad undertaker in the embalming room, and participate in a séance.
Now in its 16th season, Hockessin Haunted House continues to terrorize the residents of northern Delaware and southern Pennsylvania with new storylines, scenes, and elements of horror each year. All proceeds benefit Comp Animals Pet Rescue – an all-volunteer, no-kill rescue that helps all animals in need and especially those that have found themselves on "Death Row."
Tickets are $7 for adults and $5 for children.
The 28th annual edition of "Haunted Hayride, Bates Motel and Haunted Corn Maze at Arasapha Farm" (1835 N. Middletown Rd., Gradyville, 610-459-0647,www.thebatesmotel.com) will be scaring visitors through October 31.
The haunted hayride through the woods features monsters, special effects and actors. The Bates Motel has haunted rooms with special effects and computerized lighting.
Another attraction is the "Revenge of the Scarecrow Haunted Trail." A haunted trail is cut through a cornfield inhabited by monsters.
New attractions this year are "Zombie Hunt" and "Double Edge Axe Throwing."
Admission prices are: Haunted Hayride, $20; Bates Motel, $15; Haunted Trail, $15; combination tickets, $40. There are reduced rates for children.
Chaddsford Winery (Route 1, Chadds Ford, 610-388-6221, www.chaddsford.com) is presenting its "Adult Trick or Treat" event every Saturday and Sunday through October 27. Tour Times Available at 11:30 a.m. and 1, 2:30 and 4 p.m.
Visitors will be able to "Trick or Treat" for wine and seasonal snacks at Chaddsford's wildly popular, adults-only Halloween program as they visit a variety of Halloween-themed pairing stations located throughout the Winery grounds.
The "Pairing Menu" features "Dante's Inferno" (Éclat Aleppo Chile Truffle + Hot Tamales candies with Sunset Blush + Tröegs Troegenator Double Bock), "Pumpkin Patch" (Scarecrow Slushie, garnished with a Halloween Peep + Warm Spiced Apple wine with a caramel Sugar Daddy Stirrer), "What Lurks Below" (Crab Mac N' Cheese with '17 Presage and Leviathan Wine Cocktail), "Mummies Tomb" (Garlic, Black Bean and Red Pepper Hummus Trio + Pita Chips with '17 White Standard + '17 The Red Standard), and "Zombie Yard" ("Dirt" Cupcake garnished with a Gummy Worm with '17 Harbinger + Chaddsford Red).
Advanced tickets purchased online are $25 and include the food and beverage pairings, as well as a Halloween-themed keepsake wine glass.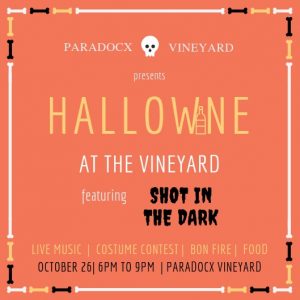 On October 26, Paradocx Vineyard (1833 Flint Hill Road, Landenberg, 610-444-9003, www.paradocx.com) is presenting its "Hallo-Wine Party" from 6-9 p.m.
The popular annual event will feature wine, local beers, a bonfire, prizes for the top three costumes and live music by Shot in the Dark.
Pennhurst Asylum (100 Commonwealth Drive, Spring City, 484-866-8964, www.pennhurstasylum.com), which is open through November 4, is on the site of a former mental asylum which has been shuttered for over a quarter of a century.
It has been transformed into a haunted attraction with huge sets, detailed rooms and live actors. Visitors can also explore the labyrinth of underground tunnels.
Tickets are $18 for each of the attractions with a variety of combo packages available.
"Boo at the Zoo" (Elmwood Park Zoo, Harding Boulevard, Norristown, www.elmwoodparkzoo.org) will be held October 26, and 27 and 28 from noon-3 p.m. each day.
"Boo at the Zoo" features live entertainment, costume contests, costume parades, trick-or-treat stations with candy, prizes, crafts and educational pieces.
Children are encouraged to bring their own treat bags for trick-or-treating. The zoo will not be providing any bags.
"Boo at the Zoo" is free with zoo admission, which is $17.95 for adults, $15.95 for students, $13.95 for children and $12.95 for seniors and children.
Corn mazes, along with hayrides, a pumpkin patch and scarecrows, will be featured at Ramsey's Farm (Ramsey Road, Wilmington, Delaware, 302-477-1499,www.ramseysfarm.com). The new season runs on weekends now through October 30.
Ramsey's "Pumpkin Patch" has been in operation since 1995 and the farm's varied mazes have been delighting and baffling visitors who return each year for the popular annual event. The owners of Ramsey's Farm raise pumpkins, gourds, ornamental corn, popcorn, feed corn and hay.
The farm's pumpkin field stretches over 12 acres and yields approximately 20,000 pumpkins each season. Hayrides around the farm will be offered from 11 a.m.-5 p.m. each day. Visitors will be able to shop for pumpkins and other items at the farm store. There will also be hot food and beverages available for purchase.
Tickets are $8 for the corn maze, $5 for the sorghum maze, $3 for the hay maze, $3 for pumpkin painting and $3 for a hayride.
"Hurricane Hill Farm Maze" (Baldwin's Farm, 704 East Reeceville Road, Coatesville, 610-384-6952, www.hhfmaze.com) will be open Saturdays and Sundays until November 3.
This event features miles of trails through acres of corn mazes along with a corn slide, hayrides, a pumpkin patch and a farm animal display.
The site's 2019 featured maze is a five-acre corn maze called "A Journey to Ancient Rome."
Tickets are $14.
There will be plenty of activity at Cherry Crest Adventure Farm in Ronks (150 Cherry Hill Road, Ronks, 717-687-6843, www.cherrycrestfarm.com).
The farm's popular annual "Flashlight Maze" is now underway and will continue every Friday and Saturday night through November 4. Cherry Crest Adventure Farm has reserved several weekends during the autumn months for Flashlight Maze.
This special activity allows visitors to experience the Amazing Maize Maze in total darkness. All you need are flashlights and a few friends.
The Flashlight Maze is a nice, non-scary, Halloween alternative that has appeal for people of all ages. The Flashlight Maze, which has a $12 admission fee, is open from 6:30-10 p.m. with the last entrance into the Maze at 9 p.m.
The main attraction is Cherry Crest's "Amazing Maize Maze," which is billed as "the world's most dynamic and interactive corn maze." It is a five-acre corn maze with over two-and-one-half miles of paths, scenic bridges, and clues.
Participants can walk at their own pace as they encounter the "Kernels of Knowledge" along with a variety of clues, tunnel slides, and watering stations. They can also check out a bird's eye view from the two bridges and watch everyone's flags waving high above the corn.
The average time to complete the "Amazing Maize Maze" course is one hour. Ticket prices start at $19.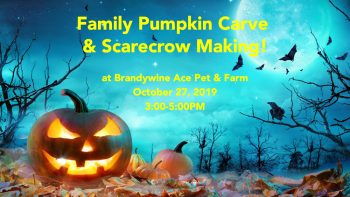 On October 27, there will be a family-oriented pumpkin event at Brandywine Ace Pet & Farm (1150 Pocopson Road, West Chester, www.acehardware.com/store-details/15574).
Guests are invited to join in at the annual "Family Pumpkin Carve & Scarecrow Making!" event.
Participants need to bring their own pumpkin and carving tools. The venue will supply the music, apple cider donuts and cider — and will clean up the mess.
The event will run from 4-5:30 p.m. on Sunday afternoon. Tickets are $5.
Winterthur Museum, Garden & Library (Route 52, Wilmington, Delaware, 800-448-3883, www.winterthur.org) is hosting "Ghost Tales & Spirits Night at Winterthur" from 6:30-9 p.m. on October 26.
Winterthur will have fun and eerie adult crafts to fill the evening along with wine, beer, and food available for purchase as well as non-alcoholic drinks.
Tickets are $435. The outdoor event will be held rain or shine. Visitors should come prepared to walk and be outside for part of the evening. Not suitable for ages 13 and under.
On October 26, the Colonial Pennsylvania Plantation (Ridley Creek State Park, Media, 610-566-1725, www.colonialplantation.org) is presenting "Lantern Ghost Tours."
Now in its fourth season, the Lantern Ghost Tours event runs from 6-9:30 p.m. each night in timed slots.
Space is limited, and tickets must be purchased in advance. Tickets for the regular ghost tours are $12. The event is recommended for people 10 and older. No pets are allowed.
Since 1974 the Colonial Pennsylvania Plantation has given visitors a glimpse of 18th- century Pennsylvania farm life. Visiting the Plantation is an educational experience that is unique and unforgettable – and even a little scary on special nights.
On October 27, Laurel Hill Cemetery (3822 Ridge Avenue, Philadelphia, 215-228-8200, https://thelaurelhillcemetery.org) is hosting "Fall Family Day: Halloween Picnic and Parade" from 1-3 p.m.
This Sunday, visitors can spend an autumn afternoon exploring the many wonders and mysteries of Laurel Hill Cemetery while celebrating Halloween. Fall fun for the family at Laurel Hill will thrill and chill both the young and old.
The cemetery's primary location overlooking the Schuylkill River will offer visitors majestic views of the colorful fall foliage and vibrant landscape along Kelly Drive. Activities will include a pumpkin patch, readings from the Storybook Fairy, crafts and hayrides throughout the grounds.
Guests can feast on festive snacks, available for purchase or bring their own picnics. Attendees are advised to wear comfortable clothes and shoes, and children are encouraged to show off their best Halloween costumes. This program is recommended for families with children ages 4-12.
The cost is $5 per person general admission. Tickets can be purchased at the door or in advance online.
Delaware Children's Museum (550 Justison Street, Wilmington, Delaware, delawarechildrensmuseum.org) is hosting a special activity called "Frank-N-Slime" on October 25.
The "spooky sensory event," which is slated to run from 5-8 p.m., showcases various programming throughout the museum featuring multiple kinds of slime, magical potion exploration, dry ice experiments, and "monster sensory activities." Kids will also be able to enjoy popcorn, apples and treat bag giveaways.
Costumes are highly encouraged but not required. Youngsters will have the opportunity to win free museum passes in the "DCM Costume Contest."
General Admission tickets are $9 with free admission for children 12 months and under. The museum's free parking lot is directly across the street from the restaurants' parking lots.
The Garden State Discovery Museum (2040 Springdale Road, Cherry Hill, New Jersey, 856-424-1233, www.discoverymuseum.com) is holding its Fifth Annual Halloween Hootenanny on October 26 from 6:30-8:30 p.m.
This Halloween Event, which has been designed especially for young children, is an evening of happily haunted surprises. The night will be filled with one-of-a-kind Discovery Museum fun including spooky crafts, inside and outside trick-or-treating, activities, music and fun for all.
Local families and businesses will be lined up and down the Discovery Museum parking lot with their Halloween themed cars and decorated trunks for families to go from trunk-to-trunk to get Halloween treats. Kids will also be able to bounce the night away in the moon bounce.
Inside, the Discovery Museum has been decorated in its Halloween best. On the Museum floor, each of the exhibits is decked out in a happily haunted manner. Kids can trick-or-treat from exhibit to exhibit and they will get anything from candy to Halloween tricks and goodies.
Admission to Halloween Hootenanny's inside and outside attractions is $20 for children and $5 for adults.
The Paws Discovery Farm (1105 Hainesport-Mount Laurel Rod, Mount Laurel, 856-778-8795, https://www.pawsdiscoveryfarm.com) will host "A PAWS Halloween" on October 26 and 27 from 11 a.m.-4 p.m. each day.
Visitors are invited to come to the site's "Paw-some Halloween Daytime event" to enjoy spook-tacular stories, witchy science, music, dancing, animal encounters, and much more!
On October 31, Paws Discovery Farm is hosting a "Sensory Friendly Halloween." From 10 a.m.-1 p.m., the farm features a sensory-friendly story time, Halloween crafts and trick-or-treating on the Farm.  Visitors are encouraged to come dressed in costume.
Admission to Paws Discovery Farm is $10 — $9 for senior citizens.
It's time once again for the Scarecrow Competition and Display at Peddler's Village (Routes 202 and 263, Lahaska, 215-794-4000, www.peddlersvillage.com). Hours are 10 a.m.-6 p.m. both days.
Visitors can stroll around the Village to see the Scarecrow Competition and Display, which showcases more than 100 creative and colorful scarecrows. The Scarecrows are on outdoor display through October 27.
The public is invited to vote for the winners. Ballots are available in all shops and restaurants. The ballot boxes are located in the Hospitality Center at the Cock 'n Bull, Giggleberry Fair, and Buttonwood Grill.
Linvilla Orchards (137 West Knowlton Road, Media, 610-876-7116, www.linvilla.com) is running full speed ahead with its 2019 edition of Pumpkinland.
The family-oriented activity features costumed characters, games and contests and live music.
Another attraction, which runs through October 30, is "Hayride to the Witch's House." Admission is free, and hayrides are $9 per person. There will also be "Harvest Hayrides" and "Autumn Moon Hayrides" starting later in September.
The 55th Annual Delaware County Halloween Parade will be held on October 26 starting at 1 p.m.
The popular annual event allows everyone to explore their inner kid with a variety of family-friendly freaky events and Halloween horrors.
The parade will feature floats, clowns, marching units, scouts, antique cars, bands, mascots, homecoming queens, cheerleaders and other groups.
The family fun event will be held along State Street in downtown Media.
On October 26, it will be time for the "Spooky Science: Trick or Treat & Haunted Museum" at the Ware Museum (North Museum of Nature and Science, 400 College Avenue, Lancaster, northmuseum.org).
The event features a spooktacular evening of thrills, chills, and good old-fashioned fun. Afterhours at the North Museum is Halloween fun for all. Visitors can sit by the campfire in the planetarium and listen to some stories including local lore and Native American tales about the stars.
Guests can take a flashlight scavenger hunt throughout the Museum and find some creepy, crawly, and uncanny collections along the way and stop by the Mad Scientist's Lab and learn how to make some terrifyingly fantastic potions.
The event will run from 6-9 p.m. Tickets are $9 for adults, $8 for seniors (65 and older) and juniors (ages 3-17).
The Pennsylvania Renaissance Faire (Pennsylvania Renaissance Faire Shire, Mount Hope Estate and Winery grounds, Route 72, Cornwall, 717-665-7021,www.parenfaire.com) is hosting its "Halloween Daze & Spooky Knights III" event on October 26 and 27. It will also be a "Royal Dog Days" weekend.
From 11 a.m. until 8 p.m. each day, the huge faire will celebrate Halloween.
Three weekends of mystery and mayhem kick off this weekend as spooky creatures of every variety haunt the Shire. Visitors can join the good Shirefolk of Mount Hope for a grand All Hallows Eve celebration, complete with tricks and treats for children of all ages.
Featured events include "Scratchy's Pumpkin Decorating," "Halloween Treasure Hunt," "Nipperkins Costume Exhibition" (ages 11 and under), and "Adult Costume Competition."
With Royal Dog Days, His Majesty has issued an invitation to the lover of dogs to join him and the Royal Hounds upon the Fairegrounds Saturdays and Sundays in September.
Admission is $31.95 for adults and $11.95 for kids ages 5-11.
Now through October 31, the Academy of Natural Sciences of Drexel University (1900 Benjamin Franklin Parkway, Philadelphia, 215-299-1000, www.ansp.org) is hosting an event called "Halloween in Outside In."
For seven days, the animal enclosures in Outside In will get a festive fall makeover. The Academy's animals will revel in enrichment.
Visitors will be able to check out some live animal trick-or-treating at 1 p.m. every day.
They might see a snake slither around a pumpkin, a rat nibble a jack-o-lantern, or a tarantula scramble over a set of vampire fangs. They might see an armadillo bob for apples, or watch a bunny go trick-or-treating.
Keepers develop tailored enrichment plans to keep the animals happy and healthy. One day, a parrot might enjoy special music, a bunny will play with new toys, or the raptors will soak up "rain" during a power wash of their enclosures. The rain encourages the birds to preen their feathers as they would in the wild.
These enrichment activities prepare the animals for the spotlight. With help from Academy teacher naturalists, the animals teach visitors about endangered species, habitats, exotic pet challenges, city animals, and backyard creature.
Admission to the Academy is $22 for adults, $19 for seniors and $18 for children.
Fright Factory (2200 South Swanson Street, Philadelphia, frightfactory.tv) is open now through November 2.
Fright Factory is a 25,000-square-foot haunted house located within a 110-year old building in South Philadelphia.
The Halloween-themed site features three attractions – "Industrial Nightmare," "Silent Screams Asylum" and "Fright Factory Unearthed."
The attraction opens at 7 p.m. each night with tickets priced at $25 and $30 depending on the date.
"Terror Behind the Walls" (Eastern State Penitentiary, 2124 Fairmount Avenue, Philadelphia, 888-763-NITE, www.easternstate.org), will celebrate the new season with its opening weekend that starts today.
The truly scary attraction, which is running through November 10, takes place at a penitentiary site that was once was an active prison and is now a National Historic Landmark. It is a scream-inducing event featuring laser and special-effect lighting, digital sound, sinister scents, animatronic creatures and 3-D illusions.
Popular attractions include "Blood Yard," "Infirmary," "Machine Shop," "Lock Down," "Break Out!," and "Quarantine 4D."
Admission prices, which vary with the date, range from $19-$45.
On October 31, Mütter Museum of The College of Physicians of Philadelphia (19 South 22nd Street, Philadelphia, http://muttermuseum.org/) will host its "Fifth Annual Annual Mischief at the Mütter + Costume Contest" – an event that allows guests to enjoy drinks from an open bar and view the museum's scientific and frequently grotesque collections – including a variety of body parts.
Visitors can enjoy the Halloween beer garden which includes full access to the Mütter Museum, DJ Brickhouse, specialty kegs in the garden, and unlimited snacks with your ticket.
Costumes strongly encouraged! This year will mark the First Annual Mütter Costume Contest — with fabulous Mütter prizes.
There will be special surprise performances throughout the evening and guests will have a chance to sign up for a tarot reading with Queen of Wands tarot.
This event is "21+ only." Tickets are $50.
"Candlelight Ghost Tours" (Fort Mifflin, Fort Mifflin and Hog Island roads, Philadelphia, 215-685-4167, http://fortmifflin.us) are scheduled for October 25 and 31.
Visitors can tour historic (and haunted) Fort Mifflin by candlelight from 7-10 p.m. each night (6:30-8:30 on October 31) and hear true stories of ghostly encounters. This event is billed as an "authentic experience."
Tickets are $20 for adults and $15 for children (12 and under).
East Passyunk Avenue Business Improvement District (www.visiteastpassyunk.com) presents a double dose of spooktacular fun with free activities for the kids, adults and even dogs. The Eighth Annual East Passyunk "Fall Fest and Spooky Saturday" will be held on October 26 from 11 a.m.-4 p.m.
The free family event will feature a child and dog costume contest, live music, pumpkin painting, free treat bags for the first 400 children, street food and seasonal cocktails, maker and craft fair around the Singing Fountain, trick or treating along East Passyunk and a DJ and dance party.
Most activities will be held at the Singing Fountain (East Passyunk and Tasker), with select activities to be held at Mifflin Triangle (East Passyunk and Mifflin) and a scarecrow scavenger hunt all along the Avenue.
South Street Headhouse District (www.southstreet.com) will host its annual Halloween festivities on October 26. "PumpkinFest" and South Street trick-or-treating will be held from noon-5 p.m. at the Historic Headhouse Shambles.
PumpkinFest highlights for this year include: free neighborhood trick-or-treating at dozens of businesses, performances from Philadelphia School of Circus Arts, costume contests, magic with Mystique the Magician, pumpkin putt-putt golf, pumpkin decorating, hay wagon rides, pumpkin pie eating contest, straw hay bale maze, seasonal  bites and holiday inspired craft vendors and a winter coat charity drive.
The event will be held rain or shine.
Ghost Tour of Philadelphia (215-413-1997, www.ghosttour.com), Ghost Tour of Lancaster (717-687-6687, www.ghosttour.com) and Ghost Tour of Strasburg (717-687-6687,www.ghosttour.com) operate through November and offer an eerily entertaining evening of true ghost stories and real haunted houses.
The Ghost Tour of Philadelphia is a candlelight walking tour along the back streets and secret gardens of Independence Park, Society Hill, and Old City, where ghostly spirits, haunted houses, and eerie graveyards abound. Tickets are $20.
Participants in the Ghost Tour of Lancaster explore the long-forgotten mysteries of one of America's oldest cities, with haunting tales of otherworldly vigils, fatal curses, and star-crossed lovers. The tour provides the opportunity to experience 300 years of haunted history from the Red Rose City's thorny past. Tickets are $18.
The Ghost Tour of Strasburg is a candlelight walking tour of the quaint and historic town of Strasburg in the heart of Pennsylvania Dutch Country. Visitors will experience an entertaining evening with a costumed tour guide spinning tales of haunted mansions, eerie graveyards, and spirits that roam the night … in a town lost in time. Tickets are $18.
Shocktoberfest (94 Park Avenue, Sinking Spring, 610-375-7273, shocktoberfest.com) has transformed into "Zombie World Theme Park" where, for the first time anywhere in the world, guests can view an array of natural and genetically engineered Zombies in a safe and controlled habitat.
"Schockfest Zombie World" is celebrating its 28th Year with eight "Killer Experiences" — "Zombie Safari Haunted Hayride," "Prison of the Dead," "The Unknown 2.0," "Almost Naked and Scared Challenge," "Ground Assault: Zombie Laser Tag," "Zombie Night Run," The Zombie Experience," and "Monster Midway."
Other premium attractions are "Zombie Paintball Hayride," "Prison of the Dead Escape," and "Shock's Tailgate Party."
The attraction will close on November 9. Ticket prices range from $20-$70.
Dutch Wonderland Family Amusement Park (2249 Route 30 East, Lancaster, 866-386-2389, www.dutchwonderland.com) is hosting its "Happy Hauntings at Dutch Wonderland" now through November 3.
This is a fun, fall family event featuring themed rides, special entertainment, tasty treats, and the Trick-or-Treat Trail — a safe, interactive trick-or-treating experience that included in your admission
It features more than 30 themed rides and family-friendly attractions, a trip through the Trick-or-Treat Trail on Exploration Island, and trick-or-treat with 20 lifelike dinosaurs.
The event runs from 2-9 p.m. in Saturday and 2-8 p.m. on Sunday.
Tickets are $29.99. Children age two and under are admitted free.
For "Count's Halloween Spooktacular at Sesame Place" (100 Sesame Place, Langhorne, 215-752-7070, www.sesameplace.com), the popular amusement park has been converted into a Halloween-themed safe venue for kids with trick or treating, pumpkin decorating, hayrides and a hay maze.
Featured attractions, which will continue until November 3, are "Neighborhood Street Party Halloween Parade," "Halloween Light Show," and "The Not-Too-Spooky Howl-O-ween Radio Show ."
Admission to the park is $49.99.
"Great Pumpkin Fest and Halloween Haunt at Dorney Park" (3830 Dorney Park Road, Allentown, 610-395-3724, www.dorneypark.com) is running now through November 3.
The event features scary creatures roaming the park and scarecrows lining line the walkways while frightening activities take place at the following attractions — "FrightFeast," "Port of Call," "Necropolis," "Age of Darkness" and "CarnEvil" along with seven mazes and four "Creepy Scare Zones." Admission prices start at $29.99.
The "27th Annual Fright By Night" (Six Flags Great Adventure, Route 537, Jackson, NJ, 732-928-2000, www.sixflags.com), which is running now through November 3, features family-oriented activities during the day and much scarier attractions after dark for teens and adults.
The attractions include "Big Top Terror," "Wicked Woods," "Aftermath," "Hell Fest," "The Manor," "Cell Block 6"," and "Reflections of the Dead."
Tickets start at $49.79.
The "34th Annual Jason's Woods" (99 Stehman Road, Lancaster, 717-872-5768, www.jasonswoods.com), which is running through November 4, is a horror show complex that features a combination of live actors, impressive animation and scary special effects.
Popular attractions include "Horrifying Hayride," "Chamber of Horrors," "Zombie Apocalypse," "Lost in Jason's Woods," and "Carnival of Fear," Admission prices are for combo tickets are $25 for three attractions and $40 for five.
"Valley of Fear" (300 W. Bristol Road, Feasterville, 215-942-9787, www.valleyoffear.com), which is open through November 2, features four "heart pounding attractions" — "Haunted Hayride," "Scarytales," "The Facility," and "Operation Z Escape."
The attraction is billed as "America's Most Horrifying Woods." Admission prices start at $29.
The "26th Annual Field of Screams" (109 College Avenue, Mountville, 717-285-7748, www.fieldofscreams.com), which is open now through November 15, features four world-class Haunted Experiences and an impressive Midway Area. Top attractions include "Horrifying Haunted Hayride," two massive Haunted Houses, and Wicked Haunted Woods.
Ticket prices start at $16.