By Denny Dyroff, Entertainment Editor, The Times
There are live shows in the area on October 20 to suit just about any musical taste – a legendary 1970s classic rock band from Los Angeles, a veteran guitarist from Canada, a versatile classical music ensemble from Delaware and a British prog-rock band that is celebrating its 50th anniversary.
On Sunday evening, The Met (858 North Broad Street, Philadelphia, http://themetphilly.com) will present a concert by TOTO – a band that has released more than 30 albums and has a history of recording Top 10 hits that have become standards on classic rock playlists.
Toto is a rock band formed in 1977 in Los Angeles. The band's current lineup consists of Joseph Williams (lead vocals), David Paich (keyboards, vocals), Steve Porcaro (keyboards), Steve Lukather (guitars, vocals), plus touring members Lenny Castro (percussion), Warren Ham (saxophone), Shem von Schroeck (bass) and Shannon Forrest (drums). Toto is known for a musical style that combines elements of pop, rock, soul, funk, progressive rock, hard rock, R&B, blues, and jazz.
Paich and Jeff Porcaro had played together as session musicians on several albums and decided to form a band. David Hungate, Lukather, Steve Porcaro, and Bobby Kimball were recruited before the first album release. The band enjoyed great commercial success in the late 1970s and 1980s, beginning with the band's eponymous debut released in 1978. With the release of the critically acclaimed and commercially successful Toto IV (1982), Toto became one of the best-selling music groups of their era.
Historically, few ensembles in the history of recorded music have individually or collectively had a larger imprint on pop culture than the members of TOTO. As individuals, the band members' performances can be heard on an astonishing 5,000 albums. From these recordings, NARAS applauded the collected works with 225 Grammy nominations. Band members were South Park characters, while Family Guy did an entire episode around one of their hits, and most recently Dax Shepard and Kristen Bell scored their honeymoon video to "Africa."
As a band, TOTO has sold over 40 million albums, and today continue to be a worldwide arena draw performing SRO events around the world. Having performed together for more than 40 years, TOTO remains one of the top selling touring and recording acts in the world. The band's repertoire continues to be current via high profile usage on both broadcast television and in films.
"It's 2019 and we're doing better than we've ever done," said Lukather, during a phone interview last month from a tour stop in Washington, D.C. when he was playing with Ringo Starr's band.
"We've had the biggest touring year of our career and have played festivals all over the world. The song 'Africa' has brought a lot of kids to our shows.
"A lot of hard work has paid off. We've has seven incarnations and we're still going strong. It's almost like we've come full circle.
"I'm absolutely grateful for more than 40 years of doing this. We've outlived our critics. We've had a lot of tragedies. We took our punches so we're not going to let it go."
But then again, they might. This tour is billed as "TOTO – The Finale…40 Trips Around The Sun."
Lukather hinted rather strongly that the show in Philadelphia this weekend, which is the final concert on the band's 40th anniversary tour, will be the band's final show.
"We're going to walk away for a while after October 20," said Lukather. "This last show in Philly is our last show in the foreseeable future. This version of TOTO is dead after October 20."
"We'll be playing a career retrospective. 'Africa' and 'Rosanna' are obvious choices, but we'll also be doing some deep cuts that fans have asked for."
Video link for TOTO – https://youtu.be/HHLbIIrvQV0.
The show at The Met will start at 8 p.m. Ticket prices start at $39.50.
On October 12, , internationally-acclaimed guitarist and composer Jesse Cook will visit Philadelphia to perform a concert at the Annenberg Center (3680 Walnut Street, Philadelphia, 215-898-3900, http://www.annenbergcenter.org).
Cook blends rumba and flamenco with elements of jazz and world music. He is a three-time winner of Canada's Smooth Jazz Award for Guitarist of the Year, as well as a Juno Award-winner (Canada's version of The Grammy) in the Best Instrumental Album category for Free Fall. In 2009, he was Acoustic Guitar's Player's Choice Silver Winner in the Flamenco category.
"I was born in France and then we lived in Barcelona when I was a child," said Cook, during a phone interview Wednesday afternoon from a tour stop in Boston.
"It's exciting for me to be in Boston because I went to school here at the Berklee College of Music, I had a minor in guitar performance, and I majored in music synthesis.
"That degree helped. It allowed me to make all my records at home. I built my first studio when I was a kid. When I started, record companies were the gateway, but I didn't need them."
Cook never needed a record deal to ensure his success. He has made more than a dozen albums and never once had to sell his soul to do it.
"My first album was 25 years ago," said Cook. "In 1995, the record industry was at its peak. Narada was the first company I signed with. They wanted to sign world music acts."
Cook's roots are in Europe. While Cook was still a teenager, his father retired to the French city of Arles in the Camargue where his neighbor was Nicolas Reyes, lead singer of the flamenco group –the Gipsy Kings. During frequent visits to Arles, Jesse Cook became increasingly fascinated by the "Camargue sound," the rhythmic, flamenco-rumba approach that could be heard on many corners and cafés in the "gipsy barrio."
"My first guitar teacher was a flamenco teacher," said Cook. "There is an element of flamenco in my music. Mostly, I look for music I love – maybe just a musician I love – and then I try to assimilate it. My music is a hybrid. I love Flamenco, but I also love world music — jazz, pop, samba.
"Early in my career, I signed with an American company, so America has always been my focus. It's been tough – especially without radio play. There is no real format for the music I play. My audience has come from a variety of ways. PBS has helped."
Earlier this year, Cook was the subject of a PBS special titled, "Beyond Borders."
"'Beyond Borders,' which came out in 2017, is my latest album – and my latest big project," said Cook. "It was a PBS special I made with a friend of mine – just the two of us and cameras. We filmed the entire Canadian tour. Then, it took a long time to finish it.
"The 'Beyond Borders Tour' was my last show last spring. This is a completely new show from the ground up – different show with different songs and different musicians.
"I make all my music at my home studio. I have a nice studio where I can do it all. I usually start by myself, play the instruments myself and then bring people in to play different parts. When it's time for the final mix – original or live – I go with whichever sounds best. For the live shows on this tour, I have a drummer from Peru, a violinist from Algeria, a guitarist from Ontario and a bass player from England."
Video link for Jesse Cook – https://youtu.be/QbKGS2MAqBA
The show at Annenberg Center will start at 7 p.m. Ticket prices range from $29-$59.

On October 20, Serafin Ensemble will present its first performance of the 2019-2020 season at The Arts at Trinity at 4 p.m. at Trinity Episcopal Church (1108 North Adams Street, Wilmington, Delaware, serafinensemble.org).
The program will feature four pieces — Bedřich Smetana's "Two Pieces From My Native Land," Wolfgang Amadeus Mozart's "Sonata in Bb Major, K. 378," Gaspar Cassadó's " Preludio-Fantasia (a Zarabanda) from Suite for Solo Cello," and Antonin Dvořák's "Trio for Violin, Cello and Piano in E Minor, Op. 90."
"Serafin used to be Serafin String Quartet," said Artistic Director/violinist Kate Ransom, during a phone interview Wednesday. "That started in spring 2001. It became Serafin Ensemble last season. We had been functioning as a quarter for a long time. This is the beginning of our first full season as Serafin Ensemble.
"We had a lot of changes happening in the viola seat. And, our residency as University of Delaware's String Quartet was coming to an end. So, we decided to move away from the fixed line-up of a string quartet and move to a roster of artists. We wanted more work with other instrumentalists, so we changed to an ensemble. We have a roster of 11 with strings, piano, horn, flute and voice."
Serafin Ensemble is presenting an interesting program on Sunday afternoon.
"Smetana was the father of the Czech Bohemian style," said Ransom. "It's a flavorful, robust folk-derived style of writing. What Smetana wanted to produce was the sound of his native land and give voices to the folkloric style."
Smetana was born Leitomischl, Bohemia, which was part of the Austrian Empire and is now Litomyšl in the Czech Republic. He was a Bohemian composer of operas and symphonic poems and founder of the Czech national school of music.
Smetana pioneered the development of a musical style that became closely identified with his country's aspirations to independent statehood. He has been regarded in his homeland as the father of Czech music.
"The two pieces we're doing are very short – 10-12 minutes," said Ransom. "They represent his Bohemian folk sound – almost a spinning energy. There is a lot of variety to them – beautiful melodies and a lot of character. The pieces are for violin and piano. I'm playing violin and my brother William Ransom is playing piano."
Mozart's sonata provides contrast to the Slavic styles with its classical perfection and its elegantly crafted exchange between the violin and piano.
"This is a more overtly expressive piece," said Ransom. "It's elegant classicism. It features gorgeous melodies that are elegantly restrained.
"It's a very mature work by Mozart. It's very well-crafted with a lot of dimension."
Cassadó was a Catalan cellist and composer of the early 20th century. He was born in Barcelona in 1897 to a musical family. Joaquin, his father, was a composer and an organist.
Cassadó was nine years old when he played his first public performance. The great cellist Pablo Casals was in attendance. Quite taken by the youngster's talent, Casals immediately offered to teach him. The city of Barcelona awarded him a scholarship so that he could study with Casals in Paris.
"Cassadó was a student of Pablo Casals," said Ransom. "Casals recognized Cassadó's capabilities on the cello. This is a piece written for solo cello and is about 10 minutes long. It's very colorful and extremely varied. We're very fortunate to have Charae Krueger, who is Principal Cellist for the Atlanta Opera Orchestra, perform this piece."
Dvořák, who was born in Nelahozeves, Bohemia (Austrian Empire and now in Czech Republic), was the first Bohemian composer to achieve worldwide recognition. He is noted for turning folk material into 19th-century Romantic music.
Following the Romantic-era nationalist example of his predecessor Bedřich Smetana, Dvořák frequently employed rhythms and other aspects of the folk music of Moravia and his native Bohemia.
"Dvořák is the pre-eminent representative of Czech composers," said Ransom. "His 'Trio for Violin, Cello and Piano in E Minor, Op. 90' is one of the most loved chamber music pieces. Known as the 'Dumky,' it is famed for its extremes of character and mood."
The word 'dumka' (думка) in Ukrainian means 'thought' and has become a moniker for a style of Slavic music that conveys folk ballad or lament. It is typically melancholy with contrasting lively sections.
"In this piece, 'dumka' is a little snippet of an idea that is expanded as a musical idea," said Ransom. "It's a shining showcase for cello. It's a little flashy in some parts. It goes from pathos and tragedy to joy and exuberance."
The concert on October 20 at Trinity Episcopal Church will start at 4 p.m. Tickets are free, and donations are appreciated.
In celebration of the band's 50th Anniversary, Renaissance featuring Annie Haslam is doing a 10-concert tour of the United States.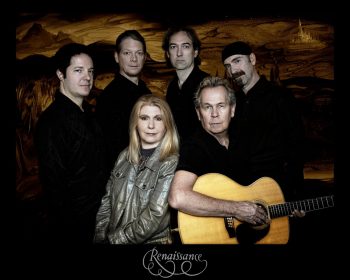 As part of "50th Anniversary Tour: Ashes Are Burning: A Retrospective Celebration of Renaissance Classics," Renaissance will be performing on October 20 at The Grand Opera House (818 North Market Street, Wilmington, Delaware, 302-652-5577, www.thegrandwilmington.org)
Renaissance is a band with a rich history unique unto themselves as progressive rock pioneers who rose from the ashes of the Yardbirds, a blues-influenced British rock band known for introducing three of rock's greatest guitarists — Eric Clapton, Jeff Beck and Jimmy Page. Acclaimed for its unique blending of progressive rock with classical and symphonic influences, Renaissance's long and successful career has been spearheaded by the five-octave voice of Haslam and the masterful songwriting skills of Michael Dunford.
The band has toured throughout the world and has performed at Carnegie Hall with the New York Philharmonic Orchestra and additionally at the Royal Albert Hall with the Royal Philharmonic Orchestra and Royal Chorale Society. Renaissance had a Top 10 hit in the U.K. with the song "Northern Lights." In October and November 2017, the band debuted its "Symphonic Journey" tour.
"We did four shows with the 10-piece orchestra – an orchestra that featured strings, woodwinds, brass, and percussion," said Haslam, during a recent phone interview from her home in rural Bucks County. "One of those shows was at the Keswick Theatre in Glenside. We filmed the show and now it's available for purchase."
Haslam, who was born in Bolton, Lancashire, first gained world-wide recognition when she was asked to become the lead singer of Renaissance, a band formed by Keith Relf after he left the Yardbirds.
According to Haslam, "I joined the band New Year's Day 1971. Now, 48 years later we are still performing and bringing our unique style of music to more and more fans all over the world.
Video link for Renaissance – https://youtu.be/N2c0b9xZIB0.
The show at The Grand on October 20 will start at 7 p.m. Tickets are $29 and $35.