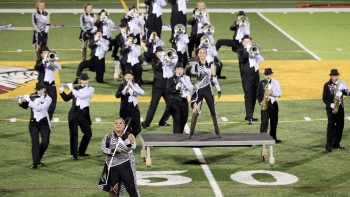 Come out and enjoy an entire football season's worth of half-time shows in one spectacular evening on October 19, at Unionville High School's March on the Brandywine competition. Many local marching bands, as well as some marching bands traveling from New Jersey, will be competing for points and bragging rights.
"All the students participating in these programs have put in long hours since mid-August perfecting both their music and their movements. It will be quite a show," said Edward Otto, Unionville's Director of Bands. "The creativity and talent of each group never ceases to amaze me."
Marching band performances are a mix of music, athleticism and Broadway. Musicians must play flawlessly while executing fast and complicated footwork. Color guard members dance and tumble their way across the field while spinning and tossing flags, rifles and sabers. And then there are the props.
Props reflect the theme of the show and are often feats of engineering, requiring an entire team of volunteers to assemble and move them on and off the field.
The competition at Unionville is one in a series of events in the Cavalcade of Bands circuit that leads to the championship final in November. Finals will be held at Hershey Park Stadium and West Chester University.
See some of the best local musical talent right in your backyard at Unionville High School on October 19, starting at 6pm. This is a family-friendly event and a major fundraiser to support the marching program at Unionville High School. Tickets will be sold at the gate for $12 for adults, $8 for students/seniors
and children six and under are free. A free program book will be included with each ticket purchase, and food will be available for sale.
Unionville High School is located at 750 Unionville Road, Kennett Square, PA 19348.