By Denny Dyroff, Entertainment Editor, The Times
Each year, a sure sign that autumn has arrived is the weekend when the annual Unionville Community Fair (101 East Street Road, Unionville, http://www.ucfairinc.org) is held – the first weekend in October.
The fair, which is running now through October 6, is a real down-home country fair with a cow milking contest, farm equipment displays, cow pie bingo and a farm market. It serves as both a fund-raising carnival and a full-scale community event.
The 2019 edition of the fair, which is being held at the fairgrounds behind the Landhope Farms store at the intersection of routes 926 and 82, is the 95th annual staging of the event.
This year's Unionville Community Fair will have all its traditional activities including popular attractions such as livestock displays, live entertainment, cooking and baking competitions, carnival games, the Fair Queen Pageant and the colorful annual parade.
There will be an array of family-oriented attractions at the free festival include a beekeeper, a storytelling area, a magician, arts and crafts vendors, a live auction, "Cow Pie Bingo," a full slate of live music performances and a wide variety of demonstrations.
There will also be a number of contests, including a "Cow Milking Contest," a "Scarecrow Making Contest", a "Blue Ribbon Apple Pie Contest," "Baking Contest," a "Dance Contest" and a "Lip Sync Contest."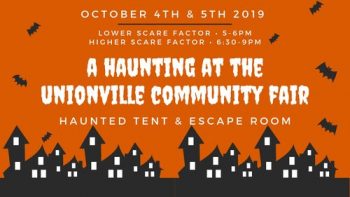 A popular attraction will be "A Haunting at the Unionville Community Fair." Community organizations from across southern Chester County have banded together to create kind tent filled with "ghosts and ghouls." The schedule for October 4 and 5 is: Little Goblins – 5-6 p.m.; Monsters of all ages – 6:30-9 p.m. Admission for the attraction is $5.
Additionally, live entertainment will be presented by Mike Volpe, Chesco Dance Company, Dan & Galla, Junk Rock Band, Give & Take Jugglers, and Ryan Mayersky.
Additionally, the First Annual Car Show is scheduled for October 5 from 11 a.m.-5 p.m.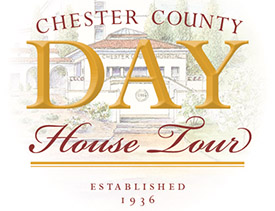 Chester County Day (locations around Chester County, 610-431-5301, http://www.cchosp.com) is not quite as old as the Unionville Fair but is still one of the oldest annual events in the Brandywine Valley.
On October 5, the 2019 Chester County Day, which will be held in and around West Chester, is celebrating its 79th anniversary and is honoring the 126th anniversary of Chester County Hospital
As always, the event, which bills itself as the nation's oldest house tour, has the Chester County Hospital as its beneficiary. Tickets are $50.
It all started back in 1936 when Mrs. William A. Limberger and her fellow auxiliary members decided to hold a house tour which featured 22 homes. The event was known as "West Chester Day" and tickets cost $1.
This year's annual celebration of Chester County's landscapes, art and architecture will get underway at 10 a.m. and run until 5 p.m. Participants will be able to visit old and interesting houses, gardens and historic landmarks around Chester County during the tour of the "Southeast Quadrant" of Chester County — including Westtown, Glen Mills, Willistown, Malvern and Berwyn.
The 2019 Chester County Day celebrates the traditional, distinctive architecture of Chester County with a strong emphasis on history. There is a beautifully restored 1723 home in Glen Mills, built by the Hoopes family who first settled in this area in 1697. The family lived in the original, much-smaller structure with their 17 children. Since then, the house has been renovated inside while keeping its history and distinctive architectural features intact.
Another tour stop in Glen Mills will feature the 4,600 square foot stone Squire Cheyney house, which has Revolutionary War history ties. Completely restored in 2014, the house and barn maintain their traditional stone exteriors with all the modern amenities for today's lifestyle inside.
Chester County Day has a few ground rules which must be honored — no pets, no children under age 12, no "babes in arms" and no backpacks. Visitors may take photos outside the houses. No photography or use of cell phones is permitted inside the houses.
Longwood Gardens (Route 1, Kennett Square, 610-388-1000, www.longwoodgardens.org) is a great place to visit any time in the year and always has special attractions to add to the experience.
To celebrate the arrival of autumn, Longwood has a new attraction – "Blooms & Bamboo: Chrysanthemum and Ikebana Sogetsu Artistry."
This once-in-a-lifetime experience features towering Ikebana bamboo art forms, enchanting Asian arrangements, and thousands of blooming chrysanthemums throughout the Conservatory. The displays have been crafted by masters from around the world.
The world's pre-eminent master of Ikebana Sogetsu, Headmaster Akane Teshigahara, has created spiraling and twisting works of bamboo art exclusively for Longwood's Conservatory and the results are extraordinary. 
Our Thousand Bloom Chrysanthemum—a single plant bearing more than 1,000 perfect blooms on a single stem—makes its dazzling debut October 24.
Admission to Longwood Gardens is $23 for adults, $20 for seniors and $12 for youth (ages 5-18).
The Brandywine River Museum (Route 1, Chadds Ford 610-388-2700, www.brandywinemuseum.org) is hosting "First Sundays for Families" on October 6.
The event, which runs from 11 a.m.-2 p.m., is a family celebration throughout the museum.
The main attraction will be "Fairy Tale Fun" featuring innovative art activities inspired by Brandywine River Museum's "Cinderella & Co. – Three Fairy Tales Reimagined" exhibition.
There will also be a discussion and book signing with artist Jerry Pinkney and a lively performance by the Academy of International Ballet. The dancers will perform a variety of classical and contemporary works as well as excerpts from the Nutcracker Ballet. 
First Sundays for Families presents free, hands-on workshops designed to engage visitors of all ages in creative art activities and performances. No registration necessary.
Falling Leaf Fest is scheduled for October 6 at Eagleview Town Center (Wellington Square, Exton, 610-458-1900, eagleviewtowncenter.com).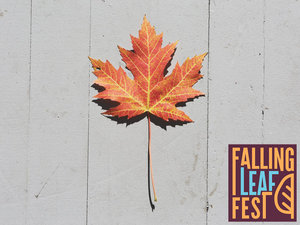 The popular annual event, which gets underway at 11 a.m., features live entertainment, a craft market, food vendors and games and activities for kids.
Some of the featured crafters are Avant Garden Pottery, Bowtique 4 Bellas, Delicate Designs by Amanda, Deramics Clay Studio, Pluma Avis Domus, Ziggy's Biscuits, Pure Scents Candles, Salvato's, Inspirations Beads, Peterson Designs, Wreaths by Subarna, Zentangle, and Fredricka Fashions.

This year, the "Got Talent?" showcase is back where performers from regional schools show off their talents.
The roster of participating schools includes Balance Dance Center, Ballet 180, Beat Addikts United, Chester Valley Dance Academy, Doraymi Lessons, Harrison Dance & Gymnastics Studios, Learning Allegro, Pennsylvania Leadership Charter School, Russells Dance and Baton Studio, Shannon Cooper's Academy of Dance, Silver Strings Orchestra, Time To Leap Dance Center, Victoria J Irey Dance Studio, and  West Chester Studio for the Performing Arts.

One of the featured events is Cure4Cam's bike ride, Pedal4Cam.
Pedal4Cam is a fun bike ride for everyone – people of all ages and every level of ability. There will be a paved, road bike trail and a mountain bike trail — with different options for each.
Participants must have a bicycle in good, working condition. Wearing a helmet is mandatory. Check in begins at 7:30 a.m. and the races start at 8:30 a.m.

Admission is free, but the presenters encourage a non-perishable food donation for the Chester County Food Bank.
This is the time of year when the event calendar is loaded with harvest-themed festivals.
One of them is the Fall Harvest Festival at the Newlin Grist Mill (Cheyney Road and Route 1, Concordville, 610-459-2359, www.newlingristmill.org) will give visitors an opportunity to enjoy a fun family event and to learn a little about local history at the same time.
During its history, Newlin Grist Mill ground wheat, corn, oats, buckwheat, and rye. The Newlin Grist Mill is the only operating 18th-century gristmill in Pennsylvania.
The festival, which runs from 10 a.m.-4 p.m. on October 5, features a variety of demonstrations including wool spinning, papermaking, colonial brewing, iron making, brick making, woodworking, Scherenschnitte, blacksmithing, historic baking, chair caning, lathe-turning and milling.
Other activities include performances of colonial music, period dancing, face painting, colonial games, English country dancing by the Heritage Dancers, decorating pumpkins, music by the Colonial Revelers, and hayrides through the site's 160-acre grounds.
Admission is free and there is a $5 per car parking fee.
On October 5, more than 30 food trucks will take up one-day residence in the center of Phoenixville for the semi-annual Phoenixville Food Truck Festival (Bridge Street, Phoenixville, http://www.phoenixvillefirst.org/foodtruckfestival).
The event, which runs from noon-6 p.m., will features a wide variety of food and beverages.
Food Trucks will fill the streets with globally influenced eats to give visitors the opportunity to enjoy city-style eating in the suburbs. Both city-based and local trucks and vendors participate in this unique event.
The event is free with pay-as-you-go food and drinks.
Winterthur Museum, Garden & Library (5105 Kennett Pike, Route 52, Wilmington, Delaware, 800-448-3883, http://www.winterthur.org) is hosting its Eighth Annual Truck and Tractor Day on October 5 from 10 a.m.-4 p.m.
Children of all ages will have the opportunity to climb on and explore more than 30 farm vehicles and trucks from the Winterthur Fire Department and interact with Winterthur's firefighters; play "dress up" with firefighter gear and helmets and put out a "fire" with the pumper truck.
Visitors will also have the opportunity to take a hayride, learn how to climb a tree from Winterhur's arborists, explore farm equipment and learn how a modern backhoe and crane work.

Activities are included with general admission — $20 adults; $18 for seniors (62 and older) and $6 for ages 2-11. Proceeds from the event will be used to support the Winterthur Fire Company.
On October 5, the Brandywine Zoo (1001 North Park Drive, Brandywine Park, Wilmington, Delaware, 302-571-7747, www.brandywinezoo.org) is hosting "Star Wars Day — May the Force be with you!."
Visitors to the zoo, which is located in Brandywine Park along the banks of the Brandywine Creek in downtown Wilmington, will be able to meet some of their favorite Star Wars characters and even take photos with them.
It's free to take photos with the characters, but donations are encouraged. All donations will benefit the Delaware Zoological Society.
Toy donations will be collected during the event by Garrison Carida® of the 501st Legion.
"Star Wars Day" will run from noon-5 p.m. Zoo admission is $5 for adults, $4 for seniors and $3 for children.
On October 5, the Revolutionary Germantown Festival will be held from 10 a.m.-4 p.m. at Cliveden (6400 Germantown Avenue, Philadelphia, 215-329-7312,http://www.revolutionarygermantown.org).
The festival features costumed characters, live music, food and drink culminating with a reenactment of the Battle of Germantown, the only military battle ever fought within the borders of Philadelphia.
The majority of the festival's events are centered at Cliveden, the summer home of the Chew family and the location of General George Washington's failed attempt to liberate Philadelphia from British control in 1777.
The celebration will also take place at many other nearby sites including Concord School and Upper Burying Ground, The Germantown White House, Johnson House Historic Site, Germantown Mennonite Meeting House and Grumblethorpe – all of which are located on Germantown Avenue.
On October 5 and 6, Morris Arboretum of the University of Pennsylvania (100 E. Northwestern Avenue, Philadelphia, www.morrisarboretum.org) is hosting its 20th Annual Fall Family Weekend and, on October 5, its 10th Annual Scarecrow Walk & Design Contest from 10 a.m.-3 p.m. each day.
Visitors will be able to make their own scarecrows, paint a pumpkin and sample different varieties of apples. Weaver's Way Coop will be on hand with the season's best local apple varieties.
This year's theme for the Annual Scarecrow Walk & Design Contest is "A Moment in Time."
From October 6-31, more than 30 scarecrows will be on display for three weeks along Oak Allée. Visitors are invited to vote for their favorites in the "A Moment in Time" theme to determine which scarecrows will be the top five prize winners.
Admittance to the festival is free with admission – which is $20 for adults, $18 for seniors and $10 for youth (ages 3-17).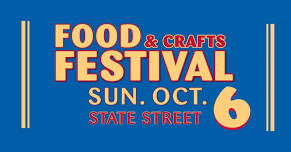 On October 6, Media hosts the 39th Annual Media Food and Crafts Festival from 9 a.m.-5 p.m. The free event will be held along the streets in downtown Media.
The festival will feature more than 40 participating restaurants along with 75 top-flight craft vendors. Media's merchants will be also be open during the festival.
The event will offer live music throughout the day. Additionally, there will be a children's area on Veteran's Square with a giant slide and other bounce games.
The festival is sponsored every year by the Media Business Authority.
On October 6, the Railroad Museum of Pennsylvania (300 Gap Road, Strasburg, 717-687-8628, www.rrmuseumpa.org) is presenting its annual Garden Railway Tour — also known as "Trains in the Garden."
The tour, which runs from 1-5 p.m., is a self-guided tour of Lancaster County private homes that feature impressive displays of operating model trains that have been built in landscaped gardens as well as homes with operating layouts and special model train collections.
The Garden Railway Tour, which is celebrating its 13th anniversary this year, is held as a benefit for the Railroad Museum of Pennsylvania's education and preservation programs. Tickets are $10 and can be purchased at the Railroad Museum of Pennsylvania's ticket office.
The Pennsylvania Renaissance Faire (Pennsylvania Renaissance Faire Shire, Mount Hope Estate and Winery grounds, Route 72, Cornwall, 717-665-7021, www.parenfaire.com) is hosting its "Autumn Harvest" event on October 5 and 6. It will also be a "Royal Dog Days" weekend.
From 11 a.m. until 8 p.m. each day, the huge faire will celebrate the time-honored tradition of the harvest, commemorating vine to bottle and tree to glass with the fall libations.
There will be free sampling at the Mount Hope Wine Shop to help visitors discover a new favorite Mount Hope Wine and Lancaster County Cider.
Featured events will be "Cake with the Queen" (ages 11 and under) and "Scratchy's Pumpkin Decorating."
With Royal Dog Days, His Majesty has issued an invitation to the lover of dogs to join him and the Royal Hounds upon the Fairegrounds Saturdays and Sundays in September.
Admission is $31.95 for adults and $12.95 for kids ages 5-11.
On October 5, a Craft Beer Festival known as "Brew-chanan Fest" will be held in Buchanan Park (901 Buchanan Avenue, Lancaster, /www.facebook.com/pg/brewchananfest) from 2-6 p.m.
The event, which is celebrating its third anniversary, will feature more than 50 breweries, wineries and cider houses from all over Pennsylvania and a few neighboring states on-site to provide samples of some of their favorites.
Entertainment will be provided by Mad Hatters and food will be available for purchase from the following food trucks – Gnaw Jaw, Scoops Ice Cream & Grille, Soul Burrito and Upohar.
Tickets are $45.
Philadelphia International Dragon Boat Festival will be held on October 5 from 8 a.m.-5:30 p.m. along the Schuylkill River Near the Gillin Boathouse (2200 Kelly Drive, Philadelphia, www.philadragonboatfestival.com)
The annual celebration of ancient Chinese dragon boat racing will features dozens of colorful boats, that are adorned with dragon heads and tails. The boats are propelled by teams of up to 20 paddlers that compete against each other in several heats throughout the day.
The event is free and open to the public.
The Delaware Nature Society will host a "Harvest Moon Festival" on October 5 at Coverdale Farm Preserve (543 Way Road, Greenville, Delaware, 302-239-2334,www.delawarenaturesociety.org).
Fall is a time of change for the life inhabiting the 356-acre Coverdale Farm Preserve. It's the perfect starting point to observe seasonal changes as the preserve transitions into winter.
There will be a variety of special activities including hayrides, pumpkin carving, artisan demonstrations, raptor programs, pony rides by Sunset Stables, corn maze, Painted Sky Alpaca Farm alpacas, farm animal experiences, live animal photo booth, children's activities and crafts, International Turtle Race, and food vendors
Live Music will be performed by Acoustic Turnpike, The Contra Rebels, Rockdale Boys, the Drunkenmillers, and John & June Gallagher.
Participants are advised to dress for outdoor adventure.
The event is scheduled to run from 10 a.m.-5 p.m. Tickets are $10.
The 13th Annual Delaware Auto Show, which is being held now through October 6 from 10 a.m.-9 p.m. on Friday and Saturday and 10 a.m.-6 p.m. on Sunday at the Chase Center on the Riverfront (815 Justison Street, Wilmington, Delaware, 302-324-2558,www.delawareautoshow.com), will have displays by major auto manufacturers as its main attraction. More than 14 manufacturers will display close to 150 different 2019 models.
The show will feature the Delaware Children's Museum Kid's Fun Zone for the little kids and an impressive exotic car lineup, including Rolls Royce, Maserati, Bentley, Aston Martin and McLaren for the big kids.
General Admission is $8 and children (13 and under) are admitted free.
A popular event in Delaware this weekend is "Steamin' Days" at Auburn Heights Preserve (3000 Creek Road, Yorklyn, Delaware, 302-239-2385, http://auburnheights.org) on October 6.
"Steamin' Days," which is held on the first Sunday of the month through November, focuses on steam power.
During "Steamin' Days at Auburn Heights," the site is bustling with activity. Visitors are encouraged to climb into an antique automobile or board one of the trains and experience what it was like to travel at the turn of the 20th century. They can also tour the magnificent 1897 mansion that was home to three generations of the Marshall family.
Also included is entry to the Marshall Steam Museum, which features the world's largest operating collection of Stanley steam cars along with a 1930s working Lionel electric train display, a hands-on engine display, kids' activities and exhibits and the Museum Gift Shop.
Activities run from 12:30-4:30 p.m. each time. Combo Tickets, which cover all rides and building tours, are $19 (13 and older) and $12 (age 12 and under).
A great way to enjoy autumn's annual color display is to ride a special excursion on an area tourist railroad.
The West Chester Railroad (Market Street Station, West Chester, 610-430-2233, www.westchesterrr.net) is running its special "Fall Foliage Express" trains on September 29,October 6 and 13 and November 2, 3, 9, and 10. Trains depart at noon and 2 p.m.
The round-trip train ride travels to the village of Glen Mills and back and lasts for 90 minutes. During the brief layover in Glen Mills, riders can explore the historic Pennsylvania Railroad station and have a snack in the railroad's picnic grove along the Chester Creek.
Tickets are $15 for adults, $13 for children ages 2-12 and free for kids under two.
The New Hope & Ivyland Railroad (32 West Bridge St, New Hope, 215- 862-2332, www.newhoperailroad.com) offers a two-and-one-half hour, 35-mile roundtrip ride on its "Fall Foliage Trains" from October 5-27. Every weekend, the rail line in Bucks County will operate regularly scheduled round trip trains out of New Hope Station and SEPTA's Warminster station.
Passengers can enjoy the sights of the beautiful fall scenery while riding aboard the rail line's "First Class Bar Car," "Antique Seat Coach" or "Open Air Car." Coach tickets are $40.99 for adults, $38.99 for children (ages 2-11) and $4.99 for toddlers.
The Wilmington & Western Railroad (2201 Newport Gap Pike, Wilmington, DE, 302-998-1930, www.wwrr.com) is running its "Autumn Leaf Special" with trains on October 12, 13, 19, 20, 23, 26, and 30 and November 2 and 3.
Trips are either a one-and-one-half hour roundtrips to the Mt. Cuba Picnic Grove or two-and-one-half hour roundtrips to Hockessin.
The W&WRR also is running its "Hayride Express" on October 11, 18 and 26 and November 1 and 8 at 7:30 p.m. each night. Visitors can experience a one-hour evening ride through the Red Clay Valley on an original railroad flatcar converted especially for hayrides.
On weekends now through October 26, the Kalmar Nyckel will be offering public sails from two locations in Wilmington, Delaware. The sailings will leave from the Kalmar Nyckel Shipyard (1124 East Seventh Street, Wilmington, Delaware, www.kalmarnyckel.org.)
For two decades, the Kalmar Nyckel, which has its home base in Wilmington, has been hosting riders all over the world – especially in Delaware.
A ride on the Kalmar Nyckel is a totally different from most tourist water rides.
The ship is a beautiful recreation of the original Kalmar Nyckel, which was built in Holland in the 1620s. Her mainmast is taller than a 10-story building and she carries 7,600 square feet of sail area and six miles of rigging.
The original Kalmar Nyckel was a Swedish-owned, three-masted armed pinnace that sailed from Goteborg, Sweden in November of 1637 and brought the first permanent European settlers to the Delaware Valley.
Carrying 24 settlers from four countries (Sweden, Finland, Holland, and Germany), she landed on the banks of the Christina River. The site, which became known as "The Rocks", can be visited at Fort Christina Park off Wilmington's East Seventh Street.
The Kalmar Nyckel made four documented round-trip crossings of the Atlantic, more than any other "settlers' ship" of the era. The original ship was lost in the late 1600s.
In 1986 a group of citizens established the Kalmar Nyckel Foundation to design, build and launch a replica of the Kalmar Nyckel at a shipyard adjacent to the original landing site.
The new Kalmar Nyckel was constructed there and was launched on September 28, 1997. She was commissioned on May 9, 1998 and now serves as Delaware's sea-going Ambassador of Good Will. She is a fully functional sail training vessel and has represented Delaware all over the country.
Tickets are $35 for adults and $20 for youth (ages 17 and under).
Now through November 17, Elmwood Park Zoo ( www.elmwoodparkzoo.org
in themed activities, navigate through a corn maze, play games like flip-a-chicken, bean bag toss, and basketball, paint a pumpkin, enjoy live entertainment, and sip on some festive fall drinks.
Hours are from noon-4 p.m. each day. Zoo admission is $17.95 for adults, $13.95 for children and $12.95 for seniors.
Halloween activities are starting to fill up the area events calendar faster than a ghost can appear and disappear in your neighborhood. The following is a look at what to expect at many of these events.
Chaddsford Winery (Route 1, Chadds Ford, 610-388-6221, www.chaddsford.com) is presenting its "Adult Trick or Treat" event every Saturday and Sunday through October 27. Tour Times Available at 11:30 a.m. and 1, 2:30 and 4 p.m.
Visitors will be able to "Trick or Treat" for wine and seasonal snacks at Chaddsford's wildly popular, adults-only Halloween program as they visit a variety of Halloween-themed pairing stations located throughout the Winery grounds.
The "Pairing Menu" features "Dante's Inferno" (Éclat Aleppo Chile Truffle + Hot Tamales candies with Sunset Blush + Tröegs Troegenator Double Bock), "Pumpkin Patch" (Scarecrow Slushie, garnished with a Halloween Peep + Warm Spiced Apple wine with a caramel Sugar Daddy Stirrer), "What Lurks Below" (Crab Mac N' Cheese with '17 Presage and Leviathan Wine Cocktail), "Mummies Tomb" (Garlic, Black Bean and Red Pepper Hummus Trio + Pita Chips with '17 White Standard + '17 The Red Standard), and "Zombie Yard" ("Dirt" Cupcake garnished with a Gummy Worm with '17 Harbinger + Chaddsford Red).
Advanced tickets purchased online are $25 and include the food and beverage pairings, as well as a Halloween-themed keepsake wine glass!
"Terror Behind the Walls" (Eastern State Penitentiary, 2124 Fairmount Avenue, Philadelphia, 888-763-NITE, www.easternstate.org), will celebrate the new season with its opening weekend that starts today.
The truly scary attraction, which is running through November 10, takes place at a penitentiary site that was once was an active prison and is now a National Historic Landmark. It is a scream-inducing event featuring laser and special-effect lighting, digital sound, sinister scents, animatronic creatures and 3-D illusions.
Popular attractions include "Blood Yard," "Infirmary," "Machine Shop," "Lock Down," "Break Out!," and "Quarantine 4D."
Admission prices, which vary with the date, range from $19-$45.
"Hurricane Hill Farm Maze" (Baldwin's Farm, 704 East Reeceville Road, Coatesville, 610-384-6952, www.hhfmaze.com) will be open Saturdays and Sundays until November 3.
This event features miles of trails through acres of corn mazes.
 along with a corn slide, hayrides, a pumpkin patch and a farm animal display.
The site's 2019 featured maze is a five-acre corn maze called "A Journey to Ancient Rome."
Tickets are $14.
It's time to welcome autumn and one of the best ways to do this is by checking out the corn mazes at Ramsey's Farm (Ramsey Road, Wilmington, Delaware, 302-477-1499,www.ramseysfarm.com). The farm's event season lists September 21 as 2019's "Opening Day."
Corn mazes, along with hayrides, a pumpkin patch and scarecrows, will be featured at Ramsey's Farm, which is located in northern Delaware on Route 92 just south of the Pennsylvania-Delaware state line. The new season runs on weekends now through October 30.
Ramsey's "Pumpkin Patch" has been in operation since 1995 and the farm's varied mazes have been delighting and baffling visitors who return each year for the popular annual event. The owners of Ramsey's Farm raise pumpkins, gourds, ornamental corn, popcorn, feed corn and hay.
The farm's pumpkin field stretches over 12 acres and yields approximately 20,000 pumpkins each season. Hayrides around the farm will be offered from 11 a.m.-5 p.m. each day. Visitors will be able to shop for pumpkins and other items at the farm store. There will also be hot food and beverages available for purchase.
Tickets are $8 for the corn maze, $5 for the sorghum maze, $3 for the hay maze, $3 for pumpkin painting and $3 for a hayride.
This is the time of the year when farms in the area become a bustle activity — a time for harvest. But, it is not harvest matters that are causing a bustle of activity at Cherry Crest Adventure Farm in Ronks (150 Cherry Hill Road, Ronks, 717-687-6843, www.cherrycrestfarm.com).
The farm's popular annual "Flashlight Maze" is now underway and will continue every Friday and Saturday night through November 4. Cherry Crest Adventure Farm has reserved several weekends during the autumn months for Flashlight Maze.
This special activity allows visitors to experience the Amazing Maize Maze in total darkness. All you need are flashlights and a few friends.
The Flashlight Maze is a nice, non-scary, Halloween alternative that has appeal for people of all ages. The Flashlight Maze, which has a $12 admission fee, is open from 6:30-10 p.m. with the last entrance into the Maze at 9 p.m.
The main attraction is Cherry Crest's "Amazing Maize Maze," which is billed as "the world's most dynamic and interactive corn maze." It is a five-acre corn maze with over two-and-one-half miles of paths, scenic bridges, and clues.
Participants can walk at their own pace as they encounter the "Kernels of Knowledge" along with a variety of clues, tunnel slides, and watering stations. They can also check out a bird's eye view from the two bridges and watch everyone's flags waving high above the corn.
The average time to complete the "Amazing Maize Maze" course is one hour. Ticket prices start at $19.
This weekend, it's time once again for the Scarecrow Competition and Display at Peddler's Village (Routes 202 and 263, Lahaska, 215-794-4000, www.peddlersvillage.com).Hours are 10 a.m.-6 p.m. both days. 
Visitors can stroll around the Village to see the Scarecrow Competition and Display, which showcases more than 100 creative and colorful scarecrows. The Scarecrows are on outdoor display through October 27.
The public is invited to vote for the winners. Ballots are available in all shops and restaurants. The ballot boxes are located in the Hospitality Center at the Cock 'n Bull, Giggleberry Fair, and Buttonwood Grill.
Linvilla Orchards (137 West Knowlton Road, Media, 610-876-7116, www.linvilla.com) is running full speed ahead with its 2019 edition of Pumpkinland.
The family-oriented activity features costumed characters, games and contests and live music.
Another attraction, which runs through October 30, is "Hayride to the Witch's House." Admission is free, and hayrides are $9 per person. There will also be "Harvest Hayrides" and "Autumn Moon Hayrides" starting later in September.
The 28th annual edition of "Haunted Hayride, Bates Motel and Haunted Corn Maze at Arasapha Farm" (1835 N. Middletown Rd., Gradyville, 610-459-0647,www.thebatesmotel.com) will be scaring visitors through October 31.
The haunted hayride through the woods features monsters, special effects and actors. The Bates Motel has haunted rooms with special effects and computerized lighting.
Another attraction is the "Revenge of the Scarecrow Haunted Trail." A haunted trail is cut through a cornfield inhabited by monsters.
New attractions this year are "Zombie Hunt" and "Double Edge Axe Throwing."
Admission prices are: Haunted Hayride, $20; Bates Motel, $15; Haunted Trail, $15; combination tickets, $40. There are reduced rates for children.
For "Count's Halloween Spooktacular at Sesame Place" (100 Sesame Place, Langhorne, 215-752-7070, www.sesameplace.com), the popular amusement park has been converted into a Halloween-themed safe venue for kids with trick or treating, pumpkin decorating, hayrides and a hay maze.
Featured attractions, which will continue until November 3, are "Neighborhood Street Party Halloween Parade," "Halloween Light Show," and "The Not-Too-Spooky Howl-O-ween Radio Show ."
Admission to the park is $49.99.
Pennhurst Asylum (100 Commonwealth Drive, Spring City, 484-866-8964, www.pennhurstasylum.com), which is open through November 4, is on the site of a former mental asylum which has been shuttered for over a quarter of a century.
It has been transformed into a haunted attraction with huge sets, detailed rooms and live actors. Visitors can also explore the labyrinth of underground tunnels.
Tickets are $18 for each of the attractions with a variety of combo packages available.
"Great Pumpkin Fest and Halloween Haunt at Dorney Park" (3830 Dorney Park Road, Allentown, 610-395-3724, www.dorneypark.com) is running now through November 3.
The event features scary creatures roaming the park and scarecrows lining line the walkways while frightening activities take place at the following attractions — "FrightFeast," "Port of Call," "Necropolis," "Age of Darkness" and "CarnEvil" along with seven mazes and four "Creepy Scare Zones." Admission prices start at $29.99.
The "27th Annual Fright By Night" (Six Flags Great Adventure, Route 537, Jackson, NJ, 732-928-2000, www.sixflags.com), which is running now through November 3, features family-oriented activities during the day and much scarier attractions after dark for teens and adults.
The attractions include "Big Top Terror," "Wicked Woods," "Aftermath," "Hell Fest," "The Manor," "Cell Block 6"," and "Reflections of the Dead."
Tickets start at $49.79.
Ghost Tour of Philadelphia (215-413-1997, www.ghosttour.com), Ghost Tour of Lancaster (717-687-6687, www.ghosttour.com) and Ghost Tour of Strasburg (717-687-6687,www.ghosttour.com) operate through November and offer an eerily entertaining evening of true ghost stories and real haunted houses.
The Ghost Tour of Philadelphia is a candlelight walking tour along the back streets and secret gardens of Independence Park, Society Hill, and Old City, where ghostly spirits, haunted houses, and eerie graveyards abound. Tickets are $20.
Participants in the Ghost Tour of Lancaster explore the long-forgotten mysteries of one of America's oldest cities, with haunting tales of otherworldly vigils, fatal curses, and star-crossed lovers. The tour provides the opportunity to experience 300 years of haunted history from the Red Rose City's thorny past. Tickets are $18.
The Ghost Tour of Strasburg is a candlelight walking tour of the quaint and historic town of Strasburg in the heart of Pennsylvania Dutch Country. Visitors will experience an entertaining evening with a costumed tour guide spinning tales of haunted mansions, eerie graveyards, and spirits that roam the night … in a town lost in time. Tickets are $18.
The "34th Annual Jason's Woods" (99 Stehman Road, Lancaster, 717-872-5768, www.jasonswoods.com), which is running through November 4, is a horror show complex that features a combination of live actors, impressive animation and scary special effects.
Popular attractions include "Horrifying Hayride," "Chamber of Horrors," "Zombie Apocalypse," "Lost in Jason's Woods," and "Carnival of Fear," Admission prices are for combo tickets are $25 for three attractions and $40 for five.
"Valley of Fear" (300 W. Bristol Road, Feasterville, 215-942-9787, www.valleyoffear.com), which is open through November 2, features four "heart pounding attractions" — "Haunted Hayride," "Scarytales," "The Facility," and "Operation Z Escape."
The attraction is billed as "America's Most Horrifying Woods." Admission prices start at $29.
The "26th Annual Field of Screams" (109 College Avenue, Mountville, 717-285-7748, www.fieldofscreams.com), which is open now through November 15, features four world-class Haunted Experiences and an impressive Midway Area. Top attractions include "Horrifying Haunted Hayride," two massive Haunted Houses, and Wicked Haunted Woods.
Ticket prices start at $16.