By Denny Dyroff, Entertainment Editor, The Times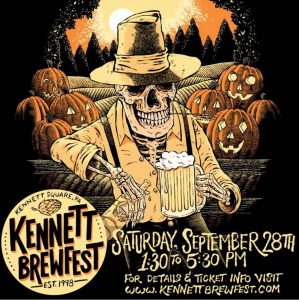 When an area event has been around for more than two decades, it definitely moves from the "annual event" category to the "Chester County tradition" category. The Kennett Brewfest (http://kennettbrewfest.com) has reached that plateau.
The Kennett Brewfest, which will be held on October 14 in downtown Kennett Square, is celebrating its 21st anniversary this year.
Scheduled to run from noon-5:30 p.m., the Kennett Brewfest provides visitors with the opportunity to sample some of the best regional and national craft beers accompanied by great food, great music, and a lively crowd.
Participants can enjoy samples from more than 100 local, regional and national breweries.
All attendees have access to food and merchandise vendors, live bands, sponsor tables, and more during the entire event. Doors open at noon for the "Connoisseur Tasting" and the regular fest begins at 1:30 pm. All taps will close at 5:30 p.m.
Some of the participating breweries are Downingtown's Victory Brewing Co., Zero Day Brewing Co., Great Lakes Brewing Co., 2SP Brewing Co., Locust Lane Craft Brewery, Misspilion River Brewing Co., Stolen Sun Craft Brewing and Workhorse Brewing Company.
The food truck court will feature 2 Fat Guys, State Street Pizza, Dia Doce Cupcakes, George and Sons' Seafood, Natalie's Fine Foods, Primo Hoagies, Koi on the Go, Abuelitas Empanadas, and Talula's Table.
Live music will be provided by Hake & Jarena and Carl Filipiak & the Jimi Jazz Band.
Tickets will be scanned at the entrance, where participants will receive their tasting cups. No one under the age of 21 will be admitted. Tickets are $50.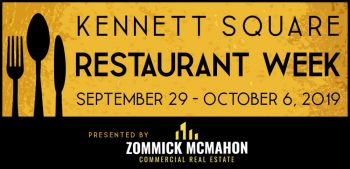 Kennett Square Restaurant Week (https://historickennettsquare.com/events/restaurantweek/) will start on September 29 and run through October 6.
More than a dozen participating restaurants are offering a variety of prix-fixe menus, new dishes, and special offers.
The roster of restaurants for 2019 features Cafe de Thai (420 W. Cypress Street), Evergreen Café (216 S. Mill Road), Grain (108 W. State Street), Kennett Brewing Company (109 S. Broad Street), Kennett Square Inn (201 E. State Street), La Pena (609 W. Cypress Street), La Verona (114 E. State Street), Lily Asian Cuisine (104 W. State Street), The Market at Liberty Place (148 W. State Street), Portabellos (115 W. State Street), Talulas Table (102 W. State Street), Verbena BYOB (102 E. State Street), and Victory Brewing Company (650 W. Cypress Street).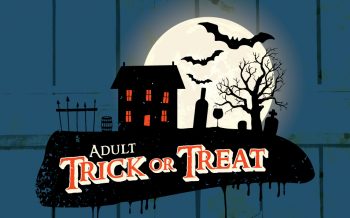 Chaddsford Winery (Route 1, Chadds Ford, 610-388-6221, www.chaddsford.com) is presenting its "Adult Trick or Treat" event every Saturday and Sunday through October 27. Tour Times Available at 11:30 a.m. and 1, 2:30 and 4 p.m.
Visitors will be able to "Trick or Treat" for wine and seasonal snacks at Chaddsford's wildly popular, adults-only Halloween program as they visit a variety of Halloween-themed pairing stations located throughout the Winery grounds.
The "Pairing Menu" features "Dante's Inferno" (Éclat Aleppo Chile Truffle + Hot Tamales candies with Sunset Blush + Tröegs Troegenator Double Bock), "Pumpkin Patch" (Scarecrow Slushie, garnished with a Halloween Peep + Warm Spiced Apple wine with a caramel Sugar Daddy Stirrer), "What Lurks Below" (Crab Mac N' Cheese with '17 Presage and Leviathan Wine Cocktail), "Mummies Tomb" (Garlic, Black Bean and Red Pepper Hummus Trio + Pita Chips with '17 White Standard + '17 The Red Standard), and "Zombie Yard" ("Dirt" Cupcake garnished with a Gummy Worm with '17 Harbinger + Chaddsford Red).
Advanced tickets purchased online are $25 and include the food and beverage pairings, as well as a Halloween-themed keepsake wine glass!

There will be a bustle of activity in Downingtown on September 29 when the 10th Annual Downingtown Fall Fest (East Lancaster Avenue between Wallace Avenue and Green Street, Downingtown, 610-514-7000, http://downingtownfallfest.com) arrives.
The popular street festival, which runs from 11 a.m.-4 p.m. and will be held rain or shine, will feature live music, a wide assortment of vendors, and the Victory Beer Garden.
The Victory Beer Garden featuring the Brewpub on Wheels will be located on Green Street next to the lake. There is no cost to enter the beer garden.
Food and beer will be available for purchase the beer garden. Children are permitted inside the fenced area but must be supervised by an adult at all times.
Live entertainment will be provided by Victory Brewing house bands.
The roster of food and beverage providers includes Amani's BYOB, Au-Sams Trolley Stop, Big Boize BBQ Sauce, 22 BBQ, Crossan Concessions/Kettle Corn, Falkor Food Truck, Dia Doce, Katja's, Nick's Roast Beef, Kona Ice of Southern Chesco, Folts', Kono Pizza, and Mompops.
The roster also features Phyllodelphia Greek & Mediterranean, Rita's Water Ice, Southbound BBQ Company, The Happy Pita, Victory Brewing Company, Baked Cookies and Dough, Chank's Pizza Cones, Mid-Atlantic Food Service, PJ Whelihan's Wing Truck, Richie Lou's Food Service, Rosie's Kettle Corn and The Cow and the Curd.
Additionally, more than 120 vendor and display booths will be set up at the festival covering a wide range of interests.
The all-ages event is free and open to the public.
Galer Estate Winery (700 Folly Hill Road, Kennett Square, 484-899-8013, www.galerestate.com) has a variety of special events happening this weekend.
On September 27 and 28, there will be live music at the winery from 5-7 p.m. On September 27, the featured performer will be Paul Wilkinson. The concert on September 28 will feature Chester County's Nicole Zell.
Zell is a multitalented musician – singer, songwriter, guitarist, keyboardist – who has a dual career going. She records and performs as a solo artist and also records and performs as part of the alternative pop trio Thrillchaser.
Later on Saturday, Zell will play a show at Jerzee's Sports Bar  in Glenside and follow with a show on September 29 at Xfinity Live in Philadelphia. She will be joined by Chris Spousta at all three shows.
​On September 28, the winery will remain open later than usual – allowing guests to sit outside and sip wine while watching the festive nearby "Longwood Gardens Fireworks Display."
The Festival of Fountains at Longwood Gardens (Route 1, Kennett Square, 610-388-1000, www.longwoodgardens.org), which is running now through September 30, is always one of the area's prime summertime attractions.
With fountains that jet as high as 175 feet, gardens filled with colorful summer blooms, shade-friendly trees, exotic day- and night-blooming waterlilies, and live music outdoors, Longwood Gardens has something for everyone
The fountain project took two years and $90 million in renovations. The fountain features more than 1,300 jets and streams, a similar number of LEDs, a variety of flame features and a wide array of plants from around the world.
In addition to the Main Fountain Garden, Longwood is also home to a collection of other fountain gardens, including the enchanting Italian Water Garden and Open Air Theatre fountains, which also perform daily.
The ultra-popular Festival of Fountains features the gardens in their summer splendor. Flowering annuals and perennials abound, as well as the breathtaking Waterlily Display that showcases aquatic plants from all over the world.
Admission to Longwood Gardens is $23 for adults, $20 for seniors and $12 for youth (ages 5-18).
The annual Dressage at Devon (Devon Horse Show grounds, Lancaster Avenue, Devon, 484-358-5510, http://dressageatdevon.org), is running now through September 29.
The popular annual event combines world class dressage competition and the world's largest open breed show. The six-day event attracts hundreds of horses from around the world and thousands of spectators.
The event also includes the Fall Festival at Dressage at Devon, which features a large selection of vendors and an equally large number of specialty boutiques where visitors can shop for arts and crafts, clothing, horse-related items and gourmet food.
Tickets are $10 for adults and $5 for children (ages 3-12).
One of the best ways for everyone involved to appreciate the beauty of autumn's annual color explosion is to ride a special excursion on an area tourist railroad.
The West Chester Railroad (Market Street Station, West Chester, 610-430-2233, www.westchesterrr.net) is running its special "Fall Foliage Express" trains on September 29, October 6 and 13 and November 2, 3, 9, and 10. Trains depart at noon and 2 p.m.
The round-trip train ride travels to the village of Glen Mills and back and lasts for 90 minutes. During the brief layover in Glen Mills, riders can explore the historic Pennsylvania Railroad station and have a snack in the railroad's picnic grove along the Chester Creek.
Tickets are $15 for adults, $13 for children ages 2-12 and free for kids under two.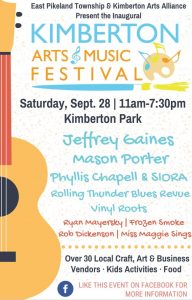 The inaugural staging of the Kimberton Arts & Music Festival (Kimberton Park, 2202 Kimberton Road, Kimberton,https://www.facebook.com/kimbertonamf/?modal=admin_todo_tour) is schedule for September 28.
The free community event, which is organized by East Pikeland Township & Kimberton Arts Alliance, will feature live music in a variety of genres, more than 30 local art, craft, & business vendors, kids' activities, and food vendors.
Live music will be provided by Jeffrey Gaines, Mason Porter, Phyllis Chapell & SIORA, Rolling Thunder Blues Revue, Vinyl Roots, Ryan Mayersky, Rob Dickenson, Frozen Smoke and Miss Maggie Sings.
On September 28, Morris Arboretum of the University of Pennsylvania (100 E. Northwestern Avenue, Philadelphia, 215-247-5777,http://www.morrisarboretum.org) is hosting its Korean Culture Day.
The event will run from 11 a.m.-3 p.m. in the Upper Gallery and throughout the Garden and is included with garden admission.
Guests will be able to celebrate traditional and modern Korean culture with music, tours and free samples. Guides will lead an exploration of the Korean plants of the Arboretum's 92-acre botanical collection at 11:30 a.m. and 2 p.m.
Live entertainment will be provided by Korean dance troupes and Korean drummers from the University of Pennsylvania.
Admittance to the festival is free with admission, which is $20 for adults, $18 for seniors and $10 for youth (ages 3-17).
There is a very good reason why collectors of antiques from all around the country will be heading to Pennsylvania's Amish region this weekend.
Renningers "Antiques & Collectors Extravaganza" (740 Noble Street, Kutztown, 570-385-0104,www.renningers.net) is running now through September 28 and "Special Sunday at Renninger's Adamstown" (Route 272, Adamstown) is scheduled for September 29.
The Extravaganza features hundreds of antiques dealers from up and down the East Coast. Since 1975, Renningers Antiques & Collectors Extravaganzas have been a meeting place for dealers and collectors from a variety of locales. The dealers buy and sell among themselves and offer vintage items for sale to the general public.
Many exhibitors set up shop outdoors — under tents and in the two large pavilions (each of which cover over 2,000 square feet). Also open is the Indoor Antiques Market and the Indoor Farmers Market. Tickets are $6 on Friday and $4 on Saturday.
Renninger's Antiques Market in Adamstown is the final shopping mecca for antiques during the Famous Extravaganza weekends. Many dealers save special merchandise which they display during these special weekends. 
Also, many dealers make a special trip to set up in the special outdoor market only these three times a year. The outdoor market opens at 5 am. The indoor market opens at 7:30 am.
The 29th Annual Harriton Farmstead Fair is scheduled for September 28 from 10 a.m.-4 p.m. — rain or shine – at the Harriton House (500 Harriton Road, Bryn Mawr, www.harritonhouse.org)
The popular annual event in Lower Merion Township features crafts, antiques, pony rides, historic house tours, children's games, muskets and soldiers, blacksmiths, stone carvers, cabinetmakers, spinners, skep weavers, bluegrass music, and falconry (and other birds of prey).
The Fair, which is free and open to the public, also features the Harriton Attic Treasures Booth, which is one of the best flea markets on the Main Line, and the Harriton Farm stand featuring flowers and organic produce (some of which is from the Harriton garden).
Lapps Country Market will be roasting chickens and ribs for lunch. Additionally, the Fair's "Beer & Sausage Garden" will feature German food and beer.
As an added attraction, the historic 1704 house will be open for tours during the day.
Manayunk will be hosting Fall Riverpalooza 2019 this weekend in the center of town.and Manayunk Harvest Fest.
Fall Riverpalooza 2019 will be held on September 28 at Mad River Manayunk (4100 Main Street, Philadelphia, MadriverManayunk.com).
The event is an all-day, indoor/outdoor tented music festival which gets underway at noon each day.
The roster of live entertainment includes Black Dandelion, GoodMan Fiske, Liquid A, Five Times Famous, Engone #9, and Julez P.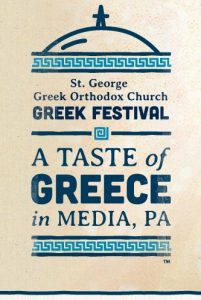 The annual "A Taste of Greece" festival will run now through September 29 at St. George Greek Orthodox Church (30 East Forge Road, Media,http://www.stgeorgegreekfestival.org).
The free festival focuses on food — tasty Greek main dishes such as moussaka (eggplant dish), shish-ka-bob (meat and vegetables on skewers) and placki (fish) and Greek dessert treats including baklava (phyllo, nuts and honey) and kataifi (shredded wheat and nuts).
Other activities at the free popular annual event are midway rides, vendors with crafts and Greek items, live music by Greek-American bands and folk dancing demonstrations. Hours are 11 a.m.-10 p.m. on Friday and Saturday and noon-8 p.m. on Sunday.
The Pennsylvania Renaissance Faire (Pennsylvania Renaissance Faire Shire, Mount Hope Estate and Winery grounds, Route 72, Cornwall, 717-665-7021,www.parenfaire.com) is hosting its "Oktoberfest" event on September 28 and 29.
From 11 a.m. until 8 p.m. each day, the huge faire will be dedicated to annual German-themed celebration devoted to beer and Bavarian food.
Visitors will be able to raise a stein to German heritage with micro-brewed ales from the Faire's own Swashbuckler Brewing Company, the authentic food and dance of the Germanic Nations.
The list of featured Oktoberfest events includes "Topfschlagen!," "Men in Lederhosen," and the "The Bar Olympics."
Live entertainment will be provided by Alpenlaenders, GTV Almrausch Dancers and Wolgemut.
With Royal Dog Days, His Majesty has issued an invitation to the lover of dogs to join him and the Royal Hounds upon the Fairegrounds Saturdays and Sundays in September.
Admission is $31.95 for adults and $12.95 for kids ages 5-11.
Celebrating its 35th anniversary in 2019, Chestnut Hill's Fall for the Arts Festival is returning to the Chestnut Hill Brewing Company (8229 Germantown Avenue, Philadelphia, https://chestnuthillpa.com/events/fall-for-the-arts-festival) on September 29.
Philadelphia's Garden District kicks off the fall arts season with more than 100 artists, along with live entertainment, al fresco dining, and artisan shopping along Germantown Avenue between Willow Grove and Rex Avenues.
Visitors are invited to enjoy a day filled with art, music, culinary delights, and boutique shopping. Germantown Avenue will be transformed into an outdoor arts and crafts marketplace, and will serve as a backdrop for artists from here to as far away as New Mexico.
The Makers Village will be back for its fourth consecutive year and will celebrate both the beauty of a finished piece of art as well as the act of making it.
There will also be a full day of live music performed by Dukes of Destiny, he Rockafillys, Lincoln Drove, Jon Savage & the Classic Rockers, and Blue Chips Trio.
Admission to the festival is free. Rain date is October 6.
The Ratha Yatra Festival (Benjamin Franklin Parkway in front of the Museum of Art, Philadelphia, 215- 247-4601, http://iskconphiladelphia.com), which is scheduled for September 28, is one of the oldest continually celebrated spiritual festivals in the world.
It is celebrated by devotees of Lord Krishna all over the world.
Ratha Yatra, the festival of the chariots, is a procession of Lord Krishna in his form of Jagannatha, Lord of the Universe. Traditionally held in Puri, eastern India, where hundreds of thousands of pilgrims sing and dance in the procession, the festival now takes place in cities globally.
Every year in September, their Lordships Sri Sri Jagannath, Baladeva and Subhadra Devi grace the streets of Philadelphia in a Parade of Chariots beginning from Love Park and ending at Eakin's Oval, in front of the Philadelphia Museum of Art. Following the parade, a grand festival is held at Eakin's Oval, complete with music, workshops on yoga and meditation, dance performances, exhibits, gift shops, and a spectacular vegetarian and vegan feast.
The free annual event runs from 11 a.m.-7 p.m.
Philadelphia's Puerto Rican Day Parade (16th and Benjamin Franklin Parkway, elconcilio.net) is scheduled for September 29 from noon-3 p.m.
Each year, Concilio hosts the Annual Puerto Rican Festival Parade, a vibrant event which has been woven into the Philadelphia fabric for many years.
The parade is a celebration of Puerto Rican culture in the Delaware Valley community, and each year it follows a particular theme.
The 2019 theme is ""The Taino Warrior Within."
Participating groups get the opportunity to display this theme and put their cultural pride on display for friends, family and members of the community.
Held on the Benjamin Franklin Parkway, the Puerto Rican Festival Parade typically has around 1,500 marchers; more than 5,000 attendees; and 96,000 watching it broadcast live on 6ABC.
The Ninth Annual Upper Perkiomen Bird & Wildlife Festival is scheduled to run from 11 a.m.-3 p.m. on September 28 at Green Lane Park (2298 Green Lane Road, Green Lane, 215-234-4528).
Families are invited to enjoy a day of fun and learning at the park. The event will feature live animal presentations, Monarch Butterfly tagging and releases, kids' games and activities, free hayrides, live music and much more.
Food and merchandise vending will be available, along with environmentally-themed exhibits including the Pennsylvania Wood-mobile, a 35' RV converted into a museum celebrating the forest industry of Pennsylvania.
On September 27 from 5:30-9 p.m., the Brandywine Zoo (1001 North Park Drive, Brandywine Park, Wilmington, Delaware, 302-571-7747, www.brandywinezoo.org) is hosting its annual "Brew at the Zoo."
Visitors to the zoo, which is located in Brandywine Park along the banks of the Brandywine Creek in downtown Wilmington, will be able to enjoy ice cold craft beer and ale from local distributors and chow down on delicious food from local restaurants such as Chelsea Tavern and Two Stones Pub. Tickets are $50 at the door with $25 tickets available for designated drivers.
Halloween event season 2019 is officially here.
"Terror Behind the Walls" (Eastern State Penitentiary, 2124 Fairmount Avenue, Philadelphia, 888-763-NITE, www.easternstate.org), will celebrate the new season with its opening weekend that starts today.
The truly scary attraction, which is running through November 10, takes place at a penitentiary site that was once was an active prison and is now a National Historic Landmark. It is a scream-inducing event featuring laser and special-effect lighting, digital sound, sinister scents, animatronic creatures and 3-D illusions.
Popular attractions include "Blood Yard," "Infirmary," "Machine Shop," "Lock Down," "Break Out!," and "Quarantine 4D."
Admission prices, which vary with the date, range from $19-$45.
It's time to welcome autumn and one of the best ways to do this is by checking out the corn mazes at Ramsey's Farm (Ramsey Road, Wilmington, Delaware, 302-477-1499, www.ramseysfarm.com). The farm's event season lists September 21 as 2019's "Opening Day."
Corn mazes, along with hayrides, a pumpkin patch and scarecrows, will be featured at Ramsey's Farm, which is located in northern Delaware on Route 92 just south of the Pennsylvania-Delaware state line. The new season runs on weekends now through October 30.
Ramsey's "Pumpkin Patch" has been in operation since 1995 and the farm's varied mazes have been delighting and baffling visitors who return each year for the popular annual event. The owners of Ramsey's Farm raise pumpkins, gourds, ornamental corn, popcorn, feed corn and hay.
The farm's pumpkin field stretches over 12 acres and yields approximately 20,000 pumpkins each season. Hayrides around the farm will be offered from 11 a.m.-5 p.m. each day. Visitors will be able to shop for pumpkins and other items at the farm store. There will also be hot food and beverages available for purchase.
Tickets are $8 for the corn maze, $5 for the sorghum maze, $3 for the hay maze, $3 for pumpkin painting and $3 for a hayride.
This is the time of the year when farms in the area become a bustle activity — a time for harvest. But, it is not harvest matters that are causing a bustle of activity at Cherry Crest Adventure Farm in Ronks (150 Cherry Hill Road, Ronks, 717-687-6843, www.cherrycrestfarm.com).
The farm's popular annual "Flashlight Maze" is now underway and will continue every Friday and Saturday night through November 4. Cherry Crest Adventure Farm has reserved several weekends during the autumn months for Flashlight Maze.
This special activity allows visitors to experience the Amazing Maize Maze in total darkness. All you need are flashlights and a few friends.
The Flashlight Maze is a nice, non-scary, Halloween alternative that has appeal for people of all ages. The Flashlight Maze, which has a $12 admission fee, is open from 6:30-10 p.m. with the last entrance into the Maze at 9 p.m.
The main attraction is Cherry Crest's "Amazing Maize Maze," which is billed as "the world's most dynamic and interactive corn maze." It is a five-acre corn maze with over two-and-one-half miles of paths, scenic bridges, and clues.
Participants can walk at their own pace as they encounter the "Kernels of Knowledge" along with a variety of clues, tunnel slides, and watering stations. They can also check out a bird's eye view from the two bridges and watch everyone's flags waving high above the corn.
The average time to complete the "Amazing Maize Maze" course is one hour. Ticket prices start at $19.
This weekend, it's time once again for the Scarecrow Competition and Display at Peddler's Village (Routes 202 and 263, Lahaska, 215-794-4000, www.peddlersvillage.com). Hours are 10 a.m.-6 p.m. both days. 
Visitors can stroll around the Village to see the Scarecrow Competition and Display, which showcases more than 100 creative and colorful scarecrows. The Scarecrows are on outdoor display through October 27.
The public is invited to vote for the winners. Ballots are available in all shops and restaurants. The ballot boxes are located in the Hospitality Center at the Cock 'n Bull, Giggleberry Fair, and Buttonwood Grill.
Linvilla Orchards (137 West Knowlton Road, Media, 610-876-7116, www.linvilla.com) is running full speed ahead with its 2019 edition of Pumpkinland.
The family-oriented activity features costumed characters, games and contests and live music.
Another attraction, which runs through October 30, is "Hayride to the Witch's House." Admission is free, and hayrides are $9 per person. There will also be "Harvest Hayrides" and "Autumn Moon Hayrides" starting later in September.
The 28th annual edition of "Haunted Hayride, Bates Motel and Haunted Corn Maze at Arasapha Farm" (1835 N. Middletown Rd., Gradyville, 610-459-0647, www.thebatesmotel.com) will be scaring visitors through October 31.
The haunted hayride through the woods features monsters, special effects and actors. The Bates Motel has haunted rooms with special effects and computerized lighting.
Another attraction is the "Revenge of the Scarecrow Haunted Trail." A haunted trail is cut through a cornfield inhabited by monsters.
New attractions this year are "Zombie Hunt" and "Double Edge Axe Throwing."
Admission prices are: Haunted Hayride, $20; Bates Motel, $15; Haunted Trail, $15; combination tickets, $40. There are reduced rates for children.
For "Count's Halloween Spooktacular at Sesame Place" (100 Sesame Place, Langhorne, 215-752-7070, www.sesameplace.com), the popular amusement park has been converted into a Halloween-themed safe venue for kids with trick or treating, pumpkin decorating, hayrides and a hay maze.
Featured attractions, which will continue until November 3, are "Neighborhood Street Party Halloween Parade," "Halloween Light Show," and "The Not-Too-Spooky Howl-O-ween Radio Show ."
Admission to the park is $49.99.
Pennhurst Asylum (100 Commonwealth Drive, Spring City, 484-866-8964, www.pennhurstasylum.com), which is open through November 4, is on the site of a former mental asylum which has been shuttered for over a quarter of a century.
It has been transformed into a haunted attraction with huge sets, detailed rooms and live actors. Visitors can also explore the labyrinth of underground tunnels.
Tickets are $18 for each of the attractions with a variety of combo packages available.