By Denny Dyroff, Entertainment Editor, The Times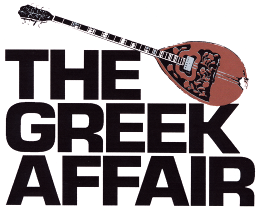 When autumn arrives, there are ethnic food festivals almost every weekend. The schedule for the next week has events featuring Greek, Korean and German food.
The 42nd Annual Greek Affair at St. Luke's Greek Orthodox Church (35 North Malin Road, Broomall, 610-353-1592, www.st-luke.org) is running now through September 22.
The free festival focuses on food — tasty Greek main dishes such as moussaka (eggplant dish), shish-ka-bob (meat and vegetables on skewers) and placki (fish) and Greek dessert treats including baklava (phyllo, nuts and honey) and kataifi (shredded wheat and nuts).
Other activities at the free popular annual event are midway rides, vendors with crafts and Greek items, live music by Greek-American bands and folk dancing demonstrations.
The schedule for folk dance troupes is St. Luke Ellinakia and St. Luke Olympians on September 20; St.Luke Ellinakia, St. Luke Olympians, St. Demetrios, and Pan Macedonians Dancers on September 21; and St. Sophia, St. George, St. Luke Ellinakia, and St. Luke Olympians on September 22.
Additionally, the Taverna will be open from 9 p.m.-midnight on Friday and Saturday.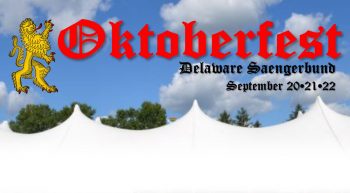 The Delaware Saengerbund's Oktoberfest (Saengerbund festival grounds, 49 Salem Church Road, Newark, Delaware, 302-366-9454, www.delawaresaengerbund.org) is running from September 20-22.
The Delaware Saengerbund's festival is a traditional Munich-style Oktoberfest featuring a wide array of tasty German food delicacies, including Bratwurst, Weisswuurst, soft pretzels, Rollmops (marinated herring served with rye bread), Kartoffelsalad (potato salad), sauerkraut as well as dessert items such as Torten and traditional plum cake.
On September 20, the opening parade will be held at 7 p.m. The lid-lifting event features the "Muenchner Kindl" (Munich Child — the symbol of the city of Munich) who is dressed in brown monk's garb with golden stripes, similar to that of the Benedictine order (founders of the City of Munich).
The "Enzian Volkstanzgruppe", the Bavarian dance group of the Delaware Saengerbund, will entertain throughout the three days of the festival.
When the EVTG is not dancing, German music will be provided by "Almwind" on Friday and Saturday nights and again on Sunday afternoon. Additionally, "Heidi and Heimat Echo" will perform on Saturday afternoon. The Saengerbund's Haus Band, the Enzian Musikanten, will open the festival each day with its performance.
There will also be concessions with an array of imported German gifts and souvenirs, as well as Oktoberfest souvenirs and Bavarian specialty clothes. Included in the admission price of $9 are unlimited free amusement rides.
Hours are 5-11 p.m. on Friday, noon-11 p.m. on Saturdays and noon-6 p.m. on Sunday.

The 12th Annual Boyertown Oktoberfest (Municipal Parking Lot, Reading Avenue, Boyertown. 610-369-3054, www.boyertownoktoberfest.com) is scheduled for September 20 and 21.
The event will kick off with a "Homecoming Celebration" on Friday evening with live music by Vuja De.
Activities on September 21 include the tapping of the ceremonial keg, German music and entertainment, food, and wine and beer. Live entertainment will be provided by Red Headed Stepchild, MudPuppy and the Auerhahn Schuplatter Dancers.
Hours are 5-9 p.m. on Friday, 11 a.m.-9 p.m. on Saturday. Wristbands are $5 per day.
The 2019 Warwick County Park Fall Festival be held on September 21 from 11 a.m.-3 p.m.
The annual late-summer event, which is free and open to all, will be held at Warwick County Park (382 County Park Road, Pottstown, https://www.chesco.org/390/Events).
The list of activities includes Pony Rides & Animals, Archery, Rock Wall, Wagon Rides, Pumpkin Patch, Apple Slingshots, Face Painting, Food Vendors and Live Music
Warwick County Park Community Day is sponsored by the Chester County Board of Commissioners, Facilities and Parks Department, South Coventry Township, Warwick Township, East Nantmeal Township, and Friends of Warwick County Park.
On September 21, the Delaware Art Museum (2301 Kentmere Parkway, Wilmington, Delaware, www.delart.org) is hosting a "Korean Festival."
Visitors are invited to participate in a cultural exchange exploring both traditional and modern Korean culture and celebrating the Korean Thanksgiving, Chuseok.
The event will feature Korean-inspired art activities, a photo booth, Korean snack sampling, TaeKwonDo demonstrations, hands-on activities, and much more. Artwork created by students from the Delaware Korean School will be on display and Korean food will be available for purchase.
Admission is free for this family-friendly event will leave you saying "Sarang-hae-yo Korea," which means "I love Korea."
The Fourth Annual Coatesville Invitational Vintage Grand Prix (300 East Lincoln Highway, Coatesville, https://coatesvillegrandprix.com) will be held on September 21 starting at 8:30 a.m.
Visitors will be able to see more than 50 rare and unique historic cars and motorcycles dating from the early 1900s to 1970 compete in a individually timed event, that will take them around a long 2.2 mile road course through the city and surrounding neighborhoods.
There will be opportunities to meet the car drivers in the pit and watch pit crews and drivers prep for their turn to compete.
The event will also feature live music, food trucks and beer garden featuring craft beers from Victory Brewing Company.
There will also be a vendor area just steps away from the start finish line.
The popular annual event features free admission and free parking throughout town.
The Greater Philadelphia Expo Center (100 Station Avenue, Oaks, 484-754-EXPO, http://www.phillyexpocenter.com) is hosting a sparkling event which will appeal to a wide array of people.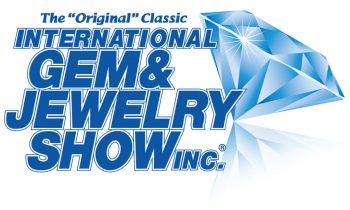 Attendees will be able to find a wide array of jewelry selections priced very affordably at this weekend's "International Gem & Jewelry Show" at the Greater Philadelphia Expo Center (100 Station Avenue, Oaks, 484-754-EXPO, www.intergem.com).
The show, which is a sales and exhibition event that features gems, jewelry, fossils and stones of all sorts, is running from March 8-10 and is billed as the "world's largest jewelry bazaar".
Admission to the public show is $8 for adults while children (ages 9-16) are free with a paid adult ticket. The show's policy states that children ages eight and under are not permitted to attend the show.
The "International Gem & Jewelry Show" features an amazing exhibition of gems, minerals and jewelry. Dealers will be displaying and selling every type of gemstone, as well as one-of-a-kind jewelry creations, estate jewelry, special celebrity exhibits and accessories.
The show will have more than 150 dealer booths where show attendees can select items from a wide range of categories, including beads, rings, settings, watches, necklaces, diamonds, opals, earrings, silver, gold, crystals and pearls.
The hours for the show are noon-6 p.m. on September 20, 10 a.m.-6 p.m. on September 21 and 11 a.m.-5 p.m. on September 22.
The Chaddsford Winery Harvest Festival will be held September 21 and 22 at the Chaddsford Winery (632 Baltimore Pike, Chadds Ford, 610-388-6221,http://www.chaddsford.com).
The festival will feature an onsite Oktoberfest Bier + Wein Garten with German-style beers and warm Bavarian pretzels, and Reserve Winery Tours at 11:30 a.m., and 1:30 and 3:30 p.m. that offer an inside look at cellar activity during the height of production.
The live music roster features Acoustic Keys from 11 a.m.-2 p.m. and Neil McGettigan with Kara Jones from 3-6 p.m. on September 22, and Marielle Kraft from 12:30-4:30 p.m. on September 23.
Admission is free, and all wine and food purchases are pay-as-you-go.
There will be two featured Wine Slushies — Apple Special-TEA Slushies featuring Spiced Apple wine and Black Tea, topped with whipped cream and a sprinkle of cinnamon andHarvest Apple Wine Slushies – as well as warm spiced apple wine cocktails .
Live music will be performed by Sam Capolongo from 11:30 a.m.-2:30 p.m. and MK & COL duo from 3:30-6:30 p.m. and on September 22 by Marielle Kraft from 2:30-5:30 p.m.
There will also be tasty food truck fare provided by The Meat House and beautiful blooms by Cecilia's Flowers (weather permitting). Admission is free, and all wine and food purchases are pay-as-you-go.
On September 22, "Yoga in the Vineyard" will be presented by Penns Woods Winery (124 Beaver Valley Rd, Chadds Ford, 610-459-0808, www.pennswoodswinery.com).
According to Penns Woods people, the aging of wine is a noble process that can serve as a metaphor for healthy aging of a human being.
As a result, they are inviting visitors to enjoy a two-hour gentle yoga class in their vineyard followed by a wine tasting and local light bites farmers plate.
The cost to attend the class is $35.
Other activities this weekend at the winery are live music sessions with Jarrett Muzi from 2-5 p.m. on September 21 and with Joe Grasso from 1 1-4 p.m. on September 22.
Galer Estate Winery (700 Folly Hill Road, Kennett Square, 484-899-8013, www.galerestate.com) has a variety of special events happening this month.
There will be live music on Friday and Saturday afternoons from 5-7 p.m. Performers will be Ken Miller on September 20, Alexandra March on September 21, Paul Wilkinson on September 27 and Nicole Zell on September 28.
​On September 28, the winery will remain open later than usual – allowing guests to sit outside and sip wine while watching the festive nearby "Longwood Gardens Fireworks Display."
The Festival of Fountains at Longwood Gardens (Route 1, Kennett Square, 610-388-1000, www.longwoodgardens.org), which is running now through September 30, is always one of the area's prime summertime attractions.
With fountains that jet as high as 175 feet, gardens filled with colorful summer blooms, shade-friendly trees, exotic day- and night-blooming waterlilies, and live music outdoors, Longwood Gardens has something for everyone
The fountain project took two years and $90 million in renovations. The fountain features more than 1,300 jets and streams, a similar number of LEDs, a variety of flame features and a wide array of plants from around the world.
In addition to the Main Fountain Garden, Longwood is also home to a collection of other fountain gardens, including the enchanting Italian Water Garden and Open Air Theatre fountains, which also perform daily.
The ultra-popular Festival of Fountains features the gardens in their summer splendor. Flowering annuals and perennials abound, as well as the breathtaking Waterlily Display that showcases aquatic plants from all over the world.
Admission to Longwood Gardens is $23 for adults, $20 for seniors and $12 for youth (ages 5-18).
The West Chester Railroad (Market Street Station, West Chester, 610-430-2233, www.westchesterrr.net) is running its special "Summer Picnic Special" trains every Sunday now through September 22.
The round-trip train ride travels to the village of Glen Mills and back and lasts for 90 minutes. During the brief layover in Glen Mills, riders can explore the historic Pennsylvania Railroad station and have a snack in the railroad's picnic grove along the Chester Creek.
Riders can order a boxed lunch when they purchase their tickets online. Sandwich choices are ham and cheese hoagies, turkey and cheese hoagies, and PB&J. All lunches, which are made fresh, come with chips, fruit, drink and cookies.
Additionally, the lunches are packed in a special reusable lunch bag emblazoned with the WCRR logo. Tickets for the train rides are $15 for adults, $13 for children ages 2-12 and free for kids under two.
Chester County's annual schedule of equestrian activities is getting near the end – but not quite yet.
The annual Dressage at Devon (Devon Horse Show grounds, Lancaster Avenue, Devon, 484-358-5510, http://dressageatdevon.org), is running from September 24-29.
The popular annual event combines world class dressage competition and the world's largest open breed show. The six-day event attracts hundreds of horses from around the world and thousands of spectators.
The event also includes the Fall Festival at Dressage at Devon, which features a large selection of vendors and an equally large number of specialty boutiques where visitors can shop for arts and crafts, clothing, horse-related items and gourmet food.
Tickets are $10 for adults and $5 for children (ages 3-12).
On September 21, the Marcus Hook Preservation Society is presenting its 11th Annual Pirate Festival from 11 a.m.-6 p.m. at 4 East Delaware Street in Marcus Hook (http://www.marcushookps.org/piratefestival.php).
The festival on Saturday includes a full pirate encampment with period tents, demonstrations and showcases their wares, firearms, cannons and beer making.
The park area will feature games, food, live pirate music, face painting, pony rides, petting zoo, crafters, beer garden and more. All funds raised during this event go towards the ongoing restoration project of the historic Plank House, aka "Blackbeard's Mistress' House."
The Marcus Hook Preservation Society are the owners and caretakers of this one of a kind, hand-sawn plank log house.
The Marshall Steam Museum at Auburn Heights Preserve (3000 Creek Road, Yorklyn, Delaware, 302-239-2385, http://auburnheights.org) will stage one of its major annual events on September 22 when it hosts Auburn Heights Invitational Historic Auto Display.
The annual Auburn Heights Invitational features an exceptional array of historic automobiles from the classic era. This year's fundraiser event includes a broad representation of high-end motor cars from the dawn of the automotive age through 1942.
The featured classic autos this year are 1948 Chrysler New Yorker Convertible, 1948 MG TC Roadster, 1950 Riley R.M.A. Saloon, 1955 Ford Thunderbird Convertible, 1956 Chevrolet Corvette, 1958 Edsel Citation, Convertible, 1958 Metropolitan 1500 Hard Top Sedan, 1966 Pontiac GTO, 1967 Austin Healy 3000 BJ8, and1969 Jaquar XKE Roadster
Also featured will be 1907 Morse Model B, 1910 Pierce Arrow Model 48-SS Demi-Tonneau, 1912 Brush F26 Runabout, 1912 Auburn 30L Runabout Speedster, 1918 Cadillac Type 57 7-Passenger Touring Car, 1927 Rolls-Royce Phantom I, 1929 Packard Model 640 Phaeton, 1931 Type 91 American LaFrance Pumper, 1931 Franklin Model 151, Convertible Coupe, 1938 Cadillac Model 7519 40-Door Sedan, 1942 Buick Roadmaster, 1949 Ford Woody Wagon, 1955 DeSoto Firedome Convertible, 1955 Buick Roadmaster Hardtop Riviera, and 1957 Cadillac Coupe DeVille Series 62.
Selection is based on significance of the marque, authenticity, presentation and the history of the vehicle. Limited to approximately 20-25 autos, the Auburn Heights Invitational offers a rare opportunity to compare and contrast early and later classic-era vehicles — all at the elegant Auburn Heights estate.
More than just a car show at a classy venue, attendees enjoy delicious fare by the Country Butcher Fine Foods Inc., wine and beer tastings, ice cream from Woodside Farm Creamery, rides on the Auburn Valley Railroad and tours of the Auburn Heights Mansion, plus special exhibits and presentations, a silent auction, raffle and more.
The event will get underway at 12:30 p.m. and admission is $25.
The first continuing Halloween attraction of the 2018 season is arriving this weekend.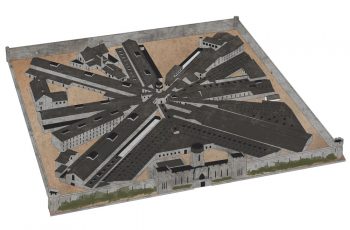 "Terror Behind the Walls" (Eastern State Penitentiary, 2124 Fairmount Avenue, Philadelphia, 888-763-NITE, www.easternstate.org), will celebrate the new season with its opening weekend that starts today.
The truly scary attraction, which is running through November 10, takes place at a penitentiary site that was once was an active prison and is now a National Historic Landmark. It is a scream-inducing event featuring laser and special-effect lighting, digital sound, sinister scents, animatronic creatures and 3-D illusions.
Popular attractions include "Blood Yard," "Infirmary," "Machine Shop," "Lock Down," "Break Out!," and "Quarantine 4D."
Admission prices, which vary with the date, range from $19-$45.
It's time to welcome autumn and one of the best ways to do this is by checking out the corn mazes at Ramsey's Farm (Ramsey Road, Wilmington, Delaware, 302-477-1499,www.ramseysfarm.com). The farm's event season lists September 21 as 2019's "Opening Day."
Corn mazes, along with hayrides, a pumpkin patch and scarecrows, will be featured at Ramsey's Farm, which is located in northern Delaware on Route 92 just south of the Pennsylvania-Delaware state line. The new season runs on weekends now through October 30.
Ramsey's "Pumpkin Patch" has been in operation since 1995 and the farm's varied mazes have been delighting and baffling visitors who return each year for the popular annual event. The owners of Ramsey's Farm raise pumpkins, gourds, ornamental corn, popcorn, feed corn and hay.
The farm's pumpkin field stretches over 12 acres and yields approximately 20,000 pumpkins each season. Hayrides around the farm will be offered from 11 a.m.-5 p.m. each day. Visitors will be able to shop for pumpkins and other items at the farm store. There will also be hot food and beverages available for purchase.
Tickets are $8 for the corn maze, $5 for the sorghum maze, $3 for the hay maze, $3 for pumpkin painting and $3 for a hayride.
This is the time of the year when farms in the area become a bustle activity — a time for harvest. But, it is not harvest matters that are causing a bustle of activity at Cherry Crest Adventure Farm in Ronks (150 Cherry Hill Road, Ronks, 717-687-6843, www.cherrycrestfarm.com).
The farm's popular annual "Flashlight Maze" is now underway and will continue every Friday and Saturday night through November 4. Cherry Crest Adventure Farm has reserved several weekends during the autumn months for Flashlight Maze.
This special activity allows visitors to experience the Amazing Maize Maze in total darkness. All you need are flashlights and a few friends.
The Flashlight Maze is a nice, non-scary, Halloween alternative that has appeal for people of all ages. The Flashlight Maze, which has a $12 admission fee, is open from 6:30-10 p.m. with the last entrance into the Maze at 9 p.m.
The main attraction is Cherry Crest's "Amazing Maize Maze," which is billed as "the world's most dynamic and interactive corn maze." It is a five-acre corn maze with over two-and-one-half miles of paths, scenic bridges, and clues.
Participants can walk at their own pace as they encounter the "Kernels of Knowledge" along with a variety of clues, tunnel slides, and watering stations. They can also check out a bird's eye view from the two bridges and watch everyone's flags waving high above the corn.
The average time to complete the "Amazing Maize Maze" course is one hour. Ticket prices start at $19.
This weekend, it's time once again for the Scarecrow Competition and Display at Peddler's Village (Routes 202 and 263, Lahaska, 215-794-4000, www.peddlersvillage.com).Hours are 10 a.m.-6 p.m. both days.
Visitors can stroll around the Village to see the Scarecrow Competition and Display, which showcases more than 100 creative and colorful scarecrows. The Scarecrows are on outdoor display through October 27.
The public is invited to vote for the winners. Ballots are available in all shops and restaurants. The ballot boxes are located in the Hospitality Center at the Cock 'n Bull, Giggleberry Fair, and Buttonwood Grill.
On September 21 and 22, Linvilla Orchards (137 West Knowlton Road, Media, 610-876-7116, www.linvilla.com) is hosting its annual Arts and Music Festival.
The lineup for September 21 features Howlin' Blue & The Cosmos Cats, The TakeAways and Full Deck. The roster for September 22 is Wayside Shakeup, Slightly Sedated, and Manatawny Creek Ramblers.
Not only does this spectacular event offer live musical performances you will get a chance to shop for that unique find by browsing a variety of handmade wood crafts, jewelry, photography, candles and more.
Pumpkinland will also be in full swing. The family-oriented activity features costumed characters, games and contests and live music.
The Pennsylvania Renaissance Faire (Pennsylvania Renaissance Faire Shire, Mount Hope Estate and Winery grounds, Route 72, Cornwall, 717-665-7021, www.parenfaire.com) is hosting its "Time Travelers" event on September 21 and 22.
From 11 a.m. until 8 p.m. each day, the huge faire will be dedicated to time travelers.
The soothsayers have foreseen a chronological convergence of time travelers, doctors, treckers of the stars, the steam-punkified, slayers and many more of the fictions of science as they gather upon the Shire of Mount Hope.
At the Adult Costume Exhibition, all adult time travelers are invited to gather for an exhibition of their most creative fashions, Stand-out participants will receive wondrous prizes.
At the Children's Costume Exhibition, youngsters are invited to show off all your finery for the whole Shire.
With Royal Dog Days, His Majesty has issued an invitation to the lover of dogs to join him and the Royal Hounds upon the Fairegrounds Saturdays and Sundays in September.
Admission is $31.95 for adults and $11.95 for kids ages 5-11.
On weekends now through October 26, the Kalmar Nyckel will be offering public sails from the Kalmar Nyckel Shipyard (Copeland Maritime Center, 1124 E. 7th St. Wilmington, Delaware, http://kalmarnyckel.org).
For two decades, the Kalmar Nyckel, which has its home base in Wilmington, has been hosting riders all over the world – especially in Delaware.
A ride on the Kalmar Nyckel is a totally different from most tourist water rides.
The ship is a beautiful recreation of the original Kalmar Nyckel, which was built in Holland in the 1620s. Her mainmast is taller than a 10-story building and she carries 7,600 square feet of sail area and six miles of rigging.
The original Kalmar Nyckel was a Swedish-owned, three-masted armed pinnace that sailed from Goteborg, Sweden in November of 1637 and brought the first permanent European settlers to the Delaware Valley.
Carrying 24 settlers from four countries (Sweden, Finland, Holland, and Germany), she landed on the banks of the Christina River. The site, which became known as "The Rocks", can be visited at Fort Christina Park off Wilmington's East Seventh Street.
The Kalmar Nyckel made four documented round-trip crossings of the Atlantic, more than any other "settlers' ship" of the era. The original ship was lost in the late 1600s.
In 1986 a group of citizens established the Kalmar Nyckel Foundation to design, build and launch a replica of the Kalmar Nyckel at a shipyard adjacent to the original landing site.
The new Kalmar Nyckel was constructed there and was launched on September 28, 1997. She was commissioned on May 9, 1998 and now serves as Delaware's sea-going Ambassador of Good Will. She is a fully functional sail training vessel and has represented Delaware all over the country.
Tickets are $35 for adults and $20 for youth (ages 17 and under).
The Strasburg Railroad (Route 741, Strasburg, 717-687-7522, www.strasburgrailroad.com) is always one of the most popular spots around when it hosts "Day Out With Thomas."
There is a mutual love affair between kids and Thomas the Tank Engine and it's especially evident when Thomas gets up-close and personal with his fans during his visits to the Strasburg Railroad.
Every year, the steam locomotive named Thomas makes several visits to Lancaster County where he entertains enthusiastic children and their parents. The locomotive, which has its own PBS television series, will return to Strasburg for "Day Out With Thomas" now through September 22.
For more than 50 years, Thomas the Tank Engine and his Island of Sodor friends have been favorites of preschoolers and their parents. Based on "The Railway Series" (classic stories authored by a father who loved trains and wanted a shared experience with his son), "Thomas & Friends" has evolved into a rite of passage that inspires imagination.
Fans will be able to get personal with Thomas the Tank Engine, a full-sized operating steam locomotive who will be talking for the first time ever. And, they will also be able to ride a train pulled by Thomas and meet the locomotive's buddy Percy.
Percy, who is a larger-than-life, full-size locomotive just like his friend Thomas, will be there for all days of the event. A ride behind Percy may be purchased as an add-on to the "Day Out With Thomas" ticket. Percy's ride will last approximately 12 minutes.
In between trips, Percy will talk with families and be available between trips for photos.
Tickets for "Day Out With Thomas," which are $21, include the train ride with Thomas the Tank Engine, as well as a variety of Thomas & Friends themed entertainment such as storytelling, video viewing, temporary tattoos of Island of Sodor friends and an Imagination Station. The Percy Package is available for an additional $6.
The Kitchen Kettle Village's "Tailgating Festival" is scheduled for September 20 and 21 from 10 a.m.-6 p.m. each day at Kitchen Kettle Village (3529 Old Philadelphia Pike, Intercourse, 800-732-3538, http://www.kitchenkettle.com).
Special activities include "Whoopie Pie Filling Contest," balloon twisting for the kids with the "Balunguy," sampling locally-made apple cider from Kauffman's Fruit Farm, touring a sports-themed scarecrow display and watching a "Tailgate Parade" through the Village.
The "Tailgate Parade," which starts at noon, features the Pequea Valley Band, cheerleaders and other special groups.
There will also be a "Tailgate Games" area featuring a bounce house, inflatable basketball hoop shoot, face painting and more. This area has a $5 entrance fee with all funds raised benefitting local sports teams and booster clubs.