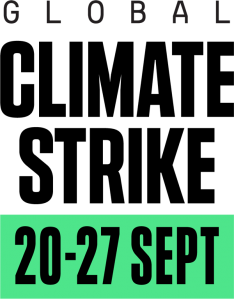 Chester County students of all ages are joining with the International Climate Strike on September 20th – right before the UN Climate Week in New York City. And the youth leaders are calling on adults to join mass climate strikes. The size of the strikes is expected to be unprecedented. These strikes have the potential to be the largest mass mobilization on climate in world history.
The youth climate action movement drew global attention last year when 15 year-old Greta Thunberg began a vigil in front of the Swedish parliament every school day for three weeks, to protest against the lack of action on the climate crisis. This sparked a global movement known as Fridays for Future.
West Chester University faculty member Hannah Ashley observes, "Youth around the world have been striking from school to bring attention to the climate crisis because they deserve a future safe from climate catastrophe. Now, for the first time, they are asking adults to join them. The youth have shown the world what true leadership on climate looks like; now it's up to everyone else to follow their lead."
The organizers of the September 20th events are making a direct appeal to their parents, grandparents, teachers, and the adult community as a whole:
"Workers everywhere, please: we are asking you to join us and walk away from a system that is destroying our planet and will threaten the survival of millions of people, plants, and animals within the next 10, 20, 30 years.  We don't feel like we have a choice: it's been years of talking, countless negotiations, empty deals on climate change and fossil fuel companies being given free rides to drill beneath our soils and burn away our futures for their profit. Politicians and fossil fuel companies have known about climate change for decades. They have willingly handed over their responsibility for our future to profiteers whose search for quick cash threatens our very existence. This crisis is very real, and it cannot be ignored any longer."
Local youth climate actions are being held in several locations including at West Chester University on the Academic Quad at 1:00. Others are assembling first at the courthouse on High Street in West Chester Borough at 11:00am to support the climate strike.
Later in the afternoon an intergenerational delegation will be presenting hundreds of postcards signed by Chester County residents asking the County Commissioners to take action on climate right here in Chester County. The students and young adults will have an opportunity to share their concerns with the Commissioners and ask what bold action can be taken locally.
"We want to be sure our Commissioners and other elected officials understand that scientists agree that we have only ten years left to act on the climate crisis. If we fail, we will risk the life of every person on this planet. That makes climate change the biggest threat faced by all humanity. This translates into a threat to our local and global economy, the lives and health of billions of people, and political stability," said Business Management major Alexandria Nalevanko. "Speaking out and seeking participation is an antidote to despair. We need action to find hope."
Climate activist, Isaac Harte, 12, like Greta, has been making impassioned calls for decisive and rapid commitments. Isaac attends Delaware Valley Friends School which has an impressive energy profile including solar panels and high efficiency heating and cooling. He will be participating in the climate strike in Philadelphia before joining the meeting with the County Commissioners.  "We are the future generation that will experience climate change in the most severe way," Harte exclaims. "Older people, such as our politicians, will not experience it in the same way that we will. The U.S. has withdrawn from the Paris Climate Accord. The Green New Deal has not been put into effect. Deals like these don't just protect us from climate change, they create a better means of life."
Kara Thorpe from Spring City is a recent West Chester University graduate and organizer for the Chester County Clean EnergyTour. "We need positive, future focused solutions from our elected officials.  We are grateful that the Commissioners, State Representatives Sappey, Committa, and Shusterman and Senators Dinniman and Killion understand what is at stake and are supporting alternative like the Clean Energy Tour on October 19th. We want to see specific targets set for when our local governments, including school districts, can themselves transition to renewables and be models as West Chester University has been."
"The climate strike on the 20th should be one of the biggest strikes we've had," adds Isaac, "and we hope this makes the biggest impact yet. I have no doubt that it will. Please attend your local 11am strike at the West Chester courthouse and then the 1pm strike at West Chester University, or attend the mid-morning Philadelphia City Hall strike like I plan to do. Young people such as myself are counting on everyone to get out there and lend their voice to the movement."