By Denny Dyroff, Entertainment Editor, The Times
The Chester County Restaurant Festival (Gay Street and downtown area, West Chester, 610-436-9010, http://www.downtownwestchester.com/view_program.php?id=293) is celebrating 40 years of treating visitors to the borough with the opportunity to sample a wide variety of gourmet treats for almost 40 years.
This year, the free festival, which will be held on September 15 from noon-5:30 p.m. in downtown West Chester, is a party – a 40th birthday party.
Many of the area's top restaurants — more than 65 altogether — will have booths where visitors can purchase samples of a mouth-watering array of culinary delights and gourmet food items. There will be approximately 110 vendor booths featuring arts and crafts, three stage areas for live music and the "Church Street Beer and Wine Garden" where patrons can sit and relax with a pint of refreshing brew.
Parking in all Borough of West Chester garages is $10 for all day.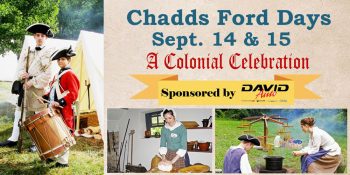 Every year in early September, the Chadds Ford Historical Society hosts its annual event known as Chadds Ford Days (John Chads House, Route 100, Chadds Ford, 610-388-7376, www.chaddsfordhistory.org).
This year, the well-attended festival, which will be held on September 14 and 15 in the meadow behind the CFHS building on Route 100 in Chadds Ford, will feature an art show and a craft show with more than 40 traditional artisans selling their wares. There will also be a variety of colonial craft demonstrations presented each day.
Festival attendees will be able to interact with Colonial reenactors and watch cannon firings, get a libation at a colonial tavern, watch a history-related shows and take tours of the John Chads House and the Barns-Brinton House — both of which date back to the early 1700s.
The outdoor event, which has been a community tradition since 1958, also features food booths presented by local restaurants, Colonial demonstrators, children's activities, an antique car show and live bluegrass music.
Guests also will be able to stop in the Visitor Center to view the 2019 CFHS exhibit "Thrills, Hills and Spills: Lenape Park and Chadds Peak".
The event's hours are 10 a.m.-7 p.m. on Saturday and 10 a.m.-5 p.m. on Sunday. Tickets are $10 for adults, $5 for children (ages 7-17) with free admission for kids (under 7) and pets (on a leash).
In mid-August, Halloween items were already being displayed on area store shelves. If that's not bad enough, there were Christmas displays already set up at local stores on Labor Day.
In the real world, autumn officially arrives in about a week. Soon, the leaves on trees all around the area will be starting to change color. This means that the season of harvest festivals has arrived.
One of the first will be the Chaddsford Winery Harvest Festival which will be held September 14, 15, 21, and 22 at the Chaddsford Winery (632 Baltimore Pike, Chadds Ford, 610-388-6221, http://www.chaddsford.com).
The festival will feature an onsite Oktoberfest Bier + Wein Garten with German-style beers and warm Bavarian pretzels, and Reserve Winery Tours at 11:30 a.m., and 1:30 and 3:30 p.m. that offer an inside look at cellar activity during the height of production.
The live music roster features Ryan Shubert and The Road Tapes on September 14, Rad and Kell on September 15, Sam Capolongo and MK & COL Duo on September 21 and Marielle Kraft on September 22.
The food truck line-up includes The Polish Connection on September 14 and 15 and The Meat House on September 21 and 22.
Admission is free, and all wine and food purchases are pay-as-you-go.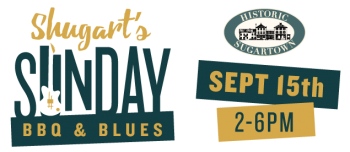 "Shugart's Sunday — BBQ & BLUES," which is scheduled to get underway at 2 p.m. on September 15 in the Village of Sugartown (690 Sugartown Road, Malvern, 610-640-2667, http://www.historicsugartown.org), is a family-oriented event that raises vital preservation funds to protect the village of Sugartown in the heart of Willistown Township.
Historic Sugartown, Inc. is dedicated to the preservation of 11 structures and 9.2 acres within the Sugartown National Historic Register District. Historic Sugartown has meticulously restored the village and connects the community to America's past through engaging programs, events, art shows and workshops that explore rural 19th-century village life.
In 1804, Eli Shugart opened a tavern to serve weary travelers. Though he only stayed two years, the village became known as "Shugart's Town." Beneath the backdrop of Historic Sugartown's General Store and Worrall House, "Shugart's Sunday" will feature a festive afternoon with live local blues music and mouth-watering barbecue.
Featured attractions will be live music by The Dukes of Destiny, tasty barbeque by Bridgeport Rib House, sweet corn, hayrides to Willisbrook Farm, and a variety of family-oriented games and activities.
Tickets are $40 for adults and $15 for children (ages 3-10).
The "Sunflower Hayride Adventure" will be held September 14 and 15 at Hurricane Hill Farm (704 East Reeceville Road, Coatesville, https://hhfmaze.com/).
From 10 a.m.-6 p.m. each day, visitors will be able to enjoy a scenic hayride out to Hurricane Hill Farm's three-acre sunflower field. The sunflowers will be in full bloom and perfect for photo ops and a stroll through the field.
The five-acre "Gladiator (Roman Empire) Corn Maze" and a smaller corn maze will be open all four days as well as the Corn Slide, the Cow Train Rides, the Trike Track, the John Deere Harvester slide, hayrides, Corn Boxes, and the Hay Climb.
Tickets are $12.
The Binky Lee Preserve (1445 Pikeland Road, Chester Springs, https://natlands.org) will host "Beats and Brews" on September 13 from 6-9:30 p.m.
The event will be a late-summer evening filled with live music and craft beer in support for the Campaign for Bryn Coed Farms and Binky Lee Preserve.
Entertainment will be provided by MiZ & Friends featuring Mike Mizwinski, who will jam through the evening and perform "an eclectic collection of rock-roots-blazing, bluegrass, and soulful acoustic ballads."
All ticketholders receive two free beers. Additional beer will be available for purchase, along with light dinner fare from an on-site food truck.
Proceeds from Beats and Brews are an important part of community fundraising to preserve nearby Bryn Coed Farms, Natural Lands' newest property, as well as restoration projects and improved amenities at Binky Lee.
The Schuylkill Freedoms Festival is a free all-ages outdoor music festival scheduled for September 14 at the Freedoms Foundation at Valley Forge (1601 Valley Forge Road, Phoenixville, FreedomsFestival.com).
Attendees will be able to listen to live music, enjoy tasty food at one of the food trucks, and visit the local artisan vendors area.
The family event will also have an array of kids' activities such as sand art, mind craft buildings blocks, ring toss, obstacle course, face painting and more.
The description of the "Festival Mission" is: The Medal of Honor Grove at the Freedoms Foundation was placed in a conservation easement to forever protect the grove from being developed. This event is a celebration of that triumph and several other open space victories throughout Schuylkill Township. The festival's mission is to bring the community together in a safe and fun environment to share in the fruits of the open space partnership forged between the Freedoms Foundation and Schuylkill Township.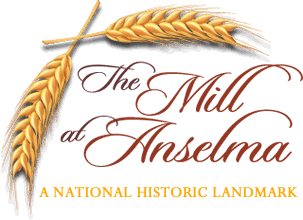 You can get a look back at another era by attending an event called "Milling Demonstration Days" which will take place on September 14 at Mill at Anselma (1730 Conestoga Road, Chester Springs, 610-827-1906, http://anselmamill.org).
The Mill will be fully operational from 10 a.m.-4 p.m. on the second Saturday of each month.
Visitors to the Mill will be able to meet Anselma's miller and hear him talk about how the gears work and what they do. There will also be interesting technology tours that focus on how different parts of the mill work.
Additionally, there will be special interactive activities for the children — including learning how to sift flour. Kids will also have the opportunity to operate a pump on a smaller water wheel.
The event will run from 10 a.m.-4 p.m. Admission is $5 for adults, $4 for seniors (60 and older) and children (ages 4-14). Active Military and children (under 4) will be admitted free.
If you find yourself being affected by a full moon, you should consider attending a "Full Moon Tour" at the Wolf Sanctuary of Pennsylvania (465 Speedwell Forge Road, Lititz, 717-626-4617, http://wolfsanctuarypa.org).
The Sanctuary offers this tour once a month on the closest Saturday to the full moon. This month, the date is September 14 and the full moon is known as the Corn Moon. This is an event in which participants are invited to create their own experiences.
Instead of following a tour guide from pack to pack at a regulated pace that fits within a 45-minute timeline, you get to go at your own pace from pack to pack. There is also the option of talking to a tour guide who is stationed at each pack. You can listen to what they have to say about the wolves when stopping at a station or you can ask questions.
With this tour, you move at whatever speed you find comfortable. If you get tired, you can go over and sit next to a roaring bond fire (weather permitting) and just relax. Visitors are requested to bring a blanket, a flashlight, a chair and maybe some hot dogs and marshmallows.
The tour starts at 7:30 p.m. Tickets are $20, and no reservations are required. The next "Full Moon Tour" this year will be Hunter's Moon on October 12.
The Festival of Fountains at Longwood Gardens (Route 1, Kennett Square, 610-388-1000, www.longwoodgardens.org), which is running now through September 30, is always one of the area's prime summertime attractions.
With fountains that jet as high as 175 feet, gardens filled with colorful summer blooms, shade-friendly trees, exotic day- and night-blooming waterlilies, and live music outdoors, Longwood Gardens has something for everyone
The fountain project took two years and $90 million in renovations. The fountain features more than 1,300 jets and streams, a similar number of LEDs, a variety of flame features and a wide array of plants from around the world.
In addition to the Main Fountain Garden, Longwood is also home to a collection of other fountain gardens, including the enchanting Italian Water Garden and Open Air Theatre fountains, which also perform daily.
The ultra-popular Festival of Fountains features the gardens in their summer splendor. Flowering annuals and perennials abound, as well as the breathtaking Waterlily Display that showcases aquatic plants from all over the world.
Admission to Longwood Gardens is $23 for adults, $20 for seniors and $12 for youth (ages 5-18).
The West Chester Railroad (Market Street Station, West Chester, 610-430-2233, www.westchesterrr.net) is running its special "Summer Picnic Special" trains every Sunday now through September 22.
The round-trip train ride travels to the village of Glen Mills and back and lasts for 90 minutes. During the brief layover in Glen Mills, riders can explore the historic Pennsylvania Railroad station and have a snack in the railroad's picnic grove along the Chester Creek.
Riders can order a boxed lunch when they purchase their tickets online. Sandwich choices are ham and cheese hoagies, turkey and cheese hoagies, and PB&J. All lunches, which are made fresh, come with chips, fruit, drink and cookies.
Additionally, the lunches are packed in a special reusable lunch bag emblazoned with the WCRR logo. Tickets for the train rides are $15 for adults, $13 for children ages 2-12 and free for kids under two.
The Strasburg Railroad (Route 741, Strasburg, 717-687-7522, www.strasburgrailroad.com) is always one of the most popular spots around when it hosts "Day Out With Thomas."
There is a mutual love affair between kids and Thomas the Tank Engine and it's especially evident when Thomas gets up-close and personal with his fans during his visits to the Strasburg Railroad.
Every year, the steam locomotive named Thomas makes several visits to Lancaster County where he entertains enthusiastic children and their parents. The locomotive, which has its own PBS television series, will return to Strasburg for "Day Out With Thomas" now through September 22.
For more than 50 years, Thomas the Tank Engine and his Island of Sodor friends have been favorites of preschoolers and their parents. Based on "The Railway Series" (classic stories authored by a father who loved trains and wanted a shared experience with his son), "Thomas & Friends" has evolved into a rite of passage that inspires imagination.
Fans will be able to get personal with Thomas the Tank Engine, a full-sized operating steam locomotive who will be talking for the first time ever. And, they will also be able to ride a train pulled by Thomas and meet the locomotive's buddy Percy.
Percy, who is a larger-than-life, full-size locomotive just like his friend Thomas, will be there for all days of the event. A ride behind Percy may be purchased as an add-on to the "Day Out With Thomas" ticket. Percy's ride will last approximately 12 minutes.
In between trips, Percy will talk with families and be available between trips for photos.
Tickets for "Day Out With Thomas," which are $21, include the train ride with Thomas the Tank Engine, as well as a variety of Thomas & Friends themed entertainment such as storytelling, video viewing, temporary tattoos of Island of Sodor friends and an Imagination Station. The Percy Package is available for an additional $6.
On September 15, the Bethel Township Preservation Society (610-459-4183, http://betheltownshippreservationsociety.com) will present its "Annual Historic  House Tour" at a variety of houses in the Garnet Valley area
The event, which is $15 for adults and $5 for children (15 and under), will visit a number of historic homes that have been adapted to provide a comfortable living arrangement cfor the residents while retaining most of the historic integrity.
One example is a house from 1862 that has been converted into a gift shop featuring a wide array of used and renewed items
The event will run from 1-4 p.m. on September 15. Tickets can be purchased at Renewed For You, which is located at 2001 Foulk Road in Bethel Township.
September 14 is the opening day for "Pumpkinland" (Linvilla Orchards, 137 West Knowlton Road, Media, 610-876-7116, www.linvilla.com). "Pumpkinland," which runs through November 10, features fairy tale characters from nursery rhymes along with a huge scarecrow and a really tall storybook.
Other activities include train rides, a straw bale maze, hayrides, pick-your-own apples and pony rides. Another attraction, which runs from September 22-October 30, is "Hayride to the Witch's House." Admission is free, and hayrides are $6 per person. There will also be "Harvest Hayrides" and "Autumn Moon Hayrides" starting later in September.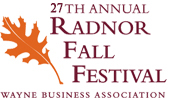 The 27th Annual Radnor Fall Festival (www.radnorfallfestival.com) is scheduled for September 15.
The event will be held from 1-5 p.m. on North Wayne Avenue and West Avenue in the center of Wayne between Lancaster Avenue and the Wayne train station.
It will feature participation by local merchants, service providers and restaurants. Activities include street performances by local bands, dancers from local dances studios, amusement booths, face painting and carnival rides.
The Ninth Annual Philly Burger Brawl, where more than 60 restaurants compete to determine whose burger knocks out the rest, is scheduled for September 15 at The Navy Yard (4701 Intrepid Avenue, Philadelphia, www.phillyburgerbrawl.com).
More than 60 Philadelphia region restaurants will fire up the grills and battle for burger bragging. The region's largest food competition will move to a larger new space and take over the Marine Parade Ground at Navy Yard Philadelphia.
Attendees are invited to enjoy all-you-can-eat samples of the very best burger in Philadelphia and then vote for their favorite. Food critics, writers and celebrity judges will also name one winning burger – "Judge's Choice."
Some of this year's competitors are Bainbridge Street Barrel House, Lucky's Last Chance, Moonshine Philly, New Wave Café, m2o Burger, Outlaw's Burger Barn & Creamery, Bernie's University City, Del Frisco's Steak House, Milk Boy, Misconduct Tavern, Village Whiskey, Yards Brewing Company, Three Monkey's Café, Tredici Enoteca, Twenty Manning and Prohibition Tap Room.
Burger Brawl will also pair all the amazing burger combinations with killer cocktails. Philadelphia Burger Brawl's Cut Throat Cocktail Competition will return this year presented by Jim Beam.
General admission starts at $45. VIP gates open at 1 p.m. and general admission gates open at 2 p.m. Proceeds benefit the Fund for the School District of Philadelphia.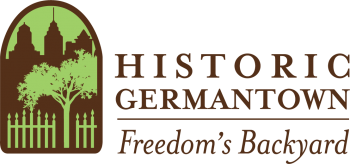 On September 14, it will be time for Second Saturday in Historic Germantown (http://www.freedomsbackyard.com).
The 16 sites and museums of Historic Germantown will open their doors on Saturday for the neighborhood's seasonal Second Saturday event.
Visitors can enjoy self-guided tours of the area's historic places including Johnson House Historic Site (a stop on the Underground Railroad), Cliveden (the location of the Battle of Germantown), Wyck (a beautiful garden) and more.
The event will run from noon-4 p.m. on Saturday at various locations around the 6300 block of Germantown Avenue.
This is the time of the year when you can treat your taste buds to a wide array of authentic cuisines from around the world and never have to step foot inside a restaurant.
When autumn arrives, there are ethnic food festivals almost every weekend. The schedule for the next week has events representing Mexico, Lebanon and India.
The Mexican Independence Day Festival (www.mexicanculturalcenter.org) will have its annual celebration of great food, music, crafts and more on September 15.
The free event will run from 2-8 p.m. at Great Plaza at Penn's Landing, which is located at 101 South Columbus Boulevard in Philadelphia
With more than 15,000 attendees, this festival is the largest event celebrating the Independence of Mexico in the Delaware Valley and it is recognized by the Delaware River Waterfront Corporation as the largest one-day cultural festival held at Penn's Landing.
The day features events such as "Grito de Independencia" — also known as "El Grito." It is a Mexican Independence Day tradition recalling the moment when Father Hidalgo rang the church bells marking the start of the Mexican War of Independence.
This popular festival celebrates not only Mexican Independence, but also Mexican culture and heritage, which will be highlighted through traditional Mexican artisan crafts, folkloric and mariachi performances, activities for children, and popular music performances.
During the event, attendees can also enjoy traditional Mexican food provided by local vendors.
If you'd like to sample dishes from Lebanon such as shawarma, kefta kabob, kibbe balls and hummus, then you need to visit the Saint Sharbel Annual Lebanese Festival which is running now through September 15 at Saint Sharbel Maronite Catholic Church (3679 Providence Road, Newtown Square, www.stsharbelpa.org).
Some of the other food items will be beef kabobs, chicken tawook, falafel, baba ghanoush, tabbouleh, stuffed grape leaves and Lebanese and Middle East desserts and pastries.
The Lebanese Festival will have live music and dance, and food and drinks. The featured performer on Saturday and Sunday will be Georges Maalouf and Ensemble.
The Fifth Annual Indo American Shopping/Cultural Fest will take place on September 15 at Greater Philadelphia Expo Center (100 Station Avenue, Oaks,https://www.facebook.com/allthingsindiancc).
The Indo American fest, also known as "Desi Mela," will feature a wide array of vendors, kids' activities, Henna booths, and Bollywood music. There will also be a variety of mouth-watering food from India.
The event, which is being presented by All things Indian Chester County, will run from 11 a.m.-4 p.m. and features free admission.
One of the most popular annual events at the Hagley Museum and Library (Route 141, Wilmington, 302-658-2400, www.hagley.org) is the Hagley Car Show.
The historic site, which is located in Delaware just a few miles south of Kennett Square, will host its 2019 Car Show on September 15 from 10 a.m.-4 p.m.
Visitors to the show will be able to browse the site and check out more than 500 antique and restored cars that date from the early 1900s-1980s. The show features vehicle parades, motoring music, video and go-kart racing and a festival food court. Activities are on Hagley's upper property.
Tickets for the Car Show are $10 for adults and $5 for children (ages 6-14). Admission is free for Hagley members and children five and under. The event will be held rain or shine. Visitors are instructed to use Hagley's main entrance off Route 141.
On September 14, Winterthur Museum, Garden & Library (Route 52, Wilmington, Delaware, 800-448-3883, www.winterthur.org) is hosting a special event called "Delawild."
Approximately 25 environmental organizations from Delaware and the Brandywine Valley will convene at Winterthur in a celebration of the environment and nature. The event, which is geared for environmentalists of all ages, will include hikes, workshops, lectures, and demonstrations presented by a wide range of environmental and conservation organizations.
The day's activities will include information on wild plants, wildlife, wild water, and nature in the city.
Additionally, Charlie Engelman, television host with National Geographic Kids, as well as a range of experts from a variety of local organizations, will be participating in the nature-centric event.
Some of the featured programs are a meadow hike, a vegetable garden walk, a program on bluebirds and kestrels, a tree walk, lessons on growing a garden for butterflies and a talk on watershed conservation.
Participating organizations include Academy of Natural Sciences, Bee Watchers, Delaware Forest Service, Delaware Greenways, Delaware Master Gardeners, Delaware Museum of Natural History, Healthy Foods for Healthy Kids, Partnership for the Delaware Estuary, and Tri-State Bird Rescue & Research, Inc.
Admission is $20 for adults and $6 for children (ages 2–11).
The Rittenhouse Square Fine Arts Show, one of the city's top craft fairs, is scheduled for this weekend. Now through September 15, the Fine Arts Show will have with top-caliber vendors lining the streets all around Rittenhouse Square (18th and Walnut streets, Philadelphia, http://www.rittenhousesquareart.com/).
Founded by artists in 1928, and run by a board of artists today, the Rittenhouse Square Fine Art Show is the oldest outdoor art show in the country.  Steeped in rich history and tradition, there is absolutely no other show like it.
Twice a year, professional artists from across the nation — and occasionally from other countries — convene in the scenic park in Center City to share their art with Philadelphia right here in Rittenhouse Square.
The Fine Arts Show, which is free and open to the public, will focus on hand-crafted jewelry, contemporary furniture, functional and decorative pottery, designer clothing, fine porcelain, blown glass, limited edition photography, sculpture, paintings, watercolors, oils, graphite and pastels.
Fair hours are 11 a.m.-7 p.m. on Friday, 11 a.m.-6 p.m. on Saturday and 11 a.m.-5 p.m. on Sunday. Admission is free. Street and garage parking is readily available.
The Greater Philadelphia Expo Center (100 Station Avenue, Oaks, 484-754-EXPO, http://www.phillyexpocenter.com) is hosting the Pennsylvania National Quilt Extravaganza now through September 15.
The event, which is billed as "the largest and most prominent textile arts event on the East Coast all under one roof," has been around so long that it now uses Roman Numerals to designate its vintage. This year's show is the Pennsylvania National Quilt Extravaganza XXV.
On exhibit at the Extravaganza will be more than 600 quilts and garments presented in gallery style. There will also be more than 200 vendor booths with items including completed quilts and garments as well as the supplies and equipment used in making them.
The Pennsylvania National Quilt Extravaganza will also offer a wide array of lectures and workshops presented by some of the top professionals in the field of quilting and the textile arts.
Show hours are 10 a.m.-6 p.m. on Friday and Saturday and 10 a.m.-4 p.m. on Sunday. Tickets for adults are $15 on Friday and Saturday and $13 on Sunday. Children under the age 16 are admitted free.
The Expo Center is also hosting the East Coast Reptile Super Expo featuring hundreds of live snakes and reptiles.
The East Coast Reptile Super Expo, which is always a well-attended event, will run from 9 a.m.-4:30 p.m. this Saturday. Tickets are $10 with children (under five) admitted free.
Many people think snakes and lizards are interesting creatures and maybe even fun pets to own. If you fall into this category, you should check out the show on Saturday. A wide array of reptiles will be on display as part of the popular exhibition.
One of the show's main attractions is a sales exhibit area featuring a large number of vendors with live reptiles, amphibians and arachnids as well as food items, supplies, books, cages, and related accessories.
The roster of very diverse vendors includes AZO Reptiles, Rose's Reptiles, Livecargo Pets & Supplies, Dale's Bearded Dragons, Blake's Exotic Reptiles, Dower Reptiles & Rodents, Reptile Kingdom, DHA Pythons, Gecko Haven, Skins and Scales, Hunger Reptiles, Jungle Emporium, The Snake Pit, Delaware Turtle, Harris in Wonderland, Just Lizards and Outback Reptiles.
The list also includes RKZ Rodents. Monstar Reptiles, Turtle to Turtle, Delaware Valley Herpetarium, J-N-T Reptiles, Newville Dragons, PM Herps, Jay Jacoby Serpent Propagation, Black Jungle Terrarium Supply,AZO Reptiles, VSCV Ventures LLC, Dachiu Dragons, Tom Rogan Reptiles, Native Exotics and Jon & Wess Reptiles.
Other featured vendors will be Serpents Plus, Heath's Frog Farm, Corralus Creations, Rogue Reptiles LLC, Jason R Bartolett Captive Bred Reptiles, Fowler Reptiles, Dragon Fortress, Turtle Towns, Garden State Tortoise LLC, Reptile Addicts, Bob's Critters, Franken Chams, MCO Reptiles and Fins, Feathers, Paws & Claws.
Another event at the Expo Center this weekend will be the Retro Con: Retro Toy & Gaming Show on September 14 and 15.
"Retro Con: Retro Toy & Gaming Show" is a toy show that's dedicated to all things retro. The event's spotlight will shine on the toys from the 60's, 70's, 80's and 90's – and more.
Retro Con is pop culture and memorabilia show catering to anything considered "retro" — especially the 80's – things like Transformers, Star Wars, GI Joe, Ghostbusters, He-man, and classic video games.
There will be more than 200 tables of collectibles and art for sale, as well as special guests, video games, a costume contest, raffles, a trivia contest, panels, replica props, and much more.
The event will also have gaming systems set up – systems such as the classic NES & Saga — for fans to play.
The show will run from 10 a.m.-6 p.m. on Saturday and 10 a.m.-4 p.m. on Sunday. Tickets are $20 on Saturday and $15 on Sunday
This weekend, it's time once again for the Annual Scarecrow Festival at Peddler's Village (Routes 202 and 263, Lahaska, 215-794-4000, www.peddlersvillage.com). The festival, which is celebrating its 40th anniversary this year, will run from 10 a.m.-6 p.m. on September 14 and 15.
Peddler's Village's Scarecrow Making Workshops on the Street Road Green have been a family favorite for decades. The workshop fee of $30 (maximum group of 4 people) includes step-by-step instructions and building materials.
Participants can choose from a variety of clothing decorations and use plenty of straw to construct their very own life-size scarecrow to take home. Workshop times are 10 a.m., noon, 2 p.m. and 4 p.m. on both Saturday and Sunday.
Pumpkin Painting will take place on the Street Road Green on Saturday and Sunday from 11 a.m. until supplies run out.  Brushes, paint and pumpkins will be provided, and a nominal fee will be charged based on pumpkin weight.  No reservations are needed for this first-come, first-served activity.
The roster of live entertainers includes Borderline, Rendition Jazz Band, Acoustic Road, Toby Mochel and a Few Good Men, Galena Brass Band, Lolly & YoYo, Spinning Straw and Hillbillies of Cohesion.
Visitors can also stroll around the Village to see the Scarecrow Competition and Display, which showcases more than 100 creative and colorful scarecrows. The Scarecrows are on outdoor display through October 29.
The public is invited to vote for the winners. Ballots are available in all shops and restaurants. The ballot boxes are located in the Hospitality Center at the Cock 'n Bull, Giggleberry Fair, and Buttonwood Grill.
The Pennsylvania Renaissance Faire (Pennsylvania Renaissance Faire Shire, Mount Hope Estate and Winery grounds, Route 72, Cornwall, 717-665-7021, www.parenfaire.com) is hosting its "Pyrate Invasion" on September 14 and 15.
From 11 a.m. until 8 p.m. each day, the huge faire will be dedicated to swashbuckler fans – youngsters and adults.
Pyrate School for Nipperkins offers a chance for all young would-be buccaneers to learn how to look like a pyrate, talk like a pyrate and brandish a sword like a pyrate. Suggested for ages 11 and under.
The Four Corners Pyrate Treasure Hunt features a great pyrate treasure is said to have been buried in Mount Hope, and the King needs help retrieving it.
With Royal Dog Days, His Majesty has issued an invitation to the lover of dogs to join him and the Royal Hounds upon the Fairegrounds Saturdays and Sundays in September.
Admission is $31.95 for adults and $12.95 for kids ages 5-11.
Whether you're a faerie, pirate, gnome, princess, super hero, troll or kid, you are invited to enjoy games, stories, enchanted crafts, costume parades, and children's museum tours at the Faerie Festival at Rockwood Museum and Park (4651 Washington Street Extension, Wilmington, Delaware, 302-395-5652, http://www.nccde.org/737/Faerie-Fest).
The event, which will be held on September 16 from noon-4 p.m., also features food trucks, merchants selling festive wares, and visits from special guests such as the Fairy Queen and other magical surprise guests!
Free activities include face painting, bubbles, bounce house, art on the rocks, story time, museum tours for children, costume parades, crafts, and performances by the First State Ballet Theatre, Delaware Children's Theater and Delaware Arts Conservatory.