By Denny Dyroff, Entertainment Editor, The Times
Labor Day Weekend is here, and pumpkin festivals are looming on the horizon.
The season for basking is just about over.
But, the season for Bask never ends.
Bask is a band from Asheville, North Carolina featuring Scott Middleton – Drums, Jesse Van Note – Bass, Ray Worth – Guitar, Vocals, and Zeb Camp – Guitar, Vocals.
On August 29, Bask will headline a show at Kung Fu Necktie (1248 North Front Street, Philadelphia, 215-291-4919, kungfunecktie.com).
"We've played Kung Fu Necktie three or four times already," said Middleton, during a phone interview last week from his home in Asheville. "We always have a great show in Philly."
Bask is a band from the South but not a "Southern Rock" band.
Bask's Facebook page has the following message –
"Letter to the listener:
Progressive; heavy; psychedelic; Americana, have all been used to describe Bask. The truth, we are four musicians based in Asheville, North Carolina who love making music. We want rhythm heard for miles, melodies remembered for weeks and an honesty and sincerity felt to your bones. Most of all we want you to listen without concern for what you are hearing. To listen only for the sake of hearing.
Esse Quam Videri,
Bask"
The "Esse Quam Videri" is a line Bask lifted from the state motto of North Carolina. It is a Latin phrase meaning "to be rather than to seem."
Bask has been making music in the mountains of Carolina for the last five years.
"We're from different places and we all ended up here," said Middleton. "I grew up in Charlotte. Ray is from Virginia. Jesse is from upstate New York. Zeb is also from North Carolina.
"We came here for the music – and the atmosphere. We're in jam band territory here but we're not really a jam band. We play music that we call heavy melodic music. It's heavy rock with mostly clean vocals – music that is spacey and progressive.
"Ray and I were playing with different people. We started playing together and had 75 percent of the first album written in a year-and-a-half. Jesse came in and added his stuff. Zeb played his first show with the band a month after the album came out."
Bask's debut album was "American Hollow," which was released initially in 2014 on Wonderboy Records and as a CD in 2015 on This Charming Man Records. The quartet's sophomore album, "Ramble Beyond," was released in March 2017 on Self Aware Records/ This Charming Man Records.
"We recorded the first album in a cabin in Monroeville, North Carolina with Chris 'Scary' Adams," said Middleton. "We made the second in Johnson City, Tennessee withTravis Kammeyer, who is in the space rock band HAAL."
"American Hollow" was recorded and mixed by at Old Dominion Studio in Virginia and mastered by Brad Boatright at Audio Siege Engineering in Portland, Oregon."Ramble Beyond" was produced and engineered by Kammeyer at Fahrenheit Studios in Johnson City and mixed by Andrew Schneider at Translator Audio in New York City.
Bask now has a new label – Season of Mist – and a new album ready to come out. The recording was done at Echo Mountain Studio in Asheville.
"We had the comfort of being at home," said Middleton. "We recorded the album with legendary producer Matt Bayles. We e-mailed him and asked if he would produce our album — and he said yes. A lot of his early work was among our influences at the beginning.
"We cranked the album out in four-and-a-half 12-hour days. Matt did a really good job. And, Echo Mountain is one of the best studios in the South."
The eclectic roster of bands that have used Echo Mountain includes Band of Horses, Widespread Panic and War on Drugs. Bayles' CV for studio work features acts such as Mastodon, Isis and Russian Circles.
"The new album, which is coming out in the fall, is more collaborative than our first two," said Middleton. "The new stuff is prog-ier. We continue to push ourselves and progress."
Video link for Bask – https://youtu.be/RNT_f6nTl8w.
The show at Kung Fu Necktie, which has Seismic as the opening act, will start at 8 p.m. Tickets are $10.
Other upcoming shows at Kung Fu Necktie are Possum Kingdom and The Agoraphobix on August 30; Inter Arma, Creeping Death and Witching on August 31; Stonecutters, Necrosexual, Basilysk and Atomic Cretins on September 1; Kælen Mikla, Cloud Rat and Fad Naseam on September 3; and This Kills Me, Blankscreen, Tiger Castle and The Robinsons on September 4.
Brooklyn-based singer-songwriter, ESS SEE has just released her debut LP and is already performing support shows. She will bring her creative show to the area for ashow on August 30 at Sofar Philadelphia (https://www.sofarsounds.com/cities/philadelphia/events/27173).
ESS SEE in the moniker for Sarah Cobb, a talented and versatile Brooklyn-based musician.
Cobb began producing her electro-pop demos in 2009 alone in her bedroom at night — homing in on seductive melodies often featuring themes dealing with identity, intimacy, and femininity.
Embracing lyrical influences such as St. Vincent, Emily Haines, Carole King, and Garbage, ESS SEE delivers a heightened sense of vulnerability and intimacy in her songwriting.
Her rich, often theatrical, live performances engage audiences with eye-popping costumes, humor, and an electric presence.
ESS SEE's debut EP, "Ordinary Woman," was released in 2017, and her first full length album, "Waiting For The Sky To Fall," just came out on August 23. The new album was produced by Julie Kathryn of I Am Snow Angel.
"I've been living in Brooklyn for 11 years but I'm originally from Arkansas – from Little Rock," said Cobb, during a recent phone interview from her New York home.
"I was always singing when I was growing up. I started writing songs when I started taking guitar lessons in high school.
"I kept writing and working on guitar when I was in college in Georgia – at Savannah College of Art and Design. After college, I lived in Washington, D.C. for a year-and-a-half and then I moved to New York. That was in 2008.
"I was living in Brooklyn and my music career took a while to get going. I bought a studio setup in 2009 and produced music for myself.
"I had a Dropbox full of songs but never did anything with them. It got to a point where I knew I had to do something. So, I gathered my songs and sent them to Mike Beck. Then, Mike and I made my first EP."
ESS SEE's debut EP, "Ordinary Woman," was produced by Mike Beck and released January 13, 2017.
"That EP was grassroots," said Cobb. "I just wanted to see what it would be like to connect to the world of being a musician."
Cobb found her place in that world.
"I've been playing shows consistently since my first gig as ESS SEE, which was at C'Mon Everybody in Brooklyn in July 2017," said Cobb.
"For the new album, I got hooked up with Julie Kathryn. I met her through my guitarist Charlie Rauh. He wrote all the guitar hooks in my songs.
"I made the album with Julie in her studio using Ableton. I also recorded some vocals in my house and sent them over to her. Julie did the production and the mixing.
"Now the live shows are different. It's usually just Charlie and I when I'm out on tour. We also have Dylan Hiester with us. He triggers all the tracks on Ableton."
Video link for ESS SEE – https://youtu.be/_f6_l_v5Qk4.
The show at Sofar Philadelphia will start at 8 p.m.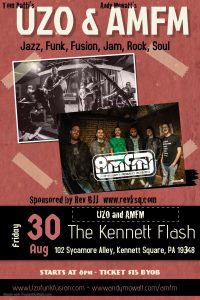 Kennett Flash (102 Sycamore Alley, Kennett Square, 484-732-8295, http://www.kennettflash.org) will host UZO and Andy Mowatt's Frequency Movement on August 30.
The Ardmore Music Hall (23 East Lancaster Avenue, Ardmore, 610-649-8389, www.ardmoremusic.com) will present Talib Kweli on August 29, God Street Wine on August 30, and Splintered Sunlight on August 31.
118 North (118 North Wayne Avenue, Wayne, www.118northwayne.com) will have Fred and Dan's Vinyl Record Party on August 29, Almost There on August 30, and Underwater Robots on August 31.
The Keswick Theater (291 N. Keswick Avenue, Glenside, 215-572-7650, www.keswicktheatre.com) will host the The Sigma LXXXV Tour #sigmatour2019 on August 31 featuring The Alarm, Modern English, and Jay Aston's Gene Loves Jezebel.
The Sellersville Theater (24 West Temple Avenue, Sellersville, 215-257-5808, www.st94.com) will host Get The Led Out from August 31-September 1, Bluegrass Jam In The Bar on September 3 and J.D. Simo on September 4.
Jamey's House of Music (32 South Lansdowne Avenue, Lansdowne, 215-477-9985,  will present Dave Weiner and the Philly Players ESS SEE on August 31and First Sunday Blues Brunch and Jam Session featuring the Philly Blues Kings on September 1.
Cirque du Soleil's arena show "Corteo" will have a short run at the Giant Arena (550 Hersheypark Drive, Hershey, https://www.hersheyentertainment.com/giant-center/events/cirque-du-soleil-corteo) now through September 1.
The Forrest Theatre (1114 Walnut Street, Philadelphia, 215-893-1999, www.kimmelcenter.org) is presenting "Hamilton" as part of the Kimmel Center's Broadway Philadelphia series. The hit musical is running now through November 17.