By Denny Dyroff, Entertainment Editor, The Times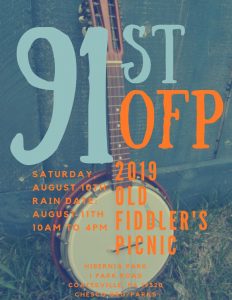 Chester County has several annual events with impressive longevity and one of them is scheduled for this weekend — the Chester County Old Fiddlers' Picnic (Hibernia County Park, off Route 340, Wagontown, 610-383-2812, http://dsf.chesco.org/ccparks).
The lively annual event, which is scheduled for August 10, is celebrating its 91st anniversary this year.
Known originally as the "Chester and Delaware Counties' Old Fiddlers' Picnic," the event began at Crystal Springs Park outside Parkesburg and later moved to Lenape Park, which is located just south of West Chester. When Lenape Park closed in 1980, Chester County Parks and Recreation offered to sponsor the Picnic at Hibernia County Park.
This year's edition of the festival will run from 10 a.m.-4 p.m. with Open Stage registration beginning at 9:15 a.m. Remington Riders, the Old Fiddlers House Band, will kick things off with a performance from 10-11 a.m.
When Remington Riders' set concludes, a constantly changing lineup of individuals and groups will take the stage and perform for the audience. Solo acts are allotted 10 minutes on stage while groups get as much as 20 minutes to perform.
The primary source of live entertainment will be the sounds emanating from the stage but there will also be plenty of other musical offerings throughout the park — especially Fiddlers' Field.
In the wooded areas near the stage, there will be impromptu jams taking place throughout the day. Musicians of all ages are invited to stroll along the lane and join in with other musicians to make fresh, live music of their own.
The festival features a full slate of fun activities including square dancing, country line dancing, wagon rides and kids' activities. Guided tours of Hibernia Mansion, the 19th century Ironmasters' home will be available at 1, 2, 3 and 4 p.m. A donation of $3 per person is requested for the tour.
There will also be a large number of vendors with crafts, beverages and food items such as BBQ, sandwiches, ice cream, fries, funnel cakes, smoothies and more. Lawn chairs and blankets are encouraged. Tents, canopies and alcohol are prohibited.
There will be free admission, but parking is $5 per car. Rain date is August 12.
There are other options locally to hear live music performed in an outdoor setting.
The Eagleview Summer Concerts on the Square at Eagleview Town Center (Wharton Boulevard, Exton, www.ineagleview.com) will present Donna the Buffalo with Native Harrow on August 13, Trapper Schoepp and GA-20 on August 20, and Ben Arnold on August 27.
Another opportunity for outdoor music can be found for a few more weeks at the Shipyard Summer Concert Series (Dravo Plaza, Justison Street, Wilmington Riverfront, Wilmington, Delaware, 302-425-4890, www.riverfrontwilm.com).
This free concert series is held on Thursday evenings from 7-8:30 p.m. under the colored cranes at Dravo Plaza which is located on Justison Street next to the Shipyard Shops.
The remainder of the 2019 schedule features Elizabeth Knecht on August 15, Sean Reilly on August 22 and Spokey Speaky on August 29.
On August 9, the Great Plaza at Penn's Landing (201 South Columbus Boulevard, Philadelphia,
www.delawareriverwaterfront.com) will be the site of the Delaware River Waterfront Corporation's series of free jazz concerts kicks off at Great Plaza at Penn's Landing.
"Smooth Jazz Summer Nights Series," which is the longest-running free event produced by the Delaware River Waterfront Corporation, is back for its 23rd season at the Great Plaza.
Every Friday in August, there will be performances by nationally renowned jazz and blues talent. Attendees are requested to arrive by 7 p.m. because the concerts start promptly at 7:30 p.m.
The series line-up includes Vivian Green on August 9, Jessy J on August 16: Michael Manson's "George Duke Tribute" on August 23, and Damien Escobar on August 30.
Bethlehem's Musikfest (downtown Bethlehem, 610-332-1300, www.musikfest.org) is a special event — an event that is more than just another popular summertime festival in the Lehigh Valley.
Over the years, Musikfest has established itself as one of America's top annual music festivals an event that offers big name headliners as well as a wide variety of folk, rock, pop and ethnic music acts. It also sports some impressive numbers.
The festival, which is celebrating its 36th anniversary this year, features free music performances on most of its indoor and outdoor stages.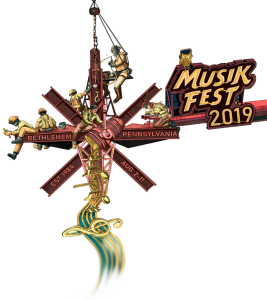 Musikfest, which is running now through August 11, presents over 300 live musical performances and draws over one million people to the Lehigh Valley every August.
The main concert stage at Musikfest is the Sands Steel Stage which features national touring acts with tickets are required for all shows.
The following is this year's main stage schedule: Aug. 9: Godsmack; Aug. 10: Phillip Phillips; and Aug. 11: Brad Paisley.
There will also be a multitude of free concerts with acts such as Steal Your Peach, Ruby Dear, Red Baraat, MIPSO, Kate Mills, Fusion Jazz Trio and Brianna Nelson.
Musikfest is much more than just festival offering a wealth of music. It also features interactive arts and theater activities for children along with a large number of concessions offering a wide array of food and beverage treats.
Later this month, area fans of country music will have the opportunity to hear many top-flight country acts perform live at a three-day, open-air festival.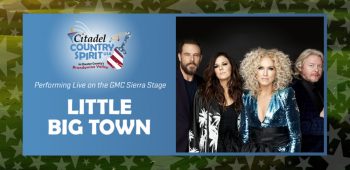 Citadel Country Spirit USA (Ludwig's Corner Horse Show Grounds. 5 Nantmeal Road, Glenmoore, countryspiritusa.com) will run from August 23-25 and feature a huge array of country stars including Little Big Town, Lee Brice, Brothers Osborne and Clare Dunn.
On August 17, Beech Community Services will present the 13th Annual Jazz on the Ave Music Festival (Broad Street and Cecil B. Moore Avenue, Philadelphia, 215-763-8868, www.jazzontheavephilly.com) from noon-8:30 p.m.
The festival will be hosted by Patty Jackson and Dyana Williams. Entertainment will feature live music by The Soul Rebels, Sherry Wilson Butler, Larry Harold, Tia Shanae and Avery Wilson
The free festival will take place along a four-block stretch on Cecil B. Moore Avenue from Broad to 17th streets. The festival will feature health and wellness screenings, HIV/AIDS testing, moon bounce, clay sculpting, mechanical bull riding, vendors, food, giveaways and live music on two stages.
The Festival of Fountains at Longwood Gardens (Route 1, Kennett Square, 610-388-1000, www.longwoodgardens.org), which is running now through September 30, is always one of the area's prime summertime attractions.
With fountains that jet as high as 175 feet, gardens filled with colorful summer blooms, shade-friendly trees, exotic day- and night-blooming waterlilies, and live music outdoors, Longwood Gardens has something for everyone.
The fountain project took two years and $90 million in renovations. The fountain features more than 1,300 jets and streams, a similar number of LEDs, a variety of flame features and a wide array of plants from around the world.
In addition to the Main Fountain Garden, Longwood is also home to a collection of other fountain gardens, including the enchanting Italian Water Garden and Open Air Theatre fountains, which also perform daily.
The ultra-popular Festival of Fountains features the gardens in their summer splendor. Flowering annuals and perennials abound, as well as the breathtaking Waterlily Display that showcases aquatic plants from all over the world.
Admission to Longwood Gardens is $23 for adults, $20 for seniors and $12 for youth (ages 5-18).
The West Chester Railroad (Market Street Station, West Chester, 610-430-2233, www.westchesterrr.net) is running its special "Summer Picnic Special" trains every Sunday now through September 22.
The round-trip train ride travels to the village of Glen Mills and back and lasts for 90 minutes. During the brief layover in Glen Mills, riders can explore the historic Pennsylvania Railroad station and have a snack in the railroad's picnic grove along the Chester Creek.
Riders can order a boxed lunch when they purchase their tickets online. Sandwich choices are ham and cheese hoagies, turkey and cheese hoagies, and PB&J. All lunches, which are made fresh, come with chips, fruit, drink and cookies.
Additionally, the lunches are packed in a special reusable lunch bag emblazoned with the WCRR logo. Tickets for the train rides are $15 for adults, $13 for children ages 2-12 and free for kids under two.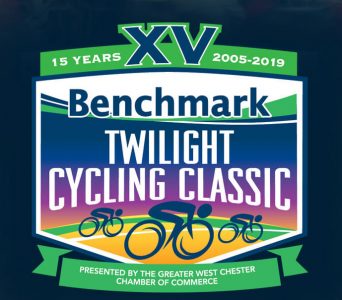 The Benchmark Twilight Cycling Classic (https://greaterwestchester.com/events/featured-events/wcbikerace/) will take place on August 10 in West Chester from[dd1]  3-10 p.m.
This popular annual bike racing event draws thousands of spectators to downtown West Chester to watch races featuring top-flight professional and amateur riders.
The event also features a variety of family fun including live entertainment, a community festival and a beer garden outside of the Iron Hill Brewery.
The races start and conclude at the intersection of West Gay and South High streets.
Chaddsford Winery (Route 1, Chadds Ford, 610-388-6221, www.chaddsford.com) will present "Peach Festival" on August 10 and 11.
The special weekend activity, which will run from 11 a.m.-7 p.m. on Saturday and 11 a.m.-6 p.m. on Sunday, will showcase a variety of "Chaddsford Wine Peach Slushies" – two unique frozen libations made with fresh peaches and Chaddsford wines.
Featured Slushie flavors are "Peachie Keen Wine Slushie," which is a peach slushie made with Niagara wine, and "Peaches + Cream Wine Slushie," which is a peach slushie made with Niagara wine, layered with fresh whipped cream and topped with a peach slice 
The event will have I Don't Give a Fork, Crème Brolee  and Gemelli Gelato as its featured food trucks both days.
The schedule for live music features The Road Tapes from 11:30 a.m.-2:30 p.m. and Nicole Zelle and Chris Spouta from 3:30-6:30 p.m. on August 10 and Marielle Kraft from 2:30-5:30 p.m. on August 11. 
This event is rain or shine. Slushies will be available while supplies last. Admission for children is free if accompanied by an adult (21 or over).
Seating at the Winery is available on a first-come, first-served basis.  Guests are encouraged to bring blankets or folding chairs to guarantee comfortable seating on the grounds. No outside alcohol permitted.
Admission to "Peach Festival" is free and all wine and food purchases are pay-as-you-go.
There is a water attraction in Philadelphia that is definitely worth checking out – Schuylkill Banks (Schuylkill Avenue and Locust Street Philadelphia,www.schuylkillbanks.org) Riverboat Rides to Bartram Gardens. The next one is scheduled for August 11.
Riders can cruise to Bartram's Garden and learn how three generations of the Bartram family helped Philadelphia become a mecca of natural science, education, and government. Their explorations of the wild American frontier not only altered the horticultural landscape of a young America itself, but also Great Britain, Europe, and the rest of the world.
Participants will be able to take a quarter-mile walk up the meadow to see amazing views of the skyline and explore the garden, community farm, and recreational trail. This three-hour tour includes a two-hour stop at Bartram's Garden with guided tour of the 1731 house and Ann Bartram Carr garden.
Snacks and beverages are available for purchase on the boat, and there are picnic tables and a lawn area at Bartram's Garden for those who wish to bring a picnic lunch.
This tour involves a 10-minute walk up the Bartram's Meadow (approximately a quarter-mile) to reach the Garden. Ticket prices, which include guided house tour, are $30 for adults and $17 for children (12 and under). Tours run on select Thursdays, Saturdays, and Sundays now through October.
There are also the Secrets of the Schuylkill Tours.
Participants take a one-hour fun and fact-filled guided tour that highlights the past, present and future of the Hidden River. They will be able to discover the sights, sounds, and history of the river, from the early 1700s at historic Bartram's Garden, to the 1800s at the Fairmount Water Works, to award-winning 21st century skyscrapers. The Banks offers a setting and experience unlike any other in Philadelphia.
Ticket prices are $22 for adults and $17 for children (12 and under).
Tours depart from the Walnut Street Dock, located under the Walnut Street Bridge on the east bank of the Schuylkill River.
On August 10 and 1, the Academy of Natural Sciences (1900 Benjamin Franklin Parkway, Philadelphia, 215- 299-1000, www.ansp.org) is hosting an annual event that promises to be a lot of fun — unless you suffer from entomophobia (fear of insects).
The Academy's 12th Annual "Bug Fest" features live insects representing 60 different species along with a large and impressive sampling of specimens from the Academy's world-renowned Entomology Collection — a collection that features more than four million insects.
Hundreds of live invertebrates will be on display throughout the museum. — beetles, true bugs, millipedes, centipedes, scorpions, stick insects, cockroaches, caterpillars, tarantulas and other spiders, and more.
Visitors can check out live invertebrates' "gross factors" as they examine blister beetles, venomous spiders and scorpions, millipedes, grasshoppers, and stinkbugs.
Some insects do bad things. There are those who spread diseases such as Zika. And, some insects — like the emerald ash borer — damage plants.
Entomologists from the Academy and the American Entomological Society will be on hand to answer questions about these topics and also to give walking tours outside the museum in search of bugs. Some live invaders and also specimens from the Academy's research collection of more than 4 million insects will be on display.
"Bug Fest," which is free with museum admission, will be open from 10 a.m. until 5 p.m. both days. Museum admission is $22 for adults, $19 for seniors and $18 for children (ages 3-12).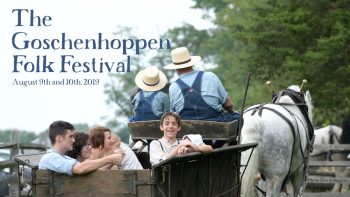 The Goschenhoppen Folk Festival (Henry Antes Plantation, Colonial Road, Upper Frederick Township, 215-234-8953, www.goschenhoppen.org) visits the past but also has a long history of its own. This year, the popular annual event celebrates its 53rd anniversary.
Attending the Goschenhoppen Folk Festival is like taking a trip way back in time — back to the 18th and 19th centuries.
The Goschenhoppen Historians presented the inaugural Goschenhoppen Folk Festival in East Greenville 51 years ago and it has steadily evolved into a cherished summer tradition in eastern Pennsylvania.
The festival, which honors the oldest existing Pennsylvania German community in the United States, maintains a strictly traditional atmosphere. There are no amusement games or rides, no commemorative t-shirts or beer mugs, no modern snacks, no ATM machines and no Wi-Fi.
This year's festival, which is being held August 9 and 10, will feature several hundred craftsmen presenting live demonstrations of more than 150 skills of the 18th and 19th centuries.
Dressed in authentic costumes of the periods (many of which are loaned from the Historians' extensive wardrobe), the participating artisans use authentic tools in recreating traditional home skills, trades, pastimes, foods and folk music.
The Historians also display the area's largest collection of traditional foods, crafts, trades, music and folk itinerants.
There will be a variety of old-fashioned foods and Pennsylvania Dutch meals available for purchase at the festival — everything from full dinners to chow-chow and from red-beet eggs to faschnachts (doughnuts served with molasses). The list of tasty beverages for sale includes raspberry shrub, lemonade and birch beer.
The 2019 Goschenhoppen Folk Festival, which has been honored as one of the premier noncommercial folk festivals in the country, will be staged on Friday from noon-8 p.m. and Saturday from 10 a.m.-6 p.m. at the Henry Antes Plantation.
Admission is a $12 donation for adults ($18 for a two-day pass) and a $3 donation for children (ages 6-15).
This weekend, Peddler's Village (Routes 202 and 263, Lahaska, 215-794-4000, www.peddlersvillage.com) will be hosting its annual Peach Festival and Summer Sidewalk Sale
Peddler's Village's 2019 Peach Festival, which is slated for August 10 and 11, will feature a sidewalk art show as well as live music, a stilt walker and the always-entertaining pie-eating contests. As usual, there will be peaches served in all sorts of tasty variations, including peach pies, peach butters and artisanal jams.
Live entertainment on Saturday will be presented by Trinidelphia, Galena Brass Band, Pirates of Fortune's Folly, Paul Toczylowski and Lolly & Yoyo.
Sunday's schedule features Pirates of Fortune's Folly, Spinning Straw, Acoustic Road, Toby Mochel and a Few Good Men, Bellevue, and Paul Toczylowski.
The site's annual Peach Festival and Sidewalk Sale, which is a celebration of National Peach Month will run from 10 a.m.-6 p.m. each day. Admission and parking are free.
If you're making the trip to Lahaska in central Bucks County for Peddler's Village's Peach Festival, you might want to also check out the annual New Hope Car Show (New Hope-Solebury High School, Bridge Street, New Hope, 215-862-5665, www.newhopeautoshow.com) on August 10 and 11.
Featured vehicles include Senior Cars, Vintage Antique, Cars of the 20s-30s, Cars of the 40s-50s, Cars of the 60s, Cars of the 70s, Cars of the 80s, Alfa Romeo, Antique Motorcycles, Antique Trucks, Austin Healey, BMW, Corvair,
Auburn/Cord/Duesenberg/Pierce-Arrow/Packard, Corvette, Datsun/Nissan, DeLorean, Foreign Exotic, French Connection, High Performance Production, Historically Preserved Original, Jaguar, Lincoln Continental: Lincoln, Continental, Zephyr, and Lotus.
The huge line-up also includes Mercedes Benz, MG, Military Vehicles, Model   "A" Fords, Model "T" Fords, Morgan, Mustang, Porsche, Professional Specialty Cars, Racing Cars-Domestic, Racing Cars-Foreign, Rolls-Royce/Bentley, Shelby, Specialty Class Cars, Studebaker, Thunderbird, Triumph, TVR, Viper, Volkswagen, and Woodies.
Because the show is conducted on school grounds, consumption of alcoholic beverages and the use of tobacco products in any form are strictly prohibited at all times.
Admission to the show is $10 for adults and $5 for seniors (age 62 and older). Children under 12 accompanied by an adult are free as are active duty military and their dependents. Parking is free.
There will be several featured attractions this weekend at the Morris Arboretum (100 Northwestern Avenue, Chestnut Hill, 215-247-5777, www.morrisarboretum.org).
On August 10 and 11, Morris Arboretum's Garden railway will welcome special guests.
Thomas the Tank Engine will arrive to celebrate the summer weekend with his multitude of fans – young and old.
Visitors to the arboretum can look for their favorite train characters among the whole steam engine gang from Sodor as they take over the Railway for the weekend.
If you're up with the sun, you can start your day with an early morning visit to Morris Arboretum. Starting at 8 a.m., visitors are invited to find the shining dew on more than 12,000 labeled plants in the Arboretum's living collection.
Admission is $19 for adults; $17 for seniors (65 and older); $10 for students (ages 13-17 or with ID), active military and retired military; and free for children (under 3).
On August 9 and 10, Laurel Hill Cemetery (3822 Ridge Avenue, Philadelphia, 215-228-8200, www.thelaurelhillcemetery.org) will host "The Ghostly Circus: Tides of the Climates."
This summer, 7textures will return to Laurel Hill for a sixth year of enchanting fire and aerial performances with the Ghostly Circus. In this theatrical presentation amid the tombs, artists will build their stage evoking and encompassing the spirit of Laurel Hill while drawing upon themes from Dante Alighieri's epic poem, The Inferno.
This unique, other-worldly show features contemporary circus arts with live music and a Dance-with-the-Dead After-Party. Bring your own blankets or beach chairs and enjoy an evening under the stars.
The event will take place on Friday, August 9 and Saturday, August 10 at 8 p.m. (with pre-scheduled rain dates on Friday, August 17 and Saturday, August 18). Late arrivals are not guaranteed entry. Guests are encouraged to arrive at 7 p.m. to enjoy the full Ghostly Circus experience. Check-in is at Laurel Hill Cemetery's Gatehouse entrance at 3822 Ridge Avenue.
The cost is $30 for adults and $15 for children under 12.
On August 10, it will be time for Second Saturday in Historic Germantown (http://www.freedomsbackyard.com).
The 16 sites and museums of Historic Germantown will open their doors on Saturday for the neighborhood's seasonal Second Saturday event.
Visitors can enjoy self-guided tours of the area's historic places including Johnson House Historic Site (a stop on the Underground Railroad), Cliveden (the location of the Battle of Germantown), Wyck (a beautiful garden) and more.
The event will run from noon-4 p.m. on August 12 at various locations around the 6300 block of Germantown Avenue.
The Philadelphia Comic-Con, which is scheduled to run from 10 a.m.-4 p.m. on August 5 at the Clarion Hotel Conference Center (76 Industrial Highway, Essington, 856-217-5737, www.philadelphiacomic-con.com), features comic books, trading cards and other collectibles
— both modern and vintage.
The event, which has an admission fee of $3, also features a number of special autograph guests.
The popular collectibles event, which is the area's longest running comic convention, will host dealers from all over the Northeast with sales booths featuring Gold & Silver Age comics, action figures, non-sport cards (including Topps "Journey to Star Wars: The Force Awakens").
Also featured will be Japanese Manga, gaming cards such as Pokemon and Magic the Gathering, original artwork and all the latest issues of today's popular comic book series.
The roster of top-flight vendors includes veteran dealers and relative newcomers. As an added attraction, there will be hourly door prizes beginning at 11 a.m. with $100 in show cash to be given away.
The 165th edition of the Reading Fair (1216 Hilltop Rd, Leesport, 610 372-2649, http://www.thereadingfair.org) will open on August 6 and continue through August 9.
The Midway will feature "The Fearless Flores Thrill Show."
Traditional festival activities include a "Corn Cobb Toss," a "Pie Eating Contest," "Raw Egg Toss," "Hay Bale Throwing," a "Round Ball Bale Contest," a "Water Balloon Toss" and a "Pedal Power Tractor Pull."
There will also be the always-popular Beer Garden from 5-10 p.m. each night.
General admission is $5 — $4 for senior citizens and military.
If you want to take a trip deep in the past and travel back centuries, there is the Pennsylvania Renaissance Faire (Mount Hope Estate and Winery grounds, Route 72, Cornwall, 717-665-7021, www.parenfaire.com).
This year's 39th annual staging of the event, which bills itself as "the most wondrous event in all the Knowne World", runs from August 3 through October 27.
The festive annual event features authentic Elizabethan food and drink, traditional crafts from the guildsmen of yore and old-time games of skill — and a cast of hundreds of colorfully costumed re-enactors.
Every summer, the Faire, which takes place at Mount Hope Estate and Winery's authentic 35-acre recreation of a 16th-century village in Olde England, features a new story from a different year of England's past.
This year's Faire will take you back in time to the year 1558 and tell this story – "Queen Mary I of England has died, and while the people celebrate the end to her long reign of terror, the kingdom is left in a precarious state. A people torn apart by religious conflict. A royal treasury practically empty. And the ever-present threat of France and Spain across the channel, hoping to take advantage of an England left defenseless. The nation now looks to a young woman of barely 25 years for its salvation: Princess Elizabeth Tudor, who travels now to our own Shire of Mt. Hope for her Coronation.

Needless to say, the good people of the Shire are thrilled to welcome their aspiring monarch and are pulling out all the stops for her arrival. Mt. Hope's brewers prepare their finest ales, the vintners select their choicest grapes, and even the lowly apprentice glovemaker, William Shakespeare, has submitted a play to be performed in the new queen's honor. What's more, Lord Robert Dudley, close companion to Elizabeth, has contributed a large sum to Mt. Hope's Coronation Festival. Of course, our good Lady Mayor Pemburthy has wasted not a penny, scouring the land for the best food, best vendors, and best entertainment that England has to offer.

But not all are eager to see Elizabeth take the throne. There are many who worry that Elizabeth lacks the experience necessary to rule. Even members of her own family, such as her cousin Henry Carey, have expressed doubts about whether she possesses a monarch's temperament. And while Elizabeth does not shrink from the task set before her, even she wonders if she is up to the challenges that await.

But no worries will dampen the spirits of the Shire folk for long, not when there is such revelry to be had on their Festival day! There will be feasting and carousing with jolly companions, entrancing entertainment to delight all ages, and, as always, jousting galore. The merriment will culminate at day's end upon the Globe Stage, where all of Mt. Hope will bear witness as a valiant young princess sits herself upon the throne of England.
Indeed, a "Princess will sit…and a Queen will rise."
More than 70 shows are scheduled throughout each day on the Faire's numerous stages.
Without a doubt, the most popular attraction is the Jousting Arena. Visitors to the Faire flock to Bosworth Field whenever it's time for the Ultimate Joust. Peasants lead cheers for their favorite knights while musicians pound out a heart-thumping beat. The Master of the List announces the combatants and soon an encounter of royal proportions ensues.
The Faire offers a wide variety of activities for visitors, including listening to bagpipe music, checking out handsome Lords in their colorful silks, watching a jester's acrobatics, learning how to juggle, being the recipient of a gypsy woman's flirtations and watching the march of Beefeater Guards.
Guildsmen's Way is the area that features a large variety of merchants and artisans, including jewelers, candle makers, potters, herbalists, leather smiths, clothiers, and pewter makers — all offering for sale and demonstrating their ancient wares.
And, there are more than 20 Royal Kitchens located around the faire with menus featuring a wide variety of food and beverage.
Single-day tickets are available at the gate for $31.95 but can be purchased in advance online for $27.95. For children (age 5-11) single-day tickets are available at the gate and online for $12.95. Season Passes are also available at $125 for adult and $45 for children.