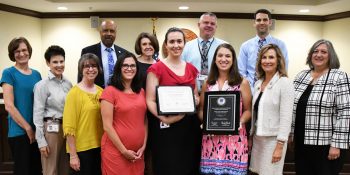 The Chester County Commissioners announced Tuesday the significant achievement of the County's Health Department in earning national accreditation from the Public Health Accreditation Board (PHAB).  To earn this accolade, the health department underwent a rigorous, multi-faceted, peer-reviewed assessment process to ensure it met or exceeded a set of public health quality standards and measures.Chester County Commissioners' Chair Michelle Kichline said, "The Chester County Health Department has been promoting, protecting and preserving the health of all Chester County residents for more than 50 years, and the leaders and staff within the department excel in clinical, home visiting, environmental and health education services. This national accreditation confirms our intention to continue our health programs and services at the highest level."
The PHAB national accreditation program is supported by the Centers for Disease Control and Prevention and the Robert Wood Johnson Foundation, and is the national standard for public health in the United States.  Its aim is to improve and protect the health of the public by advancing and transforming the quality and performance of governmental public health agencies in the U.S. and abroad.
Commissioner Kathi Cozzone noted, "Every step taken by staff in our health department to go through the PHAB process has helped them to pinpoint the areas that are critical to improving their work for the Chester County community.  I thank Health Department Director Jeanne Casner and all of her staff for their commitment to the process – completing it alongside their busy day-to-day responsibilities."
Chester County's Health Department plays a critical role in protecting and improving the health of everyone in the community.  The Department pro
vides services that promote healthy behaviors, prevent diseases and injuries, ensure access to safe food, water, healthy homes and life-saving immunizations, as well as prepare for, and respond to health emergencies.
"Chester County has been independently identified as the healthiest county in the state, and every day, staff in the Health Department work with moms and children, seniors in nursing homes, students in schools, restaurants and other food establishments, municipalities and county and state agencies," said Chester County Commissioner Terence Farrell.   "They address issues that have impacted our health for generations, as well as new threats such as Ebola and West Nile Virus, pandemic influenza and misinformation about vaccinations."
Speaking on the welcome news of the accreditation, Health Department Director Jeanne Casner said, "Receiving this national recognition is a 'very important milestone' that has validated our strengths and identified opportunities for improvement.
"Chester County is proud to have an accredited health department to further demonstrate our commitment to improve service, value and accountability, and to ensure the County remains a great – healthy – place to live, work, raise a family and retire."