By Denny Dyroff, Entertainment Editor, The Times
If there is a hot air balloon, a blimp, a helicopter or a giant condor in the sky above you, it's almost a certainty that you're going to look up.
If it's a helicopter, the audio part emphasizes the visual part as it attracts your attention. When there is a chopper flying overhead, it is virtually impossible to resist a skyward gaze.
If you want to see helicopters flying above, just head to the American Helicopter Museum & Education Center (1220 American Blvd., Brandywine Airport, West Chester, 610-436-9600, www.helicoptermuseum.org) when it celebrates Fathers' Day on June 16 with its annual event known as "Fatherfest."
The American Helicopter Museum's annual "Fatherfest" will get underway at 10 a.m. and continue until 3 p.m. Visitors can check out static displays, take a tour of the museum, and treat their fathers to a ride in a chopper.
A wide array of aircraft will be featured at the event including includes Dr. Stanley Blazejewski's Magni M-16 Gyrocopter, Ron Andress' 2016 Cavalon Autogyro, Dan Sundt's home-built RotorWay 162-F helicopter, Jeff Vaughan's RV-12 home-built airplane, Dave Nelson's Piper J-3 Cub airplane and Dr. Robert McAndrew's Pitts S-2B airplane. Additional static displays consist of MedEvac helicopters from JeffSTAT and PennSTAR, a Pennsylvania State Police helicopter.
FatherFest offers something for everyone. The fun day has classic cars and motorcycles; the Mobile Mess Hall, Haute  Wheels and Zac's Burgers food trucks; Malvern's Locust Lane Brewery beer garden; sweet treats from Kona Ice and Baked Cookies and Dough; sports-oriented inflatable games; and helicopter rides (additional cost). An interesting, informative talk by Captain Scott Anderson, Commander of U. S. Coast Guard Sector Delaware Bay, occurs in the theatre, and The Falconry Girl, Sean Young, presents a birds of prey demonstration and exhibition in the gallery.
Additional entertainment includes DJ music by Full Moon Entertainment, Larry Smythe's M.A.S.H. military collection, Out of the Box Robotics Team demonstrations and even special appearances by Wonder Woman and Captain America! Dogs from Paws for People™ Pet-Assisted Visitation Volunteer Services are available for petting, and items Concord Pet Foods & Supplies are available for sale. Also on hand are Chapter 436 of Vietnam Veterans of America, Operation Homefront, United States Coast Guard Auxiliary Flotilla 4-76 Penn's Landing and the 103rd Living History Group
Admission to the event is $10. Helicopter rides, which will be available from 11 a.m.-1 p.m., will cost $60 per person.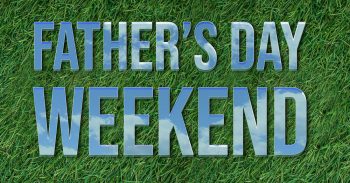 Chaddsford Winery (Route 1, Chadds Ford, 610-388-6221, www.chaddsford.com) will also be celebrating Father's Day with "Father's Day Weekend" on June 15 and 16 – 11 a.m.-7 p.m. on Saturday and 11 a.m.-6 p.m. on Sunday.
Dads can treat their taste buds with wine tastings, wine cocktails and wine slushies from the Chaddsford Slushie Shack.
Weekend features include "Half-Off Happy Hour Specials" on all Pennsylvania craft beer from 11 a.m.-2 p.m. each day and "Half-Off Chaddsford's custom Cold Brew Coffee," and a Reserve Winery Tour.
Participating food vendors are Albie's, Baby Blues BBQ Philly and Sikar Lounge of Wilmington.
Visitors to the winery this weekend can also take part in the "Reserve Winery Tour" where they can gain comprehensive knowledge about the winery's growers, wine making philosophy and production line.  The tour will conclude with an artisanal wine and food pairing featuring small bites and three of Chaddsford's Artisan Series wine.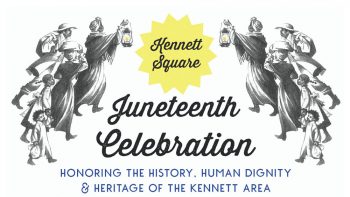 Kennett Square's Juneteenth Celebration (historickennettsquare.com) will be held June 15 from 11 a.m.-4 p.m. along State Street.
Juneteenth is an African American tradition that commemorates the June 19, 1865, announcement of the abolition of slavery in Texas but in recent years has come to refer to the freeing of the enslaved.
The Juneteenth celebration in Kennett Borough will focus attention on the important role that this small town and surrounding area played in the quest for freedom with a focus on the underground railroad and the role abolitionists, black and white, played in assisting freedom seekers to escape from slavery.
This one-day free celebration is intended to honor our past, present, and future, as a diverse and proud community, and to encourage a dialogue about the quest for human dignity and equality while highlighting Kennett Borough's unique historic character.
Oni Lasana will perform "Always Free! A Juneteenth Celebration" and there will be a presentation by Dr. Cheryl Gooch author of "Hinsonville Heroes" and "On Africa's Lands."
Other activities include Movie and Book Display at the Kennett Library, Kennett Underground Railroad Pop Up Museum and a performance by Twin Poets.
Free parking available in the municipal parking garage on the 100 Block of East Linden.
On June 15, the 2019 Juneteenth Festival in Germantown (www.freedomsbackyard.com) will be held along the 6300 Block of Germantown Avenue.
Midway through June each year, Historic Germantown honors the end of slavery in the U.S. during its annual Juneteenth Festival at The Johnson House.
The community festival begins with the Freedom Walk on Germantown Avenue leading up to a day of performances, family-friendly events and educational activities teaching visitors about the history of anti-slavery and abolitionist movements.
The event begins at 11 a.m. at 5109 Germantown Avenue — at the State Marker commemorating the site of the writing of the First Protest Against Slavery. From there the "Freedom Walk" parade will march up Germantown Avenue to the Johnson House to kickoff festivities.
The list of attractions includes historical re-enactments, food, live music, a cultural marketplace, a Beer Garden, the Oimah Ammi Children's Village and guided toursof the Concord School House and Upper Burying Ground.
The Morris Arboretum (100 East Northwestern Avenue, Philadelphia, 215-247-5777, www.morrisarboretum.org)  is celebrating Father's Day on June 16 with "Grist Mill Demonstration Day" from 1-4 p.m.
"Springfield Mills Demonstration Day" will focus on the Springfield Mills at Morris Arboretum — a site that has been carefully restored and made operational once again by a dedicated group of volunteers.
Attendees will be able to visit this 19th-century mill and see how corn was milled for meal and flour.
The activity, which is free with garden admission, will take place at the Arboretum's Bloomfield Farm.
Admission to Morris Arboretum is $20 for adults, $18 for seniors and $10 for youth.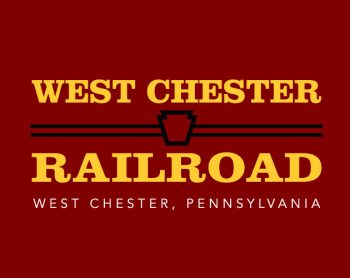 The West Chester Railroad (Market Street, West Chester, 610-430-2233, www.westchesterrr.net) is running its special "Father's Day Express" on June 16 at noon and 2 p.m.
The ride treats dad to a 90-minute round trip train ride from West Chester to Glen Mills and return on his special day. During the brief layover in Glen Mills, passengers will be able to explore the historic Glen Mills train station as well as the railroad's picnic grove along the Chester Creek.
All dads ride for a special reduced fare. Tickets are $15 for adults, $13 for children (ages 2-12) — and $5 for fathers.
The Wilmington & Western Railroad (2201 Newport Gap Pike, Wilmington, Delaware, 302-998-193, www.wwrr.com) will run its "Father's Day Express" on June 16 at 12:30 and 2:30 p.m.
This event is powered by one of the rail line's historic diesel locomotives.
Tickets are $14 for adults, $13 for seniors and $12 for children (ages 2-12). On this special day, dads ride for half-fare.
If you're looking for a great fun, family event this weekend, a good place to look is Winterthur Museum, Garden & Library (5105 Kennett Pike, Wilmington, Delaware, 800-448-3883, www.winterthur.org).
On June 15 from 11 a.m. – 3 p.m., the historic site, which is located on Route 52 in northern Delaware just south of the Pennsylvania state line, hosts its annual Enchanted Summer Day — the day when Winterthur's Enchanted Woods celebrates its anniversary.
Enchanted Summer Day features crafts displays, live entertainers and food concessions. There will be an array of family activities, including storytelling, face painting, kids' games and strolling entertainment.
Hoop chasing, ring toss, and the Game of Graces will be played on the lawn north of Enchanted Woods.
Crafts include making tiny turtle puppets, bug-eyed visors, and fluttering friends. Children can make their own flying Bee Buzzer, Colorful Critter necklace, Silly Spider ring, or decorate a Fluttering Frisbee.
The Touch-It Room, near the Galleries Reception Desk, is a kid-oriented space where everything is touchable. From 12:30-4:30 pm, children can explore spaces inspired by a 1750s parlor, a colonial-era kitchen and an 1830s general store. A tea set, kitchenware, dress-up clothes, and wooden toys provide playful ways to learn about early American life.
Enchanted Woods is a unique children's garden at Winterthur — a three-acre area where the "fairy folk" have created a magical garden for children of all ages. The site, which is situated under a canopy of majestic oak trees, features attractions such as the Tulip Tree House, Green Man's Lair, the Troll Bridge and the Faerie Cottage.
Enchanted Woods is located within the larger 60-acre garden at Winterthur, the former country estate of Henry Francis du Pont. Winterthur is famous for its world-class collection of over 85,000 American antiques.
Regular admission to Winterthur is $20 for adults, $18 for seniors (62 and older) and students and $6 for children (ages 2-11).
On June 15, Philadelphia-based nonprofit Cool Cars for Kids (CCfK), Inc. will bring together families of children with rare birth diagnoses and classic car enthusiasts who share a common passion and appreciation for the one-of-a-kind.
The sophomore edition of the  Philadelphia Concours d'Elegance (http://www.coolcarsforkids.com/concours.html) will take place at the Simeone Foundation Automotive Museum (6825 Norwitch Drive, Philadelphia) from 10 a.m.-4 p.m.
The Philadelphia Concours d'Elegance will include an invitation-only assembly of classic automobiles and race cars; professional judging and awards presented for historical accuracy, technical merit, and style.
The event will showcase more than 30 American and European classic and historic automobiles and race cars including vintage European models rarely seen on American highways.
The family-friendly activities feature celebrity guests, a Car Corral behind the Museum for local car enthusiasts, food and specialty vendors and access to the Simeone Museum's permanent collection of classic automobiles and race cars. The Simeone Museum was named Number Two of the top 100 classic car collections in the world by The Classic Car Trust.
Cool Cars for Kids, Inc. is a nonprofit organization based in Philadelphia, Pa. that brings together families of children with birth defects and classic car enthusiasts who share a common passion and appreciation for the one-of-a-kind. Funds raised from this unique partnership will directly forward its mission by supporting local and national charities – including The Children's Hospital of Philadelphia – to deliver care and support to children and families who struggle with the medical complexities associated with rare diagnoses.
General Admission is $25. Students and children under 18 will be admitted free.
Summertime means festivals and country fairs. The attraction of a summer fair is timeless.
From June 18-20, the sights, sounds and smells of a summertime fair will be filling the air in Downingtown when Saint Joseph Church (338 Manor Avenue, Downingtown, 610-269-8294, www.stjoesfestival.com) hosts its 12th annual "Community Festival."
The event will feature all the traditional things associated with a summer festival — including exciting rides and amusement games. There will also be food concessions with all the standard festival fare — cotton candy, ice cream, hot dogs, hamburgers, popcorn, corn dogs, soft pretzels and cheese fries along with mozzarella sticks, tomato pie and hot roast beef sandwiches.
The roster of music acts includes DeLaSalle String Band, Downingtown School of Rock, The Fabulous Highballs, Blue Sky Band, Russell's Dance and Baton Studio, Red Satins, 4-Play, and Lauren Lindley.
The St. Anthony's Italian Festival (St. Anthony of Padua Church, 901 North DuPont Street, Wilmington, Delaware, 302-421-2790, www.stanthonysfestival.com)., which is running through June 16, features cafes, carnival rides, live Italian music and amusement games.
This festival is more than just a carnival with rides and food. It also is an educational experience with a focus each year on a different cultural region in Italy. In 2019, the festival theme will be "Best of Italy."
Over the past several years, the festival has focused on the art, architecture, food, and traditions of various regions — one region per year. For 2019, it will celebrate all that makes Italy and the Italian lifestyle the envy of much of the world.  There will be culinary highlights from various regions at the cafes and vendor locations, handcrafted Italian home decor items at Il Mercato, and Italian classical and contemporary music at concerts in the church and on the festival's entertainment stages.
The St. Anthony's Festival has become famous for its array of tasty Italian food.
Visitors will be able to enjoy such taste treats as spezzato, pizza, sausage and peppers, panzarotti, porkette, clams and spaghetti, pasta fagioli, pizza frita, meatball sandwiches, mozzarella sticks, calamari rings, spaghetti dinners and fresh espresso and cappuccino.
There is a $5 admission fee for all visitors ages 14-61. Seniors (age 61 and older) and children (age 13 and under who are accompanied by parent or guardian 18 or older) will be admitted free.
On June 14 and 15, Intercourse Community Park (3730 Old Philadelphia Pike, Gordonville, 717- 768-8585, http://www.intercourseheritagedays.com) will host "Intercourse Heritage Days."
Activities will include "A Taste of Intercourse," a pedal tractor pull, a petting zoo, a spelling bee, a volleyball tournament, a baking contest, music by the Sunny Side Blue Grass Band, a fire truck demonstration, and the "Heritage Display of History of Intercourse."
Also featured will be the "Pancake and Sausage Breakfast in the Park," "Seventh Annual Run, Ride, Walk & Scoot Activities," a volleyball tournament, and juggler Chris Ivey. Saturday's schedule also features balloon twisting and face painting, "A Taste of Intercourse," a "Kids Variety Show," an antique tractor show and a fireworks display at dusk (Saturday only).
"Heritage Events," which will be presented throughout the day, include demonstrations of horseshoeing, butchering, sling shooting, and wood carving.
This weekend, collectors of comics, toys, gaming or non-sport trading cards will be making their annual pilgrimage to Philadelphia to attend the (air-conditioned) Wizard World Philadelphia Comic Con at the Pennsylvania Convention Center (1101 Arch Street, Philadelphia, 215-418-4700, www.wizardworld.com).
One of the country's top pop culture conventions, the annual event, which is running now through June 16 is the largest event of its type on the East Coast and is expected to draw a crowd of more than 25,000 fans.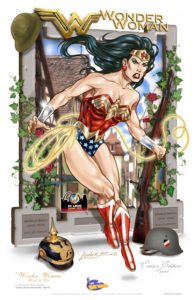 Wizard World Philadelphia Comic Con will feature movies, comics, toys, video gaming, television, anime, manga, horror, sports, original art, collectibles, contests and movie screenings — along with more than 150 celebrities who will be greeting fans and autographing items and industry professionals representing the best in today's pop culture.
Some of the top names on the long list of special guests are Ted Danson ("Cheers," Three Men and a Baby), "Once Upon a Time" stars Lana Parrilla, Rebecca Mader and Jared Gilmore, "Gotham" standouts Ben McKenzie and Morena Baccarin, "The Vampire Diaries" headliner Ian Somerhalder and the "Supergirl" tandem of Mehcad Brooks and Jeremy Jordan and more, along with Wizard World's Master of Ceremonies, Kato Kaelin.
Other special attractions include comics-themed panels, portfolio reviews, costume contests and "Kids Day" on Sunday with an array of panels and events designed especially for children. Children and adult attendees are encouraged to come dressed as their favorite villain, superhero or pop culture personality for the chance to win special prizes in daily costume contests.
The show also will host hundreds of exhibitors who will be displaying and selling action figures, Anime, movie posters, trading cards, clothing, memorabilia, original artwork and comics.
Tickets are $44.99 on Friday and Sunday and $54.99 on Saturday.  Kids 10 and under are admitted free with paid adult.
Show hours are Friday, June 14, noon-7 p.m.; Saturday, June 15, 10 a.m.-7 p.m.; Sunday, June 16, 10 a.m.-4 p.m.
If it's June 16 in Philadelphia, it's time for Bloomsday.
On June 16, Rosenbach Museum & Library (2008-2010 Delancey Place, Philadelphia, 215-732-1600, https://rosenbach.org) is presenting Bloomsday 2019 from 11 a.m.-8 p.m.
The annual event, which is free, is a commemoration of Leopold Bloom and James Joyce's novel "Ulysses."
Lauded as the greatest novel of all time, "Ulysses" tells the story of a day in the life of everyman Dubliner Leopold Bloom. The action of the story takes place on June 16, 1904, hence the selection of June 16 for Bloomsday, the annual international holiday celebrating "Ulysses" and its creator.
As the home of Joyce's manuscript of the novel, the Rosenbach has observed Bloomsday in grand fashion for over 20 years. The site celebrates the occasion with a day-long, public reading of the novel, inviting international literati, local artists, and public figures to read in three different locations throughout the city.
The readings are accompanied by musical performances, and the combination of word and song brings the novel to exhilarating life in the open air.
Other attractions during Bloomsday, which runs from noon-8 p.m. are a silent auction and free admission to the museum's current exhibit.
As part of Historic Philadelphia's 13th anniversary celebration at Franklin Square (200 Sixth Street, Philadelphia, www.historicphiladelphia.org), the organization is illuminating the park with its annual Chinese Lantern Festival.
Now through June 30, Franklin Square (http://historicphiladelphia.org/chineselanternfestival/) will come alive every night with its Chinese Lantern Festival featuring more than two dozen illuminated lanterns – all constructed by lantern artisans from China.
Chinese-inspired performances will take place in Franklin Square twice nightly. Performances, which celebrate Chinese performance art and entertainment, are 30-minutes long and are scheduled for 7 and 9 p.m.
Festival hours are 6-10 p.m. Sunday through Thursday and 6-11 p.m. on Friday and Saturday. Admission is $18 for adults, $12 for youth, and $15 for seniors and military.
Rock Ford Plantation (881 Rockford Rd., Lancaster, 717-392-7223, www.rockfordplantation.org) will present its "Stories-on-the-Porch" series every Tuesday now through August 6.
A volunteer in period costume will read a story to children gathered on the porch of the Rock Ford Mansion. Following the story, children will enjoy a game or craft and light refreshments.
A parent or other responsible adult must accompany their child. The suggested age range for this event is 3-7 years, but all are welcome.  In the event of rain, "Stories-on-the-Porch" will be held in the Barn.
Admission is $8 for adults, $7 for seniors (age 65 and older) and children (ages 6-12) and free for children (under 6). All proceeds from the Second Sunday Living History Series will benefit the ongoing preservation and operation of Rock Ford Plantation.
Hope Lodge (553 South Bethlehem Pike, Fort Washington, 215-343-0965, http://www.ushistory.org/hope/) will be presenting "Guided Mansion Tours" on Jun 9.
Hope Lodge was built between 1743 and 1748 by Samuel Morris, a prosperous Quaker entrepreneur. Morris acted as a farmer, shipowner, miller, iron master, shop owner, and owner of the mill now known as Mather Mill. Hope Lodge is an excellent example of early Georgian architecture, and it is possible that Edmund Woolley, architect of Independence Hall, offered advice in building. Samuel Morris owned the estate until his death in 1770.
Visitors can participate by watching a short film and then taking a tour. Guided tours of the mansion will depart at 1 and 2:30 p.m. all three days.
Tour admission is $8 for adults, $5 for seniors (age 65+) and for youth age 6-17, and fee for children under 5. Hope Lodge is a Blue Star Museum which means that active duty military personnel, including National Guard and Reserve and their families, are admitted free for regular tours from Memorial Day through Labor Day.
The Big Apple Circus, which is celebrating its 41st anniversary this year, is running now through June 16 at the Greater Philadelphia Expo Center (100 Station Avenue, Oaks, https://bigapplecircus.com).
Many of the world's greatest circus acts have performed under the Big Apple Circus Big Top. Each year, a new show with new attractions is created by many of New York's most creative directors and designers. The most exciting new thing about this year's show is a new ringmaster — Stephanie Monseu.
"This is a big circus," said Monseu, during a recent phone interview from a tour stop in Peabody, Massachusetts. "We have 25 artists and, in total, 80 people moving from place to place. We have a number of tents including the Big Top and reception tents. The Big Top holds 1,700 people and no seat is more than 50 feet from the ring."
Some of the featured acts are Jenny Vidbell with her horses and dogs; Emil Faltyny, who does a free-standing ladder balancing act; Gamil the juggler; The Flying Tunizianis, a double-wide trapeze act showcasing seven fliers and two catchers; the gravity-defying horizontal juggler Victor Moiseev; Andréanne Quintal, whose team of performers bounce off the walls in her feisty trampoline act; the "strongest mom in the world" Virginia Tuells and her husband Ihosvanys Perez with their breathtaking acrobatic act that combines dance, strength, flexibility, and passion in which Tuells handles a majority of the lifts.
And, of course, there are clowns — Mark Gindick and Adam Kuchler.
The regular performance schedule is Wednesdays, Thursdays and Fridays at 11 a.m. and 7 p.m.; Saturdays at 11 a.m., 3 and 7 p.m., and Sundays at noon and 4 p.m. Ticket prices range from $20-$75.
The 19th Annual State Street Blues Stroll (www.statestreetblues.com) will be held along State Street in Media on June 15 from 6 p.m.-1 a.m. With "Celebrating The Women of the Blues" as this year's theme, the headline act will be Texas blues legend Marcia Ball.
Some of the other featured acts will be Philly Gumbo, the Lonnie Shields Band, Deb Callahan, Lisa Chavous, Laura Cheadle, Steve Guyger & The Excellos, Kim Trusty, Lost Northern Tribe, Ben Tinsley, Johnny Never, Carol Moog, Andrea Carlson, and Gary Cogdill.
Tickets for the State Street Blues Stroll are $30. For additional information, call (610) 566-5039 or visit www.statestreetblues.com.
From June 19-22, the 31st Annual Clifford Brown Jazz Festival will be held in Rodney Square (11th and Market streets, Wilmington, 302-576-3095, www.cliffordbrownjazzfest.com). The free festival will start on June 19 with Jeff Bradshaw, Jamison Ross and Etienne Charles-Creole Soul.
On June 20, Quincy Jones presents the Alfredo Rodriguez Trio, Spanish Harlem Orchestra and Pablo Batista's Latin Jazz Ensemble with Special Guest Nestor Torres.
The 2019 Mainstage Lineup in Rodney Square features top-flight acts such as Terence Blanchard featuring The E-Collective, Branford Marsalis, The Jenkins Project, Christian Scott a Tunde Adjuah, Norman Brown's Summer Storm starring Euge Groove and Lindsey Webster, Fostina Dixon & Winds of Change, Mwenso & The Shakes, Raye Jones Avery & Adagio, and Kendrick Scott Oracle.