By Denny Dyroff, Entertainment Editor, The Times
Great flower gardens, an impressive fountain show and live performances of theater and contemporary ballet all can be found at one location this weekend — Longwood Gardens (Route 1, Kennett Square, 610-388-1000, www.longwoodgardens.org).
On June 7 and 8, Longwood is hosting a special live production by the Savoy Company. The Savoy Company, which is the oldest amateur theater company in the world, is dedicated solely to the production of the works of Gilbert and Sullivan.
After a tremendously successful runs of "The Pirates of Penzance" in 2016, "H.M.S. Pinafore; or, The Lass That Loved a Sailor" in 2017 and "Iolanthe; or, The Peer and the Peri" in 2018, The Savoy Company is returning to Longwood Gardens with another Gilbert & Sullivan classic – "Yeomen of the Guard."
"The Yeomen of the Guard, or; The Merryman and His Maid" premiered in London at the Savoy Theatre on in October 1888 and ran for 423 performances. The 16th-century Tower of London is the setting for this strange adventure.
When strolling troubadours, Elsie Maynard and the jester Jack Point (who is in love with her), arrive at Tower Green, Colonel Fairfax is awaiting execution on a false charge of sorcery. When a reprieve fails to arrive, Sergeant Meryll, whose life was saved by Fairfax, plots his escape. Unaware of the plan, Fairfax's last request is to die a married man, to secure his estate from the hands of his cousin and accuser.
Fairfax secretly marries the blindfolded Elsie who expects to be a well-paid widow within the hour. Fairfax miraculously escapes his fate and chaos ensues. This heartfelt tale features a lively cast of brave beefeaters, imprisoned souls, lovesick women, and devious jailers. Explore the delicate balance between true love and betrayal, featuring some of Sullivan's most operatic music and Gilbert's punniest libretto.
The performances at Longwood Gardens' Open-Air Theatre begin at 8:30 p.m. each night.
On June 12, BalletX, Philadelphia's premier contemporary ballet company and resident dance company of The Wilma Theatre, returns to the Open Air Theatre. Challenging the boundaries of classical ballet, the performance begins an exploration of Spanish Harlem culture with Darrell Grand Moutrie's "Vivir," transitioning to the stirring "Gran Partita" by Jorma Elo, inspired by film noir classic "Touch Evil." The performance concludes with Lil Buck's Express, combining elements of street dance with classical technique.
The biggest attraction at Longwood right now is the Festival of Fountains, which is running now through September 30.
With fountains that jet as high as 175 feet, gardens filled with colorful summer blooms, shade-friendly trees, exotic day and night blooming waterlilies, and live music outdoors, Longwood gardens has something for everyone.
The fountain project took two years and $90 million in renovations. The fountain features more than 1,300 jets and streams, a similar amount of LEDs, a variety of flame features and a wide array of plants from around the world.
Longwood's popular Main Fountain Garden has returned for a second season after attracting more than 600,000 guests last year with its 1,719 jets twirling and dancing to music. At night, Illuminated Fountain Performances return featuring a selection of dynamic new shows and past favorites.
In addition to the Main Fountain Garden, Longwood is also home to a collection of other fountain gardens, including the enchanting Italian Water Garden and Open Air Theatre fountains, which also perform daily.
The ultra-popular Festival of Fountains features the gardens in their summer splendor. Flowering annuals and perennials abound, as well as the breathtaking Waterlily Display that showcases aquatic plants from all over the world.
Admission to Longwood Gardens is $23 for adults, $20 for seniors and $12 for youth (ages 5-18).
Kennett Square will celebrate First Friday with its "Expanded Art Stroll" (downtown Kennett Square, http://historickennettsquare.com) from 6-9 p.m. on June 7.
The event celebrates the local art scene with special activities in the galleries, shops and restaurants throughout town. Many of the town's businesses and galleries will stay open late for First Friday.
Residents and visitors are encouraged to wander along the tree-lined streets and browse the many businesses that stay open late.
Participating venues will be designated with balloons.
Other activities in Kennett Square on June 7 are the First Friday Flea Market and the first night of Historic Kennett Square's Weekend of the Arts.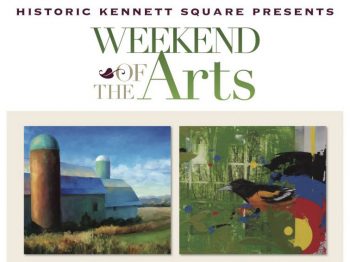 Historic Kennett Square's Weekend of the Arts will be held from June 7-9 in the Genesis HealthCare Building (101 E. State Street, Kennett Square). Visitors are invited to enjoy the work of local and regional artists.
Historic Kennett Square is presenting a First Friday Flea Market in conjunction with the Kennett Square Farmers Market. The flea market will feature collectors/vendors with clothing, paper, housewares along with an array of crafters and artists with original work. The First Friday Flea Market will run from 5-8:30 p.m. at 128 East State Street.
This weekend, it's time for the annual staging on Clover Market in downtown Kennett Square (Genesis Parking Lot, Broad Street, Kennett Square, historickennettsquare.com) on June 9.
The well-attended spring ritual will feature a large number of vendors who will be setting up shop in downtown Kennett Square to sell handmade jewelry, vintage clothing, original art, intricate ceramics, high-quality antiques and more.
The one-day-only event, which is free and open to the public, will be held on Sunday from 10 a.m.-4 p.m. A free shuttle looping from the Market to downtown (park at the Linden garage, pickup at the 100 block of Broad Street).
The event will also feature live music performed by the local band Couple Days and a variety of food vendors including Pompier Catering, Nick's Roast Beef, Phyllodelphia, Street Food, The Cow and the Curd, Flour + Oats Artisan Cookies, Gotta Lotta Gelata, Philadelphia Lemonade Co., Harvest Ridge Winery, and Victory Brewing Company.
On June 8, the Seventh Annual Beat Beethoven 5K Run/1Mile Walk at Anson B. Nixon Park (405 North Walnut Road, Kennett Square, kennettsymphony.org) will return as an event for both music lovers and road racers.
This is a fun race for serious runners as well as beginners and families. The race will start with the downbeat of Beethoven's 5th Symphony. The goal for runners is to finish the 5K before the Symphony finishes playing the composition, which runs for more than 30 minutes.
The 5K Run starts at 9 a.m. followed by the gun for the one-mile walk at 9:05 a.m.
The five-kilometer course is a mix of trails and paved areas. The trails and paths wander along a stream and through picturesque shaded spots as well as some open areas. Overall the course elevation is easy-moderate with no severe incline areas.
Water will be available on the course and following the race. There will be some snacks and refreshments provided by sponsors at the conclusion of the race.
Lancaster also has a lively First Friday celebration very month. This month's edition of First Friday Lancaster (http://www.firstfridaylancaster.com) will run from 5-9 p.m. on June 1 in downtown Lancaster.
The event will feature attractive exhibitions at art galleries, artisan studios and museums. There will also be live performances presented in a variety of genres — professional theater, symphony orchestra and performing groups.
Hagley Museum and Library (200 Hagley Creek Road, Wilmington, Delaware, 302-658-2400, www.hagley.org), the site of the former DuPont Powder Mill, offers a wide array of special events for visitors every summer.
On June 8, Hagley Museum will present "Patent Model Tour" at 11 a.m. in the Visitor Center.
Visitors are invited to join one of the site's guides for an introductory tour of Hagley's patent model collection and learn about the history of these fascinating miniature models of invention and the patent process that was established in 1790.
The tour begins at the Visitor Center, followed by a ride through the Powder Yards. Visitors will have a guided tour of our current patent model display. Afterward, visitors will return to the Powder Yards where they may tour the rest of the museum on their own. The patent model tour lasts for approximately 1.5 hours.
On June 8, Hagley presents a special event called "Science Saturday."
Visitors of all ages are invited to discover solutions to science and engineering challenges. Science Saturdays are drop-in activities, so visitors are free to stop by at any time during the event hours.
For this Saturday's activity – " Trashformations " — visitors will have the opportunity to create "fabric" out of plastic grocery bags and find a new use for it. Visitors of all ages are invited to discover solutions to science and engineering challenges.
"Bike & Hike & Brews at Hagley" will be offered on June 12 from 5-8 p.m.
Dogfish Head beer will be available for purchase every Wednesday evening this summer.
At Bike & Hike & Brews, visitors can stroll, jog, or bike through areas of Hagley's property normally closed to foot traffic. Visitors can bring a picnic or dine at the Belin House Organic Cafe.
Woodside Farm Creamery ice cream will be available for purchase every Wednesday night.
Admission is $3 per person, and free for members and children five and under. Participants are instructed to use Hagley's main entrance off Route 141 in Wilmington, Delaware.
To treat your taste buds, head south to Wilmington, Delaware.
Every year, Wilmington is home to a pair of huge ethnic food festivals — the Greek Festival at the Holy Trinity Greek Orthodox Church (808 North Broom Street, Wilmington, 302-654-4446, www.holytrinitywilmington.org) and St. Anthony's Italian Festival (St. Anthony of Padua Church, 901 North DuPont Street, Wilmington, Delaware, 302-421-2790, www.stanthonysfestival.com).
The Greek festival, which is running through June 8 and is free, features all the traditional food favorites from that country including moussaka, pastitsio, tyropita, gyros, chicken and orzo, Greek salad and souvlaki as well as variety of sweet treats including baklava, katifi and an array of special cookies.
Greek-American groups from the Delaware Valley will play popular Greek songs and standards. Other attractions at the popular annual festival are Greek grocery stores and sales booths with items such as Greek music, icons, custom-made jewelry, leather goods and fabric. There will also be a variety of children's activities.
The St. Anthony's Italian Festival, which opens on June 9 and runs through June 16, features cafes, carnival rides, live Italian music and amusement games.
This festival is more than just a carnival with rides and food. It also is an educational experience with a focus each year on a different cultural region in Italy. In 2019, the festival theme will be "Best of Italy."
Over the past several years, the festival has focused on the art, architecture, food, and traditions of various regions — one region per year. For 2019, it will celebrate all that makes Italy and the Italian lifestyle the envy of much of the world.  There will be culinary highlights from various regions at the cafes and vendor locations, handcrafted Italian home decor items at Il Mercato, and Italian classical and contemporary music at concerts in the church and on the festival's entertainment stages.
The St. Anthony's Festival has become famous for its array of tasty Italian food.
Visitors will be able to enjoy such taste treats as spezzato, pizza, sausage and peppers, panzarotti, porkette, clams and spaghetti, pasta fagioli, pizza frita, meatball sandwiches, mozzarella sticks, calamari rings, spaghetti dinners and fresh espresso and cappuccino.
There is a $5 admission fee for all visitors ages 14-61. Seniors (age 61 and older) and children (age 13 and under who are accompanied by parent or guardian 18 or older) will be admitted free.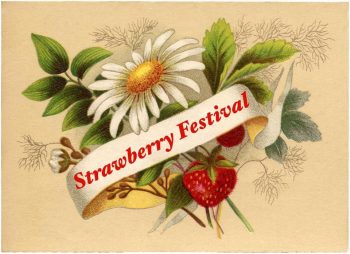 Another food-based festival this weekend is the annual Strawberry Festival and Flea Market. The event will be presented by the Historical Society of the Phoenixville Area (204 Church Street, Phoenixville, 610-935-7646, hspa-pa.org) on June 8.
Festival hours are listed as 10 a.m.-3 p.m. but activity will really get underway with the opening of the flea market at 8 a.m. It will be open until 1 p.m.
The actual Strawberry Festival starts at 11 a.m. and runs through 3 p.m. It features strawberries, ice cream and cake. There will be children's entertainment along with performances by local bands and a magician.
As an added attraction, the Historical Society of the Phoenixville Area Museum will be open from 10 a.m.-2 p.m.
The current special exhibit will run through the end of June. The exhibit is titled "Threads: What We Stitched and What We Wore."
With warmer weather having finally arrived, the entertainment calendar begins to feature a larger number of outdoor music events.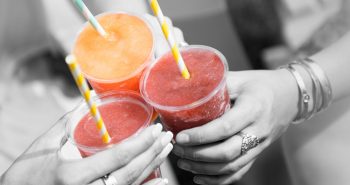 Chaddsford Winery (Route 1, Chadds Ford, 610-388-6221, www.chaddsford.com) will present "Wine Slushie Weekend" on June 8 and 9.
The event's live music schedule will feature Little Red Rooster from 3:30-6:30 p.m. on June 8 and 2:30-5:30 p.m. on June 9.
The special weekend activity, which will run from 11 a.m.-7 p.m. on Saturday and 11 a.m.-6 p.m. on Sunday, will showcase a variety of "Chaddsford Wine Slushies" –four unique frozen libations made with delicious seasonal ingredients and Chaddsford wines.
Featured Slushie flavors are Sangria with Sangri-la Sangria, Peach Bellini with Niagara, Frosé with Sunset Blush, and Spring Wine Pineapple Popsicle.
The "Wine Slushie Weekend" will have a trio of featured food trucks — Dos Gringos,  Barkley's BBQ Truck and Natalie's Fine Foods.
This event is rain or shine. Slushies will be available while supplies last. Admission for children is free if accompanied by an adult (21 or over). Chaddsford Winery reserves the right to refuse entry to any individual not accompanied by an adult.
Seating at the Winery is available on a first-come, first-served basis.  Guests are encouraged to bring blankets or folding chairs to guarantee comfortable seating on the grounds. No outside alcohol permitted.
Admission to "Wine Slushie Weekend" is free and all wine and food purchases are pay-as-you-go.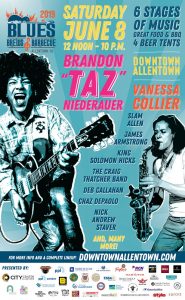 On June 8, blues music will be featured in the Lehigh Valley when Allentown hosts its "12th Annual Blues, Brews & Barbecue" (http://www.downtownallentown.com) on an array of outdoor stages in the downtown area of the city.
More than 20,000 Blues enthusiasts gather in downtown Allentown each year for the annual Blues, Brews & Barbecue festival. They come to listen to incredible Blues musicians with international prominence, to sample amazing BBQ from all around the U.S. and to drink delicious craft and domestic brew.
Featuring six stages of music, the festival will stretch from Ninth and Hamilton streets down to Fifth Street incorporating the LV Building Trades Stage at the PPL Plaza Stage, Allentown Brew Works Biergarten Stage, The Hamilton Kitchen Stage, Queen City BBQ Stage, the Bell Hall Stage and the Tacos Y Tequila Stage.
The free event, which will run from noon-10 p.m., features many nationally acclaimed blues acts including Concordville's Vanessa Collier, Brandon "Taz" Niederauer, King Solomon Hicks, Deb Callahan, James Armstrong and Slam Allen.
Additionally, a number of local artisans will be selling their wares at the one-day festival.
On June 8, Fishtown FestivAle (www.fishtownfestivale.com, 215-739-9684) takes over Frankford Avenue in the Fishtown section of North Philadelphia with craft beer, DJs, food, games, vendors and more.
The festival will be serving up pulled pork sandwiches, soft shell crab sandwiches, potato salad, and corn on the cob under the tent at Johnny Brenda's (1201 North Frankford Avenue).
And, the volunteer staff will be pouring craft beers, special punch and classic ales to help participants deal with the summer heat.
The event is free and open to the public.
On June 9, the 44th Annual Odunde Festival (215-732-8510, http://odundefestival.org) will be held from 10 a.m.-8 p.m. in the vicinity of 23rd and South streets in downtown Philadelphia.
Odunde attracts close to 500,000 people each year, covers 12 city blocks and is one of the largest African-American street festivals in the country.
The festival's authentic African marketplace features vendors from around the world selling merchandise from many African nations, the Caribbean and Brazil.
The free event, whose concept originates from the Yoruba people of Nigeria, celebrates the coming of another year. One of the highlights each year is a colorful procession from 23rd and South streets to the Schuylkill River where an offering of fruit and flowers is made to Oshun, the Yoruba goddess of the river.
There will be continuous live music throughout the day along with also be traditional African dance performances by the Universal African Dance and Drum Ensemble.
The Morris Arboretum (100 East Northwestern Avenue, Philadelphia, 215-247-5777,
http://www.business-services.upenn.edu/arboretum/index.shtml) is hosting two special events this weekend — "Moonlight & Roses" and "MORE Hidden Gems Tour!"
"Moonlight & Roses," which will run from 6-11 p.m. on June 7., is the Morris Arboretum's annual fundraising gala to support all aspects of the Arboretum's mission. The evening begins with cocktails in our stunning Rose Garden at the peak of its bloom. Dinner follows underneath of a clear-top tent with a live band, dancing and open bar.
At the "MORE Hidden Gems Tour!," which will be held June 8 at 11 a.m., participants ca join knowledgeable guides for an all new walking tour highlighting garden features not often discovered on an average visit. The original Hidden Gems tour was so popular that it is returning this season with MORE! Guests will be able to go off the beaten path to find unseen garden gems, a combination of structures, sculptures, spaces, trees and vistas.
Regular Admission to Morris Arboretum is $20 for adults, $18 for seniors and $10 for youth (3-17 years). Children under 3 are admitted free.
Hope Lodge (553 South Bethlehem Pike, Fort Washington, 215-343-0965, http://www.ushistory.org/hope/) will be presenting "Guided Mansion Tours" on Jun 9.
Hope Lodge was built between 1743 and 1748 by Samuel Morris, a prosperous Quaker entrepreneur. Morris acted as a farmer, shipowner, miller, iron master, shop owner, and owner of the mill now known as Mather Mill. Hope Lodge is an excellent example of early Georgian architecture, and it is possible that Edmund Woolley, architect of Independence Hall, offered advice in building. Samuel Morris owned the estate until his death in 1770.
Visitors can participate by watching a short film and then taking a tour. Guided tours of the mansion will depart at 1 and 2:30 p.m. all three days.
Tour admission is $8 for adults, $5 for seniors (age 65+) and for youth age 6-17, and fee for children under 5. Hope Lodge is a Blue Star Museum which means that active duty military personnel, including National Guard and Reserve and their families, are admitted free for regular tours from Memorial Day through Labor Day.
The Big Apple Circus, which is celebrating its 41st anniversary this year, is running now through June 16 at the Greater Philadelphia Expo Center (100 Station Avenue, Oaks, https://bigapplecircus.com).
Many of the world's greatest circus acts have performed under the Big Apple Circus Big Top. Each year, a new show with new attractions is created by many of New York's most creative directors and designers. The most exciting new thing about this year's show is a new ringmaster — Stephanie Monseu.
"This is a big circus," said Monseu, during a recent phone interview from a tour stop in Peabody, Massachusetts. "We have 25 artists and, in total, 80 people moving from place to place. We have a number of tents including the Big Top and reception tents. The Big Top holds 1,700 people and no seat is more than 50 feet from the ring."
Some of the featured acts are Jenny Vidbell with her horses and dogs; Emil Faltyny, who does a free-standing ladder balancing act; Gamil the juggler; The Flying Tunizianis, a double-wide trapeze act showcasing seven fliers and two catchers; the gravity-defying horizontal juggler Victor Moiseev; Andréanne Quintal, whose team of performers bounce off the walls in her feisty trampoline act; the "strongest mom in the world" Virginia Tuells and her husband Ihosvanys Perez with their breathtaking acrobatic act that combines dance, strength, flexibility, and passion in which Tuells handles a majority of the lifts.
And, of course, there are clowns — Mark Gindick and Adam Kuchler.
The regular performance schedule is Wednesdays, Thursdays and Fridays at 11 a.m. and 7 p.m.; Saturdays at 11 a.m., 3 and 7 p.m., and Sundays at noon and 4 p.m. Ticket prices range from $20-$75.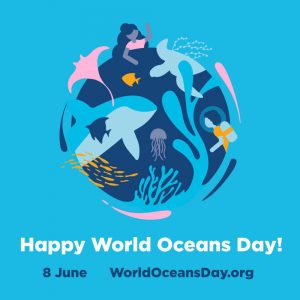 The Delaware Museum of Natural History (4840 Kennett Pike, Wilmington, 302-658-9111, http://www.delmnh.org) is celebrating "World Oceans Day' with a variety of special events on June 8.
Oceans cover about 70 per cent of the earth's surface and are the life source for many plants and animals.
The popular museum, which is located on Route 52 a few miles south of the Pennsylvania-Delaware state line, will celebrate oceans with hands-on games, crafts, activities, learning stations, science experiments, story times and more.
Museum admission is $9 (ages 3-59), $8 for seniors (60 and older) and $3 for toddlers (ages 1-2).
The Brandywine Zoo (1001 North Park Drive, Brandywine Park, Wilmington, Delaware, 302-571-7747, www.brandywinezoo.org) is inviting people to come to the Zoo on June 8 to celebrate "World Oceans Day."
Visitors will be able to learn about the plight of the world's oceans and the need for ecological awareness.
Participants in the event, which will run from 10 a.m.-1 p.m., can learn about what they can do to help the oceans, starting right here in the Delaware Valley.
Activity and learning stations throughout the zoo will help you become a better ocean steward.
The Brandywine Zoo will also be presenting special "Reptile Shows" from June 8-10 at 1 p.m. each day in the Otter Circle.
Admission to the Brandywine Zoo is $7 for adults, $5 for seniors (62 and older) and children (ages 3-17).
As part of Historic Philadelphia's 13th anniversary celebration at Franklin Square (200 Sixth Street, Philadelphia, www.historicphiladelphia.org), the organization is illuminating the park with its annual Chinese Lantern Festival.
Now through June 30, Franklin Square (http://historicphiladelphia.org/chineselanternfestival/) will come alive every night with its Chinese Lantern Festival featuring more than two dozen illuminated lanterns – all constructed by lantern artisans from China.
Chinese-inspired performances will take place in Franklin Square twice nightly. Performances, which celebrate Chinese performance art and entertainment, are 30-minutes long and are scheduled for 7 and 9 p.m.
Festival hours are 6-10 p.m. Sunday through Thursday and 6-11 p.m. on Friday and Saturday. Admission is $18 for adults, $12 for youth, and $15 for seniors and military.
On June 9, the Great Plaza at Penn's Landing (201 South Columbus Boulevard, Philadelphia, www.delawareriverwaterfront.com) will be the site of  the Gay Pride Festival 2019.
The Gay Pride Festival at Penn's Landing marks the ending point for the LGBT Pride Parade, and the beginning of six hours of entertainment.
This festival is produced by Philly Pride and consists of over 80 community groups and vendors, free health screenings, live entertainment, dancing, food and adult beverages, and more.
The 31st annual PrideDay LGBT Parade starts at 11:30 a.m. at 13th and Locust and weaves through Center City and Old City to Penn's Landing.
The festival at Penn's Landing is free and runs noon-6 p.m.
An associated event is the Philadelphia Dyke March which will be held on June 8 from 1-4 p.m. starting at Louis I. Kahn Park (328 South 11th Street, Philadelphia, https://www.facebook.com/events/1795478350754427/).
The Philadelphia Dyke March draws hundreds for a proud march through Center City that spotlights Philly's lesbian community and their allies.
According to the event's Facebook page, "The Philly Dyke March is not a parade. It's a march, a protest, a movement" and the invitation to participate is extended to "femmes, butches, andros, queers, studs, AGs, lesbians, tops, bottoms, tomboys, womxn of color, asexual dykes, bidykes, boidykes, pandykes, UHaulers, QPOC, and transgender, intersex, gender nonconforming, gender non-binary, and genderqueer dykes of all flavors, and all of those who love and support us."
Afterward in Kahn Park, participants can enjoy free water ice and and watch as Philly's Dyke performers rock the mic for the rest of the day.
The 2019 Philadelphia VegFest (Bainbridge Green, Third and Bainbridge streets, Philadelphia, www.phillyvegfest.com) is scheduled for June 8 from 11 a.m.-4 p.m.
The public is invited to celebrate and learn more about vegan and whole-food-plant-based lifestyles at the revival of VegFest.
Vendors and exhibitors of vegan food, art and other goods set up shop at Bainbridge Green for this fabulous day that also features live music, speakers and cooking demonstrations.
Participating purveyors at the free event include Atiya Ola's Spirit First Foods, Mo'Pweeze Bakery, The Taza Truck, Freakin' Vegan and many more.
Live music will be performed by Blue Hippopotomas, The Missing Frets and DJ LacedUp.