By Denny Dyroff, Entertainment Editor, The Times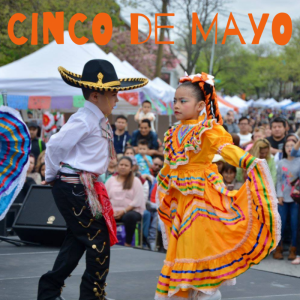 Cinco De Mayo is day for partying. Along with El Dia de Los Reyes (Day of the Kings) and El Dia de los Muertos (Day of the Dead), it is one of the biggest party days of the year for the people of Mexican descent.
On St. Patty's Day, everyone is an honorary Irishman. On Cinco de Mayo, everyone is an honorary Mexican (except Donald Trump).
But just as you don't have to be Irish to party on St. Patrick's Day or Indian to get colorful celebrating Holi, you don't have to be Mexican to celebrate Cinco De Mayo.
With the huge Hispanic population in southern Chester County, Kennett Square is the perfect location for a Cinco De Mayo Celebration.
Lively celebrations of Cinco de Mayo have become an annual tradition in Kennett Square and are celebrated each year on the Sunday closest to May 5. This year, Sunday May 5 is the "party day."
"Cinco De Mayo" (The Fifth of May") commemorates the defeat of the French army by the Mexicans at The Battle of Puebla in 1862.
On May 5, 1862, over 6,000 French soldiers tried to capture the forts of Loreto and Guadalupe in Puebla de Los Angeles, Mexico. Led by General Ignazio Zaragoza, 2,000 Mexican men fought back hard and held the fort.
Kennett Square's 28th Annual Cinco De Mayo Celebration (https://www.casagks.org/), which will be held on State Street and Broad Street from 11 a.m.-5 p.m., is a celebration of Mexican culture. The free event features authentic Mexican food showcasing Mexican and Hispanic regional specialties with 15 restaurants.
There will be a stage with non-stop live program from 11:30 a.m.-4:30 p.m. featuring music and folkloric dancing. Another attraction will be an "Education Fair" with more than 10 regional colleges and university representatives present. More than 80 vendors with a diverse offering of arts and crafts, unique merchandise and clothing. Will be set up at the event along with 30 non-profit organizations providing on-the-spot services and handing out information.
The festival has been sponsored in Kennett Square since 2006 by Casa Guanajuato, a group promoting Mexican culture.
One of more than 50 kindred organizations across the USA, Casa Guanajuato derives its name from Guanajuato, a state in Mexico that is the original home of many of the Mexican immigrants in the area. The event is co-sponsored by Univision65.
Another activity scheduled for Kennett Square this weekend is the 2018 Trout Rodeo which will take place at Anson B. Nixon Park (North Walnut Street, Kennett Square) on May 4.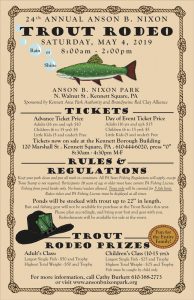 The 24th Annual Anson B. Nixon Trout Rodeo (historickennettsquare.com, 610-388-2773), which is sponsored by the Red Clay Valley Association and the Kennett Area Park Authority, will be held from 8 a.m.-2 p.m. Ponds will be stocked with trout up to 22 inches for youth and adult fishing.
There will be prizes for largest single fish and highest total weight in two classes — adult's (with a $50 prize and trophy for the winners) and children's (with a $25 prize and trophy for the winners).
On May 3, it will be time for another installment of Kennett Square's First Friday Art Stroll in downtown Kennett Square (http://historickennettsquare.com/recreation-culture/art-stroll/).
Kennett Square's Art Stroll is a monthly celebration of the local art scene as it is showcased in the galleries, shops and restaurants throughout town. Residents and visitors alike are encouraged to stroll the tree-lined streets and browse the many businesses that stay open late.
The Art Stroll runs from 6-9 p.m. on the first Friday of each month. After 5 p.m. on Friday, visitors can take advantage of free parking anywhere in the Parking Garage and at any street meter.
There will also be First Friday happenings in Lancaster tonight.
Lancaster's popular First Friday (http://www.visitlancastercity.com/first-friday/) is an arts extravaganza that runs from 5-9 p.m. on April 5. Visitors to downtown Lancaster will have the opportunity to discover innovative exhibitions, performances and perhaps a few surprises as they walk the streets lined with trees and distinctive architecture.
Unique boutiques and excellent restaurants complement the art galleries, artisan studios, museums, performing groups, professional theater, symphony orchestra and art college that from Lancaster's arts community.
Another First Friday event this weekend will take place in Old City Philadelphia (230 Vine Street and locations throughout Old City Philadelphia, 215- 625-9200,www.oldcitydistrict.org).
On the first Friday of each month — year-round — Old City's galleries, studios, shops and restaurants open their doors for First Friday, in an epic exhibition of the neighborhood's vibrant arts scene.
Old City Arts Association launched First Friday in 1991 to introduce Philadelphia to the improving neighborhood and the artists and designers who were bringing it back to life.
Two decades later, Old City is a nationally recognized arts destination, named in 2013 as one of the country's top ArtPlaces by the ArtPlace Foundation.
On the first Friday evening of every month, the streets of Old City fill with art lovers of all kinds who wander among the neighborhood's 40-plus galleries, most of which are open from 5-9 p.m.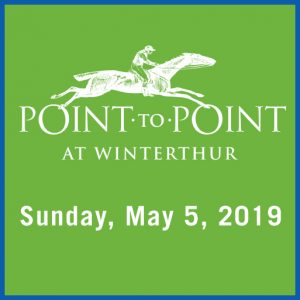 There will be a bustle of activity this weekend on Kennett Pike just a few miles south of Kennett Square at Winterthur (Route 52, Wilmington, Delaware, 302-888-4600,www.winterthur.org) with the staging of the annual Winterthur Point-to-Point Races — an event that has become one of premier attractions in the Brandywine Valley each year.
This year's 41st annual staging of the event is scheduled for May 5 from 10:30 a.m.-4 p.m.
The Alison Hershbell Pony Races and the Parade of River Hills Foxhounds are scheduled for noon followed by the George A. "Frolic" Weymouth Parade of Antique Carriages at 1p.m. and the Stick Horse Races (ages 4 and under) at 1:30 p.m.
The Point-to-Point features a variety of cross-country equestrian events. The main events are the steeplechase races. The races, which are on a course just over three miles long, include eight fences that are jumped 17 times.
Post time for the first steeplechase event is the Isabella du Pont Sharp Memorial Maiden Timber Race at 2 p.m. — after the National Anthem at 1:50 p.m. The Point-to-Point's other featured races will be the Winterthur Bowl at 2:30 p.m., the Vicmead Plate at 3 p.m. and the Middletown Cup at 3:30 p.m.
The full-day event will also include all of its other traditional annual features such as the pony rides, food tents, the traditional opening ceremony with the bagpipers of the Delaware State Police Pipe Band and the legendary "Tailgate Picnic Competition."
Video link for Point-to-Point — https://youtu.be/dLPom4ZRk6I.
Tickets are $60 for adults and $25 for youth (ages 12-20).
Winterthur Museum, Garden & Library has also just opened another blockbuster exhibit.
Now through January 5, 2020, Winterthur is presenting "Costuming THE CROWN." The exhibition is the first global comprehensive exhibition of costumes from the first two seasons of the hit Netflix show.
From the dazzling gold of Queen Elizabeth's coronation robe to the simple sophistication of Princess Margaret's wedding dress, "Costuming THE CROWN" features 40 iconic costumes from the beloved Emmy® and Golden Globe award-winning drama "The Crown."
The Netflix Original series, produced by Left Bank Pictures in association with Sony Pictures Television, is a dramatized history of Queen Elizabeth II's early reign – an era when the fragile social order established after the Second World War broke apart.
Beginning with spectacle and pageantry, "Costuming THE CROWN," reveals everything from the majesty of royal crowns and tiaras to the private outfits worn by the royal family behind the palace doors.
Winterthur, which is known for its impressive collection of American decorative arts, naturalistic gardens, and research library for the study of American art and material culture, offers a variety of tours, exhibitions, programs, and activities throughout the year.
General admission includes a tour of some of the most notable spaces in the 175-room house as well as access to the Winterthur Garden and Galleries, special exhibitions, a narrated tram tour (weather permitting), the Campbell Collection of Soup Tureens, and the Enchanted Woods children's garden.
Admission fees are $20 for adults, $18 for students and seniors, and $6 for ages 2–11. Museum hours are 10 a.m-5 p.m. Tuesday through Sunday.
When May arrives in Chester County, people from the area know that it is time once again for West Chester's Annual May Day Festival.
West Chester's "May Day Festival of the Arts" will be held on May 5 at Everhart Park (West Union Street and South Brandywine Avenue, 610-436-9010, www.west-chester.com) from 11 a.m.-4 p.m.
The list of attractions at the free event includes food trucks and food vendors, high quality arts and crafts for sale, live artisan demonstrations, moon bounces, children's rides, outdoor art show and live performances.
Live entertainment in the Performance Area will feature juggler Randy Lyons and a performance by West Chester Dance Works.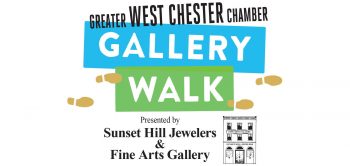 Another special event in downtown West Chester this weekend will be the West Chester Spring Gallery Walk. The popular annual event will be held on May 3 from 5-9 p.m.
There will be a festival atmosphere along the streets of West Chester when area businesses feature pop-up gallery shows for local artists and six West Chester galleries will host their own art reception events.
A Gallery Walk map can be downloaded at http://greaterwestchester.com/events/featured-events/gallery-walk/.
On May 4, the Tamil Association of the Greater Delaware Valley's "Tamil New Year 2019" will be held at West Chester Henderson High School (400 Montgomery Avenue, West Chester, http://tagdv.org).
The program will feature educational and cultural activities for youngsters, performances by the Tamil Association of Greater Delaware Valley's school children and special performances by Tamil entertainers – including Lydian Nadhaswaram.
Tickets for the event, which runs from 1:30-10 p.m., are $21 for adults and $9 for children.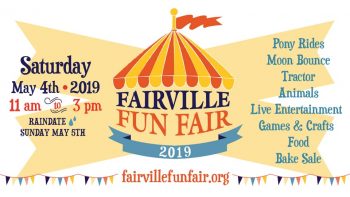 Visitors are invited to the Fairville Fun Fair, which will be held May 4 from 11 a.m.-3 p.m. at Fairville Friends School (216 Pond View, Chadds Ford, 610-388-1268,http://www.fairvillefriends.org).
Held on the school's grounds, Fairville's Fun Fair is especially great for families with toddlers, preschoolers, and young children with activities such as pony rides, moon bounces, cookie decorating, digging for treasures in a giant sandpit, arts and crafts, and even riding on a tractor.
The Fun Fair also offers live entertainment and healthy lunch fare will be available for purchase. The Fair is open to the public with no entrance fee. In case of rain, the Fair will be held on May 5 at the same time and location.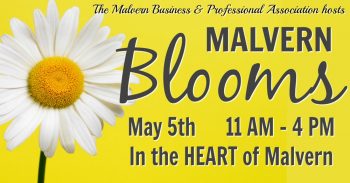 Malvern Blooms (downtown Malvern, 484-321-3235, http://www.malvernbusiness.com), one of Chester County's popular early spring events, will be held May 5 from 11 a.m.-4 p.m.
On this special day, the Borough of Malvern will be hosting a large array of juried artists, home and garden vendors, entertainers and crafters.
The event will take place along King Street, on Warren Street and in Burke Park. The street will be lined with booths, exhibits and sales displays presented by artists, local store owners and food vendors.
Kids' activities include "Gem Mining," the All-Star Obstacle Course, Lil' Pirates Bouncie, Stubby the Helicopter, face painting, Scooby Doo and Paw Patrol, sand art and a collaborative art project.
Entertainment will be provided by American Deluxe Band, Eddy Ray the magician and DJ Loudenclear.
The event is free and open to the public.
The 2019 Phoenixville Food Truck Festival (Downtown Phoenixville including the 100 & 200 blocks of Bridge Street, Phoenixville, http://www.phoenixvillefirst.org/foodtruckfestival) will be held on May 4 from noon-6 p.m.
The featured attraction will be a caravan of food trucks featuring food in a wide array of cuisines, including Mexican, Korean, French and even soul food.
Some of the participating food trucks this year are Bonjour Creperie, Dump n Roll, Abuelita`s Empanadas, The Chilly Banana, Dos Hermanos, Wow Wagon, and Phyllodelphia.
The event will also have vendors with homemade snacks and handmade arts and crafts.
Live entertainment will be provided by Skip & Chickie, Rick's Office Band, Hidden Treasure, DJ TKO, and Elle Gyandoh.
There will be A "Food Truck Frenzy" at Linvilla Orchards (137 West Knowlton Road, Media, 610-876-7116,www.linvilla.com) on May 4 from 11 a.m.-4 p.m.
Some of the participating trucks will be The Plum Pit, 22 BBQ, KOI on the go, Outlandish, Jeremiah's Custom Cuisine, Roasted Liberties and Humming Bird Island Cuisine.
The "Food Truck Craze Cinco Bash" will be held May 4 and 5 at the Greater Philadelphia Expo Center (100 Station Avenue, Oaks, 484-754-3976,www.phillyexpocenter.com). The event will be located outside the Expo Center.
Event tickets give visitors access to a wide variety of food trucks and vendors, live music, adult beverage tents, larger-than-life oversized inflatable games, sponsor activation's, and table and seating areas.
Other onsite activities will be available for additional cost on the day of event — including a zip line. This is a rain or shine event, with a limited number of tickets available for each session.
Live entertainment will be provided by DJ Gregg Nyce, Three's Company, DJ VITO G, and Pretty Decent.
This is an all-ages event. Children (6 and under) admitted free with paying adult ticket, which is $5.
Freedoms Foundation at Valley Forge and the Military Living History Association are hosting the Ninth Annual World War II Weekend (www.ww2weekend.org) on May 4 and 5 at the Medal of Honor Grove on the campus of Freedoms Foundation (1601 Valley Forge Road, Phoenixville).
Throughout the weekend, guests in the Medal of Honor Grove can witness flag raisings, weapons demonstrations and battle reenactments by approximately 300 re-enactors. They will also be able to visit encampments and experience military life in the 1940s — and see authentic military vehicles of the times.
Elsewhere on campus, visitors can hear Mae Krier, a "Rosie the Riveter" during the war; watch the Magnolia Sadies Dancers; hear Rich DeSimone singing Frank Sinatra; and enjoy a 1940s fashion show.
On Saturday, from 7-10 p.m., there will be a dance featuring the West Chester Swing Kings in the Martha Washington Building on campus.
The Ninth Annual World War II Weekend will run from 9 a.m.-5 p.m. on May 4 and 9:30 a.m.-4 p.m. on May 5.
Admission to the event is $12 for adults (18 and up), $10 for seniors, $6 for children (ages 13-17), and $30 for families.
Veterans and children 12 and under are admitted free. Tickets for the Saturday night swing dance are $15.
On May 5, Sly Fox Brewing Company (331 Circle of Progress Drive, Pottstown, 484-300-4644, http://www.slyfoxbeer.com) is hosting its Sly Fox Bock Festival and Goat Race. Bock Fest runs from 11 a.m.-6 p.m. and the brewery's tasting room will remain open until 8 p.m.
Brewmaster Brian O'Reilly and his crew produce a mouthwatering lineup of bock beers including Slacker Bock, Helles Bock, Instigator Doppelbock, Eisbocks and a Maibock.
A wide open, grassy field neighboring the 30,000 square-foot brewery is the annual site for the running of the goats and other fun festival activities.
The Goat Race starts with the first heat at 2 p.m. and the competition lasts approximately two hours. The competitor that finishes as Goat Race champion goes down in history.
The name of the brewery's Maibock is named after the winning goat and ceremoniously tapped directly after the conclusion of the race.
In recent years, the event has featured between 40 and 60 registered goats. Some of the entrants this year are Elvis, Waylon, Speedy, Tosh, Falcor, Shadow, Patches O'Houlihan, Comet, Miss Betty, Marley Guiness, Ms. MooGoo, Oreo and Vincent Van Goat.
There will be live German oompah music and live coverage of the Goat Races on a jumbotron. Afterwards, some of the goats and their owners will mingle with the crowd and get friendly with children and their families.
Admission to the event is free.
From May 4-6, the Broomall Fire Company Carnival will make its annual visit to Delaware County on the grounds adjacent to the Broomall Fire Company's station (10 North Malin Road, Broomall, broomallfirecompany.com).
The Carnival, which runs from 6-11 p.m. on May 3, 3-11 p.m. on May 4 and 1-6 p.m. on May 5, is free and open to the public.
The event will feature a carnival midway, amusement rides, family games and a wide variety of food vendors.
In conjunction with the celebration of Historic Philadelphia's 13th anniversary at Franklin Square (200 Sixth Street, Philadelphia, www.historicphiladelphia.org ), Historic Philadelphia is once again illuminating the park with its Chinese Lantern Festival.
Now through June 30, Franklin Square will come alive every night with more than two dozen illuminated lanterns – all constructed by lantern artisans from China.
Chinese-inspired performances will take place in Franklin Square twice nightly. Performances, which celebrate Chinese performance art and entertainment, are 30-minutes long and are scheduled for 7 and 9 p.m.
Festival hours are 6-10 p.m. Sunday through Thursday and 6-11 p.m. on Friday and Saturday. Admission is $18 (Sunday-Thursday) and $20 (Friday and Saturday) for adults, $12 for youth, and $16 for seniors and military.
On May 4, the American Swedish Historical Museum (1900 Pattison Avenue, Philadelphia, 215-389-1776, www.americanswedish.org) is hosting Spring Ting Dinner & Auction 20198.
The special fundraiser features a silent auction, a three-course Swedish dinner and a talk by Swedish-American artist Helena Hernmarck. Guests can also personally welcome Sweden's Ambassador Olofsdotter on her first visit to the museum.
The event will run from 6-10 p.m.
Founded in 1926, the American Swedish Historical Museum in South Philadelphia is the oldest Swedish museum in the United States. 1926 marked the 150th anniversary of the signing of the Declaration of Independence, and Americans from all backgrounds were celebrating their heritage and their contributions to the United States of America. The museum's founder, Dr. Amandus Johnson inspired a group of committed, successful Swedish-Americans to build the Museum as a permanent monument to Swedish contributions in the United States.
The Museum is located on land that was once part of a seventeenth-century land grant from Queen Christina of Sweden to Swedish colonist, Sven Skute. The Museum's architect, Swedish-American John Nydén, combined architectural features from three prominent edifices in his design. He modeled the main building after a seventeenth-century Swedish manor house, Eriksberg in Södermanland. The copper cupola atop the building is inspired by the one on Stockhlom's City Hall, and the arcades which flank the Museum are patterned after those at George Washington's home, Mount Vernon.
The Museum's 20,000 square foot interior is currently divided into twelve exhibition galleries, reference library, curatorial storage and archives, offices, museum store, large dining room/conference area and kitchen.
The Haverford Spring Fest (Brookline Boulevard, Haverford, haverfordspringfest.com) will take place on May 5 from noon-7 p.m.
The festival's main stage attractions will be Charlotte Hamburg (National Anthem), Haverford High School Jazz Ensemble, Solemnis, Dave Patten and The First Cut, Classic Stones Live featuring the Glimmer Twins, and Broken Arrow – Tribute to Neil Young.
In addition to live music, the one-day festival will feature artisan vendors, food vendors, beer/wine gardens, an inflatable park, and an array of children's activities.
A donation is requested at admission.
The Yellow Springs Art Show got its start back in 1973 as a free event featuring a variety of artists displaying their work on clotheslines.
It has changed immeasurably since then and has become one of the largest and most prestigious annual art shows in the Delaware Valley.
The Yellow Springs Art Show, which is still free and open to the public, is celebrating its 45th anniversary this year. The popular annual event now features more than 185 participating artists — including more than 20 artists who are new to the show this year.
The show is running April 27 through May 12 in Historic Yellow Springs Lincoln Building (Art School Road, Chester Springs, 610-827-7414 orwww.yellowsprings.org). Show hours are from 10 a.m.-4 p.m. daily.
The 2019 Yellow Springs Art Show will have on display more than 3,000 pieces of fine art in a wide range of media and styles – oils, watercolors, bronze sculptures, pastels, landscapes, still life, three-dimensional works, seascapes and abstract.
All proceeds benefit arts education, environmental protection and historic preservation of the 300-year-old village of Historic Yellow Springs.
Springtime is a great time to visit Longwood Gardens (Route 1, Kennett Square, 610-388-1000, www.longwoodgardens.org) and you have just three more days to check out the site's special celebration of spring.
At "Spring Blooms," which is running through May 5, visitors can enjoy hundreds of lush acres featuring burgeoning gardens of daffodils, tulips, magnolias, azaleas, flowering cherries and more than 240,000 flowering bulbs.
Longwood's 1,100 acres are coming alive with an amazing array of flowers. As colorful spring blooms make their entrance, Longwood radiates with renewal and growth.
Early spring bulbs like glory-of-the-snow, winter-aconite, and crocus first herald the season's arrival, with gorgeous tulips, wisteria, and flowering trees deepening our lush spring tapestry of color, fragrance, and warmth.
In the indoor part of "Spring Blooms," lilies, delphiniums, hydrangeas and other spring blossoms fill the conservatory with color. Also featured are Longwood's grand treehouses, whimsical Topiary Garden, and colorful Idea Garden.
Knowledge also blooms this spring as Longwood focuses on the many learning opportunities the site offers. No matter your age, interest, or skill, Longwood has exciting education programs, as well as walks and talks with our horticulturists, educators, and students.
Admission to Longwood Gardens is $23 for adults, $20 for seniors and $12 for students.

Wilmington Garden Day, a springtime tradition in the Brandywine Valley, will host its 72nd annual tour on Saturday, May 5, from 10 a.m. to 4 p.m. Featuring both houses and gardens, this is a rain-or-shine event.
This year's Wilmington Garden Day tour (http://www.wilmingtongardenday.org/) will offer participants the opportunity to visit 14 colorful — and very different — gardens. Of those, seven will include the home's interior and/or greenhouses.
Wilmington Garden Day has been using its proceeds to benefit underserved children in Delaware for 49 years. Tickets for this year's tour are $35.
On May 4 and 5, Tyler Arboretum (515 Painter Road, Media, 610-566-9134, www.tylerarboretum.org) will present its annual "Garden Plant Sale."
The event will run from 9 a.m.-3 p.m. both days with viburnums as the featured plant. As an added attraction, "Plant Experts" will be available throughout the day on Saturday and Sunday to offer advice.
Offering luscious plants to suit all gardens, soil types, growing conditions, gardening abilities, and pockets, Tyler's Annual Plant Sale provides inspiration for the garden, with showy annuals for containers, herbs, edibles, flowering shrubs, trees, unusual vines, and rare and difficult to find plants.
Gilbert & Sullivan and the Ardensingers go together like spaghetti and meatballs — and they have the history to prove it.
The Ardensingers have been presenting the works of Gilbert & Sullivan continuously since 1948 at their historic Gild Hall (2126 The Highway, Arden, Delaware, 484-319-2350, www.ardensingers.com).
Now through May 4, the Ardensingers are performing Gilbert & Sullivan's "The Pirates of Penzance" — one of the team's legendary musical comedies.
"The Pirates of Penzance" (or "The Slave of Duty") is a comic opera in two acts, with music by Arthur Sullivan and libretto by W. S. Gilbert. The opera's official premiere was at the Fifth Avenue Theatre in New York City on New Year's Eve 1879, where the show was well received by both audiences and critics. Its London debut was in April 1880, at the Opera Comique, where it ran for 363 performances.
The story concerns Frederic, who, having completed his 21st year, is released from his apprenticeship to a band of tender-hearted pirates. He meets Mabel, the daughter of Major-General Stanley, and the two young people fall instantly in love. Frederic soon learns, however, that he was born on the 29th of February, and so, technically, he has a birthday only once each leap year. His indenture specifies that he remain apprenticed to the pirates until his "twenty-first birthday", meaning that he must serve for another 63 years. Bound by his own sense of duty, Frederic's only solace is that Mabel agrees to wait for him faithfully.
This show was the fifth Gilbert and Sullivan collaboration and introduced the much-parodied "Major-General's Song". The opera was performed for over a century by the D'Oyly Carte Opera Company in Britain and by many other opera companies and repertory companies worldwide. Modernized productions include Joseph Papp's 1981 Broadway production, which ran for 787 performances, winning the Tony Award for Best Revival and the Drama Desk Award for Outstanding Musical and a 1983 film adaptation.
Performances are scheduled for May 3 at 8 p.m. and May 4 at 2 p.m. Tickets are $20 for adults, $17 for seniors and $7 for children.

On May 4 and 5, it will be time for the annual Lancaster City Art Walk (vicinity of Prince and King streets, Lancaster, lancasterartwalk.org).
Special exhibitions, meet-the-artist events, children's activities and live demonstrations are all available for discovery within the bustling independent galleries of Lancaster city.
Art Walks have a long history in the City of Lancaster.
Back in 1965, the first art walk was organized by the Community Gallery, now the Lancaster Museum of Art. The event was called Art Sunday and occurred on the first Sunday in October. It was a special day for promoting local artists and galleries and included both city and county venues. Arts venues were less commonplace at that time. Downtown was a quieter place and there were no First Fridays. Thanks to the Community Gallery/Lancaster Museum of Art, Art Sunday continued every year and became well-established.
Featured Stops at the 2019 Lancaster City Art Walk will be fine art galleries, edgy and indie boutiques, fine craft stores, co-operatives, art centers and museums.
A popular event in Delaware this weekend is "Train Day" at Auburn Heights Preserve (3000 Creek Road, Yorklyn, Delaware, 302-239-2385, http://auburnheights.org).
"Train Day," which is scheduled for May 5, celebrates all things train — big and small – with special guests and elaborate model railroad layouts.
Planned activities include rides on the Auburn Valley Railroad featuring the site's 1/8-size live steam and diesel locomotives and a display of 1930 electric trains in the Marshall Steam Museum.
There will also be special exhibits spotlighting early track tools, the history of the Auburn Valley Railroad and more.
The model railroad layouts will be provided by the Nordel Model Railroad Club.
Also included is entry to the Marshall Steam Museum, which features the world's largest operating collection of Stanley steam cars along with a 1930s working Lionel electric train display, a hands-on engine display, kids' activities and exhibits and the Museum Gift Shop.
The event is scheduled to run from 12:30-4:30 p.m. and admission is $8.
On May 5, it will be time for "First Sundays for Families" at the Brandywine River Museum of Art (1 Hoffmans Mill Road, Chadds Ford, www.brandywine.org).
Families will be able to explore Brandywine inside and out through nature crafts, and interactive discovery walks.
There will be lively musical performances from the award-winning duo Two of a Kind at 11:15 a.m. and 12:15 p.m.
Visitors to the museum will also have the opportunity to observe "Farm to Table Plein Air" artists as they capture the beauty of the Brandywine landscape in paint
There will also be art activities with teaching artists. Children of all ages can make their own fairy-tale finger puppets, create a friends-and-family coat of arms and assemble a wearable crown or hat.
The event will run from 11 a.m.-2 p.m. Museum admission is $18 for adults, $15 for seniors (65+) and $6 for students with ID and children ages 6-18.
On May 4, one of Montgomery County's most popular historic sites will celebrate the arrival of May.
Pottsgrove Manor (100 West King Street, Pottstown, 610- 326-4014, www.historicsites.montcopa.org) is hosting a Colonial May Fair on May 4 from 11 a.m.-4 p.m.
The event will feature 18th-century entertainment, including May Pole Dancing Milkmaids' Garland Dances. The list of hands-on activities includes trap-ball (a predecessor of baseball), colonial toys and games, fortune-telling, a kid-sized Maypole, beanbag toss games, churning butter and free spring-themed make-and-take crafts.
Visitors will also be able to tour the manor house which features the early Georgian architecture that was popular with wealthy English gentry during the mid-18th century. It was built in 1752 for John Potts (ironmaster and founder of Pottstown) on a 1,000-acre plantation.
Admission to the event is free but there is a $2 suggested donation.

The annual South Street Spring Festival (http://southstreet.com) will close down South Street from Front Street to Eighth Street on May 4 from 11 a.m.-8 p.m. The free festival will feature food, music and a variety of family activities.
Live entertainment will be provided all day with a line-up of approximately 20 music acts.
Affiliated events in the area on Saturday include the Second Annual Philly Taco Eating Contest, the Third Annual Atomi-Con and Maifest at Brauhaus Schmidtz.
Also on May 4, Cliveden, a historical home in the northwest outskirts of Philadelphia, will host the 49th Annual Mt. Airy Day from 11 a.m.-5 p.m.
The event, which will be held on the grounds of Cliveden of the National Trust (6400 Germantown Avenue, Philadelphia, http://www.mtairyday.org), will offer a day of fun for the whole family with delicious food, live entertainment, great shopping, kids' games and more.
A special event at a Berks County "homestead" on May 4 will be the "Artisans in The Park at Conrad Weiser Homestead" (28 Weiser Drive, Womelsdorf, 484-335-0091, www.artisansinthepark.com).
The "Artisans in The Park" is an Annual event that takes place the weekend before Mother's Day to help raise money to assist the Friends of the Conrad Weiser Homestead with the upkeep and improvement of the beautiful, historic Conrad Weiser Homestead.
The Conrad Weiser Homestead is a privately funded Pennsylvania state historic site that interprets the life of Conrad Weiser — an 18th-century German immigrant who served as an Indian interpreter, helped coordinate Pennsylvania's Indian policy and played a major role in the history of colonial Pennsylvania.
The Conrad Weiser Homestead is located on 26 acres of land. Seven total buildings exist on the property with three open for touring. Two large monuments, a gazebo, the Weiser Family Cemetery, and a pond are also on the site.
Admission is free, and the event will be held rain or shine.
There is a big event for specialized memorabilia collectors this weekend — the Philly Non-Sports Card Show. The event will be held on May 4 from 10 a.m.-5 p.m. and 5 from 10 a.m.-3 p.m. at Merchants Square Mall (1901 South 12th Street, Allentown, 717-238-1936, http://phillynon-sportscardshow.com). Tickets are $8 each day or $14 for a two-day pass.
There are two basic categories of trading cards — sports cards and non-sports cards. Sports cards depict athletes at all levels. Non-sport cards offer so much more. There are card sets dealing with music, movies, politics, nature, pop culture and history.
For more than a century, non-sport trading cards have documented trends in pop culture – providing people with history lessons provided by small, rectangular pieces of cardboard.
Twice each year, collectors from across the country come together in eastern Pennsylvania for this very special event. Now in its 33rd year, the event is the oldest show of its kind in the country. This weekend's extravaganza, which will be held Saturday and Sunday at the Merchants Square Mall in Allentown, is the 70th edition of the show.
Many of the hobby's top manufacturers will have exhibit booths at this weekend's show and will be distributing free promo cards. There will be a huge array of non-sport cards, sets, singles, wrappers, chase cards, promos, and related memorabilia.
For and event that is both fun and educational, consider the Archaeology and Heritage Festival on May 5.
The event will run from noon-4:30 p.m. at the Iron Hill Museum (1355 Old Baltimore Pike, Newark, Delaware, 3032-368-5703, ironhill-museum.org).
Visitors to the festival will be able to learn about cooking styles of early settlers, dig with professional archaeologists and watch colonial craftspeople do blacksmithing, lime mortar making, brewing, and spinning.
This family-friendly event will include a demonstration from John Dickenson Plantation, flint knapping demonstrations and blacksmith demonstration, archaeology excavations and demonstrations, cooking and historical brewing demonstrations, and museum & science center tours. Food trucks will be available. Also, just for the little ones, there will also be corn husk doll making and archery.
Held in coordination with Delaware Archaeology Month, the 2019 Archaeology & Heritage Festival is sponsored by the Delaware Academy of Science, and the Delaware Division of Historical and Cultural Affairs. Delaware Archaeology Month is designed to promote the study and conservation of Delaware's archaeological resources and to reflect on the vital role of archaeology in revealing the cultural legacy of the state. Local and state wide historical societies will also be in attendance to talk about their findings and upcoming events.
Admission to the museum and event is $5 for adults and $4 for students and children.
Hope Lodge (553 South Bethlehem Pike, Fort Washington, 215-343-0965, http://www.ushistory.org/hope/) will be presenting "Guided Mansion Tours" on three Sundays this month – May 5, 12 and 19.
Hope Lodge was built between 1743 and 1748 by Samuel Morris, a prosperous Quaker entrepreneur. Morris acted as a farmer, shipowner, miller, iron master, shop owner, and owner of the mill now known as Mather Mill. Hope Lodge is an excellent example of early Georgian architecture, and it is possible that Edmund Woolley, architect of Independence Hall, offered advice in building. Samuel Morris owned the estate until his death in 1770.
Visitors can participate by watching a short film and then taking a tour. Guided tours of the mansion will depart at 1 and 2:30 p.m. all three days.
Tour admission is $8 for adults, $5 for seniors (age 65+) and for youth age 6-17, and fee for children under 5. Hope Lodge is a Blue Star Museum which means that active duty military personnel, including National Guard and Reserve and their families, are admitted free for regular tours from Memorial Day through Labor Day.