By Denny Dyroff, Entertainment Editor, The Times
The Easter Bunny is known for hopping around — but not always. Sometimes, instead of bouncing along the ground, the big happy rabbit rides a train. The holiday bunny has already embarked on his three-weekend stint of riding trains all around the area.
The West Chester Railroad (610-430-2233, www.westchesterrr.net) is running its Easter Bunny Express on April 13, 14 and 20 with trains at noon and 2 p.m. each day.
On the 90-minute round trip along the beautiful Chester Creek from West Chester to the historic Glen Mills village, the Easter Bunny will be on board handing out treats to all passengers.
During the 20-minute stop at the historic Glen Mills station there will be plenty of opportunities for riders to take photos with the Easter Bunny. Additionally, Greg Wright and Friends will be playing live music and singing favorite Easter songs.
Tickets are $25 for adults, $18 for children (ages 2-12) and $8 for toddlers.
The Easter Bunny will also be down in Delaware for trips on the Wilmington and Western Railroad (Greenbank Station, 2201 Newport-Gap Pike, Wilmington, Delaware, 302-998-1930, www.wwrr.com) on April 13, 14, 19 and 20.
On the special trains, the big bunny with the big ears will visit with all passengers and pose for pictures. Departure times are 10:30 a.m. and 12:30 and 2:30 p.m.
The Easter Bunny hops aboard the and fares are $19 for adults, $18 for seniors (ages 60 and older) and $17 for children (ages 2-12).
train for a 1½-hour round-trip ride to Ashland, and all kids will get a special treat. Bring your camera and have the Easter Bunny pose for a picture with your child. This is a great way to welcome Spring and bring the family out for a fun time on the rails.
This event is powered by one of our historic first-generation diesel locomotives.
Fares are $19 for adults, $18 for seniors (ages 60 and older) and $17 for children (ages 2-12).
The New Hope and Ivyland Railroad (32 West Bridge Street, New Hope, 215-862-2332, www.newhoperailroad.com) is running its annual Easter Bunny Express on April 6 and 7 and again from April 13-21 with departures at starting at 11 a.m.
The Easter Bunny is going to ride onboard the train where he will visit with each child, hand out special treats and pose for pictures. Coach tickets are $34.99 for adults, $32.99 for children (ages 12-plus) and $9.99 for toddlers (under 2).
The train ride departs from and returns to the New Hope Train Station. Riders can take in the sights of early spring as the Easter Bunny visits with all of the children handing out special candy treats and posing for photos taken by the railroad staff.
At the Strasburg Rail Road (Rt. 741 East, Strasburg, 717-687-7522, www.strasburgrailroad.com), the special Easter Bunny Train will be chugging down the tracks on April 19, 20 and 21 with departures starting at noon each day.
Riders can welcome spring with a ride through beautiful farmland with the Easter Bunny as your Conductor. The Easter Bunny will delight boys and girls with a special Easter surprise when they are greeted on board this memorable train.
BYOB (Bring Your Own Basket!) and set your youngster loose in search of Easter Eggs at the Strasburg Rail Road. An Easter Egg Hunt is included as part of each child's Easter Bunny Train experience.
The Colebrookdale Railroad (South Washington Street, Boyertown, www.dynamicticketsolutions.com)  is running its "Easter Bunny Train" excursion on April 13, 14, 19, 20 and 21.
A good way to make Easter memories that will last a lifetime is to join Peter Cottontail aboard the Colebrookdale Railroad. The Bunny brings gifts for all children and an Easter Egg Hunt right on board the train for all children up to 12 years of age.
Tickets are $41 for adults, $34 for children (ages 2-12), $36 for seniors (65 and older) and $6 for toddlers (under 2; must be held; no seat).
The Middletown & Hummelstown Railroad (717-944-4435, www.mhrailroad.com) will be running its Easter Bunny Express on April 13 at 11 a.m. and 1:30 p.m., April 14 at 1:30 p.m., April 19 at 11 a.m. and 1:30 p.m., and April 20 at 11 a.m. and 1:30 p.m.
The Easter Bunny will join riders for an approximate 1.5-hour train ride handing out treats to all children under age 12, visiting and posing playfully for pictures and selfies. There will be live accordion music along the way and affordable snacks and cold drinks available on board.
Fares for the ride are $18 (ages 12 and older), $14 (ages 2-11) and $5 (under age 2 and on lap).
Highland Orchards (1000 Marshallton-Thorndale Road, West Chester, www.highlandorchards.net) is presenting "Hayrides to Easter Bunny" on April 13, 14, 18, 19 and 20.
Participants can enjoy a leisurely hayride to visit the Easter Bunny, hear a story about spring and receive an egg with a coupon for a treat to be redeemed back in the Market.
The event takes about half an hour and wagons leave about every half hour. No reservation is required and tickets can be purchased in the Farm Market on the day or in advance. The cost is $7 per person.
From April 13-20, there will be a special event called "Hayrides to Bunnyland" at Linvilla Orchards (137 West Knowlton Road, Media, 610-876-7116,www.linvilla.com).
The hayride to Bunny's House features a ride in a hay-filled trailer that travels around Linvilla's grounds and eventually arrives at the house of Linvilla's Easter Bunny.
Upon arrival, the big, happy rabbit emerges from his house to pose for pictures with his guests. There is a storytelling session, tours of the bunny's home and seasonal treats for all visitors. Other special activities include pony rides, train rides and face painting
"Hayrides to Bunnyland" run every 15 minutes from 11 a.m.-4 p.m. Tickets, which are $9 per person, can be purchased in the Garden Center.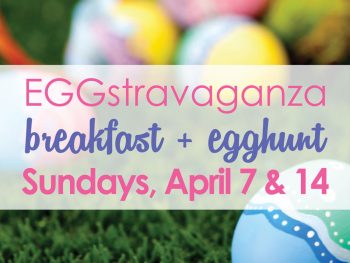 On April 14, the Delaware Museum of Natural History (4840 Kennett Pike, Wilmington, Delaware, 302-658-9111, www.delmnh.org) is hosting its annual "EGGstravaganza Breakfast & Egg Hunt."
The museum offers this invitation — Enjoy a morning at the Museum and we'll fix a pancake breakfast for the whole family. After a wonderful meal, watch your children delight as they hunt for treat-filled eggs in our egg hunt through our gardens. Participants are advised to dress accordingly for an outdoor egg hunt. In the event of inclement weather, the egg hunt will be moved inside.
Visitors to the museum can explore the Museum's exhibits including the current traveling exhibit "Design Zone," visit the site's Nature Nook, and make a themed craft.
Tickets are $14 and pre-registration is required.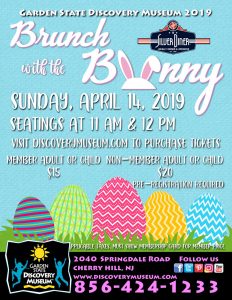 The Garden State Discovery Museum: (2040 Springdale Road, Cherry Hill, New Jersey, 856-424-1233, www.discoverymuseum.com) is hosting "Brunch with the Bunny" on April 14 from 11 a.m.-1 p.m.
At "Brunch with the Bunny," visitors are invited to a meet-and-greet with the Easter Bunny and enjoy brunch served by the Silver Diner. Seatings are available at 11 a.m. and noon.
Tickets are $15 for adults and children.
Roots music can mean almost anything. In America, it is a very diverse category of music that includes modern folk, jug bands, Appalachian folk, blues, bluegrass, Cajun music, country, gospel, old time music, Native American music.
If you're a fan of roots music then you should plan on visiting Media on April 13 to enjoy the 17th Annual Americana Roots Ramble (various venues in downtown Media, 610-566-5039, www.statestreetblues.com). Activity at this year's Americana Roots Ramble will get underway at 6 p.m.

This year's Americana Roots Ramble, which features a wide array of traditional music indigenous to North America, will take place on more than 20 stages at indoor venues in downtown Media.
The showcase attractions will be concerts by Leroy Hawkes & the Hipnotics at Sher-E-Punjab at 10 p.m., Zydeco-a-Go-Go at Sher-E-Punjab at 8 p.m. and by legendary rocker Charlie Gracie at 10 p.m. at Azie.
Gracie, who was born and raised in South Philadelphia, had a huge hit with his song "Butterfly." The song reached Number 5 on the Billboard Hot 100 chart in 1957 and has sold more than three million copies.
This year's schedule also features Jess Klein at Burlap and Bean, Idle Kyle at House, Andrea Carlson at Lotus, Lost Northern Tribe at Baker Street Tattoo, Wheelhouse at Desert Rose, Acoustic Deadication at Franklin Mint FCU Coffee Beanery, Rootology at Diego's, Kid Davis & The Bullets at Stephen's on State, and Ben Tinsley & Dimtri Papdopoulos at Double-Decker Pizza.
Other shows will feature The Jackroses at Temaki, Katie Barbato at Margaret Kuo's, Rogwe Girke at Spasso, The Ultimates at John's Bar & Grille, The Midnighters at 320 Market Café, The Twangabillies at Sterling Pig Brewery, Kenny Thompson at Pairings Cigar Bar, and DBL-G at MAC Gallery.
Tickets are $15 in advance and $20 day of show.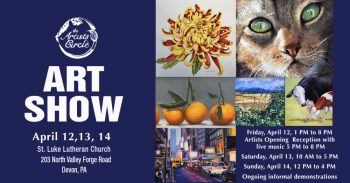 This weekend, more than 25 artists from around the Mid-Atlantic region, will participate in the Artists Circle's "Annual Art Show and Sale" at Saint Luke Lutheran Church (203 North Valley Forge Road, Devon, 610-688-0122, www.theartistscircle.net). The event opens at 1 p.m. on April 12 and runs through 4 p.m. on April 14.
The Artists Circle, which is one of the largest professional artist collectives in the Delaware Valley, will hold a special "Meet-the-Artists" reception on April 12 from 5-8 p.m.
The popular annual show, which is free and open to the public, will showcase hundreds of original works by members. The artwork will be displayed in the church's Schlack Hall and will include ongoing demonstrations of painting styles and media.
Hours are 1-8 p.m. on Friday, 10 a.m.-5 p.m. on Saturday and noon-4 p.m. on Sunday. Admission is free.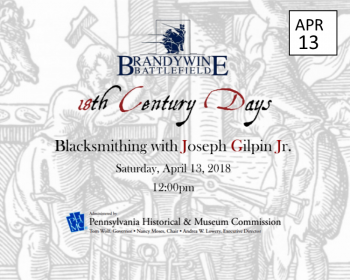 Brandywine Battlefield Park, Chadds Ford (Route 1, Chadds Ford, http://brandywinebattlefield.org, 610-459-3342) will celebrate "18th Century Day" on April 13 from noon-4 p.m.
Joseph Gilpin Jr. inherited a portion of his father's land in 1729 where he built the first section of the existing Gilpin home in 1745. Situated adjacent to one of the busiest thoroughfares in 18th-century Chester County, Joseph Gilpin Jr. was in advantageous location to conduct business as a blacksmith.
Making farming tools and other items in addition to being associated with the role of "ferrier," Gilpin made a decent lifestyle for himself and family.
Visitors to this engaging and informative program can learn about Joseph Gilpin Jr. and the important trade of blacksmith in the park's working blacksmith shop with.
Admission fees are: Adults, $8; Seniors and Veterans, $7; Youth (6-17), $5; and Active Duty Military, Free.
If you want to see hundreds of lovely trees showing off their pink blossoms, you can find what you want at the Subaru Cherry Blossom Festival (http://subarucherryblossom.org), which is known in Japanese as Sakura Matsuri. The event is running now through April 14 at a variety of locations around the Philadelphia area.
For centuries, Japan has been celebrating the beauty of the elegant pink cherry blossom with picnics under the trees and traditional music and dance performances.
The Subaru Cherry Blossom Festival offers visitors the opportunity to explore the best of Japanese culture including delicious cuisine, delicate craft displays, intriguing performances and demonstrations of traditional customs.
Sakura Week at Shofuso will be held from April 6-13 at Shofuso (Horticultural and Lansdowne Drives, Philadelphia).
Visitors will be able to take in the splendor of the cherry blossoms at one of the top-ranked Japanese gardens in North America. In addition to the spectacular scenery and 17th-century-style Japanese house, Sakura Week will feature daily demonstrations, highlighting a different element of Japanese culture each day — tea, taiko, gardening, kimono dressing, and more.
Shofuso will be open daily until 8:30 PM during the festival.
All Sakura Week events free with regular admission to Shofuso: $12 general admission, $8 students with ID, seniors, youth 6-17.
The centerpiece event is Sakura Sunday, a day-long outdoor celebration of all things Japanese. It will be held on April 14 from 9:30 a.m.-5 p.m. at Fairmount Park's Horticulture Center (100 North Horticulture Drive, Philadelphia). Tickets are $15 for adults with children (12 and under) admitted free.
Sakura Sunday features live music and dance performances, martial arts, cultural demonstrations, arts & crafts, karaoke, and much more. Some of the featured attractions are Little Akiba Anime & Cosplay Area, Subaru Sushi Samurai of the Year, Prettiest Pet in Pink Parade, Harajuku Fashion Show and Shofuso Tours.
The Sake Garden at Shofuso will be held from April 6-13.
The Sake Garden, a pop-up beer garden, is Philadelphia's take on the Japanese tradition of cherry blossom picnics. Visitors can enjoy beer, cocktails, and Asian fusion fare beneath the trees in Fairmount Park. The Sake Garden is located along the walking path towards the gazebo and sundial.
The Morris Arboretum (100 East Northwestern Avenue, Philadelphia, 215-247-5777, http://www.business-services.upenn.edu/arboretum/index.shtml) is hosting "Cherry Blossom Days" on April 13 and 20  from 10 a.m.-3:30 p.m. each day.
In the early 20th century, John and Lydia Morris (founders of Morris Arboretum) established one of the finest collections of Japanese plants and gardens in the region. Visitors cab commemorate this heritage and experience the beautiful blooms of Morris Arboretum's cherry tree collection during Cherry Blossom Days.
The KyoDaiko Drummers will perform both days at 10:30 a.m. and noon at the HaHa Wall and there will be a "Traditional Japanese Tea Demonstration" on April 13 at 1 p.m. in Oak Allée Plaza.
Tours on both Saturdays will include "Cherry Walk" at 11:15 a.m. and "Japanese Garden Elements" at 2 p.m. – each departing from the Garden Railway Entrance.
All events are included with gardens admission — Adults: $20;  Seniors (65+ years),  $18; Youth (3-17 years),  $10; and Children under 3, free.
Longwood Gardens (Route 1, Kennett Square, 610-388-1000, www.longwoodgardens.org) is presenting a special celebration of spring.
At "Spring Blooms," which is running through May 5, visitors can enjoy hundreds of lush acres featuring burgeoning gardens of daffodils, tulips, magnolias, azaleas, flowering cherries and more than 240,000 flowering bulbs.
This a great time to explore all of Longwood's 1,100 acres. As colorful spring blooms make their entrance, Longwood radiates with renewal and growth.
Early spring bulbs like glory-of-the-snow, winter-aconite, and crocus first herald the season's arrival, with gorgeous tulips, wisteria, and flowering trees deepening our lush spring tapestry of color, fragrance, and warmth.
In the indoor part of "Spring Blooms," lilies, delphiniums, hydrangeas and other spring blossoms fill the conservatory with color. Also featured are Longwood's grand treehouses, whimsical Topiary Garden, and colorful Idea Garden.
Knowledge also blooms this spring as Longwood focuses on the many learning opportunities the site offers. No matter your age, interest, or skill, Longwood has exciting education programs, as well as walks and talks with our horticulturists, educators, and students.
On April 12, Longwood will host a performance by Nellie McKay. The show at 8 p.m. will feature McKay,  a top-flight singer-songwriter and actress who will perform music from her most recent album, "Sister Orchid."
Admission to Longwood Gardens is $23 for adults, $20 for seniors and $12 for students.
Winterthur Museum, Garden & Library (Route 52 just south of the Pennsylvania state line, Wilmington, Delaware, 800-448-3883, http://www.winterthur.org) has just opened another blockbuster exhibit.
After the unprecedented success of its Downton Abbey exhibit a few years ago, Winterthur has again turned its focus to a popular television series set in the past in England.
Now through January 5, 2020, Winterthur is presenting "Costuming THE CROWN." The exhibition is the first global comprehensive exhibition of costumes from the first two seasons of the hit Netflix show.
A special event this weekend will be "Daffodil & Follies Day" on April 13 from 10a.m.-3:30 p.m.
Visitors to the scenic site can celebrate the beauty of the daffodil, enjoy Winterthur's amazing daffodil display, and see the Follies garden exhibition.
Henry Francis du Pont used his collector's eye in assembling his collection of hundreds of heirloom daffodil bulbs arranged in cloud-like drifts on Sycamore Hill. The day's events will include tours, kids' crafts, and a daffodil show.
Still, the main event will be "Costuming THE CROWN."
From the dazzling gold of Queen Elizabeth's coronation robe to the simple sophistication of Princess Margaret's wedding dress, "Costuming THE CROWN" features 40 iconic costumes from the beloved Emmy® and Golden Globe award-winning drama "The Crown." The Netflix Original series, produced by Left Bank Pictures in association with Sony Pictures Television, is a dramatized history of Queen Elizabeth II's early reign – an era when the fragile social order established after the Second World War broke apart.
Beginning with spectacle and pageantry, "Costuming THE CROWN," reveals everything from the majesty of royal crowns and tiaras to the private outfits worn by the royal family behind the palace doors.
This intriguing exhibition provides a behind-the-scenes look at how costume design is used to complement riveting drama, re-create history, and define characters from the footmen to the queen. "Costuming THE CROWN" explains the significance and importance of costume design to the story. Visitors will move through four sections in the exhibition, beginning with "Establishing Roles," which explores the transformative nature of costume.
Winterthur, which is known for its impressive collection of American decorative arts, naturalistic gardens, and research library for the study of American art and material culture, offers a variety of tours, exhibitions, programs, and activities throughout the year.
General admission includes a tour of some of the most notable spaces in the 175-room house as well as access to the Winterthur Garden and Galleries, special exhibitions, a narrated tram tour (weather permitting), the Campbell Collection of Soup Tureens, and the Enchanted Woods children's garden.
Admission fees are $20 for adults, $18 for students and seniors, and $6 for ages 2–11. Museum hours are 10 a.m-5 p.m. Tuesday through Sunday.
The Chaddsford Winery (632 Baltimore Pike, Chadds Ford, 610-388-6221, www.chaddsford.com) is hosting an event called Dog Days at Chaddsford on April 12 and 13.
In honor of National Pet Day (April 11), the winery is welcoming dog owners and wine lovers alike to take in a weekend of tail-wagging treats.Greenmore Farm Animal Rescue (West Grove) and Aardvark Animal Rescue (Downingtown) will be onsite with tons of useful information about pet adoption.
Aardvark Animal Rescue will offer a complimentary Dog Grooming Demo on Saturday at 3 p.m. and Greenmore Farm Animal Rescue will have adoptable dogs onsite from noon-2:30 p.m. both days. Ten per cent "Dog Days" wine sales will go back to these two rescue centers.
The event, which runs from 11 a.m.-7 p.m. on April 13 and 11 a.m.-6 p.m. on April 14 will also feature other pet-related vendors including Veterinary Dentistry Specialists and Otis and Roo Dog Collars.
The Munchy Machine will be on-site both days with food truck fare for the humans and "Homemade Peanut Butter Biscuits" for the pups.
The live music schedule features Rad and Kell from 11:30 a.m.-2:30 p.m. on Saturday and Phase 2 from 11:30 a.m.-2:30 p.m. on Sunday.
All dogs must have current licenses and vaccines, be kept on a 6-foot, non-retractable leash, and be supervised by a competent person at all times.
The winery will also be hosting "Friday Night Wine Down" every Friday night through October 25 from 5-9 p.m. each night.
Happy Hour specials will run from 5-7 p.m. and feature "half off" on glasses of selected wines and specialty wine cocktails. The evenings will also feature food truck fare, live music, board games, and popular local wine, beer, and cocktails.
The following are the weekly specials for this month — April 12:  Chaddsford White specials, The Black Lab and The Regal Beagle cocktails, Food Truck fare from Ka'Chai; and April 19:  Release of Dry Rosé, Dry Rosé specials, Blushing Sweetheart and Sunset Cosmo cocktails, Live Music by Joshua Howard and Food Truck fare from The Plum Pit.
May's schedule includes — May 3:  Live Music by Joshua Howard and Food Truck fare from Dump-N-Roll and Gemelli Gelato; May 10:  Food Truck fare from Phyllodelphia and Gemelli Gelato; May 17:  Food Truck fare from Dump-N-Roll and Gemelli Gelato; May 24:  Live Music by Marielle Kraft and Food Truck fare from Mama Mia and Gemelli Gelato; and May 31:  Food Truck fare from Dos Gringos and Gemelli Gelato.
No outside alcohol permitted. Children are permitted and welcome on Winery grounds only when accompanied and supervised by an adult (over 21).
Anyone who is into comic books, action figures, anime, trading cards, Cosplay or pop culture in general should make plans to attend this weekend's Great Philadelphia Comic Con, which is being held April 12-14 at the Greater Philadelphia Expo Center (Station Avenue, Oaks, www.philadelphiacomiccon.com).
The fifth annual GPCC is the largest independent comic and pop culture convention in eastern Pennsylvania and is being hosted by the same organization which has run The Great Allentown Comic Con for years.
Some of the show's special guests are Alice Cooper, Jake Busey, Cara Gee, Peter Blomquist, Christopher Patrick Nolan, Roger Clark, Jim Martin, Michael Dorn, Kenny James, Rose McIver, Dominique Tipper, Paul Blake, and Nick Frost.
A wide array of authors and artists will be participating in the three-day event. The show will also feature a number of Cosplay idols.
Show hours are from 1-8 p.m. on April 12, 10 a.m.-7 p.m. on April 13 and 10 a.m.-5 p.m. on April 14. Tickets are $25 on Friday, $45 on Saturday and $35 on Sunday. Three-day passes are $59.95.
On April 13, Hagley Museum and Library (Route 141, Wilmington, Delaware, 302-658-2400, www.hagley.org) presents a special event called "Science Saturday."
Visitors of all ages are invited to discover solutions to science and engineering challenges. Science Saturdays are drop-in activities, so visitors are free to stop by at any time during the event hours.
For this Saturday's activity – "Science Sparks!" — visitors will explore a variety of STEAM (Science, Technology, Engineering, Arts, and Math) activities to challenge their creativity during spring break!
The event will take place on the second floor of the Visitor Center from 12:30-4:30 p.m.
Hope Lodge (553 South Bethlehem Pike, Fort Washington, 215-343-0965, http://www.ushistory.org/hope/) will be presenting "Guided Mansion Tours" on two more Sundays this month – April 14 and 28.
Hope Lodge was built between 1743 and 1748 by Samuel Morris, a prosperous Quaker entrepreneur. Morris acted as a farmer, shipowner, miller, iron master, shop owner, and owner of the mill now known as Mather Mill. Hope Lodge is an excellent example of early Georgian architecture, and it is possible that Edmund Woolley, architect of Independence Hall, offered advice in building. Samuel Morris owned the estate until his death in 1770.
Visitors can participate by watching a short film and then taking a tour. Guided tours of the mansion will depart at 1 and 2:30 p.m. all three days.
Tour admission is $8 for adults, $5 for seniors (age 65+) and for youth age 6-17, and fee for children under 5. Hope Lodge is a Blue Star Museum which means that active duty military personnel, including National Guard and Reserve and their families, are admitted free for regular tours from Memorial Day through Labor Day.
The Afternoon Music Club of Phoenixville (610-933-8696, http://www.afternoonmusicclub.com) is presenting another concert in its 2016-2017 season on April 17 at 1 p.m.
The concert features coloratura soprano Alessandra Gabbiannelli and baritone Thaddeus Shirey. The performance will be held at the First United Methodist Church, which is located at 865 South Main Street in Phoenixville.
A brief business meeting of the club follows each program and then refreshments follow the meeting. New members are welcome and will pay half the yearly dues at this season midpoint for the three remaining concerts.
Visitors are always welcome and are requested to pay $8 at the door. A "Visitor" is anyone who is not an invited guest of a member.
Another concert this spring will feature jazz vocalist Phyllis Chappell on May 15.
On April 13, the Landis Valley Village and Farm Museum (2451 Kissel Hill Road, Lancaster, 717.569.0401, www.landisvalleymuseum.org) will host its "Spring Benefit Auction."
At the annual "Spring Benefit Auction," visitors can come to benefit the museum and leave with a treasure. The featured piece this year is a hand-made Pennsylvania long rifle, crafted at the Landis Valley gun shop.
Heirloom-quality handcrafted items: artwork, toys, collectibles, and jewelry — as well as many other unique objects and services — will be auctioned off at this annual sale to benefit Landis Valley's programming. Food and beverages available for purchase.
Live auction begins at 5:30 p.m. and admission is free.