By Denny Dyroff, Entertainment Editor, The Times
A few St. Patrick's Day activities were held last weekend but most of them will take place this weekend – including the mandatory pub crawls in Wilmington and many Philadelphia neighborhoods. Drinking and dining play a big role in Patty's Day celebrations.
On March 17, the New Castle County Irish Society (1301 South Rodney Street, Wilmington, Delaware,  302-658-8288, www.nccirishsociety.org) will hold its "St. Patrick's Day Ham & Cabbage Meal" from 11 a.m.-7 p.m. The adult platter is $10 and includes coffee or tea and dessert. The platter for children (ages 8 and under) is $5 and includes dessert but not coffee or tea. The society will also have corn beef sandwiches and ham sandwiches for $4 apiece.
As an added attraction at the holiday meal event, there will be an Irish Dance Program performed by the McAleer School of Dance at 4:30 p.m.
Another holiday activity in nearby Wilmington is the Irish Club of Delaware's 44th Annual St. Patrick's Day Parade (www.IrishDE.org) on March 16.
The festive annual parade will start at noon at Fourth and King streets, continue up King Street and pause at Rodney Square. The parade will end at 14th and King streets where there will be a post-parade Hooley Celebration of Irish Heritage in a tented parking lot until approximately 4 p.m. Commemorative Parade Mugs will be available to purchase for $20 and are refillable with beer until the Hooley ends.
The Annual Saint Patrick's Parade in Conshohocken (https://www.facebook.com/events/569442526866586/) is scheduled for March 16 with a 2 p.m. start at 11th Avenue and Fayette streets. The parade moves along Fayette Street from 11th Avenue to Elm Street and will end in front of the Washington Fire Company.
During and after the parade, pubs and restaurants along the route will be hosting parties. Shuttles will be leaving from the parade site to AOH Hall. The last bus will be leaving at 5 p.m.
Entertainment at the AOH Hall will be provided beginning at 5 p.m. and food will be available. The parade awards will be given out at that time during the dinner hours.
On March 16, there will also be a holiday parade in Delaware County.
The Springfield St. Patrick's Day Parade (http://www.springfielddelco.org/home/current-events.php) will get underway at West Springfield Road and Britton Road and end at Saxer Avenue and Powell Road with the reviewing located in front of Old Central School.
The popular annual event, which is hosted by King of Prussia's Brian Boru Pipes and Drums, will start at noon.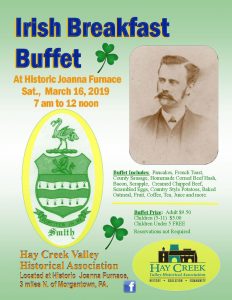 On March 16, the Hay Creek Valley Historical Association is hosting a special "Irish Breakfast Buffet" from 7 a.m.-noon at Joanna Furnace (1250 Furnace Road, Geigertown, 610-286-0388, www.haycreek.org).
The meal will feature a traditional Irish buffet of pancakes, French toast, county sausage, homemade corned beef hash, bacon, scrapple, creamed chipped beef, scrambled eggs, country-style potatoes, baked oatmeal, fruit, coffee and juice. Tickets are $9.50 for adults and $5 for children (ages 5-11).
The Garden State Discovery Museum: (2040 Springdale Road, Cherry Hill, New Jersey, 856-424-1233, www.discoverymuseum.com) is presenting a special program on March 17.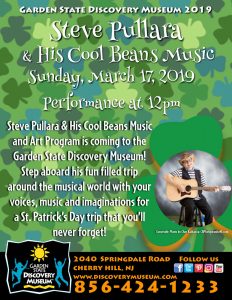 Steve Pullara & His Cool Beans Music® and Art Program is coming to the Garden State Discovery Museum and parents are invited to bring their whole family to sing and draw with this GRAMMY® recipient and multiple award-winning artist.
Kids can step aboard his fun-filled trip around the musical world with their voices, music and imaginations and take off on a St. Patrick's Day trip that is sure to entertain.
Pullara will perform songs and styles played with all kinds of multicultural instruments. He even has a special visit along the way to the land of leprechauns.
Admission to the museum is $14.95 for adults and children (12 months and over) and $13.95 for seniors. Children visiting the museum must be accompanied by an adult 18 or older.
On March 17, the Schuylkill Canal Association will host the "St. Patrick's Day Hike and Treasure Hunt" in and around Lock 60 (Mont Clare, 610-917-0021, http://www.schuylkillcanal.org).
Hikers are instructed to meet in the parking lot behind the Pickering Creek Inn at 1 p.m. and then walk across the bridge over the Schuylkill River and down the towpath to Lock 60.
In the Lock 60 picnic grove and surrounding area, there will be "gold coins" that have been scattered throughout the field for children to gather and turn in for prizes at the Locktender's house (weather permitting).
Children of all ages can join in with a treasure and scavenger hunt with adult supervision. The hunt is expected to start around 1:40 p.m. To register youngsters for the "Treasure Hunt," call (610) 917-0021.
Live music will be presented by local musicians with a program featuring both folk songs and Irish tunes. Admission is free. However, donations will gladly be accepted. The hike will be canceled if there is a steady rain.
On March 17, Norristown Farm Park (West Germantown Pike and Barley Sheaf Drive, 2500 Upper Farm Road, Norristown, 610-270-0215, http://www.montcopa.org/874/Norristown-Farm-Park) will host a "Celtic Concert."
Staring at 2 p.m., musicians Renee Arner and Brian Filone will present a special concert for St. Patty's Day. Visitors will be able to enjoy the sounds of the Celtic harp, fiddle, guitar, and mandolin as well as learn about the history of the Celtic harp and what makes a tune Celtic.
As an added attraction, children will be invited to dance on some of the songs and, at the end of the concert, they can try the harp.
Suggested donation is $5 per person

This weekend, two of the earliest antiques shows in the 2019 season will take place in Chester County.
History and antiques go hand-in-hand – especially at one special event in Chester County every spring.
From March 15-17, the 37th Annual Chester County Antiques Show (610-692-4800, http://www.chestercohistorical.org), a major fundraiser for the Chester County Historical Society (CCHS), will be held at the Church Farm School (1001 East Lincoln Highway, Exton).
The event, which is sponsored by PECO, will feature approximately 50 top-flight dealers from across the country, making it a must-see for anyone searching for that perfect piece of furniture or accessory.
Visitors will be able to browse and purchase items such as 18th-century and 19th-century American and continental furniture, rugs, paintings, ceramics, glass, silver, jewelry, needlework and other decorative arts.
The show, which typically attracts more than 2,000 visitors and collectors every year, will hold a preview party on March 15 from 5-9 p.m. Regular show hours are March 16 from 10 a.m.-6 p.m. and March 17 from 11 a.m.-5 p.m.
General admission tickets for the Chester County Antiques Show are $15 for adults with children (10 and under) admitted free.
The Antiques at Kimberton Show will be held on March 16 and 17 at the Kimberton Fire Company Hall (2276 Kimberton Road, Kimberton, 717-431-7322,http://antiquesatkimberton.vpweb.com) from 9 a.m.-5 p.m. on Saturday and 11 a.m.-4 p.m. on Sunday.
The show will feature more than 65 vetted dealers from all over the Mid-Atlantic region with exhibit booths filling over 10,000 sq. ft. of space. Every dealer is hand-selected to make sure that authentic, quality antiques are always showcased. Visitors will be able to browse and make selections from a wide array of top-quality antiques and collectibles.
The long list of featured categories includes furniture, primitives, art, collectibles, textiles, pottery, glassware and a variety of other items from the past. The show, which has been in existence since the 1960s, is known for its diversity and the willingness of the dealers to discuss the items they are selling.
Tickets are $7 and there is free parking. Additionally, there will be a variety of food available for purchase during show hours.
Not far from where the antiques dealers are gathering this weekend, talented artisans will be setting up shop and selling their wares.
For more than three decades, the nation's most-talented artisans have personally sold their contemporary crafts and fine art at Sugarloaf Craft Festivals. Rated as one of the top craft experiences in the country, approximately 300,000 visitors attended Sugarloaf Craft Festivals around the states and enjoyed the work of thousands of juried artisans.
The Sugarloaf Crafts Festival will visit the area this weekend for a three-day run at the Greater Philadelphia Expo Center (100 Station Avenue, Oaks, 800-210-9900, www.sugarloafcrafts.com) from March 15-17.
The well-attended annual event features an amazing array of top-caliber works in a wide variety of categories such as furniture, sculpture, photography, tapestry, musical instruments, jewelry, accessories, bells, quilts, glass, copperware, chair caning, enamels, boxes, pillows and clothing.
The list of craft genres also includes brass items, woodwork, fused glass, hats, blown glass, painted silk, fine arts, weaving, pottery, mixed media, rugs, leather, wind chimes, woodturnings, forged iron, baskets, specialty foods and collectibles.
A full slate of craft demonstrations will be featured at this weekend's event in categories such as wheel-thrown pottery, paper making, iron forging, broom making, copper spinning, stone sculpting and hand-carved wooden bowls and spoons.
Additionally, the festival offers an ambitious schedule of live musical entertainment. Children's entertainment will feature costumed storytelling by Carl Odhner and the Middle Earth Studio.
The Sugarloaf Crafts Festival will be open from 10 a.m.-6 p.m. on Friday and Saturday and from 10 a.m.-5 p.m. on Sunday. Tickets are $10 and are good all three days.
If you're looking for something fun to do on Wednesday, you have several good options — "Be Happy" on the holiday devoted to happiness, celebrate the first day of spring, get a free Dairy Queen cone or get a free Rita's water ice.
The International Day of Happiness is March 20 — every year — forever. The International Day of Happiness was introduced by the General Assembly of the United Nations during 2012 and was celebrated for the first time in 2013. Through seminars and educational tips and tools, the aim is to educate and increase public awareness of the benefits of happiness.
The original idea came from the Kingdom of Bhutan in the Himalayan region of Asia. There, the population is thought by many to be among the happiest in the world due to the holistic approach to life and the amount of importance which is placed on the well-being of people and communities, as much as material wealth.
For everyone, the day is a useful reminder that in general happiness does not necessarily come from buying and consuming, or from being famous or glamorous – but often from friends, family and emotional well-being. Internationally, there are many events and websites in which people may participate.
March 20 has been established as the annual International Day of Happiness and all 193 United Nations member states have adopted a resolution calling for happiness to be given greater priority. It is coordinated by Action for Happiness, a non-profit movement of people from 160 countries, supported by a partnership of like-minded organizations.
So, when March 20 arrives, smile, share, eat healthily, exercise, be grateful, give back, think positively, spend some time with friends and family, spend some time alone, be mindful, dream, listen to music, say "thank you" and mean it, compete, be charitable. Do what makes you happy – especially if it involves a cool dessert treat.
The spring equinox (also called the March equinox or vernal equinox) falls on March 20, 2019 at 5:58 p.m. This event marks the astronomical first day of spring in the Northern Hemisphere.
March 20 is more than just the first day of spring, it's the day of one of the area's annual traditions – "Celebrate the First Day of Spring with Free Ice."
That's right – a day of free water ice at Rita's.
On this special day each year, Rita's is offering every guest a free Italian ice to celebrate arrival the arrival of spring – and the warm "water ice weather" it brings with it to the area.
Also, on March 20, Dairy Queen locations are celebrating the "Fourth Annual Free Cone Day."
In recognition of the first day of spring, Dairy Queen is offering a free small vanilla soft-serve cone to customers – while supplies last. There is a limit of one cone per customer.
The Afternoon Music Club of Phoenixville (610-933-8696, http://www.afternoonmusicclub.com) is presenting another concert in its 2018-2019 season on March 19 at 1 p.m.
The concert features The Philadelphia Flute Quartet. The performance will be held at the First United Methodist Church, which is located at 865 South Main Street in Phoenixville.
A brief business meeting of the club follows each program and then refreshments follow the meeting. New members are welcome and will pay half the yearly dues at this season midpoint for the three remaining concerts.
Visitors are always welcome and are requested to pay $8 at the door. A "Visitor" is anyone who is not an invited guest of a member.
You have just two weekends left to visit Longwood Gardens (Route 1, Kennett Square, 610-388-1000, www.longwoodgardens.org) and check put at its popular "Orchid Extravaganza" — an annual event that is running through March 24.
The celebration of the orchid species features thousands of orchid blooms along with a variety of displays and special exhibits throughout its four-acre conservatory. "Orchid Extravaganza" will also feature stunning displays of orchids in planting beds, containers and innovative exhibits.
The largest family of flowering plants in the world is the orchid — a flower that is acclaimed as one of the most beautiful, delicate and graceful flowers in the world. The Royal Botanical Gardens of Kew list over 20,000 accepted species with about 800 new species added each year. Additionally, horticulturists have more than 100,000 hybrids and cultivars.
The celebration of the orchid species features thousands of orchid blooms along with a variety of displays and special exhibits throughout its four-acre conservatory. "Orchid Extravaganza" will also feature stunning displays of orchids in planting beds, containers and innovative exhibits.
As one of the first plant collections at Longwood, orchids have held a place of distinction since 1922. The site's talented horticulturists celebrate the beauty and variety of orchids with an artful display that includes a towering 12-foot-tall archway, a spectacular orchid curtain, and hundreds of vibrant Vanda orchids adorning the Silver Garden.
Approximately 5,000 colorful orchids hang from baskets, create inspiring arrangements and adorn unique forms throughout "Orchid Extravaganza."
Admission to Longwood Gardens is $23 for adults, $20 for seniors and $12 for students.
On Saturdays and Sundays in March, the Chaddsford Winery (632 Baltimore Pike, Chadds Ford, 610-388-6221, www.chaddsford.com) will present "Sugar and Slice: Donut, Pizza & Wine Pairings."
A $20 pass gets visitors access to four flavorful pairings – two donut & wine and two pizza & wine — featuring the winery's local partners Duck Donuts andPizzeria Pronto. The event will run from 11 a.m.-5 p.m. each day.
The "Pairing Menu" features: Kennett Square Mushroom Pizza with Kennett mushrooms, spinach and cream sauce paired with 2016 Traminette and Chaddsford White; Barbecue Chicken Pizza with grilled chicken, BBQ sauce, gouda and red onion paired with 2016 Harbinger and Sangri-la Sangria; Chocolate Bacon Donut with chocolate icing and chopped bacon paired with 2016 The Red Standard and Chaddsford Red; and Lemon Meringue Donut with lemon icing, graham cracker crumbs and marshmallow drizzle paired with 2017 Presage and Sunset Blush.
This is a "rain or shine" event.