By Denny Dyroff, Entertainment Editor, The Times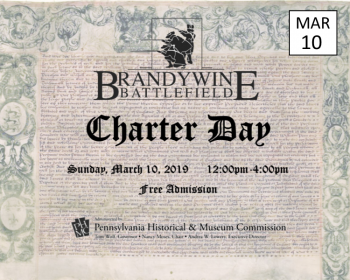 This weekend's calendar features a wide array of Charter Day activities.
Charter Day, which is "officially" celebrated on March 11, recognizes the day William Penn received his land grant for Pennsylvania from King Charles II of England in 1681.
In observance of Pennsylvania's founding, some of the region's historic sites host special activities — all of which are free and open to the public.
To celebrate the granting of the charter to William Penn more than 300 years ago, the Pennsylvania Historical & Museum Commission invites you to Charter Day, offering free admission to all 25 of its state historical sites.
Brandywine Battlefield Park, Chadds Ford (Route 1, Chadds Ford, http://brandywinebattlefield.org, 610-459-3342) will celebrate Charter Day on March 10  with the re-opening of the houses and museum and a variety of history-themed activities.
The event, which runs from noon-4 p.m., will feature Continental soldiers, period interpreters, historical demonstrations, tours of the Benjamin Ring House and the Gideon Gilpin House and a talk by William Penn (portrayed by John Gras).
Visitors will also be able to learn about Joseph Townsend, a young Quaker boy who wrote about his experience during the Battle of the Brandywine.
In Lower Bucks County, Pennsbury Manor (400 Pennsbury Memorial Road, Morrisville, 215-946-0400, www.pennsburymanor.org) is celebrating Charter Day on May 10 from noon-4 p.m.
The free program at Pennsbury Manor includes exhibits, Living Theater presentations, blacksmithing, beer brewing, joinery, hearth cooking, and more. A wonderful display of 17th-century foods will be offered by the cooks, who will be on hand to explain the process of open hearth cooking.
Visitors can take a tour of the Manor House with costumed interpreters and stop and see the role-players reenact "Voyage of the Welcome," the voyage of 1682 when William Penn and other prospective colonists traveled to Pennsylvania on a ship called The Welcome.
During the Charter Day event, Pennsbury Manor will be holding a food drive to benefit the Bucks County Housing Group's Penndel Food Pantry. Bring along a non-perishable food item and receive a 10% discount for shopping in our Museum Store good for Charter Day.
The Daniel Boone Homestead (400 Daniel Boone Road, Birdsboro, 610-582-4900, www.danielboonehomestead.org) will offer an exciting open house and living history event featuring a variety of 18th-century demonstrations and hands-on activities on March 10 from noon-4 p.m.
The site will be open free in celebration of King Charles II granting the land which would become Pennsylvania to William Penn. Many 18th-century demonstrations will be occurring throughout the afternoon.
Smells of meat and vegetables cooking over an open hearth will greet the visitor at the Boone House and the Bertolet Log House.  Bread will be baking in the Bertolet bake oven and meat will be smoking in the Boone smoke house.
The Visitor Center Gift Shop will feature many new items representing the life and times at the Boone Homestead.
Robin Moore, storyteller and children's author from Doylestown, will be telling stories in the Wayside Lodge.
On March 10 from noon-4 p.m., the Conrad Weiser Homestead (28 Weiser Lane, Womelsdorf, 610-589-2934, www.conradweiserhomestead.org) will host military units, both  French and Pennsylvania Provincial, who will be demonstrating 18th-century drill. There will be a Native American on site to answer visitor questions.
There will also be an exhibit displaying 18th century reproduction folk art. Additionally, there will be an 18th century divine church service for all to attend starting at noon.
Weather permitting, there will be an opposing force tactical between the French and Pennsylvania soldiers.
Landis Valley Museum (2451 Kissel Hill Road, Lancaster, 717-569-0401, www.landisvalleymuseum.org) will celebrate Charter Day on March 10 from noon-5 p.m.
On Charter Day, the museum honors the 1681 land grant from King Charles II to William Penn.  A newly-converted Quaker, Penn petitioned the king for land in the New World as a place for people of persecuted protestant sects to live in peace.
He gave the king a generous offer to forgive a large debt owed to Penn's father, Admiral Sir William Penn, in exchange for the land.  King Charles II agreed and gave the land to Penn as a proprietary/feudal agreement. While other colonies were royal colonies administered by the king, this unique agreement made Penn the owner of 28 million acres, the largest piece of privately-owned property in the world at the time.
The celebration at Landis Valle Museum includes ongoing crafts and trades demonstrations, wagon rides, and the grand opening of its newest exhibit, "Thrown, Fired and Glazed: The Redware Traditions from Pennsylvania & Beyond." This is a two-year exhibit that will show more than 150 redware pieces each year.
Weather permitting, the museum will also offer rides on its two-wheeled carts for $5 each ride.  All proceeds from these rides will go to the farm program to help supply hay for the horses.
The Railroad Museum of Pennsylvania (300 Gap Road, Ronks, 717-687-8628, www.rrmuseumpa.org), has two special events going on this weekend – Charter Day and "Reading on The Rails."
"Reading on The Rails," which will be held on March 9, is geared for youngsters. Kids pick up their very own cardboard suitcase and use it to travel from story to story. They can collect a sticker after each story and create their own suitcase design with stickers, crayons, sparkles and other trimmings. As an added attraction they will receive a little gift to put inside their suitcase (while supplies last).
Stories will take place at 9:45, 10:15 am, 11 and 11:45 a.m. and 1:15, 2, 2:45 and 3:15 p.m. among the historic trains in Rolling Stock Hall. Some of the featured readers will be Margaret Miller (Lancaster County Court of Common Pleas • Bryan Cutler (Pennsylvania State House of Representatives), Reginald Easterling (Pennsylvania State Police), Keith Greiner (Pennsylvania State House of Representatives), Kristin Fernitz (Strasburg Heisler Library) and Barry Kornhauser (Ware Center/Millersville University).
On March 10, The Railroad Museum of Pennsylvania will honor Charter Day with free admission for all.
Cornwall Iron Furnace (Rexmont at Boyd Street, Cornwall, 717-272-9711, www.cornwallironfurnace.org) will observe Charter Day on March 10 with free tours of the site from noon-4 p.m.
Stationed throughout the buildings, trained guides will provide information on the history of the Furnace, its operations, and museum collections. Guests are encouraged to dress warmly, as the buildings can be quite chilly this time of year.
Visitors may also enjoy viewing the display of minerals originally collected by workers at the Cornwall Mines, which were formerly owned by the Bethlehem Steel Corporation. This wonderful collection recently returned to Cornwall after being stored for approximately 30 years at the Commonwealth Keystone Building in Harrisburg.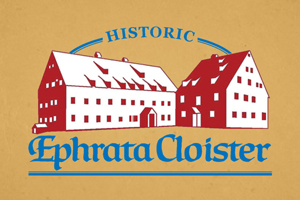 Ephrata Cloister (632 West Main Street, Ephrata, 717-733-6600, www.ephratacloister.org) is holding its celebration of Charter Day on March 10.
The Cloister celebrates the founding of Pennsylvania with free admission to an outstanding example of William Penn's "Holy Experiment." The festivities will run from noon-5 p.m.
As a special feature of the day, the Ephrata Cloister Chorus performs in the Saal (Meetinghouse) at 2:00, 3:00, and 4:00 pm.
Graeme Park (859 County Line Road, Horsham, 215-343-0965, www.graemepark.org) has its Charter Day event scheduled for March 10 from noon-3 p.m.
The historic site in eastern Montgomery County will be open for tours starting at noon with last admission to the house at 3 p.m. Volunteers in each room will explain some of the history and architecture and visitors may move through at their own pace.
Hope Lodge (553 South Bethlehem Pike, Fort Washington, 215-343-0965, http://www.ushistory.org/hope/) will celebrate Charter Day on March 10.
The event, which is slated to run from noon-3 p.m., features free admission and self-guided tours of Hope Lodge.
There is an extra treat for visitors to this site on Saturday. Complimentary cupcakes will be served at Hope Lodge as part of the celebration (while supplies last).
A special event in Kennett Square this weekend will be the Grand Opening Weekend Celebration at Braeloch Brewing (225 Birch Street, Kennett Square, https://braelochbrewing.beer). The event will be held March 8-10 and run from noon-10 p.m. each day.
Braeloch Brewing, a new brewery and 4,000-square-foot taproom, is introducing itself to area residents via a weekend-long party with live music, games, food and freshly-brewed beer. Visitors will be able to watch the beer being made in the brewhouse. There will be six beers on tap for the celebration including Blue Hen Gold New England IPA and Meddlin' Russian Imperial Stout.
There will be food trucks all three days with Road Rancher and The Plum Pit on Friday, Road Rancher and Mama Mia Fusion on Saturday and Bucky's Barbecue on Sunday.
The schedule for live music features The Late Ambitions on Friday, Boxturtle Bob and Peter McCarthy Rock Trio on Saturday and Bob Croce on Sunday. Brewery tours will be held at 2, 5 and 8 p.m. each day.
Beer and food are pay-as-you-go. A ticket with each beer purchased will be put into a drawing for random prizes during the day. Prizes include, glassware, clothing and brew crew memberships.
Even though next Sunday (March 17) is officially St. Patrick's Day, this weekend also features some St. Patty's Day celebrations.
Dating back to 1771, the Philadelphia St. Patrick's Day Parade (www.philadelphiastpatsparade.com) is one of the city's longest-running traditional events. It is also one of the oldest parades of any kind in the nation.
It will be held on March 10 from 11:15 a.m.-3 p.m.
A procession of drummers, dancers, various performers and Irish bands will move down JFK Boulevard alongside floats decorated in honor of St. Patrick, Ireland's patron saint.
The parade will originate at 16th Street and JFK Boulevard.  The highly-entertaining annual event is free for spectators.
The Grand Marshall for the 2019 parade is Sean McMenamin.
Prior to the parade, Saint Patrick's Church (20th and Locust streets) will celebrate with a "Commemorative Parade Mass." The Mass will begin at 9:15 a.m.
The Parade takes place every year on the appointed date — rain or shine.
You can get your Irish vibe revved up closer to home on March 8 when WCU Live presents "National Dance Company of Ireland: Rhythm of the Dance" on March 8 at West Chester University's Emilie K. Asplundh Concert Hall (700 South High Street, West Chester, Pennsylvania, http://www.wcupatix.com/wculive).
This two-hour dance and music extravaganza features a wealth of talent from a variety of genres relating to Irish culture. The show includes a large cast of World and Irish champion step dancers, live musicians, Irish singers and a seanos dancer. The 2019 tour will feature new choreography, new costumes, new music, and updated multi-media.
The new production focuses on reliving the journey of the Irish Celts throughout history using the traditional and modern arts of dance (ballet, modern dance, jazz) and music. This richly-costumed show marries the contemporary and the ancient — taking audiences on an exhilarating and exciting, energy-packed time trip through the ages.
The show will start at 7:30 p.m. Ticket prices range from $19-$27 for adults and $15-$22 for students.
The General Warren Inne (9 Old Lancaster Road, Malvern, 610-296-3637, www.generalwarren.com) is an historic site — a site with a lot of history and a site that is still involved in history of the area.
Since 1745, the Historic General Warren Inne has been center stage for American history and a premier carriage stop for hungry travelers. The Inne was initially called the Admiral Vernon Inne and was changed to the Admiral Warren after the famed Admiral Peter Warren, a hero who defended the American colony at Louisburg, Nova Scotia during the French and Indian War.
During the time of the American Revolution, the Inne was owned by John Penn of Philadelphia, who was a loyalist and the grandson of William Penn. Situated on the main highway between Philadelphia and Lancaster, it became a popular stage stop during the Revolutionary War era — and a Tory stronghold.
The Paoli Massacre was planned and launched from the Admiral Warren Inne in September 1777. In 1825, the Admiral Warren was renamed the General Warren, to honor the American hero of Bunker Hill.
Now, the General Warren Inne annually presents a series of lectures about America's war for independence. On the second Monday of each month now through May, the Inne will host "Paoli Battlefield Lecture Series" presented by the Paoli Battlefield Preservation Fund.
On March 11, paranormal investigators Laurie Hull and Kelly Schmitt will discuss results of paranormal investigations of the Paoli Battlefield that took place in June and October of 2018. These tours showed that there was a tremendous amount of paranormal activity all around the battlefield.
The next installment of the lecture series will be "Outside the Encampment: Impact of the Valley Forge Encampment on the Local Area" presented by Thomas J. McGuire on April 8.
Seating for these lectures is limited so it advisable to make advance reservations. Admission, which is $49 per person, includes lecture, buffet, family style sweets, taxes, gratuities and all non-alcoholic beverages. Alcoholic beverages are available at an additional cost.

Monster-Mania Con 42 will be held now through March 10 at Crowne Plaza Philadelphia-Cherry Hill (2349 West Marlton Pike, Cherry Hill, New Jersey, monstermania.net).
One of the nation's premier horror film conventions, Monster-Mania Con features an impressive list of celebrities who will be appearing this weekend, including Dolph Lundgren, Neve Campbell, Christina Ricci, Steve Guttenberg, Fairuza Balk, Robin Tunney, Dylan McDermott, James Jude Courtney, Rachel True, Will Sandin, Nick Harris, Danielle Harris, Shawn Michaels, Kane and C.J. Graham.
Another celebrity guest is Meatloaf and you can't get much scarier than that.
Visitors to the convention will be able to meet the stars, get autographs, browse vendor rooms and enjoy films and special events all weekend long.
Activities get underway at 5 p.m. on March 8 and at 10 a.m. on March 9 and 10.
Admission is $25 on Friday and Saturday and $20 on Sunday. Children age 10 and under are free when accompanied by a paying adult.
With a forecast of temperatures in the low 60s for this Sunday, it may seem like spring. And, when thoughts turn to spring, they turn to flowers.
If this weekend's temperate weather puts you in the mood for flowers, you're in luck because you still have a few days left to checkout this year's Philadelphia Flower Show at the Pennsylvania Convention Center (12th and Arch streets, Philadelphia, 215-988-8899, www.theflowershow.com).
The festive event is running through March 10 at the huge convention hall on the wedge of Philly's Chinatown. This year's theme is "Flower Power" in celebration of the impact flowers have on society in the year of the 50th anniversary of Woodstock.
The show, which is presented every year by the Pennsylvania Horticultural Society and celebrates its 190th anniversary in 2019, treats visitors to a spectacle of floral displays in every size, style and shape imaginable.
The show will feature 10 acres of exhibition halls with floral displays and vendors.
Floral competition is always a major drawing card at the annual show. The 2019 Flower Show will feature a large number of garden displays and thousands of plants and floral designs entered in various competitions. These entries will be reviewed and rated by a staff featuring over 200 expert judges from across the nation.
Additionally, visitors to the 2019 Philadelphia Flower Show will have the opportunity to witness one of the world's most prestigious floral design competitions, which hasn't been held in the United States since 1985. The FTD World Cup 2019 brings together the world's top floral designers, representing 23 countries, for an intense floral design competition where the winner will be named Interflora World Cup champion. Over the course of three days, the talented designers will produce breathtaking, larger-than-life floral creations from both predetermined themes and surprise packages of materials. The breathtaking creations will be on display throughout the week of the Show.
Another special feature this year will be "Butterflies Live!"
Butterflies Live! is an interactive and educational exhibit presented by California's SkyRiver Butterflies. This fully immersive habitat features native plants that attract butterflies and encourage pollination. More than 1,000 butterflies of 20-plus domestic and exotic species are included in the attraction. Upon entering the room, guests of all ages have the chance to walk through the pollinator garden and feed the butterflies
The show's biggest attraction each year is the massive "Marketplace" featuring over 150 vendors from all over America and several European nations. They will be selling flowers, orchids, floral-inspired furniture, sheds, artwork and unique garden-related crafts and supplies.
Throughout the week, hundreds of gardening experts will provide learning opportunities in the Lecture Series.
Be prepared for large crowds on Friday and huge crowds on Saturday and Sunday. Another helpful suggestion is to take public transportation if possible. Vehicular traffic in the area is frequently a nightmare and parking lots tend to fill up early even though they are charging exorbitant fees.
Tickets for the Philadelphia Flower Show are $35 on weekdays and $42 on weekends.  Tickets are $24 and $26 for students with valid ID and $19 and $20 for children ages 2-16.
You can also find plenty of flowers to enjoy at Longwood Gardens (Route 1, Kennett Square, 610-388-1000, www.longwoodgardens.org) – especially at its popular "Orchid Extravaganza" — an annual event that is running through March 24.
The celebration of the orchid species features thousands of orchid blooms along with a variety of displays and special exhibits throughout its four-acre conservatory. "Orchid Extravaganza" will also feature stunning displays of orchids in planting beds, containers and innovative exhibits.
The largest family of flowering plants in the world is the orchid — a flower that is acclaimed as one of the most beautiful, delicate and graceful flowers in the world. The Royal Botanical Gardens of Kew list over 20,000 accepted species with about 800 new species added each year. Additionally, horticulturists have more than 100,000 hybrids and cultivars.
The celebration of the orchid species features thousands of orchid blooms along with a variety of displays and special exhibits throughout its four-acre conservatory. "Orchid Extravaganza" will also feature stunning displays of orchids in planting beds, containers and innovative exhibits.
As one of the first plant collections at Longwood, orchids have held a place of distinction since 1922. The site's talented horticulturists celebrate the beauty and variety of orchids with an artful display that includes a towering 12-foot-tall archway, a spectacular orchid curtain, and hundreds of vibrant Vanda orchids adorning the Silver Garden.
Approximately 5,000 colorful orchids hang from baskets, create inspiring arrangements and adorn unique forms throughout "Orchid Extravaganza." Those who visit the floral extravaganza in March will have the opportunity to see Longwood Gardens' rare sky-blue poppies in bloom in the Conservatory during Longwood's inaugural Winter Blues Festival.
Admission to Longwood Gardens is $23 for adults, $20 for seniors and $12 for students.
If you're visiting Longwood Gardens this Saturday or Sunday, you might want to allow time to enjoy another special event a few miles down Route 1.
On Saturdays and Sundays in March, the Chaddsford Winery (632 Baltimore Pike, Chadds Ford, 610-388-6221, www.chaddsford.com) will present "Sugar and Slice: Donut, Pizza & Wine Pairings."
A $20 pass gets visitors access to four flavorful pairings – two donut & wine and two pizza & wine — featuring the winery's local partners Duck Donuts andPizzeria Pronto. The event will run from 11 a.m.-5 p.m. each day.
The "Pairing Menu" features: Kennett Square Mushroom Pizza with Kennett mushrooms, spinach and cream sauce paired with 2016 Traminette and Chaddsford White; Barbecue Chicken Pizza with grilled chicken, BBQ sauce, gouda and red onion paired with 2016 Harbinger and Sangri-la Sangria; Chocolate Bacon Donut with chocolate icing and chopped bacon paired with 2016 The Red Standard and Chaddsford Red; and Lemon Meringue Donut with lemon icing, graham cracker crumbs and marshmallow drizzle paired with 2017 Presage and Sunset Blush.
This is a "rain or shine" event.
Winterthur Museum, Garden & Library (Route 52, Wilmington, Delaware, 800-448-3883, www.winterthur.org) just opened its 2019 season. This weekend, Winterthur is kicking into gear with a special event called "Back to Bend," which will be held on March 9 from 10 a.m.-3:30 p.m.
Visitors are invited to celebrate the early bulb display of the March Bank with a lecture and garden tours – guided sand self-guided.
This year's featured speaker is John Anderson, Keeper of the Gardens at Windsor Great Park.
Anderson will talk about his role as keeper of the iconic Savill and Valley gardens.
In his lecture, which will take place at 11 a.m. in Copeland Lecture Hall, Andreson will take listeners through the seasons, highlighting the remarkable plant collections and historical garden features.
The "Garden Tour," which is scheduled for 1 p.m., will begin at the Visitor Center Patio while self-guided tours run all day.
Admission is $20 for adults, $18 for seniors (age 62 and older) and students, and $6 for children (ages 2-11).
Another event with an outdoor vibe will be "From Sap to Syrup" which will be presented on March 9 at Bellevue State Park (800 Carr Road, Wilmington, Delaware, 302-761-6963, http://www.destateparks.com).
Visitors to the park will be able to learn when sap flows, find out what trees are used for making maple syrup, and observe the process of making syrup.
Additionally, participants will have the opportunity to tap a tree and enjoy a special syrup-tasting with pancakes. The program will be presented on Saturday starting at 10 a.m.
Tickets for the event are $8 for adults and $5 for children (under 12).
On two Saturdays in March, Hagley Museum and Library (Route 141, Wilmington, Delaware, 302-658-2400, www.hagley.org) is presenting a special event called "Science Saturday."
Visitors of all ages are invited to discover solutions to science and engineering challenges. Science Saturdays are drop-in activities, so visitors are free to stop by at any time during the event hours.
The program on March 9 from 1-4 p.m. will be "Chemistry for the Curious."
For this Saturday's activity, visitors will be able to learn how chemistry is used in our everyday lives and marvel in its magic. Visitors of all ages are invited to discover solutions to science and engineering challenges.
The other "Science Saturday" this month – "Magnetic Attraction" — is scheduled for March 23.
Activities are included in regular admission. The rates for admission are: Adults: $15; Seniors (age 62 and up): $11; Students $11; Children (ages 6-14): $6; Children (5 and under): free.
Last year's inaugural staging of the Philadelphia Area Car Modelers' "Philly Model Car Show" was an instant success so bringing it back for a sophomore staging was an easy decision for the association.
On March 9, the PACM will present "Philly Model Car Show II" at a very appropriate venue — the Simeone Foundation Automotive Museum (6825 Norwitch Drive, Philadelphia, www.simeonemuseum.org) from 10 a.m.-4 p.m.
With 2019 being the 50th anniversary of the big concert at Max Yasgur's farm in New York state, PACM has selected "Welcome to Woodstock! – It's all about VW's Man!" as this year's theme.
The sub-theme is "British Invasion" with all British vehicles. The tagline "British Invasion" could be applied to Woodstock but more realistically took place in 1964 and 1965.
The show's focus in on Volkswagens so Beetles in the mid-60s and VW vans in 1969 are good foundations.
Admission is $12 and all proceeds benefit the Simeone Foundation Automotive Museum's educational initiatives.
The Greater Philadelphia Boat Show opens March 8 and runs through March 10 at the Greater Philadelphia Expo Center (100 Station Avenue, Oaks, 484-754-EXPO, http://www.phillyboatshow.com).
The boat show allows visitors to shop and compare without having to travel all around the area to visit a variety of different dealers. This year's show features 27 top-flight dealers.
The show also provides an excellent learning experience for those who are not already boating families but would like to know more about boating and related activities.
Special show prices from most of the dealers also make this event a good shopping opportunity for those people who already own boats and are ready to trade in and move up.
Types of boats offered at the show will include ski boats, saltwater boats, pontoons, bass boats, motor yachts, jet boats, PWCs, runabouts and deck boats. Other displays will present information on marinas, parts, accessories and boating safety.
The show will offer a wide array of products for boating enthusiasts including boating supplies, books, clothing, marine financial and insurance services, electronic navigational devices and engines.
​Show hours are March 8 from 1-8 p.m., March 9 from 10 a.m.-7 p.m. and March 11 from 11 a.m.-5 p.m. Admission is $10 for adults and free for children (16 and under). There will be a special $5 admission fee on March 9 after 5 p.m.
Attendees will be able to find a wide array of jewelry selections priced very affordably at this weekend's "International Gem & Jewelry Show" at the Greater Philadelphia Expo Center (100 Station Avenue, Oaks, 484-754-EXPO, www.intergem.com).
The show, which is a sales and exhibition event that features gems, jewelry, fossils and stones of all sorts, is running from March 8-10 and is billed as the "world's largest jewelry bazaar".
Admission to the public show is $8 for adults while children (ages 9-16) are free with a paid adult ticket. The show's policy states that children ages eight and under are not permitted to attend the show.
The "International Gem & Jewelry Show" features an amazing exhibition of gems, minerals and jewelry. Dealers will be displaying and selling every type of gemstone, as well as one-of-a-kind jewelry creations, estate jewelry, special celebrity exhibits and accessories.
The show will have more than 150 dealer booths where show attendees can select items from a wide range of categories, including beads, rings, settings, watches, necklaces, diamonds, opals, earrings, silver, gold, crystals and pearls.
The hours for the show are noon-6 p.m. on March 8, 10 a.m.-6 p.m. on March 9 and 11 a.m.-5 p.m. on March 10.
If  one of your hobbies is fishing, you should check out the "Fly Fishing Show" which is being held March 9 and 10 at the Lancaster Convention Center Lancaster Convention Center (3 East Vine Street, Lancaster, 866-481-2393, www.flyfishingshow.com).
The list of special attractions at the 2019 show includes seminars and demonstrations presented by many of Pennsylvania's finest fly-fishing celebrities along with a number of national celebrities. There also will be a huge vendors' area with an array of fishing-related products on sale.
The International Federation of Fly Fishers will be offering free fly fishing instruction at the FFF Learning Center located at the FFF booth. Basic fly casting, fly tying and knot tying will be taught throughout the day on both Saturday and Sunday.
The International Fly Fishing Film Festival will be held on March 3 starting at 6 p.m. Tickets for the film fest are $15.
There will also be booths featuring fly fishing celebrities with a roster that includes Joe Humphreys, Bob Clouser, Gary Borger, George Daniel, Bob Popovics, Bob Romano, Rabbit Jensen, Jerry Kustich, Ed Engle, Tom Gilmore, Dianne Tidy, Dusty Wissmath, Thomas E. Baltz, John Field, Tim Flagler, Rob Giannino and Enrico Puglisi.
The show will be open from 9 a.m.-5:30 p.m. on Saturday and 9 a.m.-4:30 p.m. on Sunday. Adult tickets are $15 for one day or $25 for a two-day pass. Tickets for children (under 12) are $5.